Introdueix la data d'arribada amb el format dd/mm/aaaa
Introdueix la data de sortida amb el format dd/mm/aaaa
Allotjaments que pots llogar sense esperar que l'amfitrió confirmi la reserva.
Introdueix les dates per veure el preu total. S'aplicaran tarifes addicionals. És possible que també s'apliquin impostos.
Aquest juliol i agost, pots provar una d'aquestes 100 llars amb millors avaluacions, de tota la gamma de preus, i veure el que et pot oferir Sonoma. Gaudiràs del servei d'arribada flexible (24 hores), reserva immediata, vi de la zona i coses per picar perquè puguis relaxar-te i gaudir del teu viatge.
5000 sf ft loft space, renovated with new life over the last 2 years :) Bedroom space available to accommodate your stay as you come to Harney County for a visit or as you pass on through :) Bathroom access but not attached to bedroom.
This building was originally built in 1910 by the Masons. We started renovating in 2013 and tried to re-use as many local materials as we could. The space is unique & comfortable. We love it and think you will too :) Guests will have access to the kitchen, laundry, full size bathroom, and a private bedroom. There is a 75" large screen TV with cable access and DVD player in the main living room area. Wi-fi access on site. Each of our bedrooms has a slider barn-style door. (There are no locks on any of the doors - just an fyi, since a previous guest was bothered by that) :) Also, the bedrooms are our boys' ... They are totally into the "Airbnb experience" and are willing participants - they help prep their rooms for incoming guests and are getting so much out of meeting new people :) We all look forward to your stay :) If you are staying with us in a bedroom we will be around. We have 3 busy boys, ages 7th, 9th, and 11th grade so we are always coming and going. I work downstairs in my optometry practice and my husband works from home as well as works on other renovation projects we have going. We look forward to meeting you and giving you as much privacy as you desire or as much interaction as you are interested in! There are multiple restaurants in walking distance as well as a Safeway for groceries :)
Thai food (Linda's Thai Room/Elkhorn), mexican (El Toreo), local pub (Central Pastime), chinese food (The Hilander), bistro (Bella Java), and gourmet dining (Rhojo's) all very close by. Shopping? Some really cute little shops line main street. Ribbons & Roses has all kinds of fun home decor, jewelry, candles, toys. The Book Parlor has TONS of fun signs, TONS of great books, and great coffee. Gourmet & Gadgets has EVERY SINGLE KITCHEN TOOL you could imagine. Desert Dream Thrift Store offers clothing and home goods in a clean & organized environment and offers employment to local youth that may need a little extra help. The Childrens Barn offers new and gently used kids clothing as well as toys and gifts. A must see! :) These are a few highlights :) There is a service called "Dial-a-Ride" ... 541-573-3030. Can take you where you might need to go. We are within walking distance of most things you'd need tho :) To get up to the loft you will have to know that you need to climb 24 stairs :) Keeps you in good shape! Oh also... we do have a small dog named Mia. She sheds very minimally and behaves well. Will be in her kennel in our bedroom if we are not home. Please note - in BOTH showers, the faucets for cold and hot are in BACKWARDS. COLD is hot and HOT is cold. Oops! And sorry :)
Jennifer has a beautiful home! My boyfriend and I stayed in one of her son's bedrooms, and recieved a great amount of hospitality! They recently remodeled their home (themselves as a family!) from an old brick building, and it is so cool and gorgeous. We arrived late, in the early hours of the morning, but were greeted warmly. Highly recommend!
Isabel
February 2016
Good experience, very nice family. Accommodations unique. TV was dominated by the children. Not really accessible. Other than that, very good experience. Definitely recommend.
Steve
July 2016
I had a wonderful stay at Jen and Forrest's place. They were extremely accommodating and had a lovely loft home with a wonderful story and lots of hard work behind it! Their attention to detail - to include local recommendations made my stay even more pleasant and carefree!
Leslie
March 2016
On our trip from Redding California to Council Idaho we stayed overnight in Burns. The last thing I expected was an old Masonic Lodge masterfully converted into a New York style loft for their home. Forrest, Jen, and their three boys did a conversion worthy of a Sunset Magazine splash. We were welcomed into their home and their lives, given full use of the facilities. Our bedroom, accessed by a sliding barn type door, was private and the rest of the facilities including the bathroom were shared by the family. No problem for us. We'd be happy to return.
Richard
August 2016
Wow wow wow! My friend and I have never felt so welcome in a strangers house before! Jen, Forrest and their three —amazing—boys were five of the most gracious, courteous, attentive and loving people we've ever met! We felt right at home and very, very comfortable in their house. The loft is just stunning; a real treasure in central Oregon. The location in Burns is central in downtown. I wouldn't recommend any hotel in Burns over this beautiful space. Very quiet, very warm, very loving. A beautiful home with great energy that is sure to enhance your central Oregon experience and provide for great stories.
James
March 2016
Great spot! Jen and Forrest were very warm, asking about where I'd been and offering recommendations for where I was headed. After hours on the road, it was wonderful to be welcomed into a cheery household in an expansive space, and get a good night's sleep on a comfortable bed. I didn't have time to explore the town, but was glad to stay at this place, and meet Jen and Forrest and their boys. I was able to get some work done on the wifi in the evening and got started with a coffee the next morning. An excellent place to stay, highly recommended!
Timothy
July 2016
Very open space and family
Juliet
March 2016
Everything about this loft & family was unique, inspiring and fun! Hands down our best Air B &B experience yet.
Sarah
July 2016
Tipus d'habitació
Habitació privada
---
Tipus de propietat
---
Capacitat
2
---
Dormitoris
1
Burns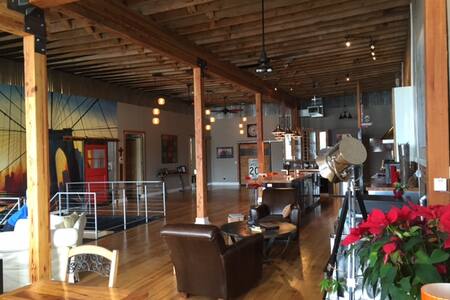 5000 sf ft loft space, recently renovated. Bedroom space available to accommodate your stay as you come to Harney County for a visit or as you pass on through :) See "1st room" listing for full details!!
The coolest place I've ever stayed and not even just Airbnb they've done such a good job renovating their place you HAVE to stay here.
Matt
August 2016
Great atmosphere! Great people! Great place!
Ryan
June 2016
Forrest and Jen were wonderful hosts and their boys are as well! The space is just as described and the bed was soft and comfortable. Jen was a cheery face when we came in around 10:30. In the morning she even shared avocado toast with us! We would definitely stay here again if we ever find ourselves near Burns.
Abbey
July 2016
Jen & Forrest were incredibly hospitable during our stay-they welcomed us into their home and made us feel like it was our own. Their loft is amazing! It really makes you feel like you are staying in a stylish, upscale neighborhood. I've never been more excited to visit little Burns, Oregon again! This Airbnb is a must for anyone traveling through eastern Oregon.
Shantay
October 2016
I believe Jen & Forrest have the only AirBNB listing in the Burns, OR area. After seeing the photos of their loft, this was an easy pick over the hotels in the area. If you are looking for a home away from home, you will find it here. The atmosphere of their home is amazing, they are extremely kind, and their boys are outgoing and welcoming. The loft is absolutely amazing and kept quite clean. The bathroom is shared but still felt quite private. The bed was super comfortable. They graciously allowed us to do some laundry, which was much appreciated after being on the road for a week. What a lovely family with a great story. We loved meeting you and having the chance to see and stay in your space. A special thank you to Will for keeping a tidy space and allowing us to stay in his room!
Rachel
June 2016
Jen and Forest have a wonderful home! Looking forward to coming back to stay at their hotel when it is finished. Highly recommend.
Jeannette
December 2016
Thank you thank you than you!! Your home is absolutely amazing. You all make people feel like family at ease and comfortable. Great kids!!! If I'm ever coming this way again I would definitely stay again.
sarah
July 2016
Our visit worked out perfect. We arrived in Burns late but had a great dinner at a local restaurant where we met our hosts! They walked us back to the house, introduced us to their kids, and showed us around the very spacious building. We had a great rest that night and headed for Las Vegas the next morning.
Wallace
August 2016
Tipus d'habitació
Habitació privada
---
Tipus de propietat
---
Capacitat
2
---
Dormitoris
1
Burns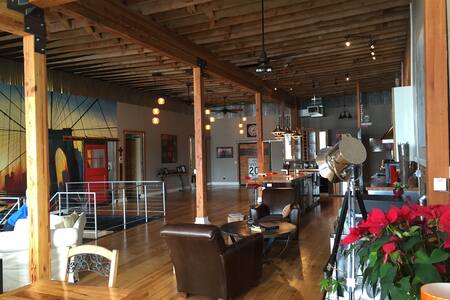 5,000 sq ft renovated brick building on the main street of Burns, Oregon. Quick walking access to restaurants & grocery. Wide open, very clean, very unique space. Built in 1910 by the Masons, this building is now a unique upstairs loft!
Our space is unique for many reasons. One, it's an old building that has had love and life put back into it. Two, we did the work ourselves. Three, we re-used as many old things as we could get our hands on. Our countertops are old bowling alley lanes from the bowling alley that used to be in town. The glass blocks in the boys shower are from the elementary school. Old doors, old windows, lots of life brought back :) It's got a wide open feel yet cozy and comfortable at the same time. Master bedroom: King size bed with en suite bathroom Second bedroom: Queen size bed Third bedroom: Queen size bed Fourth bedroom: Loft with full size bed and separate twin size under loft 2nd full bath near second bedroom Separate Rec room area with a large TV and couch ************************************************** Just a quick side note: This is our primary residence. We are a family of five with a small mini schnauzer/Aussie mix. When we rent out the entire space we are either on vacation or out of town for a short period :) Guests will have access to all bedrooms, bathrooms, and rec room area. NO access to downstairs space - private business down there. Thank you! We are always available via text or phone. Depending on length of stay we may come by and touch base to answer any questions we can.
Very easy access to most of the restaurants in town and the local movie theater. Safeway grocery store is a few short blocks away. Easy walking distance. Safe and clean :) There is a service called "Dial-a-Ride" that can take you most places around town if needed ((PHONE NUMBER HIDDEN)). Otherwise your feet will get you most places :) Please note - in BOTH showers, the faucets for cold and hot are in BACKWARDS. COLD is hot and HOT is cold. Oops! And sorry! :) To get up to the loft you will have to know that you need to climb 24 stairs :) Keeps you in good shape!
This place was incredible! A perfect oasis of calm and comfort and elegance right in the heart of Burns. I honestly have a hard time conveying how perfect it was - a beautifully gut rehabbed loft, where Jen and Forrest did most of the work themselves. I felt like I was in a friend's loft in downtown Chicago - so roomy and elegant, yet welcoming at the same time. Loved the layout, the decorating, the huge kitchen, the coziness, the location - it was absolutely perfect for bike riding endeavors. It's definitely the kind of place you never want to leave.
Tasha
August 2016
The design of the space was absolutely fantastic, and my family felt very lucky that Jen and Forrest opened their unique home to us. It was very cool and inspiring to see how they transformed this old building into their comfortable, warm, contemporary home, blending the character of the space with the character of this family. We only wish we could have stayed longer.
Avik
August 2016
We enjoyed Thanksgiving weekend at the Keadys loft and loved every minute of it! Their home is so comfortable and warm, with all of the amenities necessary for a perfect stay.
Shantay
November 2016
We had a great time. Loft is full of character with some cool eccentricities. We took some ideas from the loft for things we wanted to do in our own home. Very roomy with local accents. Good communication from hosts who were very helpful and friendly. Gas stove in the kitchen is restaurant quality and we saved a little money by cooking for every meal. A great option for Burns that we will keep an eye on if we need to come back in the future.
Derek
July 2016
Jen & Forrest were extremely generous & accommodating, and their home is absolutely GORGEOUS! Highly recommend.
Phoebe
April 2016
Tipus d'habitació
Casa/pis sencers
---
Tipus de propietat
---
Capacitat
10
---
Dormitoris
4
Burns