This charming three bedroom home is perfectly situated just a short walk from the center of Cotacachi. It is safe and secure with a gated entrance and surrounding walls. 3 terraces provide lovely views of Imbabura and Cotacachi volcanos.There is also a large patio with a wood fire pizza oven.
Beautiful hand carved eucalyptus details and built ins. Private outdoor spaces for eating and relaxing. Gas range, dishwasher, washer/dryer and wireless internet.
Easy walk into town and yet private. Friendly neighbors.
The house is large, bright and beautiful. It has many windows that keep it cheerful inside. It has all of the amenities you expect and more. The hot water was reliable and the washing machine worked well. We didn't do any complicated cooking, but the pans and utensils are available for any cooking and baking needs. The upstairs balconies are the perfect place to enjoy your morning coffee and watch as a local women walks her cows down the road to a nearby pasture to graze. The neighbors are lovely people who greeted us warmly every time we returned to the house. We had a ten minute walk from the house to the center of town. We didn't need to take a bus or cab to any location in Cotacachi. I wish we had made use of the beautiful back patio and pizza oven (maybe next time). Rodrigo was was extremely helpful with anything we needed. He is also a fantastic tour guide. We had no idea what amazing sights we might have missed if not for him. All of the people we met were wonderful. I wish we had stayed much much longer.
Peter
2017-02-18T00:00:00Z
Unfortunately, we were not able to visit Ecuador due to passport issues. I would caution future guests because we were not refunded any of our money for the stay. Be very sure of your plans before booking this home. We lost our entire amount due to an inflexible cancellation policy.
Lynne
2016-11-14T00:00:00Z
We had a very comfortable stay. Plenty of hot water. The house is a ten minute walk to town or you can take the bus at the stop at the end of the street. Extremely convenient. Rodrigo (a local who meets you at the house to give keys) is very knowledgeable about what there is to do and how to do it. He speaks English and helped us tremendously. We would definitely stay here again.
Suzanne
2016-12-13T00:00:00Z
La casa es muy bonita, dispone de una chimenea, un ambiente acogedor, muy silenciosa y tranquila. Perfecto para el descanso que buscábamos.
Andrea
2017-02-27T00:00:00Z
This is a great location, so easy to get to the central part of the city. A really beautiful house and easy contact to Rodrigo who checked us in and out. Wonderful stay!
Laurey
2017-02-07T00:00:00Z
Una bella casa, cómoda y bien ubicada.
jose ignacio
2016-12-29T00:00:00Z
Tipus d'habitació
Casa/pis sencers
---
Tipus de propietat
Casa
---
Capacitat
6
---
Dormitoris
Cotacachi, Imbabura Province, Equador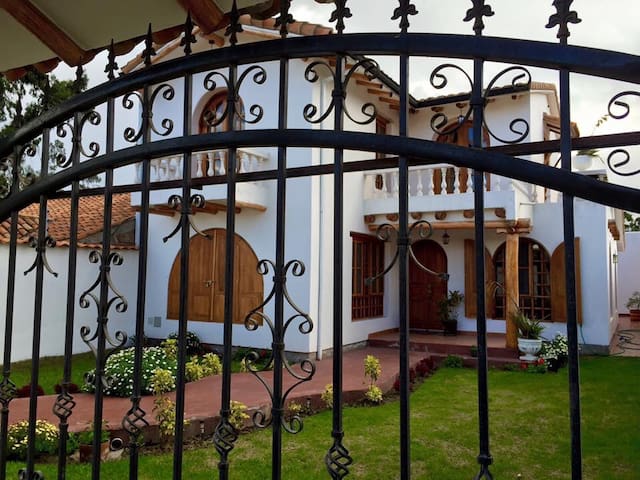 Spectacular 3 bedroom home in a gated community and private guardiania Great 3 beds house in a new housing development Cotacachi
Incredible scenery and close to many tourist places of Ecuador. Lagunas de Cuicocha, San Pablo, Mojanda. I otavalo. Amazing view and close to many beautiful places in Ecuador. Cuicocha, San Pablo, Mojanda lakes; Otavalo city
Cercano a zona comercial y turistica de la ciudad Close to the commercial and touristic area of the city
Absolutely beautiful house and the location is quiet safe and amazing view of mountains and volcano. Host was very helpful, house spotless and cleaned daily. Couldn't have been better.
David and tashmyra
2016-02-29T00:00:00Z
Personalmente la cada me encantò, soy una amante de la naturaleza y lo disfrutamos mucho con mi familia. Un lugar muy còmodo confortable, con todo lo necesario para una estancia placentera compartiendo la tranquilidad de la naturaleza.
Andrea
2016-11-23T00:00:00Z
this whole Cotacachi community is laid back and restful. this includes this house. no television, no phones and no internet perfect for relaxation and self thought. Rodrigo that is part concierge, part gate keeper and security. was wonderful at calling taxis and even helped us when the hot water heater gas tank needed changing. The maid was so thorough with the cleaning. also loved the staff of ground keepers. keeping the whole landscape like a park.
Robin
2015-12-09T00:00:00Z
La casa perfecta! En un complejo privado pero alejado, para descansar y estar tranquilos entre familia o amigos.
Juan Jose
2017-02-28T00:00:00Z
Tipus d'habitació
Casa/pis sencers
---
Tipus de propietat
Casa
---
Capacitat
6
---
Dormitoris
Cotacachi, Imbabura, Equador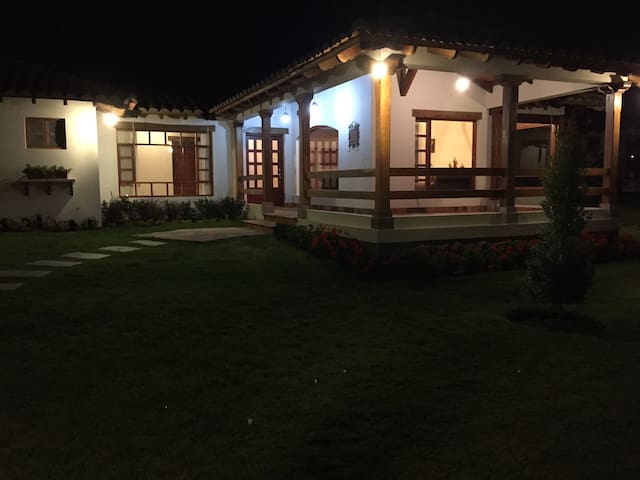 Come and enjoy two rooms located on an organic farm 25 minutes walking from the town of Cotacachi. Built by hand, this straw bale house has rooms with a beautiful view of the Andean mountains. You will have access to dry composting toilets, solar showers as well as shared space with the family who owns the farm. For a small extra cost, you may have the pleasure of experiencing what it is like to work on a farm right outside your bedroom window! Delicious homemade breakfast included.
We are a family of 5 and are half Japanese and half Ecuadorian. We have 3 children ages 11, 6 and 2 as well as 1 adorable kitten. We speak Spanish, Japanese, Kichwa and English.
We live in a small indigenous community with a view of the Andes mountains, a 20 minute walk from the local town of Cotacachi where there are numerous coffee shops, bakeries and a lovely main street, famous for artesanal leather goods.
Tipus d'habitació
Habitació privada
---
Tipus de propietat
Casa
---
Capacitat
5
---
Dormitoris
Cotacachi, Provincia de Imbabura, Equador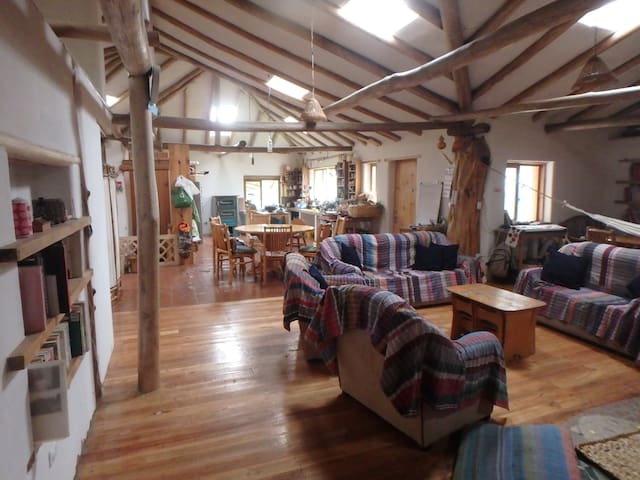 Our house is located a 15-minute walk from Central Park Cotacachi. It has easy access to public transport (taxis, buses, bus terminals). The place is cozy for tourists who love nature and good scenery. We are a family Kichwas, gregarious who like to exchange experiences and culture. We offer a warm and friendly, ideal for couples and adventurous environment.
warm and with good views of Cotacachi and Imbabura home
Our house is located a 15-minute walk from Central Park Cotacachi. It has easy access to public transport (taxis, buses, bus terminals). The place is cozy for tourists who love nature and good scenery. We are a family Kichwas, gregarious who like to exchange experiences and culture. We offer a warm and friendly, ideal for couples and adventurous environment.
Tipus d'habitació
Habitació compartida
---
Tipus de propietat
Casa
---
Capacitat
2
---
Dormitoris
Cotacachi, Imbabura Province, Equador
Beautiful Townhouse located in Cotacachi
Ricardo has a very nice apartment in a good location in Cotacachi. The units are set back a bit from the main street in a tranquil, garden like setting. There's a short walkway that leads to the town's main street of 10 de Agosto - where a lot of the leather good stores (what Cotacachi is known for) and restaurants are located. It's newer construction with all the modern amenities, but it still has a lot of Ecuadorian charm and character. Ricardo and his wife Paula were great hosts and were available and easy to get a hold of. They own a cafe close by as well that opens early in the morning and serves desayunos and almuerzos. Would recommend highly.
Ryan
2017-02-26T00:00:00Z
Wow ! You fell like you are out in the country because of the park like setting of this townhouse but you are in the center of town. If you have a car you have to park in a public lot right in front for only $1 / 24h. It is a bit of a walk into the complex but worth every step. The owners are super nice and respond quickly.
Glenn
2017-03-01T00:00:00Z
Tipus d'habitació
Casa/pis sencers
---
Tipus de propietat
Casa
---
Capacitat
4
---
Dormitoris
Cotacachi, Provincia de Imbabura, Equador
Estamos cerca de Cotacachi, 10 min a pie, 5 en Taxi. Tiene vistas espectaculares a las montañas Imbabura y Cotacachi. La laguna Cuicocha está a 30 min, igual Otavalo. Lugar moblado, con opción para segundo dormitorio.
ES: El departamento es nuevo, en estilo de campo, decorado con amor. Tiene una cocina con todo lo necesario, incluye refri y congelador. Hay un bosque saliendo del portón, y un río cerca de la casa. Está en plena naturaleza, y al mismo tiempo muy cerca del centro de Cotacachi.
La Calera es un barrio de familas indígenas, con todos sus tradiciones y costumbres. La casa es en la entrada del barrio.
We love this place! We booked for four nights, but ended up staying two weeks! We enjoyed having the whole apartment to ourselfs. It's equipped with everything you need: all kinds of cooking equipment, towels, etc. The neighborhood is quiet and there is a lot of beautiful nature around the apartment. A lovely family stays in the apartment next door and takes care of the beautiful garden with hammocks to relax, a beautiful barbeque area and a spectacular view to the volcanos. They also washed our laundry for a fair fee. The owners, Xavier and his family only come on the weekends and are also super nice and lovely people. They made us feel like we were part of the family. Cotacatchi is a very nice, small, quiet town. It took us about 20 minutes to walk to the center and enjoy one of the nice cafés / restaurants or go shopping, etc. We highly recommend to see the Cuicocha lake!! It is beautiful! A taxi takes you there for 6 dollars. Last, but not least, we want to thank Yanneck, who manages the apartment rentings! He was always available for any type of questions. He recommended us a very good Spanish teacher nearby and told us where and when to go to markets (organic market, indigenous market). We enjoyed his delicious bred and other hand made, vegan, high quality goodies (choclate cream, muesli, dried fruit, cracker, etc.) that he sells in Cotacatchi! Thanks so much for everything!!!!
Marcel
2017-03-08T00:00:00Z
Tipus d'habitació
Habitació privada
---
Tipus de propietat
Casa
---
Capacitat
4
---
Dormitoris
Cotacachi, Imbabura Province, Equador
Hermosa habitación, cama de tres plazas muy cómoda, con baño privado, relajante tina y mucho espacio. La cocina moderna con todas las facilidades y vista privilegiada.
Todas las habitaciones tienen vista sea al Cotacachi o al Imbabura, magnífico lugar para descansar, chimenea espectacular en la sala para leer un buen libro.
Los vecinos son personas tranquilas, amigables y muy colaboradoras, hay espacios verdes, es muy pintoresco y a la vez a 10 minutos a pie del centro.
My wife and I had an amazing time! The house was comfortable and safe. Our host was so helpful, we now consider them to be lifetime friends. It was hard to go back home, wanted to stay. Even the neighbors were so friendly and helpful.
Jerry
2016-12-14T00:00:00Z
Tipus d'habitació
Habitació privada
---
Tipus de propietat
Casa
---
Capacitat
2
---
Dormitoris
Cotacachi, Imbabura, Equador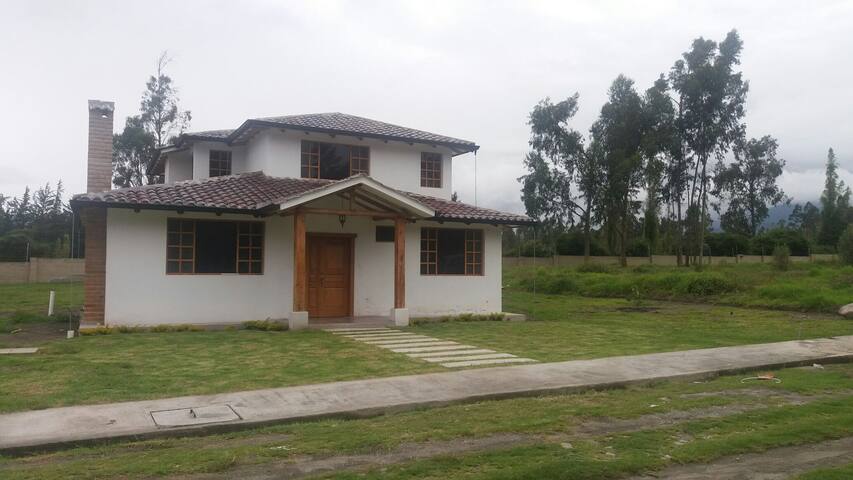 A beautiful Spanish hacienda home located in the western outskirts, just outside the small town of Cotacachi, Ecuador. La Quinta San Miguel is not only for its architecture, but for its fine detailed interior and breathtaking scenery.
La casa es muy cómoda y totalmente equipada. Posee chimeneas, parrilla. Es una casa muy linda e ideal para viajar en grupo familiar o de amigos sea el plan de estar en Cotacachi o sus cercanías. Los cuidadores de la casa fueron muy amables y serviciales.
Maura
2016-11-05T00:00:00Z
Great big and beautiful house in the countryside, perfect for a family getaway, yet close enough to Cotacachi to also be able to explore the town.
Pablo
2016-12-30T00:00:00Z
Thank you for sharing your home with us. This is a large home that is within a short walk of La Mirage Hotel and Spa.The home feels clean, safe and secure as the property managers family live next to the home and are very helpful. It sits right behind the homes in the San Miguel development. I asked that our host have a bit of breakfast supplies ready for us and we were greeted with a large bowl of fresh fruit as well as eggs and bread that were in the refrigerator...Later that day the woman that lives on the property brought us some fresh milk from their cow! Lovely. We were only 4 so it was very roomy for us....if you have a large group it would accommodate you easily. There is WiFi in the livingroom as (URL HIDDEN) well as a fireplace that if you ask will have wood as well. The master bedroom/bath situated on the 2nd floor are huge with a wrap around deck providing beautiful views of the countryside. Lots of amenities here that we didn't really have time to use as we had so many things to do and people to see! If you do a bit of grocery shopping for the foods you like best(great market in Cotacachi right on the way) before getting to the home you will be all set for a relaxing holiday.
Lannie
2015-01-04T00:00:00Z
Tipus d'habitació
Casa/pis sencers
---
Tipus de propietat
Casa
---
Capacitat
12
---
Dormitoris
Cotacachi, Imbabura, Equador
We offer comfortable accommodation in private villa in Cotacachi, picnic area, quiet, gardens, beautiful view a few blocks from downtown. Rooms with private bath and two bedroom villa with baths and sitting available.
Tenenos 2 room cabins with private bathrooms Single and double rooms with private bathroom
Mika was a delightful host and the space provided was very clean in a quiet ambient natural environment with extraordinary views. Thank you so much for sharing such an incredible place it was truly a privilege to get to stay here.
Amber
2016-05-16T00:00:00Z
Tipus d'habitació
Habitació privada
---
Tipus de propietat
Casa
---
Capacitat
2
---
Dormitoris
Cotacachi, Imbabura, Equador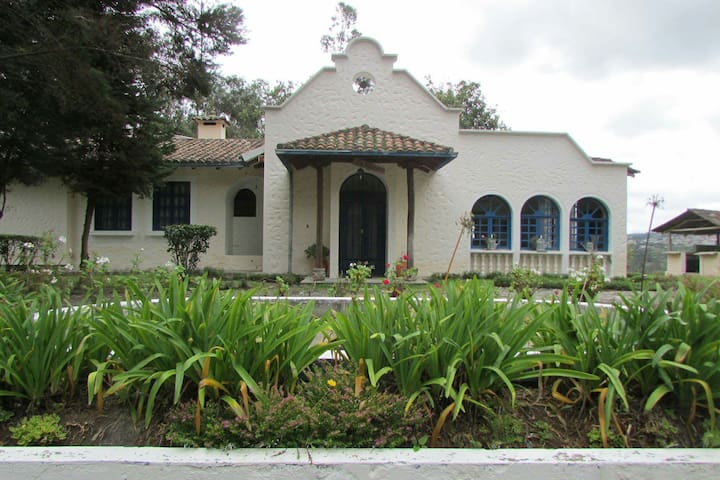 Attractions: incredible views and culture. You'll love my place because of the cozy space. My accommodation is good for couples, adventurers, business travelers, large groups and we have a tour guide.
Marisol's home is basic family residence on rough roads about 5 km from downtown Cotacachi $2 taxi. Marisol takes care of her family and small farm and also makes jewelry. A warm and friendly family, and a good value.
Randy
2016-12-07T00:00:00Z
Tipus d'habitació
Habitació privada
---
Tipus de propietat
Casa
---
Capacitat
4
---
Dormitoris
Cotacachi, Imbabura Province, Equador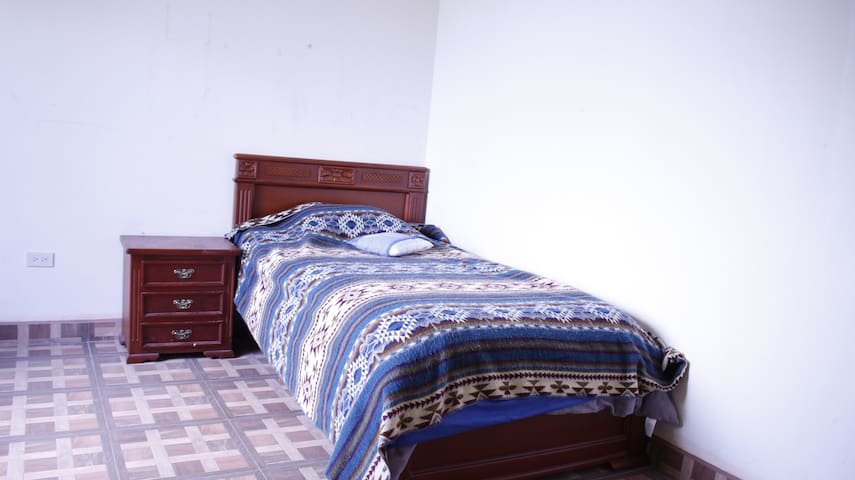 Nuestra cómoda casita de estilo rústico, céntrica y acogedora, cuenta con terraza, sala de estar, cocina, baño y acogedor dormitorio bajo el techo. Esta completamente amoblada y permite alojar hasta 4 personas. Ubicada en una hermosa colina del campo con una vista espectacular de 360 grados de los Andes.
Ofrecemos un reencuentro con la tranquilidad del campo. Nuestro alojamiento está ubicado en un sitio estratégico con acceso rápido a atractivos turísticos de la hermosa provincia de Imbabura. El paisaje es espectacular con una vista única de 360 grados. Se puede alojar hasta 4 personas, contamos con un sofá cama. Tenemos jardines, espacios verdes y terraza.
El lugar es precioso y está ubicado en una encantadora colina en las faldas del volcán Imbabura con una vista espectacular de 360de los Andes. El ambiente es puro y acogedor para relajarse activa o tranquilamente en esta naturaleza llena de energías. El sitio es ideal para amantes de la naturaleza y la cultura andina o andinistas que desean entrenarse para alcanzar cumbres ecuatorianas. Se puede experimentar la vida en el campo, sus trabajos cotidianos y al mismo tiempo estar cerca de ciudades interesantes. Organizamos caminatas y visitas a talleres artesanales, culturales y conviviencas con nuestro entorno indígena.
My partner and I have spent some of the best times of our lives in the beautiful home of Katy and Lionel. We went from Barcelona to Ecuador and fell in love with the house, the volcanoes, the skies, clouds and above all, the generosity and friendship that Lionel and Katy gave us. Hopefully soon we can return to Pucara and enjoy, relax and dream as we had never done before. Thanks friends! // Mi compañera y yo hemos pasado algunos de los mejores meses de nuestra vida en la maravillosa casa de Katty y Lionel. Fuímos de Barcelona a Equador y nos hemos enamorado de la casa, los volcanes, los cielos, las nubes y antes que nada, de la generosidad y amistad que Lionel y Katy nos han brindado" Ojalá pronto podamos regresar a Pucará y disfrutar, descansar y soñar allí como nunca lo habíamos hecho. Gracia amigos!
Rodolfo
2015-08-30T00:00:00Z
This is a great place to stay if you are searching for peace and tranquility outside of a small village. Katty and Lionel are wonderful hosts, and go out of their way to assist you with any questions you may have, and can also help you organize day trips for sightseeing, or hiking. The views from the casita are breathtaking! You can't go wrong if you're looking for a quiet place to stay in the country, but has easy access to Otavalo and Cotacachi.
Kendra
2017-03-20T00:00:00Z
Katty and Lionel were wonderful hosts. They left fresh fruit and bread on the table for us. Lionel helped us with planning our excursions. The house was very clean and comfortable. We look forward to our next trip there.
Carol
2017-03-28T00:00:00Z
We had a wonderful time with Katty and her family. The place was cute and very cozy. It's close to Otavalo and Cotacachi, but far enough away that it was quieter and we got the benefit of being on a working farm in the countryside, complete with 2 cute llamas! We can't say enough good things about Katty and her family (husband and adorable little girl). We rented a car and drove up at 3am and they stayed up to greet us! We wanted to do some excursions and they offered those (we hiked Fuya Fuya, which I highly recommend ). We were on our honeymoon and they had rose pedals on the bed, breakfast foods stocked and all the necessities (toiletries). Definitely stay with them if you come to this area!
Chana & Malachi
2015-11-18T00:00:00Z
Our hosts made us feel extremely welcomed. They picked us up at the bus terminal and dropped us off at the popular Saturday Market then took our luggage to our accommodation so that we could enjoy the day in town. Katty then returned for us to accompany us to our farm stay. She further welcomed us by supplying our temporary home with an array of exotic fruits and a refrigerator stocked with some basic food suff to get us by for a few days. She also embellished things with roses in all major rooms! All I had to mention was that I needed or wanted something and immediately, she addressed it. She and her husband, Lionel were both terrific. The house is advertised as "stunning". It is more a basic but lovely cottage farmhouse on a working farm with spectular stunning vistas. The views are truly magnificent of volcanoes, mountains and valleys. The location is a perfect launching point to take advantage of all the points of interest of the surrounding area. Public transportation was also only a 3 minute walk away.
Matthew
2016-01-13T00:00:00Z
Katty y Leo son anfitriones increíbles! El lugar es precioso, tranquilo, y perfecto si le gusta la naturaleza. Nos encantaba los detalles. Mermelada hecho por la familia, rosas en la cocina, velitas en la mesa, fue especular. Ellos nos ayudaron con todos los aspectos del viaje, transporte, comida, información sobre los lugares de interés en él área. Nos pasamos súper y es seguro que regresaré. Katty and Leo are incredible hosts. The place is precious! Calm and wonderful if you love nature. We loved the details. Homemade jam,Moses in the kitchen, and candles on the table. It was spectacular! They helped us with transportation, information about interesting places in the area, and getting food. We had a great time and will surely return.
Aubree
2016-08-30T00:00:00Z
Katty and Lionel were great hosts. Lionel picked us up and drove us from Banos. Great driver. The place itself was lovely. Very clean and they stocked the place with a few basic items that were definitely helpful. The farm is nice and relaxing with a hammock, some llamas, a wonderful dog, ducks, chickens and rabbits. It's very quiet with picturesque views. Lionel and Katty were very attentive and gave us what we needed, when we asked. They also gave us our privacy. Overall, we had a great stay. Thank you guys.
Desireè
2016-10-17T00:00:00Z
I had a wonderful month stay at the little cabin that Katty and Lionel rent. Their farm is between Cotacachi and Otavalo and is in the prime location to explore that part of Ecuador. The place is very well equipped, even the kitchen if you like to cook, and the internet worked very well. Lionel offers hikes to the nearby inactive volcanoes and lakes and other touristic attractions which is an extra bonus. Both Katty and Lionel was so gracious and helpful, and are the perfect hosts!
Jeff
2016-04-02T00:00:00Z
Tipus d'habitació
Casa/pis sencers
---
Tipus de propietat
Casa
---
Capacitat
4
---
Dormitoris
Otavalo, Imbabura, Equador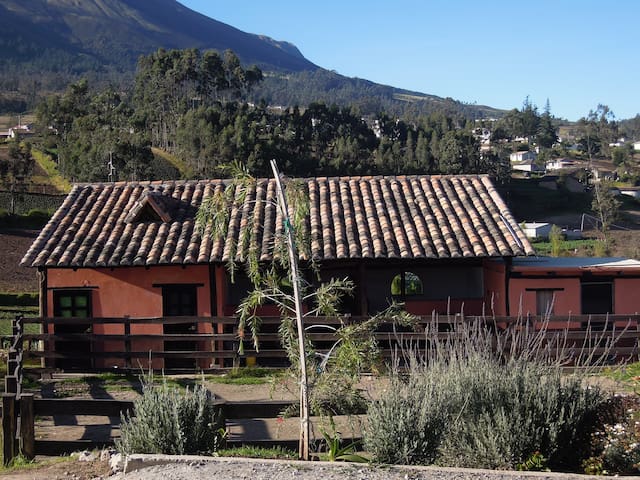 Unser gemütliches Haus im Kolonialstil mit drei Schlafzimmern, voll ausgestatteter Küche und Wohnzimmer mit Kamin liegt zwischen Otavalo und der Laguna Cuicocha im netten Ort Quiroga. Entdecke von hier aus die Provinz Imbabura und relaxe vorm Kamin.
Herzlich willkommen in der komfortablen Casa Colonial "Sisapakarina" in Quiroga. (Sisapakarina ist Kichwa und bedeutet sinngemäß "Blume des Sonnenaufgangs") Das geräumige Haus ist im typischen kolonialen Baustil errichtet und bietet in drei Schlafzimmern (ein Ehebett und vier Einzelbetten) Platz für insgesamt sechs Personen. Das Haus hat eine voll eingerichtete Küche, zwei Bäder mit Dusche und ein geräumiges Wohnzimmer mit einem offenen Kamin. Die voll ausgestatte Küche mit großem Kühlschrank steht Euch voll zu Verfügung. Das Haus befindet sich im Ort Quiroga in der Provinz Imbabura. Dieser liegt zentral zwischen den touristischen Attraktionen Otavalo, Laguna Cuicocha, dem 4.939 m hohen erloschen Vulkan Cotacachi und der gleichnamigen Kantonshauptstadt Cotacachi, die für ihre Lederwaren bekannt ist. Vom gepflegten Garten vor dem Haus sind die beiden erloschenen Vulkane Cotatcachi und Imbabura zu sehen. Hinter dem Haus im Hof befindet sich eine offene Feuerstelle mit Grillrost. Auf dem Grundstück direkt vor dem Haus ist ein gesicherter Stellplatz für ein Fahrzeug.
Von der Casa Colonial "Sisapakarina" aus erreicht man das Ortszentrum vom beschaulichen Ort Quiroga, den Parque Central, an der alle notwendigen Einkäufe getätigt werden können und sich eine schöne Pfarrkirche im Kolonialstil befindet, zu Fuss in etwa 7 min.
Paola was very responsive to contact and questions before we arrived. We stayed here with our baby and Paola and her family made sure we comfortable. Her parents Marco and Conchi who look after the place were very nice and with their son Santiago they helped us find a good doctor nearby when our son got ill. The house was very confortable and well equipped. It had everything we needed, and apart from an electrical incident, we enjoyed staying there. The only things that I think people should be aware of is that Quiroga is like a transit village, people pass through to get to Cotacachi or Otavalo and the locals don't make much effort with visitors. It is also on a main road so can get extremely noisy. But it's close enough to both towns to feel connected. For our purposes the included internet was no where near enough. I was working and it ended up costing a fortune in extra data, but might be enough if you are just a couple that need occassional email use etc. Other than that we thank Marco and Conchi and would recommend staying here if you are looking for some extra space for more than a few days.
Natasha
2015-08-30T00:00:00Z
We didn't stay long 5 days altogether,but we were very satisfied with our first airbnb experience.Paola has been on top when it comes to communicating with prospective clients and straight forward with the explanations regarding the house.We never met with Paola but we did meet her lovely (URL HIDDEN) house was pretty much as described in the listing .The only little thing is the water pressure and warmth.Other than that lovely decent size house,we loved the front patio with the hammock and the table and bench,great for the morning coffee,even though the weather those 5 days wasn't very cooperative.The bus to Ottavallo stops right in front of the house the one heading to Cotacachi stops about 150 yards up the road by the little convenience store.We found 2 little joints to eat in Quiroga(next to the plaza and the church)but they open randomly and not very late,better plan ahead when you wanna eat.If you plan to cook @ the cozy house,the kitchen is practical and includes all the bells and whistles of a nice kit.Note:the market in Cotacachi is very nice, fresh veggies,fruits,dry fruits,grain etc...and at very low cost.Be carefull no bus after 6:30 and the town goes to sleep around 8pm
Thierry
2016-04-04T00:00:00Z
la maison est très jolie, propre et pratique. Idéale pour notre famille. Même si elle est un peu excentrée, les bus pour Otavalo et Cotacatchi passent devant toutes les 10 min. Un grand merci à Mme et Mr Rodriguez pour leur accueil et leur disponibilité. La casa es muy linda , limpia y conveniente. Perfecto para nuestra familia . Incluso si es un poco excéntrica , los buses por Otavalo y Cotacatchi pasan cada 10 minutos. Un gran agradecimiento a los señores Rodríguez por su acogida y disponibilidad. The house is very nice, clean and convenient. Perfect for our family. Even though it is a little outside the bus to Otavalo and Cotacatchi pass by every 10 minutes . A big thank you to Mr and Mrs Rodriguez for their welcome and availability.
Manu
2015-04-07T00:00:00Z
Maison simple mais assez comfortable. Regrette un peu que l'eau de la douche soit un peu froide.
yves
2016-01-15T00:00:00Z
The listing was not accurate and the hosts made us feel unsafe as they were adamant about all the many locks the house itself was nice but in the wrong area for gringos Roosters,Roosters Roosters an barking dogsThey did not want us to use the fourth bedroom that we needed until we complained, also did not want us to use fireplace for heat . No internet
Bonnie
2015-11-04T00:00:00Z
Paola's parents made us feel very welcome they were very nice and made sure that we were familiar with the area. The house was nice and was well located between Cotacachi and Otavalo in a small village and we felt very safe. The house was close to a bus stop that made it easy to go to near by areas. The house was clean when we arrived and had the necessary amenities for us to be comfortable.
Adrian
2015-02-22T00:00:00Z
We enjoyed our stay in this private home. We stayed mostly in hotels and hostels on our vacation, so it was nice to have a bit of privacy and do some of our cooking for a change. The home is lovely and comfortable. The only downside is that the house is on a busy street, so it can be a bit noisy from traffic at times. The upside of this is that buses going to Otavalo (15 minutes) and Cotacachi (10 minutes) pass by every 10 minutes or so.
Peter & Judy
2015-11-15T00:00:00Z
Tipus d'habitació
Casa/pis sencers
---
Tipus de propietat
Casa
---
Capacitat
6
---
Dormitoris
Cotacachi, Imbabura, Equador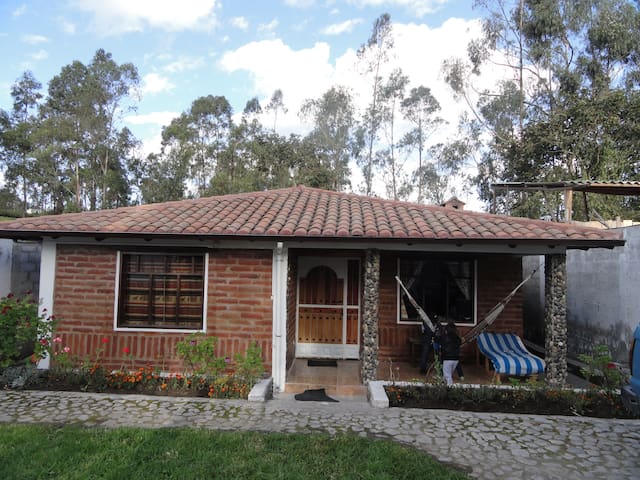 Beautiful house, two floors, on the first floor màster bedroom with king bed walkin closet and private bath, living room, kitchen and guest bathroom. On the second floor one bedroom with queen size bed and bathroom, space for reading and terrace to relax and enjoy the view. Tranquility in natural surroundings, the house is not attached, has front and rear garden, trees and flowers. Within a development of 10 lots, of which 5 are built with country style houses
If you are passing through or plan to live in Cotacachi, this is the place, is located three blocks from the hospital of Cotacachi and the police station, one block from the Sucre street that connects Cotacachi with Quiroga and Otavalo so is you can arrive by bus from Otavalo for less than two dollars. The place is quiet, no parties at night and in the city center, it is a safe place, the guard house is a short walk from the house. The view, unparalleled, you can see the Ibambura, Cotacachi and Cayambe. Breathe fresh air and read a good book is something that can not miss.
Vista, tranquility, security and proximity to transportation.
Tipus d'habitació
Casa/pis sencers
---
Tipus de propietat
Casa
---
Capacitat
6
---
Dormitoris
Cotacachi, Provincia de Imbabura, Equador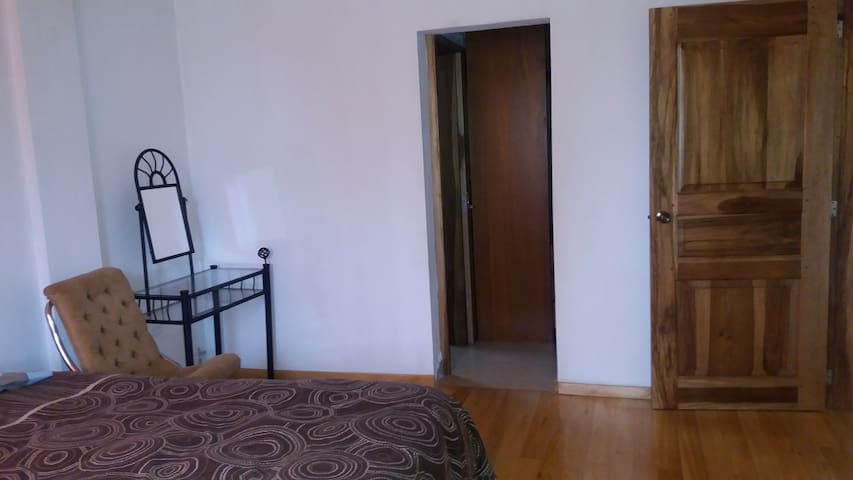 My place is close to Cotacachi Otavalo. You'll love my place because of the outdoors space, the comfy bed, the light, and the kitchen.
Tipus d'habitació
Habitació privada
---
Tipus de propietat
Casa
---
Capacitat
2
---
Dormitoris
Otavalo, Imbabura, Equador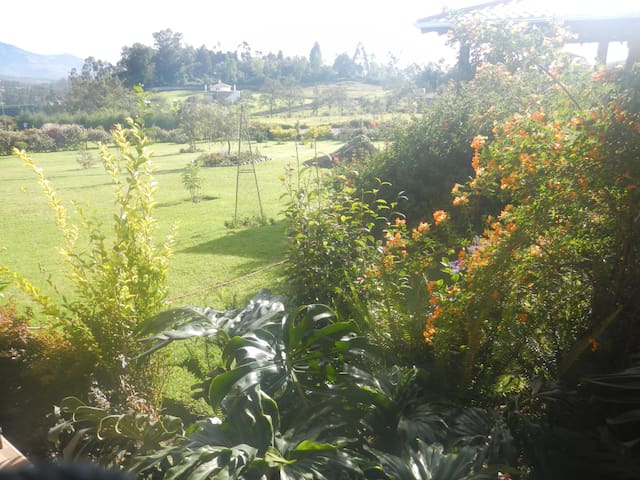 COMODA HABITACION EN UN AMBIENTE FAMILIAR, CERCA DE LUGARES INCREIBLES PARA HACER TURISMO, UBICADO EN EL PARQUE PRINCIPAL DE COTACACHI TE DA UNA MAGNIFICA VISTA DEL VOLCAN COTACACHI, A 20 MINUTOS DE LA PLAZADE PONCHOS Y MUY CERCA DEL LAGO CUICOCHA
MI PEQUEÑA FAMILIA LA CONFORMAMOS MI ESPOSA MI HIJA Y YO, VIVIMOS EN PLENO PARQUE CENTRAL DE COTACACHI, FRENTE A LA IGLESIA PRINCIPAL, LA TERRAZA OFRECE UNA VISTA MARAVILLOSA DE LOS VOLCANES IMBABURA Y COTACACHI, MI CIUDAD ESTA CERCA DE MUCHOS LUGARES TURISTICOS, ES MUY FACIL MOBERSE DE UN LUGAR A OTRO LA HABITACION ESA UBICADA A 20 PASOS DE LA PARADA DE BUS O TAXI, A 20 MINUTOS ESTA OTAVALO EN TODA LA PROVINCIA SE PUEDE HACER TURISMO COMUNITARIO, EN FIN TENEMOS UNA EXELENTE UBICACION.
LA LAGUNA DE CUICOCHA ES EL SITIO TURISTICO MAS REPRESENTATIVO DE COTACACHI, LA GENTE SE DEDICA A HACER ARTESANIAS DE CUERO, A POCOS MINUTOS ESTA LA CASCADA DE PEGUCHE, EN LA PROVINCIA QUE ES PEQUEÑA HAY CINCO LAGOS Y MUCHOS LUGARES TURISTICOS.
Tipus d'habitació
Habitació privada
---
Tipus de propietat
Casa
---
Capacitat
2
---
Dormitoris
Cotacachi, Imbabura, Equador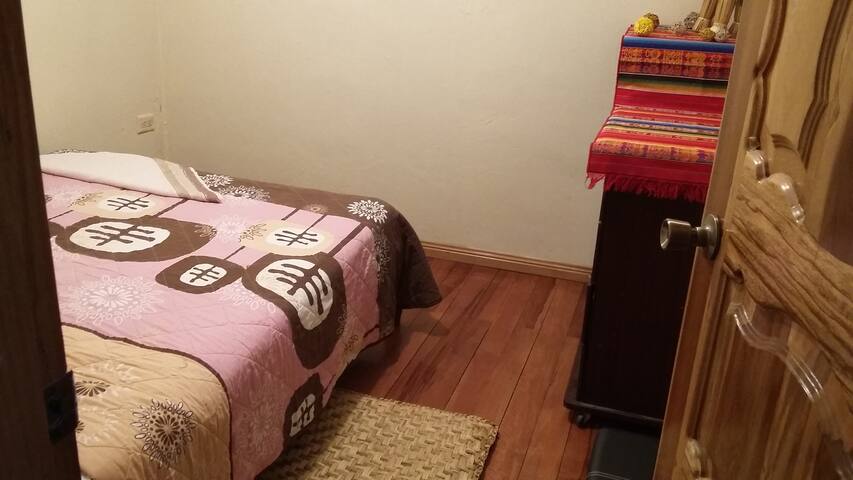 This brand new house is set on a half acre nestled between two volcanos in the picturesque River Ambi valley. The guest bedroom is in its own private wing and includes a fireplace and a private bath with tub and shower.
Just minutes from Cotacachi in quiet area with magnificent views.
We had a very nice time staying with our AirBnb hosts in Cotacachi, Randy and Karen. The room was very clean and had suitable space for my wife and I. The fireplace was a nice addition and the mattress is spectacular. Once the music in the surrounding towns ended we slept wonderfully and woke to singing birds and the hum of hummingbirds. Our hosts were very accommodating and had the right balance of being present and allowing us as much privacy as we wanted. There are great views of the entire valley and on up to the high peaks on either side of the house. Highly recommended for those who want quiet and independence.
Paul
2015-03-02T00:00:00Z
Tipus d'habitació
Habitació privada
---
Tipus de propietat
Casa
---
Capacitat
2
---
Dormitoris
Cotacachi, Imbabura, Equador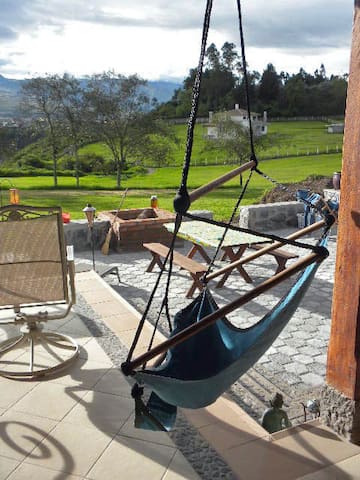 2200 sq foot new home located in the hills between Cotacachi and Otavalo available for weekly, monthly or long term rental. 3 bedrooms. 2.5 baths. 2 fireplaces. Porch. Beautiful views of the surrounding mountains.
Quiet. Private home in the hills. Newly built brick home. Scenic views of Mt Cotacachi and Mt Imbabura. Nuevo rustic. No internet. No tv. Meal preparation and cleaning service available upon request for additional charge
The house is located in the hills providing fresh country air, gorgeous views of the surrounding countryside and mountains. Peaceful, private and quiet accommodations. 2 outside Hacienda dogs on site.
Tipus d'habitació
Casa/pis sencers
---
Tipus de propietat
Casa
---
Capacitat
6
---
Dormitoris
Carabuela , Imbabura, Equador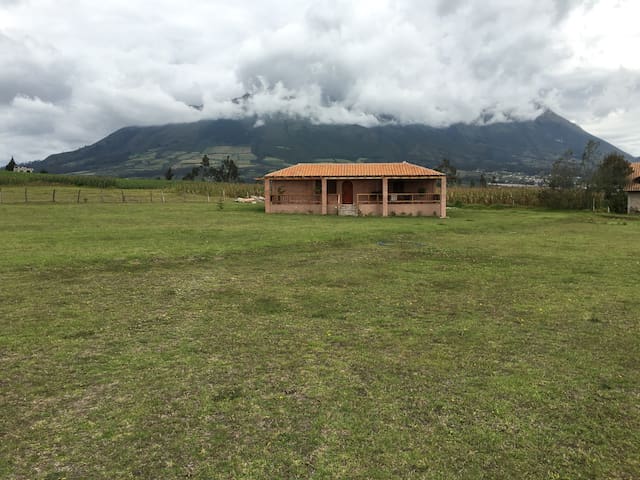 bright and airy room, lacquered solid wood floor, new windows, curtains, closet, hot water, sheets and towels.
Tipus d'habitació
Habitació privada
---
Tipus de propietat
Casa
---
Capacitat
2
---
Dormitoris
Cotacachi, Provincia de Imbabura, Equador
1

-

18

de

47 Lloguers de Cases
Introdueix les dates per veure el preu total. S'aplicaran tarifes addicionals. És possible que també s'apliquin impostos.