dormitorio principal con baño privado completo en una casa de 5 dormitorios en Colma, CA limítrofes Daly City. 10-15 minutos a pie de la estación de Bart Colma. Cerca de San Bruno State Park. Compañeros de casa son generalmente tranquilo y el acceso a servicios de cocina completos están disponibles.
enjoy my stay at Darren's each and every time
john
2016-08-26T00:00:00Z
flawless experience. the accommodations were clean and centrally located and Darren was friendly, easy going and even made sweet potato enchiladas!
john
2016-01-15T00:00:00Z
Tipus d'habitació
Habitació privada
---
Tipus de propietat
Casa
---
Capacitat
2
---
Dormitoris
Colma, Califòrnia, Estats Units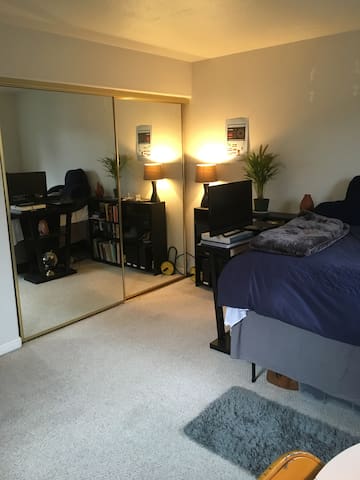 Tenim un encantador, 2 dormitoris, 1 bany de gran casa victoriana en un turó amb vista panoràmica, un jardí i una terrassa. Hi ha aparcament gratuït al carrer i una parada d'autobús és a 2 minuts a peu a la cantonada. El centre està a uns 30 minuts en transport públic.
Vostè té el seu propi dormitori amb un llit doble (més petita que un llit de matrimoni) i comparteix el bany individual amb nosaltres. Vostè està convidat a seure a la terrassa i gaudir de la vista sempre que el temps ho permet. També és agradable d'utilitzar la llum de la cuina. A més: Oferim un esmorzar senzill fer-la seva-pròpia com la fruita i granola. , Posi per emmagatzemar articles addicionals en el seu esmorzar a la nostra nevera. Safeway i Whole Foods són els dos llocs propers populars per a la compra de queviures. La majoria dels nostres clients opten per una de diverses opcions d'esmorzar increïbles prop. Sempre tenim cafè i te disponibles per a vostè. El meu marit i jo som de benvinguda, els amfitrions amables, feliços d'ajudar a trobar el seu camí al voltant de vostè. Sóc un professor de ioga i terapeuta de moviment del cos, i el meu marit és un agent d'hipoteques. Tot i que tots dos tenen una vida activa, ens agrada conèixer i interactuar amb els nostres clients. Alhora, sabem que vostè té els seus propis plans i prioritats, i volem respectar el seu temps tot sol i privacitat. Vivim en una gran part de Sant Francesc. L'aire és fresc, la gent és amable i estem a prop de restaurants i les botigues de barri. El carrer 24 en el "centre" Noe Valley és un dels més encantadors barris de Sant Francesc. És com estar en una petita ciutat enmig d'una gran ciutat. Estem en un gran emplaçament per caminar, conduir i prendre el transport públic. caminar: Estem a 10 min. caminar costa avall fins al carrer 24, la moda botigues i restaurants del carrer de Noe Valley ,; a 5 minuts a peu costa amunt a Safeway supermercat, farmàcia Walgreens, oficina de correus, i alguns restaurants Alguns dels nostres clients més ambicioses a peu dels barris propers, com el Castro, la Missió, i Glen Park. Estem en un turó empinada, així que estar preparats, especialment en el camí de tornada! Recordi que sempre pot agafar l'autobús! Transport públic: La nostra casa és a prop de diverses línies d'autobús: 35, 24, i 52 línies estan molt a prop de casa nostra. El 35 és especialment estreta, un tranquil un minut i deu per segons a peu de casa a la parada d'autobús. (Sí, ens cronometrar!) El 35 li portarà al "centre" Noe Valley i el Castro en qüestió de minuts. A l'estació del carrer Castro pot connectar-se a moltes altres línies que fàcilment li portarà al centre i més enllà. El 24 i 52 estan a menys de 5 minuts de casa nostra i el portarà a molts altres barris, així com a altres línies que connectaran a tota la ciutat i per al BART. Estem encantats d'ajudar amb els horaris d'autobusos i de ajudar-vos el millor que puguem. Tota aquesta informació es pot trobar en línia, també. Una altra opció freqüent és prendre el tramvia J-Església al centre. Està a 10 minuts a peu costa avall des de casa nostra fins a la parada 27 Sant. Aquest tramvia es dirigeix principalment sobre el sòl i amb vistes interessants i precioses de diferents barris i el Parc Dolors al camí. conducció: Estem en una ubicació excel·lent per a aquells de vostès que estan conduint. Aparcament al carrer prop de la nostra casa és fàcil i gratis (a diferència de moltes parts de Sant Francesc). La nostra casa està en un carrer costerut, però la majoria dels visitants del parc al davant de casa o dins d'unes poques cases de la nostra. De tant en tant un hoste s'estacioni costa avall o al carrer transversal més propera, ja que és més pla, després de caure primer les seves maletes. Tres coses importants que ha de saber sobre l'aparcament (l'ajudarem amb tots ells!): 1) Aneu amb compte de no bloquejar el camí de ningú. 2) Assegureu-vos de "frenar" les rodes als turons com el nostre. 3) Pareu atenció als senyals d'estacionament. Estem a prop d'altres barris de Sant Francesc, així com a les carreteres que arriben a qualsevol part de l'àrea de la badia incloent Berkeley, Oakland, Silicon Valley, Santa Creu, Monterey, el comtat de Marin, Point Reyes National Seashore, el comtat de Sonoma i cellers de Napa Valley , i més. Taxi: Els viatges en taxi es poden organitzar fàcilment i molt assequible. Escollir entre els taxis tradicionals a serveis com Lyft i Uber moure per la ciutat! Tenir un telèfon intel·ligent per a mapes, horaris de transport, i la cartografia és una veritable avantatge, encara que no és una necessitat. Tenim internet sense fils per ajudar en les recerques. El número de telèfon en el nostre anunci no accepta els textos, ja que és un telèfon de casa, així que si fóssiu lliure de trucar i deixar un missatge de veu o utilitzar el correu electrònic. Si ha de fer-ho de text a la cel·la d'Ed, que li proporcionarem un cop confirmada la seva reserva.
Vivim en una gran part de Sant Francesc. L'aire és fresc, la gent és amable i estem a prop de restaurants i les botigues de barri. El carrer 24 en el "centre" Noe Valley és un dels més encantadors barris de Sant Francesc. És com estar en una petita ciutat enmig d'una gran ciutat.
Judy and Ed were incredible hosts. They were extremely hospitable and generous. I arrived to welcoming conversation, clean sheets, clean towels, and of course a very beautiful house. Their neighborhood was a treat to explore, and if you happen to be seeing the city for the first time they both are full of recommendations. This was my first time using Airbnb and, to be honest, I'm worried future trips won't be able to top my stay with the two.
Matt
2016-01-11T00:00:00Z
非常温馨的一对老夫妇,房子的位置很好可以看到整个湾区
Kai
2016-04-30T00:00:00Z
Wir wurden sehr herzlich aufgenommen. Es war sehr nett und wir haben uns wohlgefühlt auch wenn unser Aufenthalt nur kurz war. Wir möchten uns hiermit nochmals bedanken. Beste grüsse. Anita und Thomas
Thomas
2015-06-08T00:00:00Z
Judy and Ed were wonderful hosts. We only stayed one night but had a couple of wonderful conversations with them. The room and bed were very comfortable. It is nice and quiet at night. The view is fantastic. We would, definitely, stay there again when we are in San Francisco.
Corey
2013-08-10T00:00:00Z
We stayed three nights at Judy and Ed house. We had a nice welcome! It was really pleasant to discuss with Ed!! He was helpful and gave us a lot of suggestions to get around SF. The view from the apartment terrace is just amazing, the garden gorgeous. We had the visit of a cute raccoon in the morning. It is practical to stay there if you rent a car since you don't have to pay the parking. We enjoyed! Thanks Ed!!!
Micaela
2014-03-20T00:00:00Z
Great experience. Judy was very flexible and accommodating for me when I had problems with my flights. Judy and her husband told us some great spots to check out and were very great to talk as well. Great stay, great hosts overall.
Peter
2014-05-17T00:00:00Z
Beautiful home with a wonderful view. And what great hosts! Judy and Ed are fantastic.
Ben
2014-06-10T00:00:00Z
Judy and Ed are very nice, hospitable people, and their home is in a great location for getting around. We had a car with us & never had too much trouble finding parking near the house, and uber rides were inexpensive. Judy also has great advice for how to navigate the public transportation if you're traveling without a vehicle. Overall it was very comfortable and a great place to stay while we explored the city, thank you!!
Dana
2017-04-07T00:00:00Z
Tipus d'habitació
Habitació privada
---
Tipus de propietat
Casa
---
Capacitat
2
---
Dormitoris
San Francisco, Califòrnia, Estats Units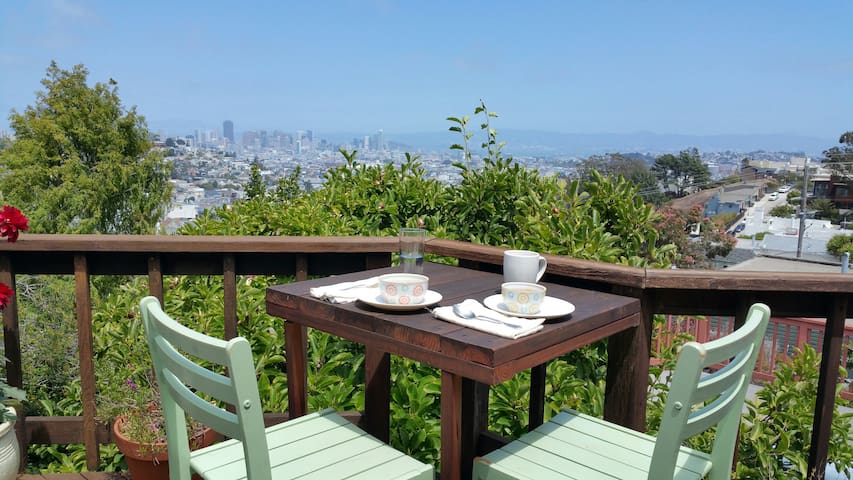 Das HackerHome Netzwerk Egal, ob Sie in das Tal neu sind, gebohrt mit Ihrem aktuellen Gehäuse oder einen vorübergehenden Platz brauchen ... Ich würde gerne helfen. Wenn du bei mir behalten, werden Sie sofort Freunde haben und Teil eines Netzwerks von 10+ Häuser in der Bay Area sein.
Die offene Küche und Wohnbereich eingerichtet ist, einen bequemen Platz, um zu arbeiten oder zu entspannen. Es gibt eine separate kommunale Arbeitsbereich mit mehreren Schreibtischen. 3 Schlafzimmer - 1 private und 2 Mehrbettzimmer 2 Bäder
Daly City ist ein Ort, der das Budget und nur 8 Minuten zu Fuß zur Bart passt! Es dauert nur 20 Minuten in die Innenstadt von San Francisco.
Vic is a great host! The place was cosy and friendly. A 5-10min walk to Colma Bart station. Also close to Walgreens and bank of America. Target, best buy and malls within 30min walk.
Annie
2015-01-26T00:00:00Z
Responsive host, convenient location, nice housemates (not all techies). Cons: Price increased from $35 (IIRC) last month and there is monthly discount so I can't really recommend it for month-long stays.
Thomas
2014-06-13T00:00:00Z
Vic was very helpful in getting me set up here at the last minute and I really appreciated his hospitality. A good option for those wanting to spend more than a few days exploring SF and stay somewhere affordable. Easy to get into the city and back. Very friendly and accommodating host. Pros: Comfortable bed, airy apartment, nice fellow guests, clean and well-stocked bathroom. Very clear instructions for getting in and finding my bed. Close to the BART. Cons: A little stark/sparsely furnished (no silverware, corkscrew, dish soap/sponge). Not great for cooking own food. Neighborhood is residential but a little worn...Try to arrive and get your bearings during daylight.
Chloe
2013-09-05T00:00:00Z
I plan on moving to San Francisco at a later date so I wanted to take a trip to see what my future home would be like. I am SOOO thankful that Vic exist!! He responds promptly to emails which I find amazing cause he seems like a busy guy. The place was awesome for the price, and you get to meet really cool people in the house. The neighborhood is safe (Walked around pretty late multiple times at night). The house is located close to the Bart train station which is extremely convenient. Mehmet is extremely helpful, and does a GREAT job of taking care of the house and the guest. Thanks to him I have tasted some delicious Cali foods man!! Next time I pass through San Francisco again, I know exactly where I will stay.
Corey
2014-08-19T00:00:00Z
Vic is a great host and I had the best 2 months there. The location is very near to BART and everyone at the house was very laid-back, helpful and friendly.
Apoorv
2016-01-31T00:00:00Z
Thank you for amazing house. It was fun and clean room and amenities. Even though it was my first trip to US, for Vic's help it was nothing to get trouble. It was so smoothly to get there. And share mates are also nice!
Keisuke
2016-09-06T00:00:00Z
Accurate description, quiet and safe neighbourhood, super welcoming housemates and host. This was a great base of operations while hunting for something more permanent. The kitchen is well equipped, the bathrooms were clean, the internet worked smoothly, the TV was massive. Also, great communication about how to find my way there from the airport.
Ruskin
2014-08-24T00:00:00Z
Great place!
Luis
2017-03-31T00:00:00Z
Tipus d'habitació
Habitació compartida
---
Tipus de propietat
Casa
---
Capacitat
9
---
Dormitoris
Colma, Califòrnia, Estats Units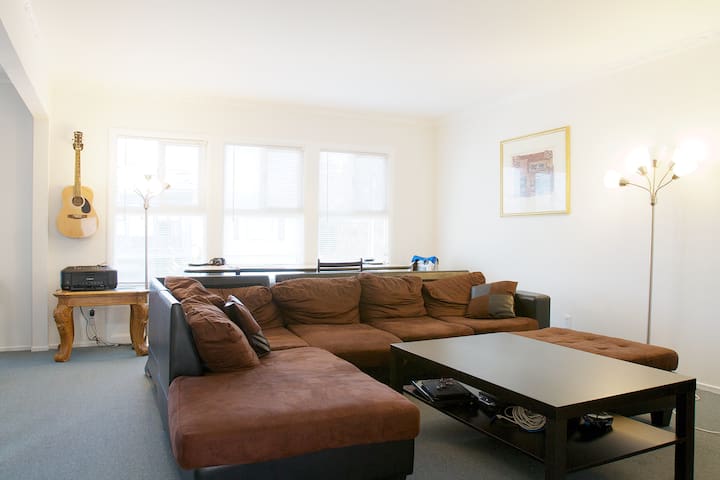 habitació gran en una ubicació molt cèntrica, el transport públic (BART + Muni) és de 5 minuts a peu de la casa, els autobusos a tot arreu són un parell de pomes. El lloc és tranquil i silenciós, és una combinació perfecta de viure en una ciutat i una escapada serè. Recordeu que la casa té unes escales (com la majoria de les cases SF`s ho fan) per arribar a la porta principal.
L'habitació té un llit de mida completa, assecador de cabell, penjadors, planxa, escalfador, un munt de mantes i coixins per a la seva comoditat. Per a la tercera persona, hi ha un llit plegable amb la qual es proporcionen tots els serveis. Casa disposa d'internet Wi-Fi, calefacció central, llar de foc, rentadora i assecadora. Hi ha un munt d'aparcament al carrer lliure disponible.
La casa està situada en un barri molt tranquil. Hi ha un munt d'aparcament al carrer disponible. En qualsevol lloc on aparcar, si us plau vos de no bloquejar un camí d'entrada d'algun veí.
Such a beautiful home!! A wonderful place to stay and great hosts! :)
Brianna
2017-03-30T00:00:00Z
We really had a great time staying at Javier and Illi's house. We loved the location because it was in the middle of everything and downtown SF was just a couple minutes away. Everything was super easy to find and we loved the little notes around the house to make us feel welcomed. We were able to meet Javier, who was just very chill and friendly. We had a great stay and we would stay here again!
Meilin
2017-01-12T00:00:00Z
Clean, very comfortable bed, convenient location. Would stay again without hesitation.
Kevin
2017-04-07T00:00:00Z
When looking for the house, look closely for the house number; it is not as visible as others. Javier and Lil are very nice. The place is quiet. Parking is good. All of our needs were met.
Elaine
2017-03-10T00:00:00Z
The place was well-equipped for guests and it seems Ill and Javier have had some experience hosting. Everything went smoothly!
Weston
2017-03-20T00:00:00Z
Very clean + cozy! Although we didn't spend a lot of time there, we felt very welcomed.
Joany
2016-12-22T00:00:00Z
You can tell that Ili and Javier have experience with air bnb as they are very professional and have details thought out, such as water in the room, and a book in the room with neighborhood maps, rules, key info, etc. For the great price, you are in a central neighborhood close to lots of good Mexican food and shops/restaurants to walk to, but in a neighborhood where parking is easy. They are very kind and even let us relax and watch Netflix in their living room after a day on our feet, which was awesome. They seem like cool, smart people and I would definitely stay with them again. Gracia Ili y Javier! A+!
Bita
2017-02-17T00:00:00Z
The place is within walkable distance from BART station but very far from Cal train station. Around 0.3 mile walk to a nearby restaurant. I enjoyed my stay!
Ajay
2017-01-25T00:00:00Z
Tipus d'habitació
Habitació privada
---
Tipus de propietat
Casa
---
Capacitat
3
---
Dormitoris
San Francisco, Califòrnia, Estats Units
Moderne, spacieux, 2 pièces Mission Terrasse avec patio extérieur. quartier de la classe ouvrière avec une touche latine. Près de florissants, hanche magasins Mission District et restaurants. 20 minutes sur les transports en commun au centre-ville de SF. 5 minutes de l'autoroute. Accès facile South Bay.
Náš nově zrekonstruovaný prostor byl vkusně zařízené moderním nábytkem a originály uměleckých děl namaloval svou ženou. Místnost plocha obývací pokoj / jídelna, je vybaven mikrovlnnou troubou, lednicí, kávovarem a varnou konvici, s bezplatnou kávu a čaj. Máme za předpokladu, nádobí a příbory pro vaše pohodlí. Můžete se těšit na plnou lineup DirecTV kanálů (včetně HBO) a wi-fi. V ložnici je manželská postel a dostatek úložného prostoru. V obývacím pokoji je rozkládací gauč / lůžko a široký, plošina pohovka, která může ubytovat jednu dospělou osobu nebo dvě děti pohodlně. Oba obývací pokoj a ložnice jsou prostorné a vzdušné.
Naše funky, etnických sousedství má celou řadu středoamerických restaurací, a je velmi blízko k kyčelních klubů, barů a restaurací živé čtvrti Mission (10 minut jízdy autem nebo autobusem). Jsme 10 minut chůze od parku Balboa, obrovská rozloha zelených, včetně hracích polí, krytý bazén a hřiště. Nechceme nabízet rezervované parkovací místo, ale není k dispozici během 2-3 bloků dostatek parkování na ulici. Další podrobnosti o možnosti parkování naleznete na Getting Around části.
Great place exactly like the photos. Roberts family was sweet, welcoming, and had many magazines to help figure out what you can do around San Francisco. All around great experience!!
Joseph
2017-03-06T00:00:00Z
Robert was a really great host. The communication was very fast and easy. The flat was super clean and has modern furniture. We really enjoyed our stay and would definitely come back.
Sabine
2016-08-05T00:00:00Z
Robert's place was amazing! Very chic and amenable. Robert was also super kind and always available to help. We really enjoyed our stay!
Sundus
2017-03-27T00:00:00Z
Robert's place was excellent. We were able to easily reach the BART station by walking. The place was very clean and bright and very comfortable for our family of four. Looks just like the pictures!! Robert was very helpful and kindly saved us a parking place right in front of his place. We would definitely recommend staying at this location when visiting San Francisco.
Michelle
2017-03-15T00:00:00Z
Robert was very professional and knowledgable about the city. He is very tourist friendly, so if you're visiting for the first time, he can give you the scoop. He had body wash available provided plenty of towels, sheets and blankets. The place is spacious, very clean and gorgeous. He gave us the disclaimer that you can hear his family walking around upstairs but him and his family are pretty noise free. I highly recommend.
Dee
2016-06-13T00:00:00Z
Everything went super smooth and were super nice. We only spent one day there but it's nice when the place you're staying goes smooth. Super clean!
Chelsea
2016-02-26T00:00:00Z
Robert & his family are very friendly & helpful! The place is very clean and organized. You can hear some walking upstairs and parking is a hit or miss.
Ashley
2016-11-17T00:00:00Z
Great little place, just right for us as a landing pad after exploring the city. Very clean and cozy. Robert and his family were very kind and friendly with great advice about the area. Will be staying again when we come back to the area. Oh! And the bed was amazing!
Lexi
2016-05-21T00:00:00Z
Tipus d'habitació
Casa/pis sencers
---
Tipus de propietat
Pis
---
Capacitat
4
---
Dormitoris
San Francisco, Califòrnia, Estats Units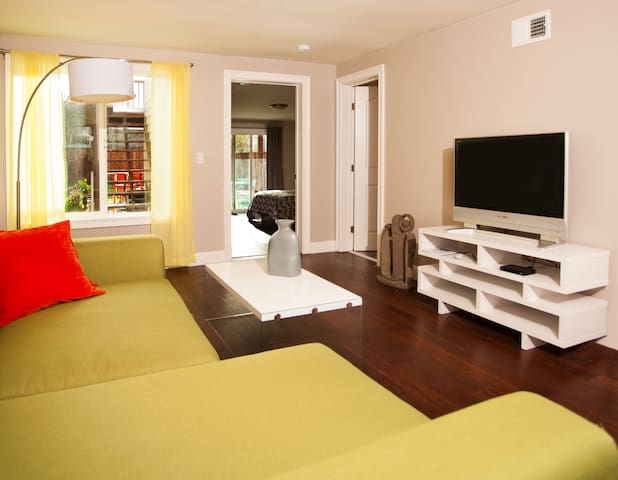 Gabriel was a great host with a great apartment! He left us a bar of chocolate, a bottle of wine, and a couple beers in the fridge. The place was clean and well kept and when we had a minor issue with the lock, Gabriel was helpful and stayed on the phone with us until we figured it out. Overall, just a great experience!
Christopher
2015-09-25T00:00:00Z
Gabe was a great host! He was friendly, informative and easily accessible. The room was very clean and exactly what my wife and I needed. It was our first airbnb.com experience and it was a great one! We would definitely recommend others to stay with Gabe and I'm sure we will in the future!
Michael
2012-09-14T00:00:00Z
Loved Gabe's spot. Super bright, clean and lots of cool touches from the books (particularly loved the autobiography of the Beastie Boys by the toilet) to the cold beers in the fridge waiting. He takes good care of his visitors. Good stuff.
Rob
2012-11-17T00:00:00Z
Coming from the blistering cold Northeast, Gabe's place was heaven! Upon arrival, we were welcomed by him, a delicious bottle of Napa wine and dark chocolate. The cozy studio has gorgeous views, a comfortable bed, a nice bathroom (with a nice view!), a kitchenette with a small fridge, some kitchen appliances like a coffee maker and a toaster oven. It has everything you need. The studio, connected to the main house, is private and located on a quiet street in Noe Valley. The neighborhood is quiet, friendly, quite beautiful with nice views, and parking is easy to find. We stayed for 5 nights, and were truly sad to leave. Gabe is a kind, warm, friendly, and overall great host. He gave us great recommendations for coffee shops, restaurants, and though we are not surfers, pointed us to a gorgeous beach with with awesome waves. Gabe made us feel very welcomed, and after a few nights, it felt like home. Next time we are in town, we will undoubtedly book here! We highly recommend this place. Thanks Gabe!
Alexander
2013-01-21T00:00:00Z
My wife and I we spent just 4 days in San Francisco and we totally enjoyed our stay at Gab's studio. It is close to all public trasport and with in a few minutes walk from shops and restaurants. We did not have the chance to meet Gab in person however he was always in contact with us via e-mail. Great experience and great location...a must if you want to visit this beatifull city in a different way.
Andrea
2013-11-03T00:00:00Z
Gabriel was very friendly and hospitable. We had a very nice stay. Wonderful neighborhood with amazing views!!!
Kristen
2014-03-11T00:00:00Z
Gabe's studio is clean and well-appointed. Great place to stay, close to where you want to be, comfortable and quiet. I love comfortable beds. I was not disappointed.
Greg
2014-06-03T00:00:00Z
Great studio with awesome views! Check in was easy and quick. Ample safe street parking. Great location and easy to walk to local bakery and restaurants.
Jessica
2014-08-12T00:00:00Z
Tipus d'habitació
Casa/pis sencers
---
Tipus de propietat
Pis
---
Capacitat
2
---
Dormitoris
San Francisco, Califòrnia, Estats Units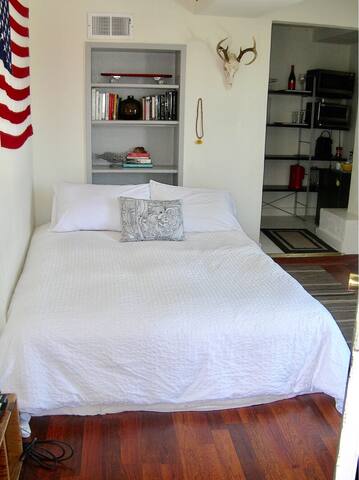 Nuestro lugar está cerca de la playa del océano, San Francisco State University, Stonestown Galleria Mall, el parque Golden Gate, a 20 minutos en coche del centro de San Francisco, Irving y la puesta del sol restaurantes. . Te encantará nuestro lugar debido a la simplicidad, comodidad y sensación hogareña. Nuestro lugar es ideal para aventuras, emociones baratas solos o incluso con amigos. Muni y los autobuses están justo en la puerta para facilitar el viaje a San Francisco, también. Nuestro lugar también es bueno para parejas, aventureros en solitario, y viajeros de negocios.
Very clean and nice accommodations!
Grace
2017-03-27T00:00:00Z
Great place! So close to public transit.
Amilyn
2017-03-30T00:00:00Z
I really liked the place and Lara was helpful and kind. I would definitely come back again.
Nasser
2017-03-15T00:00:00Z
Peaceful place. Right in front of a train stop. Provides breakfast and snacks. Room is clean and tidy.
Matt
2017-03-28T00:00:00Z
Lara and her roommate were great hosts. Easy to reach, and super nice. The room was cute and very clean, the bed is as small as it looks, but comfortable and honestly you can't beat it for the price. There is a muni stop literally right out front going both directions- to and from the city. The only drawback here is that it is LOUD- last stop happens at 1am and first is at 5am, so if you are a light sleeper, bring ear plugs. Overall we had a great stay here, and definitely would stay again! Thanks, Lara!
Haley
2017-03-19T00:00:00Z
Nice place to stay! Very clean and organize. Host by very nice and caring people!
Brian
2017-03-10T00:00:00Z
Location is great: within the city but outside the craziness of downtown or other busier neighborhoods. The room has plenty of space. Lara was very responsive with communication!
Stephanie
2017-04-07T00:00:00Z
Lara was easy to get a hold of and quick to reply with any questions. The room was an awesome place to finish off a long day exploring. Bonus - her roommate is amazingly kind and friendly. We had a great time here :)
Caity
2017-04-09T00:00:00Z
Tipus d'habitació
Habitació privada
---
Tipus de propietat
Pis
---
Capacitat
2
---
Dormitoris
San Francisco, Califòrnia, Estats Units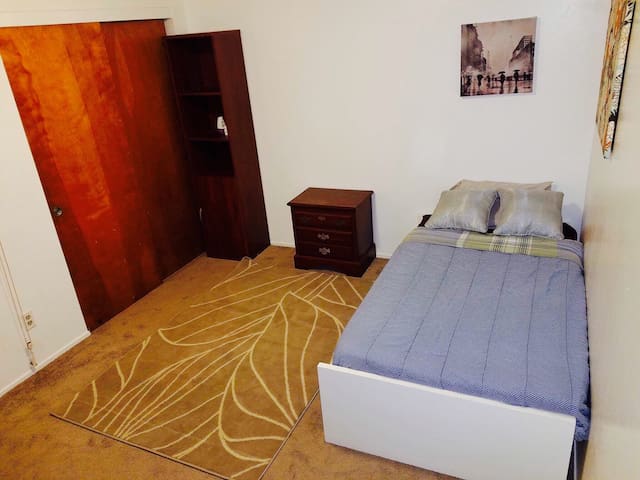 L'apartament de convidats té la seva pròpia entrada situada a la planta baixa de casa nostra. L'apartament privat és de 720 peus quadrats i té 8 peus sostres. La sala d'estar i la cuina són nous a partir del 2013 i el bany i els dos dormitoris són remodelats.
SAN FRANCISCO SHORT-TERM REZIDENČNÍ PRONÁJEM registrační číslo: Viz výše pod Ceny Držení San Francisco krátkodobý pronájem osvědčení o registraci potvrzuje, že držitel osvědčení o registraci souhlasí s podmínkami San Francisco Short-Term Obytný kol vyhlášky (San Francisco správní řád, § 41a). Tato vyhláška nevyžaduje kontrolu jednotky ze strany města pro potenciální Building, bydlení, požáru nebo jiné porušení Kodexu. Host Byt má vlastní vchod se nachází v přízemí našeho domu. Soukromý byt je 720 m² a disponuje 8 ft stropy. Obývací pokoj a kuchyň jsou nové a lázně a dvě ložnice jsou přestavěn. Byt může spát 4. 2 ložnice mají okna s výhledem do zahrady. Jeden pokoj s manželskou postelí a druhá ložnice se dvěma oddělenými postelemi. Veškeré ložní prádlo jsou k dispozici. Eat-in Kuchyň je vybavena: Upozorňujeme, že se nejedná o plné velikosti postaven v troubou a varnou deskou v kuchyni. pult Opékač topinek pult velké indukční jediný hořák varnou desku velká mikrovlnná trouba full Velká lednička pračka / sušička elektrická varná konvice a elektrický kávovar Vlastní koupelna s vanou má velký sprchový kout (dvě sprchové hlavice), třešňového marnost / umyvadlo a velké zrcadlo. Ručníky a mýdlo / šampon jsou k dispozici. V obývací prostor je kabelová televize. Wi-Fi je k dispozici v celém bytě. Hosté mají k dispozici sdílet zahradu; tam je velká terasa s posezením a malým stolkem. Okolí je v klidné části Sunnyside. V bytě se nachází cca 5 minut chůze City College (CCSF). V našem bezprostředním sousedství Whole Foods a Safeway supermarkety jsou vzdáleny 5-15 minut chůze, 5 minut pohon a tam jsou malé kavárny a restaurací v okolí. Glen Park je 25 pěšky nebo 10 minut autobus a má několik malých obchodů, místní restaurace, poštovní služby, knihovna a je umístění stanice Glen Park BART. Dostupnost do centra, Financial District, Rybářská Wharf Tržní Embarcadero / Ferry Building / Zemědělci Golden Gate Park Golden Gate Bridge a oblasti North The Great Highway / Beach Ocean a Outerlands, Letiště a všechny oblasti Bay Area: K dispozici jsou dvě autobusové zastávky v rámci jednoho bloku bytu a dvě stanice BART, která buď přímo spojí se autobusových linek na dvou zastávkách nebo jsou v rámci 15-25 minut chůze. Autobusových linek / auta ulice a stanice BART poskytuje přístup k jakékoliv oblasti San Francisku a spojit se všemi oblastmi zátoky i mimo ni. To zahrnuje BART vlaky SFO mezinárodních a Oakland mezinárodní letiště. Existuje dálnice vchody v rámci 10-15 minut jízdy oba severní a jižní pro Highway 280, který vás zavede do SFO a oblastech jižně, Sonoma a Napa a oblastí severu, město Berkeley a Oakland International Airport a oblasti East Bay na Východní. Ocean Beach, Zoo SF, Golden Gate Park, UCSF, SF stát, Mission District, Lands End a místní konvenční trhy s potravinami / nákupní střediska jsou 20-30 minut autobusem. Žijeme v San Francisku už 40 let av naší současné polohy po dobu 30 let. Vyvineme veškeré úsilí, aby vaše návštěva pohodlný, zábavný, příjemný a nezapomenutelný. Jsme k dispozici pro všechny interakce, ale ponechat pro hosty přání. The Sunnyside je typická čtvrť San Francisco. Rezidenční charakter se snadným přístupem do města a vše, co můžete potřebovat. Klidná rezidenční zkušenost v rámci "globální" město. Tam je velmi snadný přístup ke všem formám veřejné dopravy. K dispozici je bezplatné parkování v blízkosti. K dispozici je také snadný přístup k naší poloze pro všechny druhy dopravy z letiště.
Un típic barri de Sant Francesc. Un marcat caràcter residencial amb fàcil accés a la ciutat i tot el que pugui necessitar. Una experiència residencial tranquil·la dins d'una ciutat "global".
We had a wonderful stay and would happily return. The apartment was beautifully presented with everything needed. We arrived very late and were pleased to find some food and drinks waiting for us after a long day of traveling. Really made our stay special.
Kathleen
2015-01-28T00:00:00Z
Nous venons de passer une semaine merveilleuse à San Francisco. L'appartement est très bien agencé, propre et très pratique. Il ne manque rien et il est très facile de se garer dans la rue. Pour rejoindre le centre de San Francisco la station de Bart est à 20 minutes à pieds et un supermarché est à moins de 10 minutes pour faire quelques courses. C'est juste parfait et après 12 heures de vol quel bonheur de trouver le frigo remplit et un gâteau d'accueil. Un très grand merci à Charlesie et Tedd qui sont des gens charmants, sympathiques et attentionnés. Il est certain que nous y retournerons avec beaucoup de plaisir.
Xavier
2014-04-17T00:00:00Z
Charlesie and Tedd were wonderful hosts, greeting us on arrival and making us feel so welcome. The apartment was lovely and clean and had everything we needed (including a great hair dryer!). We loved the country-style garden which was a peaceful place to sit and relax. The apartment was a 2-minute walk to the 43 bus which we used every day. The same bus takes you to Balboa Park BART station in a couple of minutes, where a train will take you downtown in 10 minutes. Supermarket, shops, bars and restaurants were 10–15 minutes walk away on Ocean Avenue. We thoroughly enjoyed our stay at this apartment!
Lisa
2016-06-27T00:00:00Z
We really enjoyed our stay here. The apartment was very clean & well-equipped. Although a little bit from the centre from San Francisco the transport links to the centre are excellent and it is also handy for the airport. Charlesie & Tedd made us feel very welcome & were very helpful. The fridge was stocked with vital supplies and it was nice to find some fresh bread on our arrival.
Liz
2015-05-20T00:00:00Z
L accueil a ete parfait .Le couple a ete tres sympathique et nous a bien conseillé pour les activités a faire .
foued
2015-04-23T00:00:00Z
Tolle Gastgeber - Tedd hat sich gleich zu Beginn um uns gekümmert und Hinweise für die Besichtigung von San Francisco gegeben. Die Wohnung war sauber und wie in den Beschreibungen dargestellt. Vielen Dank für die Gastfreundschaft!
Thomas
2015-08-17T00:00:00Z
Eine perfekte Unterkunft in ruhiger, schöner Lage mit sehr guter Anbindung auch an die öffentlichen Verkehrsmittel, somit konnten wir das Auto stehen lassen. Tedd und Charlesie sind sehr liebenswerte Gastgeber, wir wurden auf sehr herzliche Weise aufgenommen und fühlten uns sofort wie zu Hause. Die Unterkunft ist mit allem eingerichtet, sehr sauber und praktisch. Der Kühlschrank war bei unserer Ankunft mit vielen leckeren Dingen für das erste Frühstück befüllt, Tedd hatte sogar Brot gebacken! Tedd und Charlesie sind sehr diskret und trotzdem immer da, geben Tipps, beantworten alle Fragen, auf dem Weg zur Bahn hat uns Charlesie sogar begleitet. Dankeschön für eine tolle, unvergessliche Woche! Alles in allem absolut empfehlenswert, wir kommen definitiv wieder!
Ralf
2015-05-15T00:00:00Z
Charlesie and Tedd were the kindest most accommodating hosts I have ever met. My interactions with them prior to my trip were already very positive, but my expectations were much exceeded when we arrived. We were welcomed into the beautiful cozy clean apartment which is accurately described and portrayed in their profile. Waiting on the counter for us were a few treats and some goodies in the fridge to help us through our days - this was so unexpected and totally set the presidency for the remainder of our trip. The beds are SO comfortable and helped for a good nights rest to prepare us for our long day excursions. I'm very particular when it comes to staying in other people's homes, but this house felt like my home away from home. They are very reachable throughout your stay, if we had any questions or concerns they were very quick to respond. It was nice of them to leave us with Clipper cards (payment form for public transit), maps and guides for the City. We were minutes away from Balboa subway station and only steps from the bus stop, which made things very accessible for us to get around the city - this meant savings for not having to rent a car! We lived like locals for the week and made our way through the city using pretty much every form of public transportation that San Francisco has to offer. Their kindness, generosity and thoughtfulness throughout our trip made our stay and experience in San Francisco that much better and one we will never forget. We will definitely be staying here again when visiting San Francisco, we couldn't of asked for a better host. Thank you Charlesie and Tedd! -Sam, Sarah and Lily :)
Samantha
2016-05-08T00:00:00Z
Tipus d'habitació
Casa/pis sencers
---
Tipus de propietat
Casa
---
Capacitat
4
---
Dormitoris
San Francisco, Califòrnia, Estats Units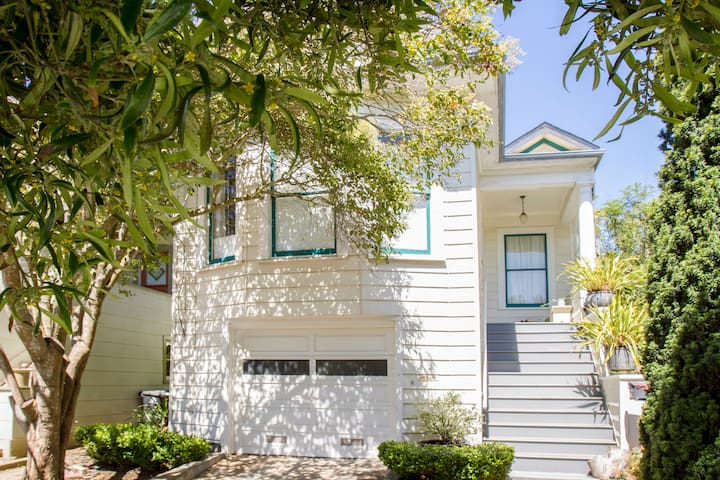 Great quiet neighborhood a short walk from Cortland Street - a lovely Bernal Heights strip of hip restaurants and bars. Greg's "Bernal Box" was comfortable, clean, and true to the listing. The newly remodeled bathroom is lovely and main bed very comfy. Greg even left guide books, wine and chocolate to greet us! I would stay here again.
Kenna
2015-08-23T00:00:00Z
We had a wonderful stay at Greg's place, the property is conveniently located, immaculately kept, and full of charm that any visitor to the Bay area would enjoy. Greg himself is extremely warm and welcoming, thank you for being very responsive to my (many) questions and flexible to accommodating any other needs (e.g. package delivery/when we forgot items in the property). Overall I would highly recommend staying at the Bernal box:)
Selina
2015-08-31T00:00:00Z
Greg welcomed us with some small snacks and a lovely bottle of wine. There were also guides to the city for us to borrow. The house was neat, cozy and accurate to his description. Nice neighborhood, with a short drive or moderate walk to many local restaurants. Would definitely stay there again.
Phillip
2015-03-29T00:00:00Z
Greg was a very nice host. His house is very nice. His large rubber band ball is very impressive!
Richard
2014-05-27T00:00:00Z
Place was lovely and just as pictured. We really only needed somewhere to sleep since we were visiting my brother and sister-in-law in the neighborhood. Greg was a great host--he left us clear instructions, plenty of towels for the newly renovated bathroom, and wine, chocolate and mandarins which my toddler happily gobbled up (not the wine). Short walk to Cortland (the main drag in the area) albeit a big hill, which was particularly fun with a stroller! I would absolutely stay here again.
Rachel
2015-08-07T00:00:00Z
Really lovely home, with cool and interesting design features in a quiet neighbourhood. I stayed with my husband and baby daughter and found both the house and the area great for a young family. There were lots of great places to eat nearby and it was quick and easy to get downtown or to other neighbourhoods. Greg was really helpful and responsive at all times and I'd happily recommend both him and his delightful home.
Cerian
2015-04-25T00:00:00Z
We felt warmly welcomed by a small basket containing fruit, chocolate, and other snacks as soon as we walked in to this wonderful home. The full kitchen, beautiful bathroom, sitting area, living space, bedroom, and fenced outdoor area make this quiet well-located home a great place to stay. The space matched the photos on the listing. We were pleased that if felt even larger than we expected. It was a very tidy and comfortable space. The neighborhood is great, too! The top of the Bernal Heights hill is a short and exhilarating walk away. There are many options for dining on many types of delicious food very close to this home. Our host was clear, cordial, and prompt in all our communications. We would love to stay here again.
Todd
2015-04-07T00:00:00Z
This is an absolutely wonderful place to stay! The house itself is lovely: fantastic bathroom, comfortable beds, and - should you want to cook - a well equipped kitchen. It's very quiet and has a great view. Greg was a great host and left us wine and snacks to enjoy. He also responded very quickly to any emails I sent, recommended places to visit locally, and helped us with travel advice. Bernal Heights - the area in which the house is located - is also really fantastic. A short walk away there are some really nice restaurants and cafes, and if you walk a little further you will find even more wonderful restaurants and cafes and parks. The only downside is that the house is on a very steep hill, but it is San Francisco after all!
Ellie
2015-09-11T00:00:00Z
Tipus d'habitació
Casa/pis sencers
---
Tipus de propietat
Casa
---
Capacitat
2
---
Dormitoris
San Francisco, Califòrnia, Estats Units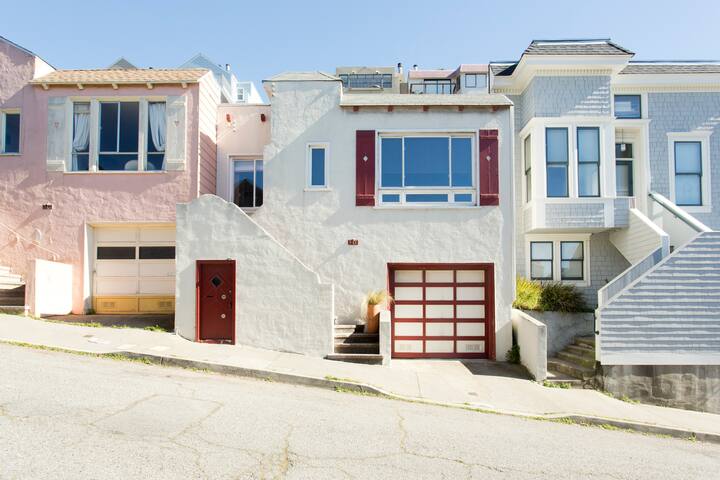 Genießen Sie die schöne South Hill Viertel von San Francisco auf einer schönen von Bäumen gesäumten Straße mit Panoramablick auf die Stadt. Die Lage ist ruhig und sicher.
San Francisco kurzfristig vermieteten Registrierungsnummer: (PHONE NUMBER HIDDEN)STR. Der Besitz eines San Francisco Kurzzeitmiete Zulassungsbescheinigung bescheinigt, dass der Inhaber Zulassungsbescheinigung hat sich mit den Bedingungen der San Francisco kurzfristig vermieteten Verordnung (San Francisco Verwaltungsordnung § 41 a.) Die Verordnung bedarf es einzuhalten vereinbart eine Inspektion die Einheit von der Stadt für potenzielle Bauen, Wohnen, Feuer oder andere Code-Verletzungen.
Die Nachbarschaft hat eine Vielzahl von Gerichten ziemlich viel, was immer Ihrem Geschmack entspricht, gibt es lokale Bars, Cafés, eine Nachbarschaft Bibliothek, Walgreen, Banken, ein Safeway und kleinere Lebensmittelgeschäft Wenn Sie nach San Francisco sind neu wäre dies ein großartiger Ort, um zu starten! Verfügbarkeit ist offen. Wir freuen uns darauf, Sie in San Francisco genießen.
delores was very friendly and kind. she helped us, finding the way to her house, the supermarket and the way to downtown. The host is not in the center of san francisco. The way to downtown takes with bus and bart around 30min. Bus 2$, Bart 1,80$ one direction. Everthing was clean and there is a seperate kitchen for the guests, what we really appreciated. we arrived very late and decided to get to her with public transportation. Next time we would take a taxi to her from airport. Her neighbourhood is nice, but the area around the Bart station felt not so confident after dark. Especially when you have your suitcases with you.
Jonas
2014-08-29T00:00:00Z
Delores was GREAT! She greeted us upon arrival and was very friendly and welcoming. The room was PERFECT for the fantastic price - the best was very comfortable and I was in love with the water pressure in the shower! There were other folks staying in the house, but they were very quiet and friendly.
Shana
2015-04-26T00:00:00Z
Delores était très accueillante et gentille. Elle s'est assurée que nous avions tout ce dont nous avions besoin pour notre séjour. La maison est grande et propre, les chambres sont jolies et comfortables. Nous sommes biens heureux d'avoir vécu chez elle pendant nos 3 jours à San Francisco!
Alex
2015-04-05T00:00:00Z
The room is cozy and the neighborhood is quiet and safe. The view in the room is great. I enjoy my stay in San Francisco very much.
Wei
2014-12-18T00:00:00Z
Me and my boyfriend have spent three night in san francisco and we loved it. Delores was very nice and the room was perfect. Very comfortable and clean. The only disadvantage was that it was a bit far from golden gate bridge and park. I definitely recommend this accommodation to everyone.
Lucia
2014-06-26T00:00:00Z
Nice room, perfect for what we needed. A bit far from downtown, but public transport and uber made it pretty easy.
Paula
2016-07-25T00:00:00Z
Delores was an incredible host. We arrived around 2 in the morning and she had every detail taken care of for getting in and finding our room. The view is breathtaking, in the bedroom as well as the living room. Everything was clean and taken care of and Delores was incredibly kind and accommodating. We will definitely stay here again when we come back to San Francisco. The house is outside of downtown, but it takes about 10 minutes to walk to the 8 bus stop, which will take you to most places you may want to see downtown. Our trip was the San Fran experience of dreams, thanks Delores!
Nicole
2015-06-12T00:00:00Z
This for us perfect for our stay in sf. We stayed for three nights and every night was quite and private even though other people lived in the house. We had a car which was good for transportation. But once we took the bus and subway into city, which was more easy than take the car. Everything was good.
Alicia
2016-03-18T00:00:00Z
Tipus d'habitació
Habitació privada
---
Tipus de propietat
Casa
---
Capacitat
2
---
Dormitoris
San Francisco, Califòrnia, Estats Units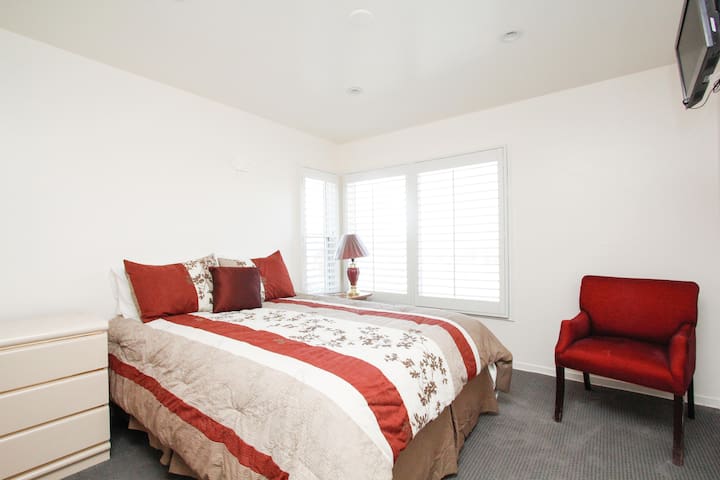 Ort: Wir sind in der San Francisco Nachbarschaft der Mission Terrace Viertel. Unsere Straße ist ruhig, aber neben der Hauptstraße Mission befindet. Wenn Sie mit öffentlichen Verkehrsmitteln kommen, ist der Balboa Park Bart Station innerhalb von 1 Meile. Oder gibt es einen No.14 Bushaltestelle direkt um die Conner innerhalb von 1 min zu Fuß, mit dem Sie in die Innenstadt Trog Mission St. führen Der Raum: Unser Haus ist ein gemütliches Haus in gelb gemalt auf der Außenseite. Der Innenraum wurde neu renoviert. Die furnatures sind ganz neu. Die Zimmer sind nett, gemütlich, sauber und mit verschiedenen Farbthemen eingerichtet. Jedes Zimmer verfügt über viel Sonnenlicht und mit einem Queen-Size-Bett ausgestattet. WIFI, Waschmaschine und Trockner sind kostenlos. Der gemeinsame Bereich der Küche und Wohnzimmer sind geräumig. Essen & Trinken: Vielfalt der Küche in der Nähe. Chinesisch, Mexikanisch, Thai, Italienisch, Japanisch, Amerikanisch, Vietnamesisch ...... können Sie viele internationale Möglichkeiten, einschließlich Bars zu finden, Bäckereien, Cafés usw. Unsere Küche ist auch offen, wenn Sie gerne kochen. Alles, was Sie brauchen, ist bereit. Es ist ein guter Ausgangspunkt für jeden Besucher nach San Francisco. Unser Preis ist so niedrig wie ein Motel, aber es ist ein wohnliches die für Sie bequem ist! Wir können ein Auto zur Verfügung stellen von der SFO zu einem vernünftigen Preis $ 30 abholen oder abgeben. Wir sind nah an Walgreen, Safeway, Geschäfte, Banken, Restaurants! Mission Terrace 'Walk Score ist 84. Praktisch: Von SFO hier ist rund 12 Minuten drive.If Sie in die Innenstadt gehen wollen, # 14 Bus in die Innenstadt gehen, die Bushaltestelle nur einen Block entfernt. Wir empfehlen Ihnen die die 14X. Es ist viel schneller. Oder Sie können BART.Glen Park Bart Station nehmen 0,8 Meilen entfernt und in die Innenstadt rund 10 Minuten. Zwei Straßenbahnen ebenfalls in der Nähe, 9 Minuten zu Fuß von der F MARKT & WHARVES und der J-Kirche an der San Jose Ave & Santa Rosa Ave stoppen.
Raum: Wir sind ein neu renoviertes Haus, gemalt hellgelben außen ist das Haus komplett renoviert. Wir vermieten insgesamt vier Zimmer, jedes Zimmer ist in einer anderen Farbe Thema eingerichtet, komfortabel und geräumig. Haus-Konfiguration frei WIFI, Waschmaschine und Trockner. Kücheneinrichtungen sind vorhanden, alle Lieferungen ohne weiteres verfügbar. Warm Wohnzimmer eingerichtet, einen Raum zu entspannen.
Stadtviertel: Mission Terrace zu Fuß Punktzahl beträgt 84 Punkte. Wir sind von der internationalen Küche umgeben: Mexikanische Nahrung, Thai, Vietnamesisch, Italienisch, Japanisch, Chinesisch und natürlich gibt es eine Vielzahl von amerikanischen Lebensmittel und Getränke, BAR und dergleichen. 5 Minuten zu Fuß gibt es eine 24-Stunden-Walgreen, Amoy zu einer Vielzahl von Datensätzen, Jahrgang, Goodwill Gebraucht Hause Waren sowie Großbanken. Sehr praktisch.
Unsere erste AirBnb-Erfahrung! Wir haben die Tage bei Kenix sehr genossen das Zimmer war sauber u sehr schön u ausreichen für zwei erwachsene u ein Kleinkind! Kenix u ihr Mann waren sehr hilfsbereit! Vielen Dank für den schönen Aufenthalt! :-) Wir sind mit dem Auto angereist. Die Parkplatzsuche hat immer ein wenig gedauert aber wir haben immer einen kostenlosen Parkplatz in der Nähe gefunden!
Anne
2015-10-03T00:00:00Z
Thank you so much for your kindness. I really enjoyed my stay.
Mohannad
2017-02-17T00:00:00Z
She was very welcoming and very helpful while my stay there, she took care of everything we needed or wanted and the place was good too!
Kaneeka
2017-01-28T00:00:00Z
Kenix's place is fantastic. She is super friendly and is willing to go above and beyond to make sure your stay is comfortable and hassle-free. The apartment is in a quieter neighborhood, but close enough to all of the SF hotspots. It's very clean and there's an entire kitchen space available for use. We enjoyed our stay and definitely recommend this location!
Katherine
2017-03-13T00:00:00Z
Awesome space! The room is great and spacious. It had a cool living space with a lot of really helpful info on the city, parking, maps etc.! The only thing that was unsatisfactory was parking, there was NEVER any parking by the space. Everything else was excellent! Thanks Kenix!
Jeaninne
2017-03-01T00:00:00Z
A fantastic place to stay. A little out of town but easy to get to on the bus and great value compared to staying closer to the city. Kenix is a wonderful host, goes out of her way to ensure you have eveything you need for a great stay. The house is clean and well equipped, the rooms spacious and two bathrooms mean no worries with sharing between rooms. I found the local area safe and it has a few small places to eat which is handy, and a supermarket 10min walk away. I would definitely stay here again when in San Francisco.
Vanessa
2015-04-29T00:00:00Z
I was very happy with my first BnB experience and I couldn't be more glad my friend and I spent it in Kenix's place. The place was as advertised -- actually, in some aspects, it was better! The room was very clean, the kitchen and living room were very homey and comfortable. The place has a personal touch; from welcome foods, foods to share, kitchen appliances for use, and even Kenix's traveler tips in going around San Francisco. The location is very accessible to city commute and a minute away from different shops and restaurants (Mission Street). Wifi is free and fast. I will definitely stay here again if ever I get to go back to San Francisco.
J.
2016-01-23T00:00:00Z
Really cute and well-furnished place! It was definitely a very comfortable stay, and Kenix left us some chocolates for Valentines Day! :)
Sunny
2015-02-15T00:00:00Z
Tipus d'habitació
Habitació privada
---
Tipus de propietat
Casa
---
Capacitat
2
---
Dormitoris
San Francisco, Califòrnia, Estats Units
En la cima de una colina esta sala privada remodelado cuenta con increíbles vistas de la bahía y el Océano Pacífico. Disfrutar de su habitación privada con su propia entrada. La habitación está equipada con microondas, TV, y un baño con ducha. El acceso a una terraza con preciosas vistas. Está en un gran barrio que está cerca de restaurantes, cafeterías, tiendas y transporte público. La experiencia de vivir como un local! La vista es tan increíble que es inolvidable! Wi-Fi de alta velocidad y mucho aparcamiento gratuito en la calle.
Nuestra habitación privada colina es su escapada perfecta de San Francisco. Excelente para viajes en solitario y parejas. La habitación tiene una cama cómoda con sábanas y colcha de plumas. Armario con perchas y ropa de cama extra y manta. El baño con ducha está equipada con champú, jabón y loción. La habitación tiene un televisor de pantalla plana equipada con su HDMI para tu diversión. La habitación tiene una increíble vista al mar y la bahía. Usted puede disfrutar de la puesta de sol en la comodidad de su casa! Nuestro carro de bebidas tiene una máquina Kurig, tetera, mini nevera y microondas. Es ideal para calentar el desayuno o sobrante. Está equipada con utensilios esenciales, tazas y vasos de vino. Cubierta de madera / patio para los huéspedes a disfrutar de la vida al aire libre; disfrutar de su copa de vino o su taza de café con las increíbles vistas al mar y la bahía. * Aparcamiento en la acera para un coche compacto, no se puede bloquear el camino de entrada del vecino. No hay aparcamiento garaje. Hay un montón de aparcamiento en la calle gratuito e ilimitado, excepto todos los otros viernes para limpieza de calles durante 2 horas. Studio también está completamente equipada con todo lo necesario: - Las toallas limpias - champú, acondicionador, jabón y loción - Internet inalámbrico de alta velocidad - TV pantalla plana con HDMI - Platos de papel, utensilios, vasos, toallas de papel y vasos de viento - Jabón de mano - secador de pelo - Mini nevera - Microonda - El café y espresso maker - Té / hervidor de agua caliente - El café, el té y la coca caliente
Situado en Merced Heights, que está cerca de las tiendas (Whole Foods, Target, CVS), restaurantes, cafetería (café de Phill) y el transporte público. A 15 minutos en coche te lleva la Ciudad de San Francisco, de Ocean Beach y el zoológico de San Francisco! Pasar un día en el reino animal, San Francisco tiene uno de los mejores zoológicos del país! Disfrutar de los lugares de interés de San Francisco! Un rápido paseo en el tranvía o tren Muni Bart le lleva al corazón de Union Square. Hop en un teleférico hasta el otro extremo de la ciudad, donde se encuentran Ghirardelli Square, Muelle de los Pescadores, y Pier 39! No se olvide de dar un paseo a través de Chinatown, el barrio chino de primera los EE.UU.! También estamos a un tiro de piedra de la Universidad Estatal de San Francisco.
Tina and Amir are great hosts. The room is very clean, private, and welcoming. Definitely recommend this place.
Premtim
2016-10-08T00:00:00Z
Tina made us feel very welcome! She provided us with apples,waters, & coffee. Their dog was also very friendly and greeted us when we arrived. The room was very clean and looks exactly like the pictures. The neighborhood was also very convient and the view from the backyard was amazing.
Trace
2016-10-20T00:00:00Z
Great place to stay. Quiet and convenient. Tina was very accommodating and helpful with all our questions.
Jill
2016-10-24T00:00:00Z
Tina's place was great. Check in was easy and she was very easy to get ahold of. She had a personalized welcome sign which was really cute. The bedroom and bathroom were just amazing. The back patio had a great view. We had an overall great stay here. Would definitely recommend this place.
Holly
2016-11-23T00:00:00Z
I could tell, Tina really thought through the little details that would make any travelers stay at her place as pleasant as possible. There was a welcome sign at the entrance with my name on it! She was very kind to answer my questions and made sure I had everything I needed. She is very hospitable.
Bekir
2016-10-24T00:00:00Z
We LOVED our stay in San Francisco! Tina, we can't thank you enough for having such a beautiful, private space. The bed felt like heaven and we appreciate the details you put into the apartment. We were so comfortable! We look forward to visiting San Francisco again, and when we do, we will be sure to book with you!
Kristian
2016-08-31T00:00:00Z
Staying with Tina was my best Airbnb experience yet! Her husband and her dog, Lulu, made us feel very welcomed. The room was really cool with a great view and private bathroom. It was very clean and the location in San Fran is very convenient. I will definitely stay here again if given the opportunity. Tina rules!
Laura
2016-06-16T00:00:00Z
Loved staying here! It is close to SF State (where we were touring) and I loved being in a residential area, as opposed to the hustle & bustle of the downtown/touristy areas. Beautiful views (before the fog rolls in!) The room was quiet and comfy and perfect for what we needed. Would definitely stay here again!
Carmen
2016-07-09T00:00:00Z
Tipus d'habitació
Habitació privada
---
Tipus de propietat
Casa
---
Capacitat
2
---
Dormitoris
San Francisco, Califòrnia, Estats Units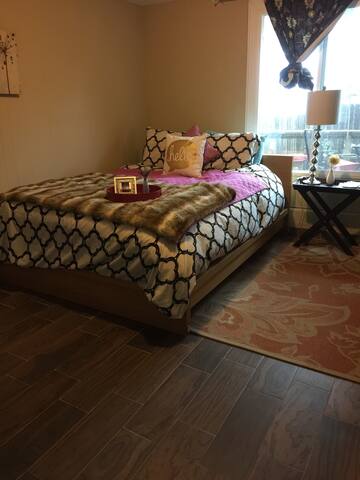 SF의 포르 톨라 지역에서 우리의 아늑한 예술 홈을 공유 가자. 우리의 가족과 고양이 두 마리와 가정에서 사용할 수있는 하나 개의 침실. 2 분 버스 및 지하철로 15 분 거리에 도보. .... 현관 문을 걸어 및 맥클라렌 공원에서 하이킹 밖으로 머리는 조용한이 도시의 와글 와글 함에서 벗어날 즐길 올 ... SF에서 드문 주차 많아요. 쉬운 고속도로 접근! SFO 공항에서 15 분 거리!
Gæsterne synes at elske sengen!
Besøg Maclaren Park for at vandre! Breakfast at Tiffanys er super lækker! Fire Barrel Kaffe er også stor! Der er en købmand kaldet Grocery Outlet omkring 10 blokke væk. Og vi har en ny bryg pub i hætten, Ferment Drink Repeat! 7 min kørsel til Bernal Heights, hvor der er nogle flere restauranter, barer og søde butikker.
Michelle is so sweet and down to earth! Her home is so welcoming and she is just an amazing person to talk to! She made sure we had everything we needed and gave us tips on everything to do in the city and Oakland. PS there is a huge park within 5 minutes of her house - only 10 minutes walking through the park and you get an ocean view and a view of the entire city and the bridges. I will definitely be back when I have more time to relax and enjoy the city!
Tianna
2016-11-12T00:00:00Z
Our stay at this listing was convenient and pleasant! Everything was exactly as described and was everything we desired. Michelle was easy to communicate with so that everything from parking to obtaining the keys was smooth. We appreciated the location and the comfort and our decision to stay here definitely enhanced our San Francisco visit. Would recommend for it's easy access into the city and two cute cats. Thank you!
Alisa
2016-12-30T00:00:00Z
Michelle was super friendly and a kind host who made us feel comfortable! The apartment was cute and homey and the room was spacious/ bed was comfy! The cats were also super sweet! Quiet hours are from 10pm-7am so they might end a bit early if you like sleeping really late but it was totally fine for us and we had the apt to ourselves most of the morning. Overall, would highly reccomend to everyone!
Lydia
2017-01-26T00:00:00Z
Charming, artsy, and comfortable. The neighborhood was quiet but still close to the fun of the city. Street parking was easy and free. The two friendly cats were a plus. This filled all of our needs while still being affordable.
Kyle
2017-02-17T00:00:00Z
Lovely family Friendly But you should know about key box
Jingyeong
2017-01-02T00:00:00Z
Cozy house!Lovely kids!M is always considerate and warmhearted!
dandan
2017-02-14T00:00:00Z
Great place, highly recommended.
Oleksandr
2017-02-20T00:00:00Z
We had a great stay in Michelle's home. Although we didn't meet Michelle, communication was great and check in was simple. Her home is quiet, clean and comfortable and the area is residential and calm. The house is a little far from the centre but we knew this and it is easy to get a cab into town for not much money. Thanks again Michelle.
Stephanie
2017-03-20T00:00:00Z
Tipus d'habitació
Habitació privada
---
Tipus de propietat
Casa
---
Capacitat
3
---
Dormitoris
San Francisco, Califòrnia, Estats Units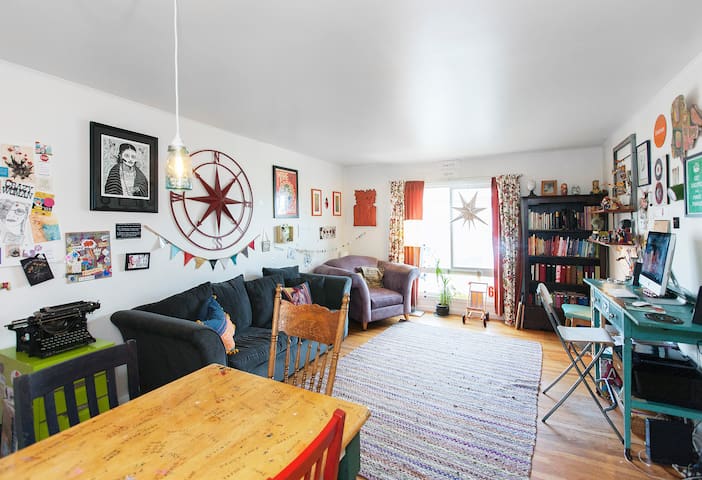 Ein geräumiges Zimmer in einem freundlichen Haushalt. Neue Möbel + Anstrich und einem riesigen begehbaren Kleiderschrank. Schöne Aussicht. Parkettboden. Große 20 Mbps WLAN. Netflix, kommerzielle frei Hulu und Amazon Prime für Ihren Fernseher. Kostenloser Kaffee, Tee und Snacks in der Küche. Die Küche hat einen Esstisch + Herd, Warmwasserboiler, Toaster, usw. Das Haus ist 2 Blocks von der Mission Straße, mit Tonnen von Geschäften, Restaurants und vielen öffentlichen Verkehrsmitteln. Fühlen Sie sich wie zu Hause! :-D
Das Zimmer ist ca. 14 '11' mit einem großen begehbaren Kleiderschrank. - Freundlich Haushalt. - Große 20 Mbps WLAN. - Ihre eigene TV mit Netflix, kommerzielle frei Hulu und Amazon Prime. - Kaffee, Tee und Snacks in der Küche. - Ihr eigenes Regal im Kühlschrank, Badezimmer und Küche. - Die Küche hat einen Esstisch + Herd, Warmwasserboiler, Toaster, usw. - Hinterhof mit Gartenmöbeln. - Eine Sammlung der besten San Francisco Bücher und Karten. - Waschmaschine und Trockner, Bügeleisen, zusätzliche Handtücher, zusätzliche Decken etc. - Badezimmer equipt mit PooPourri.
Das Haus befindet sich nur 2 Blocks von der Mission Straße, mit Tonnen von Geschäften, Restaurants und vielen öffentlichen Verkehrsmitteln. Viele Obstgeschäfte, Walgreens, Banken, etc. McLaren Park ist 10 Blocks bergauf. Es wurde von dem gleichen Mann konzipiert, die den Central Park und Golden Gate Park gemacht. Es gibt einen schönen Blick auf die Stadt vom Wasserturm in McLaren Park. Es gibt auch einen wunderschönen Ententeich. RESTAURANTS Überprüfen Sie jaulen Überprüfung, bevor sie in ein Restaurant gehen. Einige der besten sind ... - Mexico Tipico: Fantastic Burritos (und mehr) 2 Blocks entfernt. - Pissed Off Peters: Das Restaurant in der Rückseite ist groß, wenn sie geöffnet. Flügel, leckere Burger, usw. - Henry Hunan Restaurant: Meine Lieblings chinesisches Essen in der Nachbarschaft. - Golden State Markt: Superb Sandwiches. - Pampanguena Küche: Authentische Filipino Nahrung. Spaß. - Der Salat Platz: Gute Salate und Kaffee. Nicht Ihre üblichen Restaurant. - Sushi Raw: Ganz in der Nähe. Ich mag sie sehr, obwohl Jaulen nicht. - Zabb Thai Cuisine: Nicht stupende, aber gut und sehr nah. Für andere Arten von Restaurants, betrachten 15 oder 20 Flanieren Minuten zum Glen Park Nachbarschaft gehen. SF EVENTS Was Ereignisse in San Francisco sind los? Blick auf... (URL HIDDEN) + (URL HIDDEN) Gehen Sie auch auf (SENSITIVE CONTENTS HIDDEN) und geben Sie "Events in San Francisco, Kalifornien", dann klicken Sie auf "Weitere". Walking McLAREN PARK Wollen Sie etwas Großes zu Fuß zu erreichen, um zu sehen? Dieser Vorgang dauert weniger als eine Stunde zu gehen und zurückkommen, aber es ist auch 10 Blocks bergauf. Wenn Sie das Haus verlassen, nach links auf die Straße in Paris machen. Dann machen Sie ein Recht auf Excelsior Ave. Schauen Sie oben und das blaue Wasserturm an der Spitze des Hügels zu sehen. Halten Sie zu Fuß bis Excelsior, bis Sie das den Eingang zum Park zu gelangen. Geben Sie den Park. Bleiben Sie auf dem Weg zu Fuß nach vorne. In etwa 500 Meter vom Eingang entfernt, finden Sie eine Gabel in den Weg getroffen. Links geht den Hügel hinauf zum Wasserturm (und einem fantastischen Blick auf die Stadt). Rechts führt hinunter zum Ententeich, der auch großartig ist.
I stayed one week at Jack's house, and it was perfect ! The room is clean, with all you need (extras blanket and towels, a big screen with Netflix Hulu and Amazon Prime, a lot of place for your clothe), you have shelves in the kitchen and the bathroom. The neighborhood is pleasant, with a lot of restaurants. Also, you can take many buses to go wherever you want in San Francisco. Jack is a perfect host !! He thinks about many détails like snacks for the guests, labels in the house with little indications and he is always ready to help. When I arrived, he immediatly printed me the map of the neighborhood and showed me how to take the bus. He has always a big smile on his face, I really appreciated talking with him about many different subjects. At the same time, he respects your privacy. And, as a photographer, he offers you a shooting. I left with a really good and original souvenir ! I couldn't imagine a better stay in San Francisco !
Céline
2017-03-22T00:00:00Z
I stayed at Jack's house for 2 nights. I liked the cozy bedroom, peaceful neighborhood, and friendly host. It was the first time to visit San Francisco and so I had no idea about how public transportation goes like. I asked some questions about San Francisco beforehand through Airbnb app, and Jack replied quickly and clearly. He also let me know some websites to help my trip. He was very responsible as an Airbnb host, and I was so happy to be his guest. For location, this house is pretty far from main sightseeing points like fisherman's wharfs. But I used bus service, which is reasonable and convenient. N
Makoto
2017-04-02T00:00:00Z
My experience with Jack and my stay at his place were fantastic. Getting the room booked was greatly eased by Jacks' help and quick responses. Jack was very attentive upon my arrival and once he knew I wanted privacy went scare. The house was quiet at all hours, which I was very happy about. I am very sensitive to noise. All things that were "advertised " were true. I will be looking to return if events demand another stay in SF. I can wholeheartedly recommend Jack! Regards, Frank
Frank
2016-12-28T00:00:00Z
I had a lovely time staying with Jack. The room was big and clean with everything you need. Jack was also friendly and very helpful. The apartment is a little bit farther away from the main attractions, but the bus was convenient to get around and there are a lot of restaurants and shops around. I would love to stay here again if I come back to SF!
Eugenia
2017-01-03T00:00:00Z
Hello! Jack's beautiful house and room were just as described in the listing. This is a very clean property. Jack was very generous also offering to his guests a variety of teas and coffees etc. I really liked the location which is a short walk to Public transportation and also shops for food supplies if one is cooking etc. The Check-in process was easy and Jack met us personally to hand us keys and offer suggestions for an enjoyable San Francisco experience. I really enjoyed my stay here and would highly recommend this listing if visiting the Bay Area!
Torsten Zenas
2017-01-12T00:00:00Z
Jack is beyond approachable and friendly. He is always there when you need him, for instructions, directions or meaningful conversation, but he grants you the space you need. Everything is labeled, clean and easy to use. I felt like I was at home. I would 100% stay there again!
Malique
2017-01-15T00:00:00Z
Jack is a great host! He is the best host that I have ever seen in Airbnb. The room and house was clean and very comfy. The neighborhood is convenient and easy to navigate. I definetly recommend it.
Birkan
2017-01-10T00:00:00Z
Der Aufenthalt bei Jack war super. Er ist ein sehr zuvorkommender und äusserst hilfsbereiter Gastgeber. Würden jederzeit wieder bei ihm buchen. Sehr empfehlenswert.
Martin
2016-08-10T00:00:00Z
Tipus d'habitació
Habitació privada
---
Tipus de propietat
Casa
---
Capacitat
2
---
Dormitoris
San Francisco, Califòrnia, Estats Units
Haus liegt in einer ruhigen, schönen Noe Valley, leicht zu Fuß zu den Restaurants auf Valencia Street / Mission District, oder BART in die Innenstadt SF. House ist klassischen viktorianischen, mit hohen Decken, Holzböden und Sonnenschein. Das Zimmer verfügt über ein Queen-Size-Bett, viel natürliches Licht, und teilt sich ein Bad mit anderen Gästen. In der Residenz sind eine Frau und ein Teilzeit-Teenager. SF Registrierung # STR1278
Die zur Verfügung stehende Schlafzimmer verfügt über Holzböden, hohe Decken und viel natürliches Licht. Es hat ein Queen-Size-Bett und kommt mit Handtüchern und Bettwäsche.
Meine Nachbarschaft ist Noe Valley genannt, und es ist bekannt für seine Sonne und ruhige Atmosphäre bekannt. Es ist ein kurzer Weg von meinem Haus auf der Mission District, die einige der besten Restaurants in der Stadt und vieles mehr Nachtleben hat.
Maria's place was amazing! Room was perfect for my boyfriend and I. Maria was very accommodating and made sure we were able to access the house easily upon arrival. If we are ever in the area we will definitely stay here again!
Jessica
2016-08-13T00:00:00Z
Great spot in Noe -- central, close to coffee and muni.
Liz
2016-10-21T00:00:00Z
Maria was very easy to communicate with. Even though we didn't get to meet her, she made our arrival and stay very easy. The house itself is very beautiful and the room very comfortable. Would definitely recommend it.
derin
2016-08-25T00:00:00Z
Maria's place was very cosy. It is situated in beautiful neighborhood and Maria was very detailed in her instructions. The room was very spacious and clean. The parking is metered and limited to two hours (during weekdays 06.00 am-08.00 pm) and as long as you follow the rules you won't have any problem. In any case you will need the car to discover the city and long term parking is available two blocks away so this won't be an issue. Please consider that access to apartment's frontdoor and to the bedrooms is by stairways.
George
2016-06-14T00:00:00Z
My husband and I spent three nights at Maria's beautiful house in Noe Valley for the first part of our trip. It's not close to downtown but there is transit and since we were looking for a place for me to rest after my flight (b/c of health issues), this neighbourhood was perfect. The house is beautiful, inside and out, and the neighbourhood is quite picturesque. We especially loved being able to spend time in the living room because it's so bright and beautiful with the sunshine streaming in. Maria is also an absolutely wonderful host! She is a very welcoming, energetic, and lovely person and we really enjoyed speaking with her. She was so sweet and even made us a cup of tea. We also appreciated the tips she provided on a note in the living room for several restaurants within walking distance of her home. A few things you should be aware of: (1) The bed is very uncomfortable to sleep on and thus our quality of sleep was extremely poor. The bed is extremely loud - any slight movement or shift you make will cause the bed to groan/squeak super loudly (kept us awake at night) and the mattress itself left us feeling sore in places. You may want to bring earplugs to help mitigate some of this problem and the fact that you can hear whatever is happening on the street loud and clear (for us it was a jackhammer and garbage truck). (2) If you have mobility issues, please be aware that there are two fairly long/steep flights of stairs you need to walk up: from the street up to the front door and then another up to the second floor where the bedroom is. (3) While there are quite a few people living in the house (incl Maria, her daughter, their beautiful dog, and some long-term boarders), the house is very quiet during the weekdays so that was definitely great. And at night, you might have the opportunity to have some great conversation with the other people in the house. However, a few times, earlier in the morning, there was some loud calling across the house which also disrupted our sleep. I think our final verdict is that if the bed were changed to one that had good support and was quiet, this would be the perfect place to stay and we'd definitely consider returning! Our experience with Maria was 5 stars but we'd rate the sleeping situation at 1 star.
Christina
2016-02-03T00:00:00Z
Der Aufenthalt war aufgrund des Türcodes ähnlich wie in einem Hotel und von guter Privatsphäre! Die Gastgeberin haben wir in den 3 Tagen nie gesehen, da wir uns immer verpasst haben. Dies war aber kein Problem, da alles super organisiert und sauber war. Die Unterkunft ist sehr zu empfehlen. Es handelt sich um ein sehr schönes und toll eingerichtetes Haus in super Lage und mit sehr guter Anbindung an die Straßenbahnlinie J, sodass man problemlos in die Stadt gelangt! Das Bad war immer frei (trotz 2 weiterer Paare) und sauber! Einzig negativ war unsere Begegnung mit der extrem unfreundlichen Tochter der Gastgeberin. Dieser gefiel es offenbar gar nicht, dass fremde Menschen zu Gast waren. Uns hat dies aber nicht weiter gestört oder eingeschränkt. Empfehlung!!
Moritz
2016-09-20T00:00:00Z
La casa è molto bella e pulita. Maria è stata molto gentile e sempre disponibile a rispondere alle nostre domande. Lo consiglio assolutamente.
Daniela
2016-11-28T00:00:00Z
My stay at Maria's house was fantastic. I've stayed there with my partner over a week . We felt cozy in our room and comfortable in the house. Maria was away on a personal trip for the majority of our stay, her clear instructions eased our access to all the ameneties offered as well as the front door. It is located both in a safe, quite neighborhood and a block away from J train (Muni). We shared the bathroom with another room. Didnt have any issues, she also offers to use her bathroom which was super convenient during the morning bathroom rush. Only nuisance was a faint construction noise coming from the neighborhood but luckily it didnt start too early. Overall I had a great experience staying at one of Maria's bedrooms. The room was airy, bright and quaint.
Cemrenaz
2016-07-08T00:00:00Z
Tipus d'habitació
Habitació privada
---
Tipus de propietat
Casa
---
Capacitat
2
---
Dormitoris
San Francisco, Califòrnia, Estats Units
Master bedroom with private bathroom in a house with gorgeous SF views. 1 queen size bed + 1 folding bed, fridge, microwave, comp desk, walk in closet w/drawers. Shared kitchen and living room. Safe and quiet neighborhood. Free 24 Hour Parking. Easy access to the city top-rated Tourist Attractions. Connection to SF downtown with car, buses/BART/UBER, close to the SFO airport. Next to us, San Bruno Mount Park offers relaxing walking trails overlooking San Francisco city landscape. LGBT friendly.
The bedroom is private and has its own door-lock. It includes a queen-size bed, extra bed (if needed), wardrobe, dresser, computer desk, fridge, microwave, kettle. There is a private separate bathroom just for this room. We are happy to share the kitchen and living room with the gorgeous city views. There is a high speed wireless internet available. Check in/out times indicated above are tentative and may be discussed and adjusted if necessary.
We are located in a quiet hilly neighborhood on the border of San Francisco and Daly City next to San Bruno Mountain National park. The park offers many hiking trails, and beautiful views of the city and the bay. The park is home to a wide variety of birds and animals as well as many plants and butterfly species. In terms of local shops I can recommend Cordova Market which is walking distance (15-20 min) from the house. The shop features deli and a cafe offering fresh coffee with refills, sweet pastries and desserts and savory dishes for breakfast, lunch, and dinner. If you have a car there a plenty of shops and cafes with 5 min drive: Whole Foods on Ocean, Starbucks on Mission, just to name a few.
My friends and I wanted to visit San Fransisco for our Spring Break and wanted an affordable, quiet, safe place to stay while we were visiting the Bay Area. Little did we know that we would also have an AMAZING host, Irene, and have a GREAT view of the city. Irene's home was clean, cute, and perfect for our needs. We had access to everything that was advertised. Irene was such a wonderful host. She gave us suggestions and recommendations of things to do in the city. In addition, Irene was very easy to communicate with and made our airbnb experience and our Spring Break trip a great one. Definitely would recommend to anyone thinking about visiting the Bay Area!
Alexis
2017-03-17T00:00:00Z
Irene was the perfect host. She was available for us at any time, she was super nice and very hospitable! She was willing to help with everything, and was very flexible and considerate to our needs! Her place is very clean and organized, and the room is cosy, and spacious - feels like home away from home! Irene made this trip to be unforgettable, and we would definitely go back to her place again!
Yaniv
2017-04-11T00:00:00Z
Irene's house is very relaxed place to stay in a quiet neighborhood just minutes from ocean waves and city life. The views of San Francisco, Bay Bridge & ocean from her living room windows is AMAZING. The bed was comfy & the vibrant teal bathroom mats were a cozy delight for my tired feet. We really enjoyed our stay at Irene's. We unfortunately were unable to meet our hostess, although she was available via email/text so we felt connected. We did have pleasure of meeting Irene's husband, Alex, and enjoyed nice visit while taking in views shortly after our arrival. This was the perfect initial airbnb experience & look forward to our next adventure.
Cammi
2017-02-15T00:00:00Z
Irene was a great host. When we arrived she took the time out to tell us about local places to visit and she even had lots of brochures for us to look through, she was very informative. The location was about a 20 minute uber ride to San Francisco (without traffic). My friends and I had a great time staying here, thanks Irene!
Rebekah
2017-03-27T00:00:00Z
Great place! Beautiful view and Irene was a great host.
Matt
2017-04-08T00:00:00Z
Tipus d'habitació
Habitació privada
---
Tipus de propietat
Casa
---
Capacitat
3
---
Dormitoris
Daly City, Califòrnia, Estats Units
SF頂上寄り添わフルサイズのベッド。中央地理的位置、無料の路上駐車場とSFの全てに簡単に戦略的なアクセス。ツインピークス見張りやタワー・マーケットのショッピングセンターへ徒歩10分。バス停の#37は、ブロックの距離よりも小さいです。サニー、現代的な、パノラマビュー、新しいバス、マルチゾーン床暖房、AV、キーコードの入力を共有しました。別のAirBnBの旅行者とホストで共有される可能性が高い3BD / 2BA広々とした日当たりの良い民家内に配置された部屋。バスは1人のだけ、他のゲストと共有します。
ekspansiv udsigt
Fantastisk sted at slappe af og effektiv adgang til alle dele af byen. Kvarteret er i det geografiske centrum af San Francisco, hvilket betyder, overalt er relativt tæt, inden for 10-15 minutters kørsel uden trafik, for eksempel Bay Bridge og Golden Gate Bridge er begge 15 minutter væk! Ikke at forveksle med den "borgerlige centrum" område (rådhus, UN Plaza, osv), huset er i "geografiske centrum" og ikke "centrum".
Another great stay at Farzad's place, this time in the other room. Both the home and host are exceptional
Byron
2017-01-07T00:00:00Z
Farzad is a charming welcoming host. His home is thoughtfully designed, clean and beautiful. Located near the top of Twin Peaks, his living room provides a stunning view of San Francisco. Thank you Farzad for a lovely stay. Im looking forward to visiting again.
William
2015-09-22T00:00:00Z
Ultra clean and modern. Great host. Great place to stay. 5 stars.
Angelou
2015-09-20T00:00:00Z
Farzad's apartment is absolutely gorgeous and clean. Far and away the best Airbnb I have stayed at.
Brad
2016-07-10T00:00:00Z
Had a lovely stay with Farzad! This was my second time to stay at his amazing home while in SF. So, obviously, I think it's fantastic. Enjoy every breath in this beautiful, super clean space! ;-))
tish
2016-01-19T00:00:00Z
Everything was great-no complaints! Farzad was friendly, accommodating. His home was very welcoming and felt like a home away from home.
Laura
2016-05-16T00:00:00Z
This was my first time in San Francisco and it was a blast. My first airbnb was a dream. The pictures does not do justice. Farzad is a wonderful host with a gorgeous home. He is very welcoming, friendly and just an all around good guy. I could not have asked for a better host. Twin Peak is stunning. The 10 minute uphill, upstairs walk is worth it. The panoramic view is amazing. I already have my next trip plan and I will definitely stay here. It is close to everything. The bus is literally around the corner. Great trip.
Aleshya
2016-11-02T00:00:00Z
Great experience! Incredibly chill and welcoming vibe in a super clean, immaculate spot. Beautiful part of the city that's a bit of a hike from downtown but easily accessible and only a few minutes away by bus or car. Looking forward to returning next time I'm in SF! Thanks, Farzad!!
Marc
2015-11-21T00:00:00Z
Tipus d'habitació
Habitació privada
---
Tipus de propietat
Casa
---
Capacitat
1
---
Dormitoris
San Francisco, Califòrnia, Estats Units
Na vrcholu kopce tento byt má úžasný výhled na záliv a Tichého oceánu. Užívejte si náš moderní přestavět byt in-law: půvabné ložnice, kompletní kuchyň, nová koupelna. V blízkosti veřejné dopravy. Made by cestujícího pro cestující. Vysokorychlostní Wi-Fi. Pokud jste více než 2 jste velmi vítán: další airbeds (královna postelí nebo oddělenými velikost) budou poskytnuty. Nicméně mějte na paměti, že airbeds vzít prostor v ložnici a stává se méně prostorné. Také kuchyňský stůl sedadel 2.
Užívejte si náš moderní přestavět byt in-law: půvabné ložnice, kompletní kuchyň, nová koupelna. Vysokorychlostní bezdrátové připojení k internetu pomocí WiFi. V blízkosti všech prostředků veřejné dopravy: (MUNI 0,5 bloku, BART je asi 15 minut chůze) a 15 minut od SFO autem. Kuchyně Prosím vychutnat naše přestavět kuchyně: lednice, mikrovlnná trouba, plynový sporák, rychlovarná konvice, kávovar, káva a čaj zdarma, hrníčky, skleničky, sklenice, nádobí, nádobí. Koupelna Čerstvě zrekonstruovaná koupelna má vše, co můžete potřebovat. Prosklené dveře sprcha s nastavitelnou sprchovou hlavicí, ručníky, zrcadlo, umyvadlo, zubní pasty, zubní kartáčky, zubní refreshener. Ložnice Velmi pěkný queen size bed je na vás čeká. Užijte si oceán a výhled na město se dvěma velkými okny. Šatní skříň s ramínky je připraven, stejně jako prádelník. Pokud máte více než 2 osoby mohu poskytnout nafukovací matrace s prádlem, stejně jako další ručníky - dejte mi prosím vědět. Pokud jste více než 2 jste velmi vítán: další airbeds (královna postelí nebo oddělenými velikost) budou poskytnuty. Nicméně mějte na paměti, že airbeds vzít prostor v ložnici, a to se stane mnohem méně prostorné. Kuchyňský stůl sedadel 2. Celý byt je asi 400 čtverečních stop: (38m2) 17х12 ložnice s velkou šatnou (5.2mx 3,7 m) 9х13 kuchyň (2.75mx 4 m) 6х6 koupelna (1.82mx 1,82 m) 3х8 chodník mezi kuchyní a ložnice (1 m x 2,5 m)
Ingleside Heights zachovává staré školy kouzlo San Francisku. Jedná se o klidné, rezidenční čtvrti, kde někteří obyvatelé žili 30 let. Ocean Avenue je nedaleko a najdete Whole Foods, jóga studia, kaváren a autentických asijských restaurací. Jedná se o bezpečné čtvrti, náš bratranec šel do školy a všichni jsme chodit v noci.
Yegor was a nice welcoming host! The location is great, close to public transportation, freeways, shopping center and airport is very close. Clean, cozy and quiet location. Strongly recommend it!
Elena
2016-05-31T00:00:00Z
Nice place, if you have a car is easy and free to park. The bed is great and a second one for my friend. Thank you for hosting us
lucas
2016-09-03T00:00:00Z
The space was immaculate and comfortable and my husband and I very much enjoyed our stay. Yegor was an amazing host and was very responsive and helpful. He provided us with a comprehensive list of things to do in the area, which we appreciated. We would definitely recommend this listing.
Asha
2016-08-12T00:00:00Z
Yegor was very quick to reply and had a detailed description of what to do to get into the airbnb! Parking was easy to find as we were allowed to park in the driveway of the place but if not there was plenty of street parking! The place was quaint and perfect for an overnight.
Jessica
2016-12-22T00:00:00Z
Yegor was a great host. Very thorough and wants your stay to be effortless. All was as advertised.
Todd
2016-12-30T00:00:00Z
Yegor's place was of great value. Check in was easy, and communication was prompt. We had privacy, and it was a easy train ride to downtown. The place was clean, just the shower needed some adjustment. I would recommend Yegor's place to others!
Vanessa
2017-01-12T00:00:00Z
The place was absolutely spotless and really close to some neat areas in town!
Wesley
2017-02-24T00:00:00Z
Good communication and good location with free drive way parking.
Celine
2017-02-10T00:00:00Z
Tipus d'habitació
Casa/pis sencers
---
Tipus de propietat
Pis
---
Capacitat
5
---
Dormitoris
San Francisco, Califòrnia, Estats Units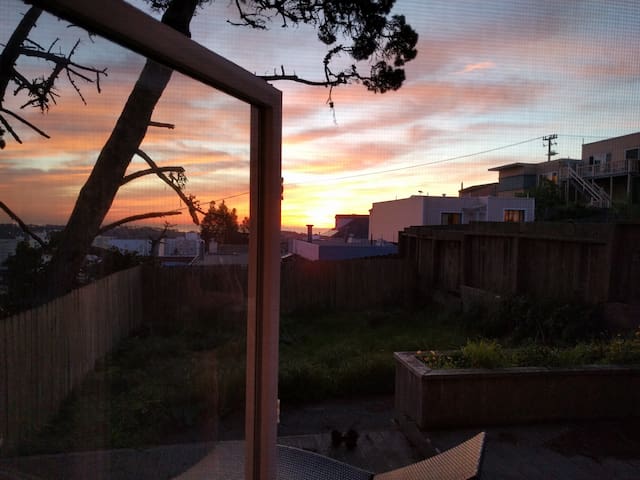 Colma - Airbnb
:
Mitjana de

4.84

estrelles sobre

5

a partir de

2144

avaluacions d'hostes
1

-

18

de

Més de 300 lloguers
Introdueix les dates per veure el preu total. S'aplicaran tarifes addicionals. És possible que també s'apliquin impostos.