花园房是一个私人公寓局促在我们的农场,有自己的入口,花园和安全停车。我们是从伯里圣埃德蒙的历史集镇有1.5英里。该公寓是大到足以容纳的6/7加上狗朋友还是足够小方夫妇想要一个浪漫的周末。有大量的步道和马道附近的。我们的私人室内温水游泳池是我们的客人提供从上午10:30至下午一时及5至7点单独使用。
该公寓是开放式设计,光及通风的客厅,俯瞰成荫的安全花园的树,有两个卧室套间有卷边浴缸和其他淋浴一个都有一张特大号床和一个房间够大,我们可以添加一个它应该需要一张单人床。还有一个在客厅的面包双人沙发床。
Beautiful home, beautiful views and extremely peaceful. Location is fantastic, just a five minute drive to the town of Bury. Claire introduced herself on arrival and we knew we could reach her if we needed anything. The house was on a farm, which meant the children could play safely outside.
Carla
2016-01-11T00:00:00Z
We had a wonderful stay at The Garden Room, a perfect location of a wedding we attended in Bury St Edmunds. The Farm is beautiful, with great walks for the dog and a lovely big garden to explore with our 1 year old. Many thanks for a superb Airbnb xx
holly
2016-06-04T00:00:00Z
My family and I loved this place, great location, great building, great amenities, a great hosts that leaves you be. We loved the pool and I can imagine this place is awesome in summer for a bbq. We shall be back!
Emma
2016-05-16T00:00:00Z
Great house! Both the inside and outside are fantastic, the bed are soft and the house is clean. The garden is amazing and their dogs are really cute. Just that is not very easy to find the house and is a bit far from Cambridge( but close to the town centre) just that the garden has quite a lot of flies and every night need to fight with them haha.
Minnie
2016-07-07T00:00:00Z
We had a fabulous weekend staying in the Garden Room and I would wholeheartedly recommend this place to stay for anyone who is considering. Claire gave very clear instructions on finding the property and access to it. It is tucked away and the location is so peaceful and beautiful. Being less than 10 minute drive into the centre of Bury , shops, restaurants etc was perfect for us. The swimming pool was heated to a lovely temperature and our 2 year old loved swimming here and running around the large garden. It was a perfect break, lovely place and amenities and will definitely be looking to return again in the future. Many thanks for letting us stay at your wonderful place and hope to see you again.
Kiran
2016-06-20T00:00:00Z
Listing description accurate. Never quite worked out where the pool was and the timing we could have used didn't quite work for us. On the other hand I could have texted the host. Internet access/ phone reception not good .On the other hand very peaceful and quiet. We were lucky with lots of sunshine along with the fresh air . Yes host helpful, prior to booking and with enquiry about dog friendly beaches in the area, though never met ,but met her husband.The Garden Room is absolutely lovely. Really special and good quality.Very comfy beds, especially the one on the mezzanine. Especially good curtains! A lovely bottle of wine left by the host. Lots of places nearby to visit ,and lovely garden furniture to just relax and read a book on. Flatford Mill especially lovely and Lavenham which has a super butchers ( Lavenham Butchers)and an ice cream shop as well as pretty buildings.Beaches at Felixstowe not far and nice for sea air , rocks to sit on and typical English seasideness.
Teresa
2016-07-17T00:00:00Z
Wir wurden von Clare mit Blumen Empfangen und die Unterkunft war wohlig warm.
Alexandra
2016-10-22T00:00:00Z
The Garden Room is a truly wonderful place. If you are looking for a slice of paradise, in the calm country-side, yet with quick access to the lovely Bury and the A14 in either direction then I would thoroughly recommend you book up! Lovely peaceful surroundings, wonderfully furnished and equipped - more than ample space for four adults and a child. Once you arrive, you won't want to leave!
Jeremy
2016-05-03T00:00:00Z
Tipus d'habitació
Casa/pis sencers
---
Tipus de propietat
Pis
---
Capacitat
7
---
Dormitoris
Pinford End, Anglaterra, Regne Unit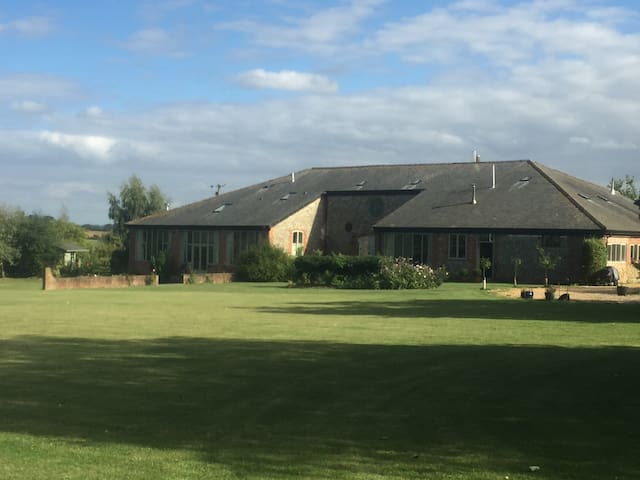 apartamento en la planta baja con su propia plaza de aparcamiento, reformado en 2015, a pocos pasos de la plaza del mercado, restaurantes y tiendas y los bellos e históricos Jardines de la Abadía. escondite parejas perfectas "escondido en un patio en el centro de la ciudad.
Pangsapuri, yang mempunyai pintu sendiri depan sehingga 3 langkah dari tempat letak kereta (dengan susur tangan), baru-baru menjalani pengubahsuaian termasuk hiasan semula yang lengkap di seluruh, permaidani baru dan bilik mandi baru yang indah dengan mandian pancuran mandian yang besar. Ia dilengkapi untuk Lawati England standard 4-bintang ini walaupun ia belum lagi dinilai secara rasmi. Terdapat teres kecil dengan perabot taman disediakan yang adalah sebenar matahari perangkap (jika matahari Inggeris memutuskan untuk bersinar!). Tarikan utama apartmen adalah lokasinya di tengah-tengah pusat bandar bersejarah - ia adalah bernilai mengetahui bahawa banyak ciri-ciri yang mengiklankan diri mereka sebagai di Bury St Edmunds, sebenarnya, jauh dari bandar tetapi ini adalah perjanjian sebenar! Lokasi pusat bandar bermakna bahawa semua acara kemuncak bersejarah ini halus, pekan pasar zaman pertengahan adalah perkara momen dari apartmen, termasuk memaparkan bunga yang menakjubkan di dalam Syurga Abbey. Berhampiran juga adalah pusat membeli-belah Arc, dan tempat yang luar biasa yang baru dibina hiburan, Apex, yang menarik penghibur bertaraf dunia yang menghargai akustik cemerlang Terdapat juga Theatre Royal dinyatakan, yang playhouse Georgian jarang berlaku, yang dimiliki oleh National Trust , popular dengan melawat syarikat teater dan produksi tempatan sama. Dan kemudian ada banyak sangat baik restoran-restoran, kedai-kedai dan bar dan Greene King brewery bersejarah di mana lawatan termasuk pemandangan panorama menakjubkan pemandangan bandar dan di luar dari bahagian atas rumah bru serta peluang untuk rasa yang ikonik dan kurang ales diketahui. Bury St Edmunds terletak di tengah-tengah East Anglia dan oleh itu ia adalah tempat yang sesuai untuk meneroka pelbagai hidangan di Suffolk dan Cambridgeshire, termasuk beberapa hartanah Amanah Negara seperti kacak, Palladian Ickworth House dan keindahan Tudor daripada Melford Hall. Newmarket, ibu pejabat dunia perlumbaan kuda, dengan gelanggang lumba kuda yang termasyhur di dunia terletak hanya 20 minit. Satu pek selamat datang disediakan mengandungi sebotol kecil fizz, sebotol Greene King ale, beberapa biskut dan teh / kopi. Jika anda ingin tinggal lebih lama daripada seminggu, sila hantar mesej kepada saya kerana saya kadang-kadang boleh menawarkan diskaun mengikut tempoh penginapan, bergantung kepada masa tahun. Sila ingat bahawa ini adalah sebuah pangsapuri di tingkat bawah di dalam sebuah bangunan yang terdiri daripada dua pangsapuri dalam jumlah dan tidak sebuah rumah. Seperti banyak pangsapuri (dan seperti bilik Hotel banyak!) Disebabkan oleh reka bentuk bangunan terdapat sekali-sekala dan tidak dapat dielakkan beberapa bunyi dari apartmen di atas, walaupun seperti yang anda lihat dari ulasan kami ini tidak menjejaskan keseronokan tetamu kami daripada ruang sehingga kini. Saya sedang menyebut ini sekarang dan bukan telah tetamu menyusahkan dalam apa-apa cara oleh mana-mana pencerobohan yang tidak dijangka ke dalam keamanan yang biasa dan tenang. Jika anda mempunyai sebarang masalah dengan memanjat ke dalam dan keluar dari bilik mandi ketinggian yang standard, malangnya harta itu tidak akan sesuai untuk anda kerana mandi selesai mandi.
Bury St. Edmunds es una joya escondida de una ciudad en el centro de East Anglia y está perfectamente situado para explorar los lugares de Cambridge, Lavenham, el campo de Suffolk y las ciudades costeras y todos los puntos intermedios.
Juliana's lovely flat was the perfect base to explore Bury St Edmunds. It was clean (spotless in fact), comfortable and in a sheltered part of the town centre. Juliana was a pleasure to deal with throughout and the process for check in and out was very straightforward. Highly recommended.
Damon
2015-08-17T00:00:00Z
When we arrived the key was available, the apartment was clean and well prepared, and the welcome pack was a nice touch. We walked around Bury St Edmunds and the town was just perfect as a base for exploring Suffolk. Being able to park and then having the amenities a very short walk away was my reason for choosing the property and it fully met our requirements. We met Juliana later in the week and she proved to be an excellent host, I would give both Juliana and her property an unqualified recommendation.
Robert
2016-06-11T00:00:00Z
Location,location,location! Minutes from the centre but in a quiet courtyard. Comfy and well equipped,ideal for a few days away. The books and DVDs would have kept us entertained had it been bad weather.Good weather meant we enjoyed all Bury had to offer plus wonderful restaurants (it seems to becoming a fashionable foodie watering hole.) No hesitation in recommending the apartment and area.
Lynn
2016-04-06T00:00:00Z
The apartment was fabulous so much bigger than we expected. The location was perfect exactly as described. We had a wonderful week and thoroughly enjoyed our stay. The stay was enhanced by the accommodation and although Juliana didn't bother us we did get to meet her briefly and felt that she would be available if we needed her. We would definitely recommend the apartment and hopefully be able to stay there again in the future.
Wendy
2015-10-21T00:00:00Z
What a great place to stay! Superb location and with its own parking space (hard to find one in Bury St Edmunds). Within easy walking distance of all the best pubs, restaurants, shops and theatres, as well as the cathedral and Abbey Gardens! Juliana was very welcoming and friendly. She was quick to respond and deal with a minor niggle and we would love to go back again. Thank you Juliana
Mark
2015-11-29T00:00:00Z
This was an amazing stay. Juliana made sure we were welcome with a gift bag that included a local beer, small champagne, tea, and coffee. The flat is in a great location in Bury and was the perfect size. i would certainly recommend Juliana's place for anyone staying in Bury and I will certainly use it again when I come back for a visit.
Tim
2016-09-28T00:00:00Z
We enjoyed our stay in this central Flat which was very well equipped, clean and comfortable. Juliana had provided excellent advance information with full directions and access arrangements. There was also a wealth of info about the flat and about the local area available at the property. The welcome bag was lovely and we enjoyed our fizz and beer, and other goodies. A very well organised place where the host has thought of everything, we'd happily stay again.
Janet
2016-06-04T00:00:00Z
Juliana was informative and easy to communicate with from our initial request to book. Check in was easy and the welcome pack and bottle of fizz to greet us was a nice touch! The apartment itself is even better than in the photos - so spacious! Everything is clean, comfortable and tastefully decorated and really can't be faulted. The location is perfectly central and easy walking distance to good restaurants and attractions. We would absolutely love to return.
Louise
2016-03-08T00:00:00Z
Tipus d'habitació
Casa/pis sencers
---
Tipus de propietat
Pis
---
Capacitat
4
---
Dormitoris
Bury St Edmunds, Suffolk, Regne Unit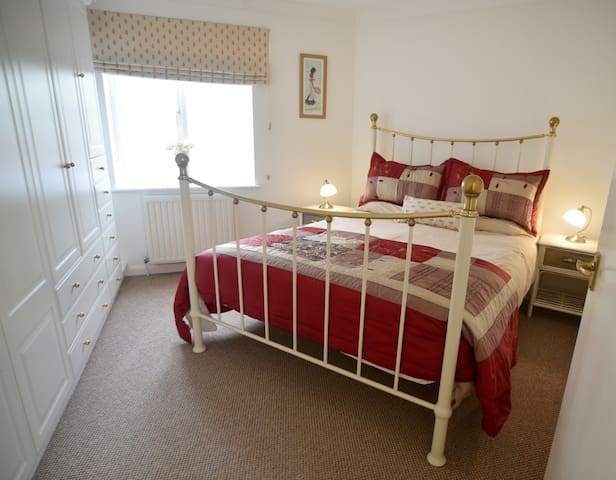 この歴史的な街の賑やかな中心部で、モダンな快適さと美しいデザインと歴史を融合見事なロフトスタイルのアパートで広々とした客室です。 理想的には近くAbbeygateセントで魅力的なショップや数々のレストランで、大聖堂や修道院の庭園を探索するための中世のグリッドに配置され、離れた分をパブ。 芸術愛好家は、よく大聖堂、頂点に近くシアターロイヤルやコンサートで、あまりにもご用意しています。 ゲスト用駐車場のチケットは含まれています。
18世紀グレードIIで見事なロフトスタイルのアパートメントには、歴史のフル構築を記載されています。屋上テラスから、この魅力的な歴史的な町の屋根の上に無類の景色をお楽しみください - またはドリンクを飲みながら、この日のトラップでリラックス。 BNB最も中心空気は町で最も印象的な景色の一部を提供し、ベリーセントエドマンズ。大聖堂、12世紀ノルマンタワーと美しい教会の墓地には、一方向にあなたの寝室の窓の外にちょうどあります。あなたがベッドでリラックスしたり、朝食を食べるように日曜日の朝にメロディアスな教会の鐘で喜び - あなたはイングランドの真の味を提供!歴史あるセントメアリー教会、埋葬メアリーチューダーの代わりに向かって別の窓から外を見て - とグリーンキング醸造所の手招きタワー...
これは、あらゆる方向の美しい歴史的建造物には本当に魅力的な地区です。私よ決してそれは、または町の屋根全体に注視の夜にライトアップです特に寝室の窓からノルマンタワーの景色、のタイヤ。あなたは、フロントドアを開いたときに時々素晴らしいモルトの香りをかぐことができる、とても近く醸造 - 豊かな歴史は、価格と地元のビールの範囲で幻想的なレストランは、市場の活発な喧騒とバランスです。個性地元のパブの1でそれをサンプル、または醸造所のツアーに参加し、いくつかの適切なビールの試飲で最高潮に達します!または実際の治療のための、全幅バーの壮大な12世紀のセラー金庫内の角を曲がったところにあるエンジェルホテル、モダンな英国料理、アフタヌーンティーやドリンクをご覧ください。 あなたが近く探索したい場合は、訪れる価値のある無数のかわいらしい村々は偉大な国のパブや美しい教会で、そこにあります。ほんの数に言及し、ラベンハム、ロングメルフォードとクレアを試してみてください。またはケンブリッジ、サウスウォルドとオールドバラに駆動します。ちょうどあなたがですべてをフィットするための時間を持っていることを確認してください!
Emma was a great host and happy to answer any questions. The flat was clean and tidy, great facilities. Was in a great location and had lovely views from the flat. Even though we didn't have any, Emma had laid a lovely breakfast out and was happy to help. Thank you for a lovely stay we would definitely stay here again in the future.
Mark
2016-10-02T00:00:00Z
Emma was lovely and very helpful when i booked her room for my parents who barely speak english. She was very helpful with letting them arrive late and providing breakfast and parking.
Rikke
2016-10-18T00:00:00Z
Emma was friendly and welcoming, she responded to all messages quickly. The room was fantastic with a wonderful view. The flat itself was very clean, tidy and spacious. Would highly recommend staying here!
Jake
2017-04-09T00:00:00Z
Emma was very welcoming, and went out of her way to help us enjoy our stay. The flat is furnished to a high standard and the views cannot be beaten (see listing). We stayed for 3 nights and found more than enough to do in and around the town, largely on foot. Parking was covered by a visitors permit provided by Emma. We will be recommending this space to friends.
Fran
2016-10-26T00:00:00Z
I was made to feel welcome when I arrived and we had a cup of tea together. The room and en-suite were spotlessly clean and Emma left a lovely breakfast laid out for me the next morning. I would book this room again
Virginia
2016-12-08T00:00:00Z
Beautiful apartment which is central and within walking distance to bars, shops, restaurants. Extremely comfortable and Emma is a fantastic host - couldn't fault anything it was a perfect weekend away
Shannon
2016-12-11T00:00:00Z
Emma var mycket vänlig och tog emot oss på ett bra sätt. Stort och fint rum med eget badrum. Lägenheten är mycket vacker (trevligt med alla svenska detaljer!) och har ett fantastiskt läge, mitt emot det vackra katedralområdet. Flera restauranger helt nära.
Kjersti
2016-09-22T00:00:00Z
This was a truly fantastic apartment. Very well furnished and decorated in keeping with Emma's influences. The bedroom is very big, beautifully clean and comfortable. The ensuite bathroom is very clean and well equipped. The location is very central. For those of you who do not like town noise, be aware that the street outside is cobbles, so there is more noise from traffic than a normal road. That said, it didn't bother or disturb me one bit; although I live in a city. This is the best room that I've stayed in with Airbnb. I'll be back.
Shaun
2016-12-15T00:00:00Z
Tipus d'habitació
Habitació privada
---
Tipus de propietat
Pis
---
Capacitat
2
---
Dormitoris
Bury Saint Edmunds, Anglaterra, Regne Unit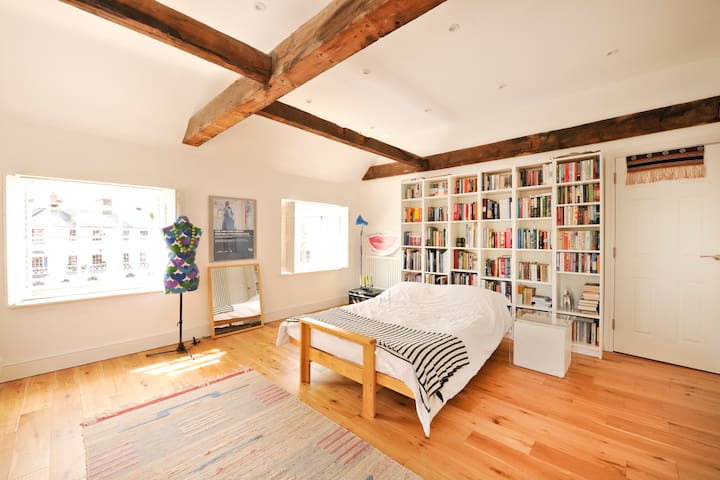 Highway ist ein Einfamilienhaus in schöner Lage im Land Suffolk, zwischen Newmarket und Bury St. Edmunds. Das Studio-Apartment ist eine große, offene Raum mit Küche und Bad. Doppelbett, Einzelbett und Schlafsofa. Eigener Eingang.
Loved the spaciousness of this very clean accommodation. Beds comfortable and surroundings peaceful. Juliet very approachable and kind.
Ruth
2016-07-26T00:00:00Z
Fantastic stay. Thoroughly enjoyed exploring the local area. Lots to see. Apartment is very comfortable. Juliet was very welcoming and a lovely host. Children are delightful.
Ingrid
2016-07-22T00:00:00Z
Lovely host, lovely place, pets were particularly friendly so would best suit animal lovers. Would definitely go back again.
James
2016-08-15T00:00:00Z
Super lokalita Super klid Super vybavení
David
2016-10-24T00:00:00Z
Very welcoming ming with lovely quiet environment
Margaret
2016-04-16T00:00:00Z
Excellent accommodations and hospitality. Highly recommended for any length of stay.
Zach
2016-08-09T00:00:00Z
The studio apartment was perfect for our weekend trip to Suffolk. Juliet was very easy going giving us all the space we needed to enjoy the weekend. It is quite faraway from everything so one definitely needs a car.
Daniel
2016-10-18T00:00:00Z
The Highwaymans is in a beautiful rural location not far from Bury St Edmunds and the studio accommodation is bright, spacious and clean. Couldn't be better for our family. Thank you, Juliet.
Alissa
2016-12-30T00:00:00Z
Tipus d'habitació
Habitació privada
---
Tipus de propietat
Pis
---
Capacitat
4
---
Dormitoris
Bury Saint Edmunds, Anglaterra, Regne Unit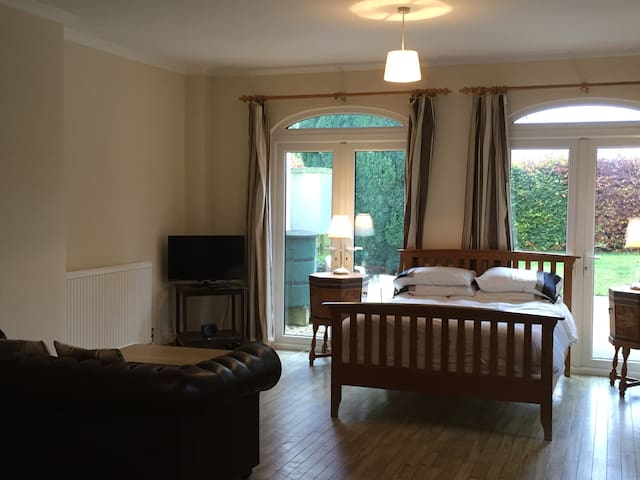 Een comfortabel nieuw opgerichte 2 verdiepingen bijgebouw in een modern huis op slechts een paar minuten lopen van het historische centrum van Bury St Eds. De perfecte toevluchtsoord voor koppels om deze middeleeuwse markt stad en de rest van Suffolk te verkennen. 4 * Visit England 2015.
De Hideaway bij Durbar is een self-contained bijgebouw van onze familie huis in een rustige woonwijk van het historische middeleeuwse stadje Bury St. Edmunds. Het kreeg een 4 * Visit England leerjaar januari 2015, waar de gasten van een hoge standaard van inrichting, apparatuur en netheid verzekert. Onze tuin is omsloten door een hoge muur en volwassen bomen die de ruimte binnen een onverwacht stille en rustige oase maakt. Het is een 2 verdiepingen ruimte, met de bovenste verdieping bereikbaar via een wenteltrap. Het is ideaal voor een koppel, maar er is een comfortabele slaapbank in de woonkamer, die 2 gasten slaapt. Een volledige set van beddengoed en extra handdoeken kunnen worden verstrekt. Echter, de badkamer is toegankelijk via de slaapkamer boven, zodat deze extra mensen nodig zou hebben om ofwel zeer goede vrienden of familieleden zijn! Bedenk ook, dat de wenteltrap stijgt direct in de kamer, zonder deur, hoewel er een kastenwand, zoals blijkt uit de foto's, die wat privacy. We hebben een woning op de kust van Suffolk, in Southwold (eens een kijkje op 'comfy 1 slaapkamer in de buurt van Beach' op Airbnb). Waarom niet verlengen van uw verblijf in Suffolk met een paar dagen in het hart van East Anglia, in Bury St. Edmunds, en een paar dagen genieten van de schoonheid van de kust van Suffolk ?? Een welkomstpakket zal worden verstrekt, inclusief koffie / thee / melk en koekjes, plus een beetje fles Fizz en een fles van Greene King ale (Bury St. Edmunds is de thuisbasis van Greene King, na al!). Als u wilt langer dan een week blijven, stuur me een bericht als ik een korting te bieden op basis van de duur van het verblijf.
Bury St Edmunds is een van de juwelen in de rijke kroon van het erfgoed van Suffolk. Tot de grote en machtige abdij van St Edmund 500 jaar geleden werd vernietigd, was het een van de belangrijkste bedevaartsoorden in heel Engeland, zijnde de laatste rustplaats van St Edmund, een Saksische koning die werd gemarteld door de Vikingen. Alles wat overblijft van zijn hoogtijdagen zijn de uitgestrekte ruïnes van de abdij, die nu een openbaar park met bloemenpracht het hele jaar door prachtig. rijke verleden van de stad nog steeds te zien, maar in de schilderachtige huizen die de straten van de middeleeuwse raster lijn. Deze dagen is de stad heeft een twee-wekelijkse markt en een groot aantal onafhankelijke en winkelketens verdeeld tussen de historische markt en het moderne Arc winkelcentrum. Het Theatre Royal is de enige overgebleven Georgische speelhuisje in het land en hosts touring producties van enkele van de beste theater groepen in Groot-Brittannië, zoals het Globe Theatre en Hull Truck Theatre Company. Daarentegen, we hebben het geluk om een 21e-eeuwse entertainment ruimte genaamd de Apex die wereldklasse muzikanten aantrekt en heeft een divers programma van evenementen hebben. Bury St Edmunds is ook de thuisbasis van het brouwen gigantische Greene King. Er zijn dagelijks rondleidingen door de brouwerij, zodat u alles kunt leren over het proces van het maken van de vele bieren waarvoor hij beroemd is, eindigend met een kans de smaak van de producten voor jezelf. Binnen 20 minuten rijden van de stad is de unieke pittoreske en fascinerende dorpje Lavenham met zijn schots en scheef vakwerkhuizen middeleeuwse huizen. Newmarket renbaan ligt op slechts 15 minuten van Bury, met zijn zomerprogramma van vlakke race, met inbegrip van de klassieke 1000 en 2000 Guineas vergadering begin mei. Constable Country en Cambridge zijn ook gemakkelijk te rijden afstand, hoewel een beetje verder weg. De bekende Suffolk kustplaatsen Aldeburgh en Southwold zijn ongeveer een uur of zo van Bury maar de rit is een mooie één, die door vele mooie Suffolk dorpjes met hun schilderachtige huisjes met rieten daken en pittoreske dorpje greens en mooie pubs om te stoppen voor de lunch of avondmaal om de reis te breken.
The previous reviews are all accurate. Juliana is a great host, the place is really clean, cosy, well-appointed and welcoming; and it is well-placed in a quiet lane really close to the historic centre of Bury St Edmunds. As an added bonus, off-street parking in the pretty garden was much appreciated.
Martyn
2015-11-16T00:00:00Z
We had a lovely holiday at Juliana's, who's a great hostess. The Hideaway has everything you need. Very welcoming package of first necessities and some fizzy stuff and local beer. Great location for tours around Suffolk, Norfolk and Cambridgeshire.
Malu
2016-05-05T00:00:00Z
Juliana is a very welcoming host and more than willing to help make your stay enjoyable. Paper products and bottled water are supplied, which I haven't seen at many self caterings. The welcome package is very good, too. The accommodations are well described in the listing. The location is excellent, and we thoroughly enjoyed being within walking distance of the town center. All in all we had a very pleasant stay in Bury St. Edmunds.
Doug
2015-05-27T00:00:00Z
We had a wonderful time at the hide-away! The house is lovely, comfortable, clean and near the centre of Bury St Edmunds. Juliana is a very friendly host, she gave us good advice where to go in the neighbourhood. She made us feel at home. We really can recommend this place!
Rob
2014-10-18T00:00:00Z
Juliana's place was great, perfect location for the town and a beautiful apartment, would happily recommend to anyone.
Alison
2017-03-05T00:00:00Z
Juliana was very welcoming! The pre arrival email gave every possible bit of information re arrival,location and access! This was a perfect location to relax and recharge in the end stages of a long holiday! Excellent host would stay at any of Juliana's properties at future visits to the UK,
Donald
2016-08-05T00:00:00Z
My daughter and I stayed at Juliana's place for two nights and couldn't have been happier. The annex has been very well designed and, while small, it was perfect for two people and had everything we could have wanted. Despite being in a built up residential area it was very quiet and the only sound to be heard in the morning was the pigeons cooing. We travelled there by train and it was only 10 minutes walk from the station. Communication with Juliana beforehand was quick and easy, although sadly we didn't get to meet her during our stay as she was away for the weekend, but thanks to her clear instructions we had no problem finding the key and letting ourselves in. The welcome gift bag was a very nice touch. The annex was great for our dog as the double doors open straight out into the garden. It wasn't the best time of year for sitting outside but I imagine it would be lovely eating at the table on the patio when the weather gets warmer. I would highly recommend this property and will definitely consider staying there again next time we're in Bury St Edmunds.
Joanne
2017-04-02T00:00:00Z
Thanks Juliana for a lovely stay. It accommodated 4 of us with a sofa bed downstairs. We appreciated the welcome pack and having the kitchenette was useful for breakfast in the morning. Fab location for a wedding at Hengrave Hall...easy to find and a good location near the town centre. Would recommend!
julie
2014-11-17T00:00:00Z
Tipus d'habitació
Casa/pis sencers
---
Tipus de propietat
Pis
---
Capacitat
4
---
Dormitoris
Bury St Edmunds, Suffolk, Regne Unit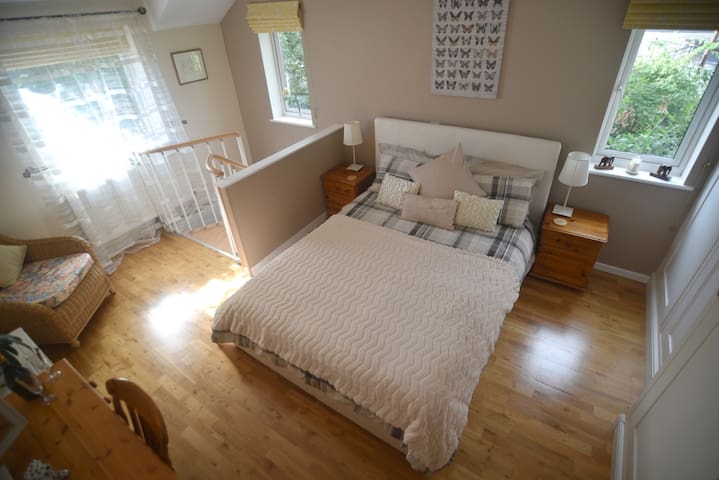 Situado numa zona rural bonita dentro do alcance fácil de Newmarket, Bury St. Edmunds e Cambridge, a nossa auto-contido anexo com cozinha, área de estar, cama king size e chuveiro quarto oferece-lhe todo o conforto. Bem comportado cães também são bem vindos.
O anexo é leve e brilhante, com portas francesas para fora nos extensos jardins com estábulos (atualmente desocupados!). O anexo é piso térreo com a sua própria porta da frente para que você possa se sentir bem-vindo para ir e vir em sua conveniência sem se preocupar com qualquer outra pessoa. A sala de estar e quarto são de plano aberto com excelentes vistas, ea cozinha está bem equipada com forno, fogão, microondas e frigorífico. Estamos idealmente situado para visitas a corridas de Newmarket (10 minutos de carro), BurySt Edmunds (15 minutos de carro) e Cambridge (20 minutos de carro para a periferia) Acesso sem fio está disponível. Uso da máquina de lavar e secar na casa principal pode ser organizado por uma taxa nominal. roupa de cama e toalhas limpas são fornecidos como é um pacote de boas vindas de pão, leite, geléia, chá, café e cereais matinais. Não é permitido fumar na propriedade a qualquer momento.
O anexo está situado dentro da vila de Gazeley. Há dois bares dentro de um 2-4 minutos de carro, The Packhorse em Moulton, que serve premiado alimentos e The Kentford em Kentford que é muito familiar com um grande jardim e área de jogo (com cabras!) Para as crianças, enquanto que serve uma grande Almoço de domingo! Existem vários outros pubs a 4 ou 5 milhas. A cidade original de Newmarket é de apenas 5 milhas de distância, com seus 3000 cavalos de corrida Exercício na charneca quase todas as manhãs, bem como os dois hipódromos e vários museus de corridas de cavalos. Nós também estão numa posição ideal para explorar a bela cidade de mercado de Bury St. Edmunds (10 minutos de carro) e à cidade universitária de Cambridge (15-20 minutos).
Had a wonderful stay in the annex, clean, tidy, everything you need for a relaxing time away. Thank you Lucy & Matt for the lovely breakfast pack & making us welcome. Would definitely be back and recommend this place if peace & tranquility is required.
Gail
2016-08-01T00:00:00Z
Lucy and family were incredibly nice upon arrival and throughout. The annex is incredibly cosy, well furnished with lovely views over the stables from the kitchen. I stayed for 4 nights while working in the area. Made a nice change coming back to a home every night in oppose to a cramped bnb. Thanks to Lucy and family, would recommend highly.
Jake
2015-12-01T00:00:00Z
Lucy was really friendly and made us feel very comfortable - she made a point of saying that she was always around if we needed anything. The annexe to the house was very quiet - you didn't hear any noise from the house and so it felt very private. Just what we needed as we were going through a stressful house move! The kitchen had everything you could need and the shower was fabulous! Brilliant for bringing a dog too as there are lots of walks around Gazeley straight from the garden door!
Esme
2016-03-18T00:00:00Z
I stayed at Gazeley during the week for eight weeks whilst on work experience in Cambridge. I could not have asked for a better 'base' - the annexe was comfortable, clean and spacious. Lucy is a brilliant host and went out of her way if I needed something. The location of Gazeley is fantastic - beautiful and quiet but ideally located for accessing the A14 and Cambridge! I really enjoyed my time at Gazeley and cannot thank you enough for making me feel so welcome!
Jane
2016-06-10T00:00:00Z
The cottage was as described and it was in a lovely quiet location which was well suited for our needs. We spent 4 nights there and this location was very central to all of Norfolk, Suffolk and Essex enabling us to fan out from our base to visit all the tourist destinations. Lucy was lovely and friendly and was more than generous with supplies left for our needs including full loaf of bread, large packet of corn flakes, full litre of milk, orange juice, pastries, jams and margarine. Almost no need to do a grocery shop. Lucy was very welcoming and natural. Striking that perfect balance. We would describe it as not being intrusive probably wanting us to have private time.
Greg
2016-07-03T00:00:00Z
Lucy was a wonderful host. Nothing was too much trouble. We arrived much later than we had hoped but Lucy was very helpful and flexible. The annexe was spotlessly clean and the kitchen well stocked with everything needed. We were very grateful for the welcome pack for breakfast! We would highly recommend a stay here.
Allison
2016-05-24T00:00:00Z
Listing description and photos were accurate. The accommodation was easy to find following the directions on the listing. It was a wonderfully quiet and peaceful location. The Annex is self contained, very clean and a joy to be in. Gazeley is a very quaint little village and ideally located for our weekend of catch up with friends. Lucy was a very friendly and accommodating host.
Fiona
2016-04-12T00:00:00Z
Had a really lovely time in Gazeley. Needed a place to stay when attending a wedding in the area, and it proved to be a really nice break. Lucy was a fab host and even left us pastries for breakfast! Would definitely recommend - an extremely clean and comfortable room. Thank you!
Rebekah
2016-07-11T00:00:00Z
Tipus d'habitació
Casa/pis sencers
---
Tipus de propietat
Pis
---
Capacitat
2
---
Dormitoris
Gazeley, Regne Unit
Highly recommend this lovely little house! Very, very clean and charming. Ideal location - An easy 20 minute walk from the train station, 5-10 minutes to town and the Abbey Gardens and a cheap taxi ride to Hengrave Hall. Claire is fantastic and you can expect excellent communication. The key is easily accessed by key safe. Can't recommend this place highly enough - both it and Bury St Edmunds are wonderful!
Katherine
2016-08-14T00:00:00Z
Clair was accomodating to our needs and super relaxed regarding check in etc. She was quick to answer any questions we had and her home was very clean and uncluttered. I know Bury well and the level of communication reflected this. I was happy to be left to my own devices but also knew that if O had any enquiries Clair would be there to help. Her home is lovely and i would definately recommend staying here.
Maria
2016-08-28T00:00:00Z
This is a little wee gem in walking distance to everything Bury has to offer. A glutter free stylish interior home with everything & more to make your stay comfortable. We enjoyed our stay soooo much we hope to return in the not too distant future.
Michelle
2016-11-14T00:00:00Z
Great location. Easy access to bury and Norwich. Lovely home and everything you need. Claire was really helpful and nice host. Would use again.
Wayne
2016-08-04T00:00:00Z
This was my second stay at Clair's cottage and I felt I had come home! It's a real treat to have the entire cottage to yourself. The excellent set up with the key safe means it is not necessary to actually meet Clair for pick up or drop off of the key which allows you to come & go as you please and not be restricted to time. Clair certainly goes the EXTRA mile in making sure every request is met from preparing the extra sofa bed with fresh linen to taking the time to share various car parking options close by, giving idea's about what to do & see in the area and all answered in lickety slick time. This is an immaculately clean, warm cosy cottage that provides everything you need for a comfortable stay. I would like to stay in warm weather and get to enjoy the outside seating with a glass of wine in the evening as it looks so inviting. The close walking proximity to the city centre allows you to park your car near the cottage and not use it again until you depart which is a welcome bonus. The friendliness of the Bury community make this a super vacation. If I'm heading to Bury St Edmunds again I would be thrilled to stay at Clair's cottage should it be available. Clair & Airb&b your onto a winner!
Michelle
2016-11-28T00:00:00Z
Didn't meet Clair, but end to end process was fantastic. The house is stunning, and provided us with a fantastic base for the weekend. Only a 10/15 minute walk from the town centre in a quiet part of the town. Highly recommended
Chris
2016-08-07T00:00:00Z
Tipus d'habitació
Casa/pis sencers
---
Tipus de propietat
Pis
---
Capacitat
3
---
Dormitoris
Bury Saint Edmunds, Anglaterra, Regne Unit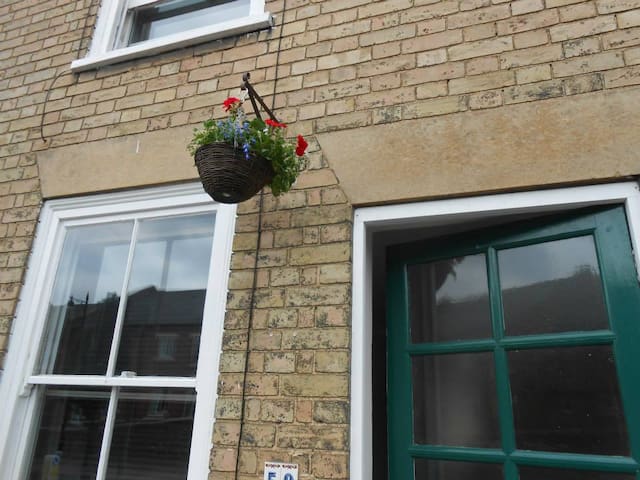 Bienvenido a nuestra casa recién completa e independiente vacaciones. Que puede acomodar hasta 6 personas, desde dobles, individuales, sofá cama y cunas. Estas son las nuevas características
Very nice peaceful venue - clean and in the heart of Suffolk countryside with plenty of walking opportunities - hosts unobtrusive and helpful - place itself clean and with a great view of countryside from a balcony where you could eat - caveats are there is no near place - apart from Bury to shop so stock up and if you don't like dogs you might find the four bouncy labradors hanging around a bit alarming - we do so it wasn't a problem - overall highly recommended.
Allegra
2013-10-14T00:00:00Z
Lovely, quiet and very rural setting. The coach house has two good size bedrooms and can accommodate additional guests with a pull-out sofa or cot-bed. The coach house stayed cosy and warm, even in December, and has a small woodburning fireplace in the living room. Very gracious and helpful hosts.
Chelsea
2013-12-31T00:00:00Z
Lovely house, the photos of Airbnb reflect exactly how the inside of the house is or the house is even better when you see it. Confortable beds,perfect place to rest and relax. The terrace is wondeful in summer with amazing views. The house is surronded by countryside, there are faisans and quais in the fields around the house. We will come back soon.
Alejandro
2013-03-12T00:00:00Z
This was a return visit for us. Juliet and Adam made us very welcome and told us to make ourselves at home. The holiday home is simple but provides everything we need for a weekend away with the family. Hope to visit again soon.
Russell
2013-07-22T00:00:00Z
We really enjoyed our stay in Risby. The location of the B'n'B was great - close to lots of interesting places to visit and so peaceful in the country. Juliet and Adam were attentive hosts. There are 5 in our family and there was plenty of space for us. The deck was lovely to sit on and the kids liked the dogs.
Catherine
2014-06-28T00:00:00Z
The host canceled this reservation 17 days before arrival. This is an automated posting.
Julia
2016-07-24T00:00:00Z
Great stay. Juliet was very helpful. Lovely location.
Toby
2017-01-02T00:00:00Z
Very nice place; quiet and peaceful
Janet
2015-08-01T00:00:00Z
Tipus d'habitació
Casa/pis sencers
---
Tipus de propietat
Pis
---
Capacitat
6
---
Dormitoris
Bury St Edmunds, Suffolk, Regne Unit
Geräumige offene Wohnung in Saxon Street, die 4 Meilen von Newmarket ist. Es ist leicht zu Cambridge zu bekommen, St. Edmunds und Ely begraben. Nahe schöne Landschaft zum Wandern.
Syde Cottage is homely and cosy with versatile living space - perfect for a couple or a small family. It is close (£10 in a taxi/10 minute drive) to Newmarket and is quiet and secluded with great facilities.
Naomi
2017-03-05T00:00:00Z
Tipus d'habitació
Casa/pis sencers
---
Tipus de propietat
Pis
---
Capacitat
4
---
Dormitoris
Saxon Street, Anglaterra, Regne Unit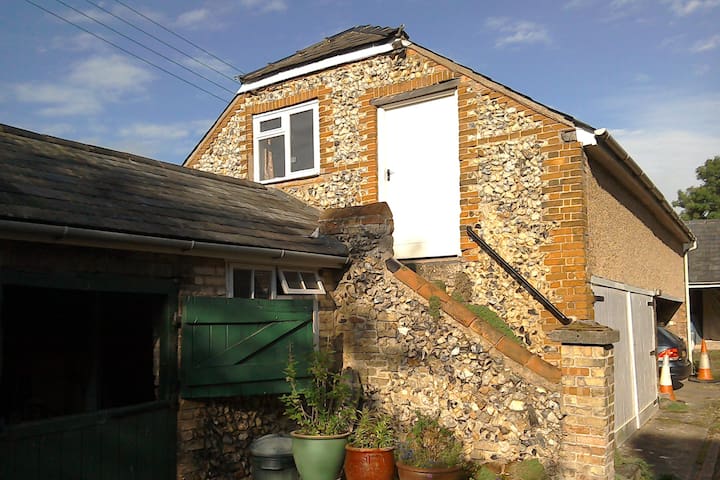 La propiedad se encuentra en el bonito pueblo de Shimpling que tiene dos pubs - tanto a poca distancia. Privado y tranquilo con comedor exterior, así como en el jardín de invierno, más acogedora sala de estar y dormitorio muy cómodo.
Los Hamptons está situado en un lugar tranquilo y tranquilo, pero a pocos minutos de las ciudades y pueblos históricos que esta parte de Suffolk es tan famoso. Hay mucha vida salvaje incluyendo ciervos y aves a menudo vistos desde el jardín de invierno!
We had a lovely weekend at Julies private annex in Shimpling. We would definitely stay again!
Jake
2016-05-23T00:00:00Z
Lovely accommodation. Friendly and welcoming hosts. The annex is well decorated, clean and fresh. Lovely little touches such as fresh fruit and yogurt, home made bread and jam and mini pastries. The bed was very comfortable and wifi useful!
Clare
2016-09-18T00:00:00Z
My husband and I were in Bury St. Edmonds for a squash tournament and The Hamptons proved to be an ideal location to enjoy the town as well as the lovely countryside. We arrived on a lovely sunny day and were met by Julie, who showed us around her very attractive property. There is a beautiful bedroom with luxurious bed linen, shower room, small sitting room and a compact kitchen with everything you need including a welcome basket with fresh local eggs and croissants as well as homemade bread and jam made by Peter. The best part was having an adjoining conservatory to eat breakfast and relax. Peter and Julie were great hosts and made us really welcome during our two night stay. We will be back next year and will certainly want to stay here again.
Carole
2015-09-28T00:00:00Z
This place is the best place we have stayed,lovely welcoming hosts and so many little gestures like homemade bread and jam which made our experience delicious.I would highly recommend this place for anyone! There's a pub 5 minutes away that was absolutely divine,thankyou to hosts for making our experience special. Can't wait to stay again!:)
serena
2016-07-10T00:00:00Z
We stayed at the Hamptons as we had a wedding in a nearby village so this meant that we sadly didn't spend very much time there. The house is absolutely beautiful and the part we stayed in was perfect. It has its own separate entrance with its own kitchen, bathroom, sitting room and conservatory and so you have everything you need. It is beautifully decorated and was all incredibly comfortable and luxurious. Julie and Peter were the perfect hosts and made us feel so at home. We had freshly baked bread and cookies, homemade jam and eggs from a local farm. As the weather was lovely we sat outside in the beautiful garden to have our breakfast. We couldn't recommend this place more highly - beautiful countryside, beautiful house and lovely hosts!
Poppy
2015-09-21T00:00:00Z
Great hosts, lovely place would highly recommend a stay.
Iain
2015-08-31T00:00:00Z
Tipus d'habitació
Habitació privada
---
Tipus de propietat
Pis
---
Capacitat
2
---
Dormitoris
Shimpling, Suffolk, Regne Unit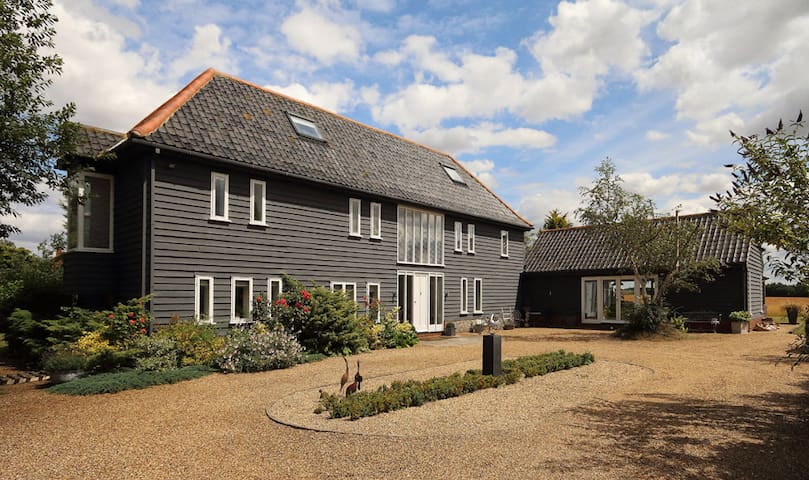 Nuestra casa está cerca de las ciudades históricas Lavenham y Long Melford,: Bury St. Edmunds y Sudbury. Para ir de compras y la cultura, Cambridge es menos de una hora. Te va a encantar aquí debido a su ubicación en el campo tranquilo y cómodas camas dobles con sábanas de algodón egipcio. Nuestra casa es bueno para parejas, aventureros en solitario, viajeros de negocios y familias (con niños). Usted es agradable utilizar nuestra cancha de tenis, sin embargo, no llevar su coche de baja altura deportes como la casa es por un camino lleno de baches largo!
We had a wonderful stay at Trustrams and couldn't have asked for anything more. The house is in a beautiful location and the rooms a perfectly kept. Emma and her family were welcoming and helpful with anything we needed during our stay. We would definitely stay again and will recommend it to friends.
Ellie
2016-08-08T00:00:00Z
Thanks so much Emma for accepting us as guests into your home, it was even lovelier than expected with a private part of the house for us to use in beautiful grounds, and perfect for our weekend exploring the area. We felt truly welcomed by the whole family and especially appreciated the homemade brownies and fresh flowers in the room! We would recommend anyone who has the opportunity to stay at Trustrams.
Laura
2016-08-14T00:00:00Z
We much enjoyed our stay at Trustrams. Emma was so welcoming and helpful, making us feel immediately at home. The room was lovely, warm and cosy with everything of high quality. And the breakfast was perfect. We would definitely go again.
Angela
2016-10-15T00:00:00Z
A lovely, relaxing stay. The host's were very welcoming. A real treat away in the country.
shelley
2016-08-20T00:00:00Z
I stayed here for a few days to go to a wedding in the nearby (and walkable) Alpheton hall barns and can't recommend it enough. The house is really beautiful, the location is idyllic and the host Emma was so welcoming to us. It was a truly relaxing stay and I would definitely want to come back soon!
Mitch
2017-04-02T00:00:00Z
Tipus d'habitació
Habitació privada
---
Tipus de propietat
Pis
---
Capacitat
2
---
Dormitoris
Shimpling, Anglaterra, Regne Unit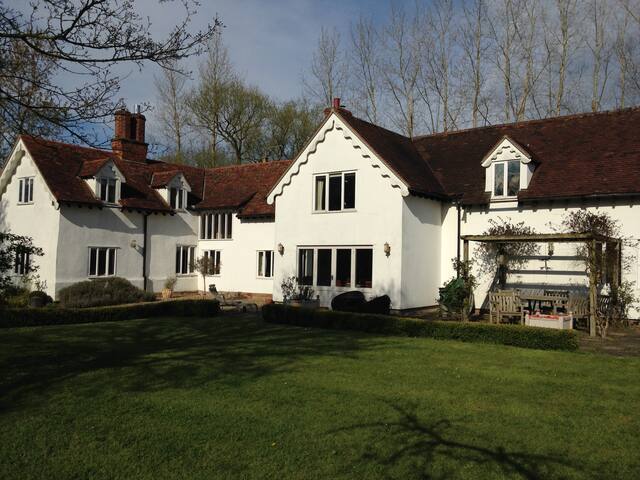 サフォーク田舎で楽しいマナーハウスで贅沢な2ベッドルームのアパート。ケンブリッジ、エリーへの容易なアクセスを備えた快適な隠れ家を探しているカップルやビジネス旅行者にとって理想的な、セントエド、ニューマーケットマンズ - ロンドン中心部からまだわずか1.5時間。
マナーはサフォークの田園地帯にある公園のような庭園の8エーカーに設定された完全にユニークな特性です。それは10年前の高級マンションに変換され、高品質、平和な家庭環境を楽しむ住民を魅了しました。
Tipus d'habitació
Casa/pis sencers
---
Tipus de propietat
Pis
---
Capacitat
4
---
Dormitoris
Herringswell, Anglaterra, Regne Unit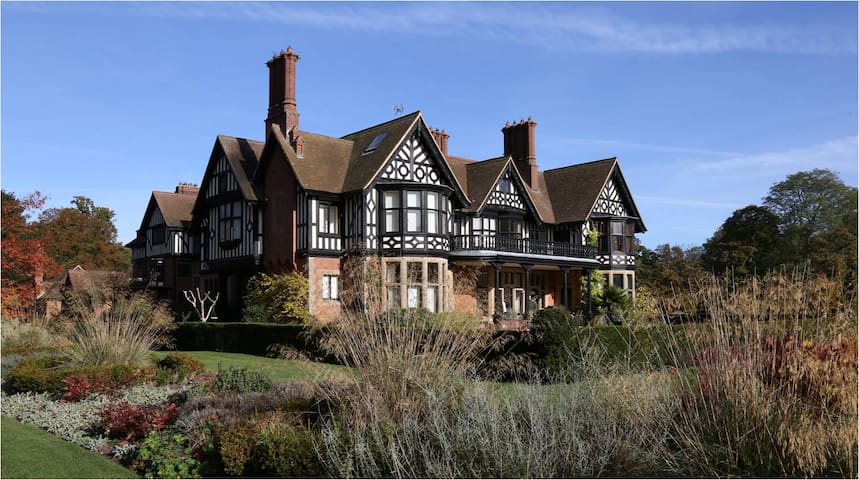 conversione Flint Barn pittoresco situato nel cuore del tranquillo villaggio di Woodditton che ha un buon pub tradizionale con ristorante (The Blackbirds Inn) ed è circondato da passeggiate bel paese.
Die stilvoll zu einem sehr hohen Standard restauriert Kuhstall hat alles, was Sie brauchen ... 1double / Zweibettzimmer, Schlafsofa im Studio, Dusche mit Waschbecken und WC, Küche mit Kühlschrank, Geschirrspüler, Herd und Backofen, großes Studio Wohn- und Essbereich mit TV, DVD und Radio. Ein WLAN-Internetzugang zur Verfügung Bettwäsche, Handtücher, Heizung und Wasser sind im Preis inbegriffen.
3 Meilen von Newmarket mit seinem Pferderennen-Verbindung. 12 Meilen von der Universitätsstadt Cambridge und historischen Marktstadt Bury St. Edmunds. 16 Meilen von der Domstadt Ely
Our second trip was great. Thanks Jackie for a relaxing stay and for making the fire for us.
Lee
2016-02-16T00:00:00Z
One of the best AirBnB places we've ever stayed in. Jacky was wonderful: communication was great before arrival (she even gave us the phone number for her neighbour who was happy to be a taxi for us during our stay - that I booked before arrival). When we arrived, Jacky was there to show us around and give us some background on the area; she was friendly, open, kind and warm. The fridge was stocked far beyond what we expected so our breakfast for the two mornings we were there was sorted. The description was almost 100% accurate: I say that because it's even more beautiful than it looked in the listing. We were really chuffed when we pulled up and then saw inside. Peaceful, pretty, eclectic and stylish, as well as comfortable and fresh, the cow shed is a great place to spend an evening. The wood burner was ideal as we arrived on a cool and misty afternoon. The neighbourhood is quiet and rural, but within easy reach (with a car) of Newmarket and smaller places of interest.
Russell
2016-06-06T00:00:00Z
We had the most amazing stay at Jacky's old cow shed. What a lovely, charming and cozy place it was. Jacky was very amiable and made us feel very welcome. It was lovely to arrive to fresh supplies in the fridge and a cozy log burner roaring away. The cottage had everything we needed for our stay and is well presented and thought out. Wooditton is a lovely quiet village with a very nice pub just over the road form the cottage. The area is great for exploring and very close to both Newmarket and Cambridge. Would love to stay again sometime in the future.
Edward
2016-01-03T00:00:00Z
Jacky was very welcoming and always responds quickly to messages.
Timothy
2016-09-30T00:00:00Z
We stayed for two nights over new year and it was just the perfect spot for a bit of rest and relaxation after Christmas. The cottage is the ideal place to return to after a day exploring Cambridge or any of the other nearby towns and we loved chilling out in front of the log burner with a glass of wine. Would definitely recommend for couples looking for a quiet place to enjoy a getaway.
Anna
2017-01-02T00:00:00Z
The most delightful place to stay. Beautifully decorated and more than enough home comforts. Jacky had provided everything we needed including the required bed configurations. Peaceful spot with a beautiful outlook. Thank you Jacky for your attention to detail.
Jayne
2014-08-02T00:00:00Z
This place was azmazing! Clean, bright, mordern with some beautiful old pieces, which made the whole place feel so cozy..... Jackie was an absolute dream.... so helpful with everything and also so unintrusive and just allowed us to enjoy our break. i would recommend The old cow shed to anyone and will be going back again! The area was perfect, pub accross the road beautiful.... Jackie told us of a local taxi that shipped us the short journey into town whenever we want to go. The pictures are nice on Airbnb.... but nowhere near as nice as the place!
Mandy
2014-09-01T00:00:00Z
The Old Cow Shed was beautifully converted and had everything we needed, we even decided to cook in rather than go out to eat as it was so lovely and peaceful. Jacky was very welcoming and helpful during our stay. We had a great couple of days and will definitely be back.
Victoria
2016-07-10T00:00:00Z
Tipus d'habitació
Casa/pis sencers
---
Tipus de propietat
Pis
---
Capacitat
4
---
Dormitoris
Woodditton, Regne Unit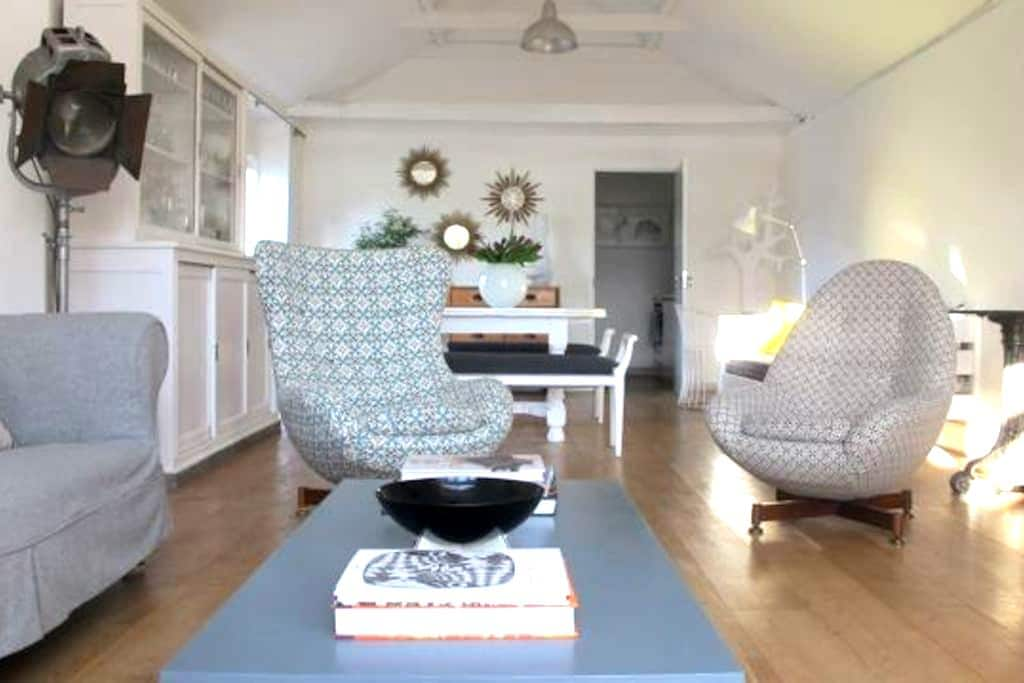 Tipus d'habitació
Casa/pis sencers
---
Tipus de propietat
Pis
---
Capacitat
2
---
Dormitoris
Thurlow, Anglaterra, Regne Unit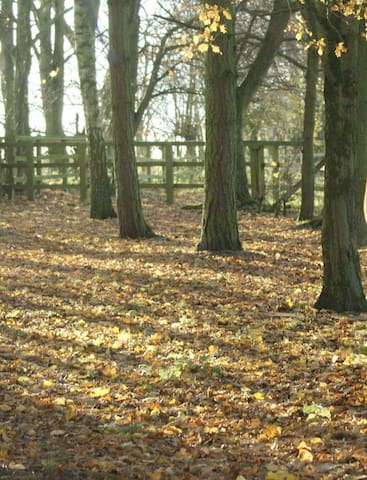 marca de lujo nuevo apartamento primer piso con balcón situado en el centro con aparcamiento para un coche. 2 habitaciones dobles, con cuarto de baño y un dormitorio con dos camas y cuarto de baño de lujo. Todo muy bien amueblada y equipada con un alto estándar con Wi-Fi y televisión de pantalla plana. La cocina tiene horno, vitrocerámica, lavavajillas, lavadora y microondas y está totalmente equipada con todos los utensilios. Todas las sábanas y toallas se proporcionan con secador de pelo y artículos de aseo.
Tipus d'habitació
Casa/pis sencers
---
Tipus de propietat
Pis
---
Capacitat
4
---
Dormitoris
Newmarket, Anglaterra, Regne Unit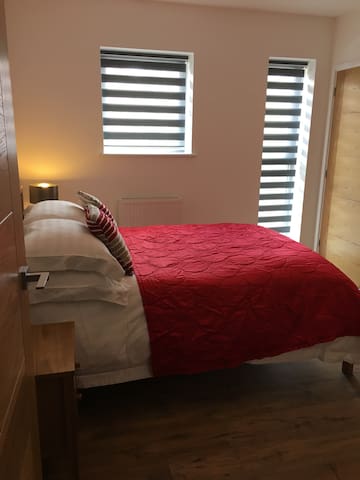 Όμορφη (από κοινού) duplex διαμέρισμα που βρίσκεται σε έναν ήσυχο δρόμο στην καρδιά της πόλης. Υπέροχο, ευρύχωρο υπνοδωμάτιο με πανοραμική θέα, ιδιωτικό μπάνιο, τη μελέτη και την ιδιωτική χρήση του συνόλου του στον επάνω όροφο. Μια πετριά μακριά από το σιδηροδρομικό σταθμό, Tattersalls και σε μικρή απόσταση με τα πόδια από το κέντρο της πόλης και Rowley Mile Racecourse.
Όμορφο ιστορικό κτήριο, ψηλά ταβάνια, παράθυρα φύλλο και ευρύχωρα δωμάτια.
Ήσυχη, εύπορη γειτονιά, με υπέροχη γραφικά γύρω χωριά. Πληθώρα καλής ποιότητας εστιατόρια.
A fantastic situations . Clean room clean bath wonderful location and nice family. I am happy
Nicola
2016-07-08T00:00:00Z
This is the third time I've stayed there - that must say something ! Lovely couple, nice space.
Bruce
2017-03-07T00:00:00Z
Max was the perfect host. When we were late arriving, he text to make sure we were OK and if we had trouble finding the apartment. Very thoughtful. The apartment was exactly as described and perfect location.
Amanda
2016-10-09T00:00:00Z
Great help no problems
David
2017-03-23T00:00:00Z
Spot on
Maura
2016-12-01T00:00:00Z
Although we did not meet max his communication was excellent. The private upstairs loft was wonderfully clean, spacious and was equipped with facilities for drinks and breakfast. Location was great, central but quiet.
Sonia
2017-02-14T00:00:00Z
Max was perfect host, everything was easy, even though I turned up a lot later than planned.
Tim
2016-10-14T00:00:00Z
Wow what can I say great host, great location and room was lovely. Would deff recommend to anyone ☺️
Julia
2016-07-17T00:00:00Z
Tipus d'habitació
Habitació privada
---
Tipus de propietat
Pis
---
Capacitat
2
---
Dormitoris
Newmarket, Suffolk, Regne Unit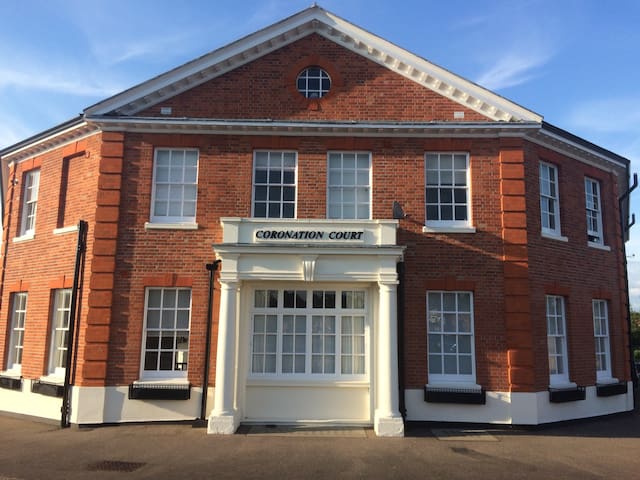 habitaciones grandes precioso piso w / en la prestigiosa calle en el corazón de las carreras de caballos británica. escalera independiente y la puerta frontal. Las vistas son preciosas más motivos Jockey Club y Newmarket Heath. 5 minutos a pie de tren, tomar 20 minutos a Cambridge.
Newmarket es el corazón de las carreras de caballos pura sangre británico y cría, y está convenientemente situado para Cambridge, Bury St. Edmunds, Ely, y la A11 y A14.
Lovely place to stay. Having a separate entrance was handy. Rooms were lovely, and we even had a sitting room.
Michael
2016-06-18T00:00:00Z
Leonie and Bert were very welcoming, friendly and helpful. Beautiful apartment which is like a home from home and perfect for a visit to the Tattersalls Thoroughbred Sales, Racing or Palace House Project - National Horseracing Museum. Many thanks indeed.
Jennifer
2017-02-03T00:00:00Z
The host canceled this reservation 200 days before arrival. This is an automated posting.
David
2017-03-27T00:00:00Z
The flat is very spacious and comfortable. We stayed with our 2 teenage girls and there was plenty of space for 4 people.
Heather
2017-02-26T00:00:00Z
Great little flat, you need to be aware that there are a lot of stairs but that fives you quiet accommodation with lovely views.
Mary Anne
2017-03-30T00:00:00Z
Leonie was very welcoming and friendly when we arrived, she showed us around the flat and gave us several good tips for our stay in Newmarket. The flat itself is located on the third floor of a beautiful period house, on a side road just off the high street. This made it very easy for getting lunch/dinner and had great access to the shuttle bus and taxis for the races. This is mentioned in the listing but it is the third floor so be prepared for a few stairs! Inside the flat was very spacious and comfortable. There were basics provided (tea coffee, etc), fans for when it gets warm and an electrical blanket for the winter (so you'll definitely be covered). We even managed to get a view of the racing museum out the back of the house and Tattersall's at the front. A decent flat for a few days in Newmarket.
Phil
2016-07-25T00:00:00Z
Property was as expected. It's a beautiful house and the apartment, at the top, was lovely. Lots of stairs but that was fine for us. Bert and his wife were both friendly and showed us where things were etc.
Ami
2016-06-27T00:00:00Z
Great location if you are off for the racing, lovely place with lots of character, we will be staying again
Gavin
2016-05-16T00:00:00Z
Tipus d'habitació
Casa/pis sencers
---
Tipus de propietat
Pis
---
Capacitat
4
---
Dormitoris
Newmarket, Regne Unit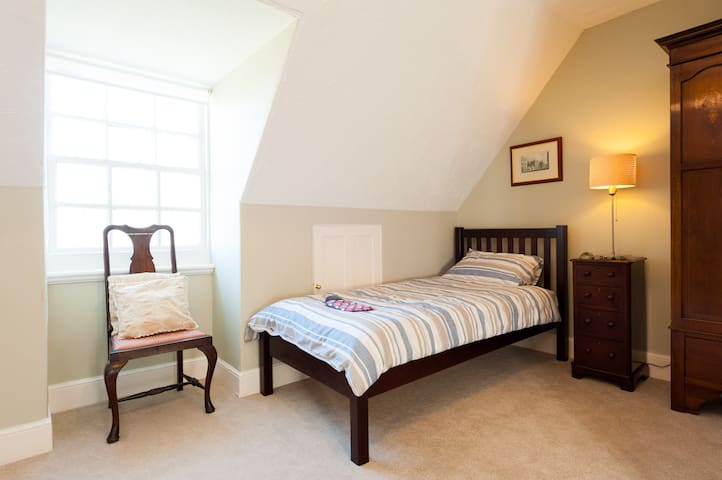 Tipus d'habitació
Casa/pis sencers
---
Tipus de propietat
Pis
---
Capacitat
4
---
Dormitoris
Newmarket, Anglaterra, Regne Unit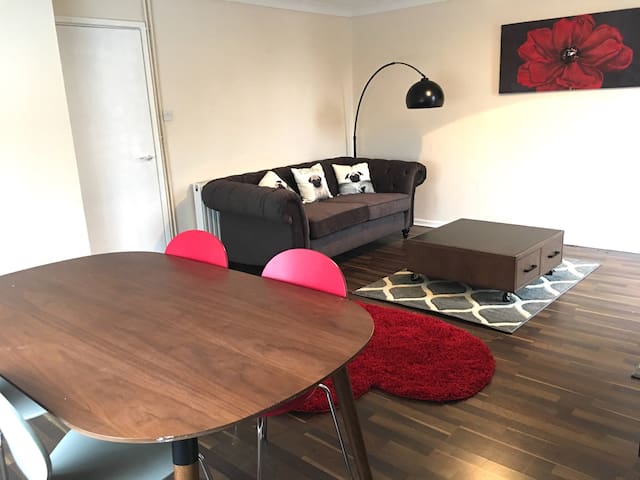 Chevington - Airbnb
:
Mitjana de

4.87

estrelles sobre

5

a partir de

306

avaluacions d'hostes
1

-

18

de

28 Lloguers de cases
Introdueix les dates per veure el preu total. S'aplicaran tarifes addicionals. És possible que també s'apliquin impostos.