1900 maison de maître entièrement restaurée avec tout le confort d'aujourd'hui. Sa façade est protégée pour sa valeur architecturale.
Tipus d'habitació
Habitació privada
---
Tipus de propietat
Hotel boutique
---
Capacitat
2
---
Dormitoris
Almodóvar del Río, Andalusia, Espanya
Maison confortable au pied de l'une des merveilles andalous, le château de Almodóvar del Río. Situé dans un véritable village andalou, à 20 km de Córdoba, nous offrons tout ce dont vous avez besoin pour vivre une expérience plus magique en Andalousie.
Nous avons pensé à tous les détails pour vous faire vivre une expérience andalouse parfaite. Levez-vous chaque matin au soleil trempé Cordoba avec elle senteurs d'orangers et leur fleur. La maison est conçue pour 4-5 personnes, de familles ou de groupes qui veulent profiter et se détendre pendant quelques jours dans l'une des meilleures régions Espagnes.
Notre maison est située au pied du château de Almodóvar, le château le mieux préservé en Andalousie. La légende raconte que sous le château il y a des milliers d'entrées secrètes qui Connec le château avec le fleuve Guadalquivir, et ses habitants. Qui sait, peut-être un passage secret est caché sous la maison ... :)
La casa de Fabián es perfecta para desconectar del mundo urbano! En un entorno rural a un paseo del castillo despertarte con el sonido de los gallos y respirar el aire fresco no tiene precio! Todo lo necesario para tener una estancia perfecta en in entorno perfecto! Destaca la limpieza de la casa y la amplitud de estancias. Altamente recomendable!
Montse
2016-05-24T00:00:00Z
Casa amplia, limpia y con grandes vistas en un pueblo encantador.
Luis
2017-04-02T00:00:00Z
Hemos pasado un fantástico fin de año en casa de Fabián. La casa es tal cual se ve en las fotos y sus tíos estuvieron muy atentos en todo momento. La chimenea es una gran ventanja en los meses de frío y el castillo de Almodóvar es precioso. Merece una visita.
José Luis
2017-01-02T00:00:00Z
A lovely place in a very lovely town. Fabian gave very good advice about where to have dinner. And he was very active in communication, including giving directions and all that. We really enjoyed our stay in his place. The house is really close to the catsle and to the center is just about 5min walk. It's a pitty that the day we arrived is a bit chilly and so we didn't sit at the beautiful balcony for too long.
Ada
2016-02-10T00:00:00Z
Yes we were made feel welcome, the listing was accurate however for some reason we were looking for No. 33 instead of 50. It's a nice neighbourhood
Brid
2016-10-22T00:00:00Z
We had a fantastic stay in Almodovar. Fabian's aunt Ani lives just down the street and was able to meet us and let us into the house. The whole family was very accommodating and thoughtful. When the wifi wasn't working, they had someone come and fix it the next day. Ani brought us a traditional Spanish dish to try. It felt like staying with friends rather than renting out a house. The castle is just two blocks up, a very stunning sight. Cordoba is an easy drive away, and we were able to make day trips to Ronda and Granada (but be warned, there's a good amount of driving involved). The house is just as advertised. Clean and homey. A well stocked kitchen convenient for cooking.
Gabriella
2015-09-19T00:00:00Z
Equipamiento completo y de calidad . Localización atractiva. Buen sitio para nuestro viaje. Buen trato. Repetiremos y me gustará conocerlo en otra época del año
Juan Ignacio
2016-08-21T00:00:00Z
Property was as described and very adequate for family of four. There were a few food items like bread and fruits for breakfast. Neighborhood felt safe. Fabian was not available in person, only by phone, but his aunt was there to welcome us and see us off. Only problem is she spoke very little English.
Bal
2016-05-19T00:00:00Z
Tipus d'habitació
Casa/pis sencers
---
Tipus de propietat
Casa
---
Capacitat
4
---
Dormitoris
Almodóvar del Río, Andalusia, Espanya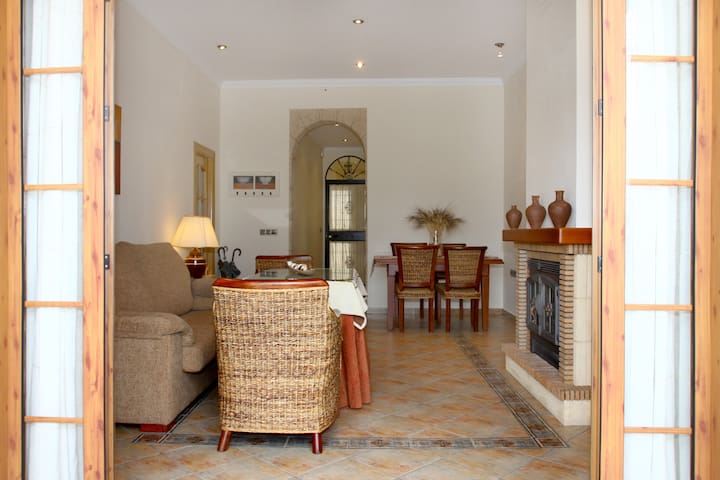 Достопримечательности: Замок Альмодовар, Пантано La Brena, Сьерра-Морена, Рио Гвадалквивир, ежедневно общественный транспорт, 24 км. Кордова, искусства и культуры, центр деревни, Сьерра-Морена природный парк. Вы будете любить свое место из-за открытых площадках, людей, окружающей среды. Мое жилье хорошо для пар, авантюристов, деловых путешественников и семьи (с детьми). Минимум 2 гостя за бронирование.
Family house exceptional location. In the center of the town (8000 inhab.)
Очень центральная торговая улица. Рядом библиотека, городская ратуша, аптека, супермаркет, кафе, баре и местная кухня. ATM.
The host canceled this reservation 26 days before arrival. This is an automated posting.
Silvia
2016-09-11T00:00:00Z
Tipus d'habitació
Casa/pis sencers
---
Tipus de propietat
Casa
---
Capacitat
6
---
Dormitoris
Almodóvar del Río, Andalusia, Espanya
Impresionante casa en el centro de la preciosa localidad de Almodóvar del Río, que se encuentra a los pies de un castillo increíble. La casa es una hermosa casa de estilo español, reformado con un alto estándar y diseñado en torno a un patio central.
Gran ubicación en el centro de la ciudad, preciosa casa amueblada con un alto nivel
La casa se encuentra en el centro de una ciudad preciosa con un montón de bares y restaurantes, también está cerca del centro de Córdoba. La casa también está en un entorno perfecto para muchas actividades y también tiene un impresionante lago cerca de: Córdoba Esquí náutico y wakeboard: (URL HIDDEN) centro de actividades: (URL HIDDEN) parque de actividades: (URL HIDDEN)
Wonderful village to visit. Huge house and Debbie is an excellent host. We would stay again.
Mal
2017-04-09T00:00:00Z
The host canceled this reservation 26 days before arrival. This is an automated posting.
Derrick
2016-02-26T00:00:00Z
We had a very positive experience with Deborah and her beautiful Spanish home in an area within driving distance of Cordoba. It well worth the drive to stay in a big home in a,quiet little town. We liked the restaurant she suggested and the castle on top of the hill with beautful views. Unbelievable value to stay in her home.
John
2016-05-04T00:00:00Z
Hemos pasado en ella el puente de la Concepcion. La casa es genial en todos los aspectos. Es acogedora, con una distribución ideal y muy tranquila. Es una señora casa con todas las de la ley. Para los amantes de los fogones la recomiendo 100%. La cocina es una auténtica gozada. Su chimenea convierten las tardes de invierno en idílicas. Sus camas no pueden ser mas cómodas. Hemos disfrutado mucho. Lo recomendamos y esperamos volver.
Isabel Antonia
2015-12-07T00:00:00Z
This was our best Airbnb experience. The house was even better than the listing. The kitchen was stocked with basic groceries. The view of the castle from the rooftop terrace was amazing
Christopher
2016-03-21T00:00:00Z
Una casa muy espaciosa, acogedora y tranquila. Fuimos un grupo de amigos a pasar un fin de semana y celebrar el fin de año, y la estancia no ha podido ser mejor. Dispone de una amplia cocina con comedor muy bien equipada. Al salir, un bonito patio interior que da al salón principal de la casa, también muy espacioso y cómodo, y con chimenea para el invierno. En el segundo piso se encuentran los 5 dormitorios y cuartos de baño, y unas escaleras que dan a una terraza bastante amplia. Esta tiene vistas al famoso castillo de Almodóvar. Durante varias ocasiones contactamos con Deborah y nos respondió al momento. Además, al llegar, nos dejaron una muy buena cesta de bienvenida. En resumen, una inmejorable estancia para estar en Almodóvar, ver su castillo y el embalse de la Breña, y pasar unos días junto a familia o amigos. Muy recomendable.
Juan
2017-01-01T00:00:00Z
Very beautiful house, everything is perfect, top recommended
Shuang
2016-05-03T00:00:00Z
Fuimos la familia a pasar la Nochebuena y la Navidad a casa de Deborah y encontramos todo tal y como se muestra en el anuncio. La cocina tiene absolutamente de todo. La chimenea da mucha calidez al salón y los colchones son muy cómodos. Los 3 cuartos de baño y el aseo del patio proporcionan mas rapidez a la hora de prepararse para salir. No puedo decir nada malo del alojamiento ni de la Anfitriona, que fue muy amable. Recomendable 100%.
Fco. Javier
2016-12-26T00:00:00Z
Tipus d'habitació
Casa/pis sencers
---
Tipus de propietat
Casa
---
Capacitat
10
---
Dormitoris
Almodóvar del Río, Andalusia, Espanya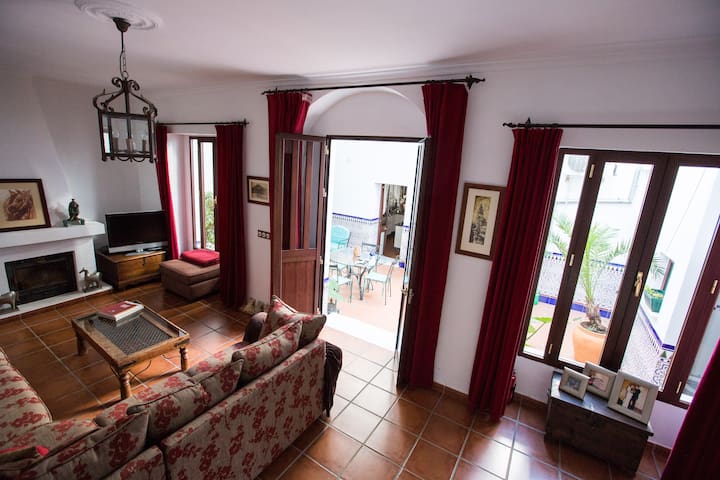 Possibilité seulement louer une partie 6 ou 2 personnes. S'il vous plaît me demander! Maison avec 2 chambres séparées, Up: (. 4 lits de 90 et 1 de 1,35 m) Salle de séjour avec canapé et canapé-lit, 3 chambres, salle de bains et la cuisine; basse-cour est l'entrée du studio rustique avec canapé, 2 lits 90, cuisine et salle. Aussi le toit avec barbecue.
Possibility only rent a portion 6 or 2 people. Ask me! House with 2 separate rooms, Up: (. 4 beds of 90 and 1 of 1.35 m) Living room with sofa and sofa bed, 3 bedrooms, bathroom and kitchen; low courtyard is the entrance to the rustic studio with sofa, 2 beds 90, kitchen and bathroom. Also roof with barbecue. It is located at the entrance of Almodovar del Rio, village just 22 km from Córdoba Capital. In this town you can see the famous and majestic castle. You can also make a visit to the swamp of the forest, where you can almolzar or drink in the restaurant-viewpoint and where organized sports and water activities. (URL HIDDEN) This option is renting the entire house, they will have access to all areas, 3 bedrooms, 2 lounges (1 Rustic), 2 bathrooms, 2 kitchens, patio and roof terrace with barbecue. * Possibility to rent room only rustic with sofa bed, minimum 2 nights, 2 people, prices from Sunday to Thursday 39 € / night + 15 euros cleaning price Friday and Saturday and eves = 49 € / (night + 15 € cleaning. Also possible only rent house without rustic lounge = 6 people, minimum 2 nights. Price from Sunday to Thursday 65 € / night + 20 euros cleaning price Friday and Saturday and eves = 75 € / (night + 20 € cleaning. We will have a first contact to the delivery and collection of keys, and will be available in case of any need on our phone. You should be warned with estimated arrival time for the handover. We recommend not miss the majestic Castillo de Almodóvar del Río. We recommend the restaurant lookout swamp Breña Almodóvar for lunch and coffee. Do not fail to visit Cordoba Capital, the area of the Jewish Quarter and the Mosque. If you do not have your own car, it is best to get to the bus station Cordoba Capital, which is next to the train fair. The ride is not recommended for the high price. On the website of the bus station is all the info almodovar selecting destination: the trip is just 2 euros each way and 4 € back and forth several times to choose and lasts 30 minutes. link: http: (URL HIDDEN)
Nous vous recommandons de ne pas manquer le majestueux Castillo de Almodóvar del Río. Nous vous recommandons le restaurant belvédère Brena marais de almodóvar pour le déjeuner et le café. Ne pas manquer de visiter Cordoba Capital, la zone du quartier juif et de la mosquée.
Trés bonne réception. Mis en contact avec le barman d'a côté qui est une perle. Sangria très peu chère, plateau de poisson et salade pour presque rien;-...Parfait
Pierre-yves
2016-08-10T00:00:00Z
La casa de Esperanza es maravillosa. Las fotos de la web son bonitas pero lo que nos encontramos al llegar es mucho mejor de lo que nos esperabamos. Superó nuestras espectativas. Muy amplia y acojedora. Tiene de todo y el patio y la terraza de arriba con la barbacoa y vistas al castillo son espectaculares. Y Esperanza es una gran anfitriona, muy amable y atenta en todo. Recomendado al 100%!! Hemos quedado muy satisfechos en nuestra estancia, tanto que ya estamos pensando en volver!
Cristina
2016-08-05T00:00:00Z
La casa está genial y es muy acojedora, fue una lastima no poder disfrutar más de ella, del magnifico patio que tiene y la maravillosa terreza para hacer una barbacoa. Esperanza muy atenta y servicial.
noelia
2016-05-03T00:00:00Z
Tipus d'habitació
Casa/pis sencers
---
Tipus de propietat
Casa
---
Capacitat
8
---
Dormitoris
Almodóvar del Río, Andalusia, Espanya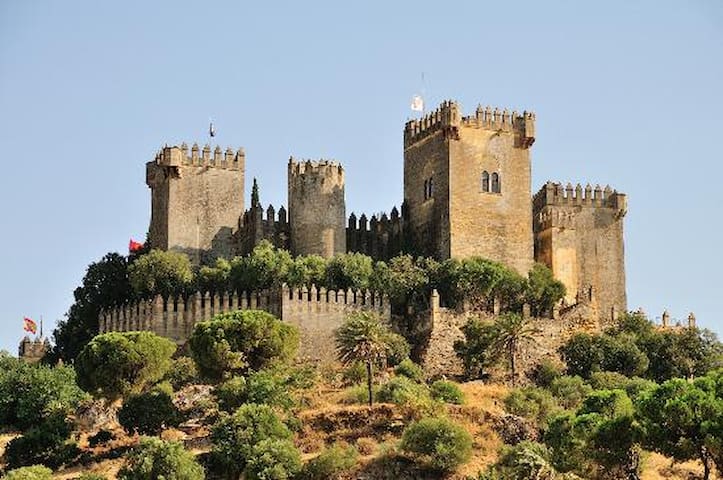 Tipus d'habitació
Casa/pis sencers
---
Tipus de propietat
Xalet
---
Capacitat
9
---
Dormitoris
Almodovar Del Río, Espanya
Introdueix les dates per veure el preu total. S'aplicaran tarifes addicionals. És possible que també s'apliquin impostos.