Better than hotel! 1,500 sq ft house minutes to Heinz Field, PNC Park, Hockey Arena. Close to hospitals & universities. 15 min easy ride from the Airport Private patio & yard in the back. Great safe place for single traveler, couples, and families - sleeping for up to 6 people! Restaurants, pubs, coffee shop, boutiques, 24 hr GetGo Gas Station & Market (with beer & wine), Walgreens Drugstore, Churches & Synagogue - all within walking distance! No car needed.
Plenty of room to relax. Pillow-top mattresses will ensure heavenly sleep. Fully equipped kitchen to prepare quick meals, or to cook a feast! 48'' Smart TV to watch your favorite movies, games and more!
Tipus d'habitació
Casa/pis sencers
---
Tipus de propietat
Casa
---
Capacitat
6
---
Dormitoris
Carnegie, Pennsilvània, Estats Units
Finished Attic in the Carnegie & Green Tree area of Pittsburgh. Close to City, I-376 & I-79. Carnegie offers neat business district, and GreenTree is the first exit from City via Ft Pitt Tunnel. Amazing house w father/daughter. Kid Friendly w Toys
Attic is very roomy, and includes a window, HVAC, ample closet space, and shelves. There is no private door to the stairwell, but there is a level of privacy.
Rook Station (a sub-division) is located in Green Tree adjacent to the historic Rook Train Station. Alexion's Bar and Restaurant is a special place with a great jukebox and affordable fair located within neighborhood. All of the neighbors are very nice, and quiet.
Loved staying at gregs! It was about ten mins from town in a nice neighbourhood. Perfect for our one night stay to see the steelers. He was attentive and a great host. The loft space was still private, even with out a door and we felt very at home. Impressed with how clean his bathroom was too, haha.
Chrissy & Dan
2016-10-09T00:00:00Z
Greg's home is on a nice residential street, a short ride to downtown Philly. His communication was excellent, especially with a last minute reservation and when I found myself running late for a wedding after giving uber the wrong address, he graciously provided me a ride into town!
Sean
2016-10-02T00:00:00Z
Great stay at Greg's place! Warm, friendly helpful and very much welcoming.
Amanda
2016-11-13T00:00:00Z
Tipus d'habitació
Habitació privada
---
Tipus de propietat
Casa
---
Capacitat
2
---
Dormitoris
Carnegie, Pennsilvània, Estats Units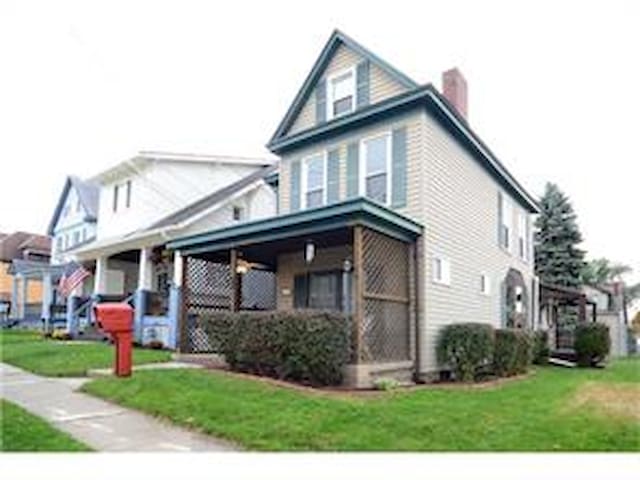 This is a private 1 bedroom apartment in a large house that has other units, but the rental is only for this apartment. Close to both 376 and 79 for easy access to all parts of Pittsburgh. Theres a complete living room, bath, dining and bedroom area!
Gabrielle did a great job of communicating with us before our stay. I felt completely confident of the expectations and available amenities upon arrival. It was a great location being 10-15 minutes from downtown Pittsburgh.
Jessica
2016-06-27T00:00:00Z
Gabby was very communicative both before and during our stay. She was flexible on the arrival/departure process and worked with us to meet our needs. Her place and amenities were as described in the listing and the quiet neighborhood was very close to downtown Pittsburgh. The bed was very comfortable and the water pressure was great. We definitely recommend Gabby and her apartment for a stay in Pittsburgh.
Alia
2016-07-05T00:00:00Z
Everything was great. Gabrielle made sure that we hassle everything that we needed and was very accomadating
Dakota
2016-06-20T00:00:00Z
Tipus d'habitació
Casa/pis sencers
---
Tipus de propietat
Pis
---
Capacitat
2
---
Dormitoris
Carnegie, Pennsilvània, Estats Units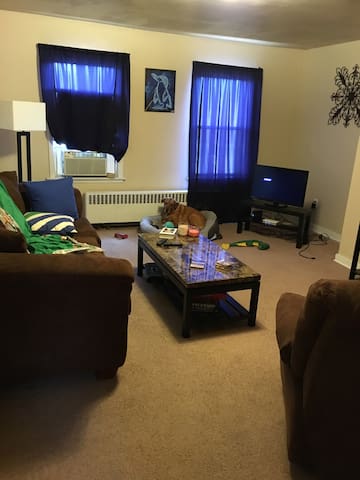 Nice, clean & private place. Includes a limited Black Car Service for guests (Restrictions Apply - ask for details). Conveniently located near Interstates 376 & 79, between PIT Airport, Southpointe & Downtown Pittsburgh. Includes kitchen & laundry facilities, etc.
It's in a quiet rural-like setting yet accessible to everything you'd want within just minutes!
This neighborhood is beautiful and safe; its like being back in the 1960's! You can walk to a community pond where children fish and feed the ducks. You can ride to West Virginia on a scenic bicycle path. There are ballfields and tennis / basketball courts & a playground as well as an old fashion General Store All within Walking Distance!
Tipus d'habitació
Habitació compartida
---
Tipus de propietat
Pis
---
Capacitat
2
---
Dormitoris
Carnegie, Pennsilvània, Estats Units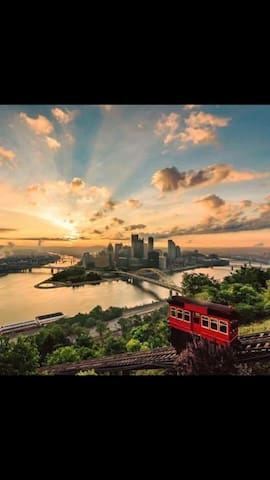 My home was recently featured on the tour of homes for renovation and historical significance. It located in Crafton a suburb of Pittsburgh and is perfectly placed for easy access to everything the city has to offer. 10 min to downtown and theaters, 20 min to the airport, 10 min to shopping district, 200ft from the Crafton station stop on the busway. Easy access to I-376 & I-79.
The room was fully painted a few months ago and decorated with a modern, western theme. It has cable TV which includes the movie channels. It also has a DVD palyer. Included in the room is a iron and ironing board, alarm clock. The room has two ceiling fan's and one table fan.
I am located very central to most things. There is a shopping area within walking distance from my house, as well as many restaurants and gas stations. I am located 200 feet from the bus way system that takes you direct to downtown. My neighbors are very friendly and it is a quiet, safe neighborhood.
Trevor was an amazing host just like everyone else has said! I was traveling alone with my dog and he made me feel extremely welcome and let my puppy play with his. The room is just as described and the bed is extremely comfortable. He said I could have the bottled water and anything else in the fridge. Very welcoming and made me feel at home in my short, 2 night stay. I will definitely be staying here again when I come back for a Steeler's game!
Sammi
2016-05-22T00:00:00Z
We booked a room at Trevor's for 2 nights. Our stay started with some miscommunication. The morning of arrival we couldn't get in touch with Trevor because his phone died. During the afternoon we were able to put our stuff in the room and we met Trevor. Trevor was a friendly and kind host. His dog was playful, cute and really liked the attention. The room itself was really clean and spacious. Facilities were terrific. Everything was like the pictures. The location was also good. It took us about 10/15 minutes to get to the city centre by bus. All in all we had a great stay.
Jeroen
2016-06-15T00:00:00Z
very nice room!
Melanie
2016-03-25T00:00:00Z
Trevor's house is gorgeous! The room was fit for a queen and king. The dog, Sophia, was lovely and friendly, as was her master :) Everything went really smoothly, from contact before arriving to checkout. Highly recommended!
Maria
2016-09-26T00:00:00Z
Das Zimmer sowie das Bad waren einwandfrei und sauber und übertrafen meine Erwartungen. Das Haus ist geschmackvoll eingerichtet und bietet eine einladende und entspannte Atmosphäre. DIe Nachbarschaft ist ruhig und sicher. Trevor ist ein sehr angenehmer und freundlicher Gastgeber. Ich wurde persönlich mit einem kleinen Rundgang empfangen - besser und authentischer als es ein Hotel je bieten könnte! Definitiv empfehlenswert!
Nando
2016-05-24T00:00:00Z
The room was awesome. Very nice, comfortable, quiet and private. Trevor was an excellent host, and Sophia is a great dog!!!
William
2015-12-16T00:00:00Z
Everything was perfect at Trevor's house. We have traveled a lot and stayed in many different B&B 's, giving us the perspective to say our experience from beginning to end with Trevor (and Sophia) was more than we expected. First he (and Sophia) greeted is with such warmth and charm. Second the house was clean, spacious , and provided all the necessary items and more. The atmosphere was relaxing and our room was like that of a 5 star hotel. Trevor was very knowledgable about dining, transportation and entertainment. He provided us with several resources for everything we asked for. We look forward to another visit sooner than soon.
Tommy
2016-07-24T00:00:00Z
Trevor was extremely welcoming, and had a very clean, comfortable, and beautiful house/room for us to stay in. He had multiple supplies already in the bedroom and bathroom and such as shampoo, body wash, and water that saved us money and was extremely transparent and easy going throughout the process. I would highly recommend experiencing your Pittsburgh AirBnb with him.
Michael
2016-12-28T00:00:00Z
Tipus d'habitació
Habitació privada
---
Tipus de propietat
Casa
---
Capacitat
2
---
Dormitoris
Pittsburgh, Pennsilvània, Estats Units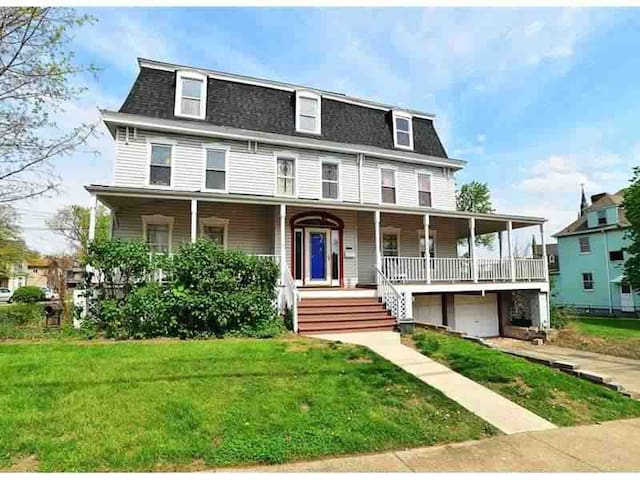 *This is a third-floor unit and there is no elevator* Private bedroom (Q) and bathroom in my historic 2Bed/2bath Mexican War Streets condominium. Close to Heinz Field (0.6mi), PNC Park (0.6mi), public transport, nightlife, and downtown (~1mi). Pittsburgh's oldest city park is directly across the street. There is a city bike rental kiosk three blocks away for quick and easy access to Pittsburgh's bikeways. My place is good for couples, solo adventurers, and furry friends (pets).
This unit is in an historic building that was built in 1900, updated with some pretty cool style. Hardwood floors; gas fireplace; veranda overlooking a park; and nice colors throughout. The room is small; but I put a good latex-foam mattress on the bed with a mite/dust protector. Guests will be comfy:) The private bathroom is about two steps down the hall.
Very nice place and a great host.
Mike
2017-03-09T00:00:00Z
Jessica is a kind and helpful host. She has wonderful suggestions of things to do here in Pittsburgh as well as excellent dining recommendations. Jessica was wonderful with my pup too, Ruby Pickles took to her right away. I will definitely stay here again when I need to come to Pittsburgh. Thank you Jessica!
Jennifer
2017-02-05T00:00:00Z
Condo was spotless and beautiful! Great hospitality and a great place to stay in the city that is close to downtown!
Kelly
2017-03-12T00:00:00Z
What a lovely apartment! Jess has done a great job decorating her space, giving it a hip and cozy vibe. She was extremely generous, offering to pick up anything we needed from the grocery store, and the bedroom had a fun basket with restaurant tips and maps. Unfortunately, our schedules did not overlap, so we didn't have a chance to meet Jess in person, but we appreciated her excellent communication via text and email. I would like to mention that the apartment (and the bathroom!!!) were SPOTLESS. Thanks for providing a clean and comfortable space for our quick, overnight stay. Best!
Benazir
2017-02-12T00:00:00Z
I only stayed at Jessica's place for a couple days, but it was a wonderful stay and I was provided with everything I could've needed. Her condo is immaculate (and tastefully decorated!), the private room is a good size with a comfortable bed, I was provided with small toiletries, and had access to anything in the kitchen and fridge. Although I did not get to meet Jessica during my stay, she was excellent with communication and check-in was a breeze. In addition, the notes she left in various places were not only convenient and helpful, but also made me feel very welcome in her home. A lovely hostess and a comfy place to stay; I would most definitely stay there again.
Angie
2017-03-28T00:00:00Z
Jessica and her condo were wonderful! I had my hairless cat Streaker with me who she treated with kindness and respect. Her place was impeccably clean and organized. The location is wonderful, steps away from a huge park and the National Avery. I would definitely stay here again and would recommend her place to anyone traveling to Pitt!
Kristin
2017-04-02T00:00:00Z
My stay at Jessica's place was wonderful. She is a great host! Her place was very comfortable, very clean, close to public transportation, restaurants, and the stadiums. I will definitely stay at her place again when I am in town.
Justina
2017-03-23T00:00:00Z
We had a brief but fantastic stay at Jessica's place. Strongly suggest anyone visiting Pittsburg to stay here! Location: Jessica's apartment is in a very cute, historical neighborhood. It's located 10 min away from the Steelers and the Pirates stadiums, which is also where the T train is located that can take you into downtown for free. Apartment: The overall apartment is actually much larger than what the photos suggest and the room itself cant fit 2 people comfortably. The bathroom was for us to use privately - it was not only very clean, but the shower pressure was strong (always a plus!). She provided all the toiletries and even hair dryer, lotion, Q-Tips etc. if needed. Jessica kept everything in the apartment extremely organized and clean. The space felt very comfortable and relaxing. Hospitality: Jessica was wonderful! She made sure there were snacks/drinks in the fridge for us to enjoy and also prepared breakfast the morning for us before we left. Jessica is a superb hostess - highly recommend her place!
David
2017-03-25T00:00:00Z
Tipus d'habitació
Habitació privada
---
Tipus de propietat
Apartament
---
Capacitat
2
---
Dormitoris
Pittsburgh, Pennsilvània, Estats Units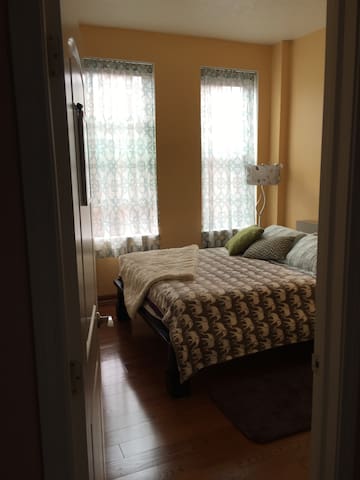 Beautifully furnished 1 BR apartment. Third floor walk-up with its own keyless entry. Free off-street parking! Conveniently located in the West End Village. Super close to all Northside attractions, adjacent to Downtown Pittsburgh, and within easy reach of the Strip District, Lawrenceville, Oakland, Squirrel Hill, Southside.
Weekend minimum stay: 2 nights. 10% discount for 7-day stay.
Tipus d'habitació
Casa/pis sencers
---
Tipus de propietat
Casa
---
Capacitat
2
---
Dormitoris
Pittsburgh, Pennsilvània, Estats Units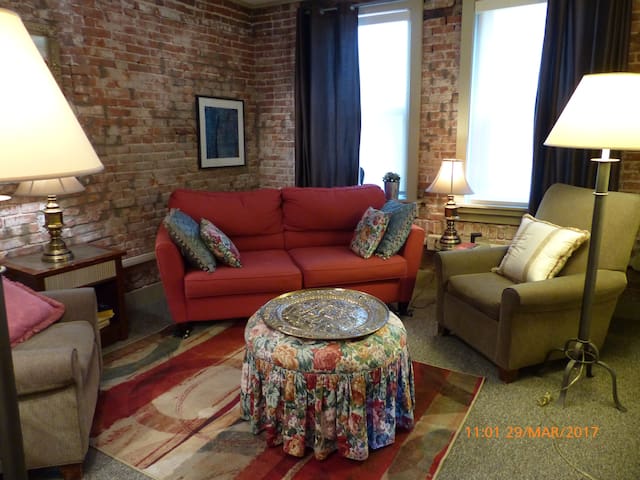 Close to all that makes Pittsburgh a unique and beautiful city.Enjoy the games, tailgating and everything else the city has to offer without the worry of driving! Just a short uber ride across the west end bridge to downtown. All amenities,private.
Small unique neighborhood close to town. House is situated lower and do have steps to go down to get to the room.
Wonderfully comfortable place to stay, in a very ideal location for downtown Pittsburgh. Easy to communicate with host and was made to feel very welcome!
bethan
2016-09-18T00:00:00Z
This private room was excellent. It was more spacious than we expected from the photos. They provided all we needed- soap, blankets, pillows, even things like sleeping masks, shower caps, and an electric blanket. There was a coffee maker, a fridge, and ample water. Slightly hard to find, and as we arrived at night, we could not find the lockbox. We felt safe in this area...very quiet.
Roossy
2016-08-18T00:00:00Z
Everything was as expected, great place to stay the night while in Pittsburgh.
Joseph
2016-03-26T00:00:00Z
The room is very nice, just like a hotel room albeit connected to a home. It is connected to their home by one shared wall (and a door that has it's own lock) but it is completely private and has its own separate entrance. It is plenty spacious for a family of four and possibly more. We arrived on a Friday afternoon and found ourselves not sure exactly where to start. I was wishing that there was a little info provided as to where the nearest public transportation was and shops and restaurants that could be found within walking distance. After some quick research on the web, we finally decided to set out for the Duquesne Incline, which was a short walk to the bus stop and about a 10 minute bus ride. The neighborhood is no frills but the neighbors were chatty and friendly and we felt comfortable walking about. As far as the room was concerned we had some difficulties with the electric blanket, door lock and some wetness/condensation build up in the refrig, all which Barbara's sister (I hope I got that right) responded to immediately. All-in-all it was a good stay and I would recommend staying here.
Diana
2016-03-13T00:00:00Z
We enjoyed staying with Barbara not only that she provided a clean and comfortable place to stay but advice about what we should do and see in Pittsburgh. We were close to everything on our must see list.
Joseph
2015-10-15T00:00:00Z
Barbara, was quick in responding to my queries. She provided clear instructions to make our arrival to the listing smooth. The place was very clean and organized, accurate to the photos and description. We were four of us, and did not face any issues whatsoever with anything. I would highly recommend this listing, and would be glad to consider myself when I visit Pittsburgh. We arrived late in the midnight at the listing due to our travel delays, and at the time the neighborhood was quite deserted and under-lit. The neighborhood otherwise seemed safe. I suggest arriving at the listing before dusk if possible.
Sagar
2016-09-05T00:00:00Z
Barbara was super accommodating and responsive. My group and I were coming in from a road trip and got there quite late; entering our room was no problem whatsoever. The space is huge and has the accommodations you would expect from any respectable hotel. Thank you so much Barbara for allowing us to stay in your lovely home.
David
2016-05-31T00:00:00Z
Quiet, safe location only a few minutes from downtown area. The room was spacious, comfortable and clean. We appreciated that there was a fridge, microwave, coffee-maker, TV with Blu-ray player, and heated blanket. Overall, we would definitely recommend this room!
Alison
2016-03-16T00:00:00Z
Tipus d'habitació
Habitació privada
---
Tipus de propietat
Casa
---
Capacitat
4
---
Dormitoris
Pittsburgh, Pennsilvània, Estats Units
We consider this a more than good place to stay in a great location. 1 BR apt with backyard in a vibrant historic neighborhood. Neighborhood is home to many gardens, a coffee shop we operate and has great access to sports and concert venues, restaurants and downtown Pittsburgh. Easy access to/from airport/highways. PLEASE NOTE: We do not accept requests without a personal message and a complete profile including a bio and a minimum of two verifications.
If you are coming to Pittsburgh for a night, a weekend or something a little more extended we hope you will consider staying with us. Offered is a one bedroom/one bathroom apartment located in a Mexican War Streets Historic District row house built in the 1890's. Property is three units and owner occupied so you will have one unit to yourself, a nice neighbor and our attention as needed. We are open to accommodating one night stays, but weekend bookings must be for at least two nights. We do have a check in/check out time listed (After 4p/Before 11a) but we are willing to work with you on that if we have no incoming/outgoing guest on your first or last day. -Loft-esque bedroom with a new queen size real bed that sleeps two (window a/c unit, seasonally) and an actually comfy full-size futon in the living room. A quick word of warning that the stairs to the bedroom are a bit steep. Please refer to photos. -The ever important wi-fi is available. -Eat-in, fully equipped kitchen with breakfast makings and some staples provided (as in good things you will actually want to eat since we will have talked about it before you show up). -Private access to shared in-house porch/back yard/garden where you can grill out, take a nap in a hammock or enjoy a fire at night. -Parking is on street and most usually available. -You can borrow a our canoe (it is locked up on a boat rack on the river walk by PNC Park; only transport of paddles and life jackets is necessary). -You have babies? We have babies! We are kid friendly, Our kids will totally share their stuff so you don't have to pack as much, Items available include but are not limited to: a pack and play, a toddler mattress, kid bedding, stuffed animals, books, toys, bumbo chair, etc. -We have a dog. Speaking of dog, here are a few more things to be aware of... -The entry hallway leading up to the apartment is currently unattractive. We are working on it and hope you are not offended in the meantime. -This house is old and the first level flooring is original. Thus you may hear some noises from them and the basement (nothing obnoxious). These noises are your friends that are keeping you warm and water flowing. -The airbnb photographer did a really good . Almost too good. The space is nice and gets nice light but please know that the pictures might make it look 10% better than it is. More about the location: Within Walking Distance (WWD) WWD 1/2 mile range -The Mattress Factory: Installation Art Gallery -National Aviary -Children's Museum of Pittsburgh -Allegheny Commons Park -Dog Park -Zip Cars -Bus stop/Light rail -A coffee shop -A local corner store/deli carrying higher end food products and tasty deli sandwiches. -Rite Aid (in case you forget your tooth brush or want to impulsively buy a chocolate covered cherry in a check out line) -Restaurants that we can talk about when you get here, this includes one of the better Thai places in Pittsburgh, a killer BBQ place and Penn Brewery Brew Pub and Beer Garden. WWD 1 mile range -PNC Park: Home of the Pirates -Heinz Field: Home of the Steelers -The Warhol Museum: Home of Andy Warhol's art. -Stage AE -Hazlett Theater -Carnegie Science Center -Rivers Casino -Light Rail Station -Downtown Pittsburgh -Heinz Hall -Benedum Center -Point State Park -Near instant access to every major highway in every direction from Pittsburgh. Other Things Not Terribly Far Away -Consol Energy Center: Home of the Penguins (short and free light rail ride away) -The Strip District: Iconic old school market district meets new wave food and beverage. Everyone wins. -Great Pittsburgh Viewpoints: Mt. Washington Grandview, West End Overlook, Fineview. -Short and easy drives to Oakland (home to Pitt and CMU), South Side, East End (quickly upcoming area thanks to (website hidden)) north and south 'burbs and airport. We really hope you have a great experience in this sometime under-appreciated city and would love to make recommendations, provide you with a relaxing place to stay complete with some extra goodies (a local brew, tasty coffee and maybe a bicycle if desired) and a place that location wise puts you in great position to easily enjoy a lot of the great things about Pittsburgh with easy access to those things farther than a walk or bike ride away. We are also happy to leave you completely alone to do your own thing, if so desired, or meet somewhere in between.
We live in our neighborhood for many reasons. Among them are the human diversity, the arts, the park, the proximity to wonderful things that Pittsburgh has to offer and the sense of neighborliness. We hope you enjoy the same while you are here.
The place was great, looked very much like the pictures. Location was also excellent, short walk to Heinz field and a quick ride to downtown. Belle and Frank definitely had everything you could possibly need at your fingertips. Would definitely stay there again.
Leslie
2016-09-18T00:00:00Z
Frank and Belle were excellent hosts! Their place is very cozy and the perfect location in the Mexican War Streets District, very close to the football and baseball stadiums, a wonderful park, downtown, the eclectic Strip District and, my personal favorite, the Monterey Irish Pub that's one block away. They are both very kind and accommodating. They let me borrow a bicycle which is really all you need when staying here. I would highly recommend their place.
Jon
2016-05-05T00:00:00Z
Belle/Frank were the ideal hosts, showing me around the apt, clueing me in on nearby places to eat, and how to navigate from the apt to where I wanted to go. The apt was cosy with a loft bedroom, lots of places to sit and hang, and a kitchen that was stocked with coffee and breakfast items. Their two daughters were a hoot, checking out the new guest! Bottom line for me is would I stay here again if I came back to Pittsburgh. The answer is YES!. The great asset of AirBnB for me is that I get to meet real people who make you feel welcome and once the find out what interests you, and steer you to the right places.
rolf
2015-04-23T00:00:00Z
Thank you both for making our stay so wonderful. Everything was perfect, from the comfy and clean bedding to the fluffy & fresh towels. Extra thoughtful goodies were the icing on the cupcake!!! We will definitely be staying there again next time we visit Pittsburgh.
Melissa
2016-12-27T00:00:00Z
Frank was easy to communicate with. We had a late arrival and left the apartment open and sent me all the directions we needed to settle in. The apartment was comfortable and easy to park near. We spent the weekend driving to wedding events downtown, and the travel time was usually 8-12 min. We didn't explore the Mexican War streets much, but it seemed like a nice unassuming family neighborhood. In summary, I would recommend this space and hosts.
Jack
2016-03-13T00:00:00Z
We had a wonderful time staying at Belle and Frank's apartment. It was in a great location, just north of a lovely park. They were really helpful and friendly, and gave us fresh coffee to brew in the mornings and helped us out right away when we were having issues with the wifi. We'd definitely recommend staying, and would be more than happy to stay there again! Thanks!
Sophie
2016-02-11T00:00:00Z
I can't praise this apartment and these hosts enough. The accommodation is extremely comfortable. It is located in a historical area within walking distance of downtown, and there is a large and fascinating art gallery almost next door. Frank and Belle are incredibly generous hosts - leaving coffee, milk, orange juice and other breakfast produce for me to use during my stay. Also, they were so thoughtful, letting me know about a local musical event on the second night of my visit. Gave me a wonderful insight into Pittsburgh. This would absolutely be my first choice of somewhere to stay were I to visit Pittsburgh again.
Lara
2014-11-16T00:00:00Z
We recently had stayed at Belle & Frank's place, we had a great time and they were really great hosts. Our golden retriever was along with us and we are very thankful he was aloud to stay at Belle & Frank's. The location was great and close to everywhere we went. Thank you very much we had such a good time Alex, Stephen, Mathew and Harlow.
Alex
2014-04-29T00:00:00Z
Tipus d'habitació
Casa/pis sencers
---
Tipus de propietat
Pis
---
Capacitat
4
---
Dormitoris
Pittsburgh, Pennsilvània, Estats Units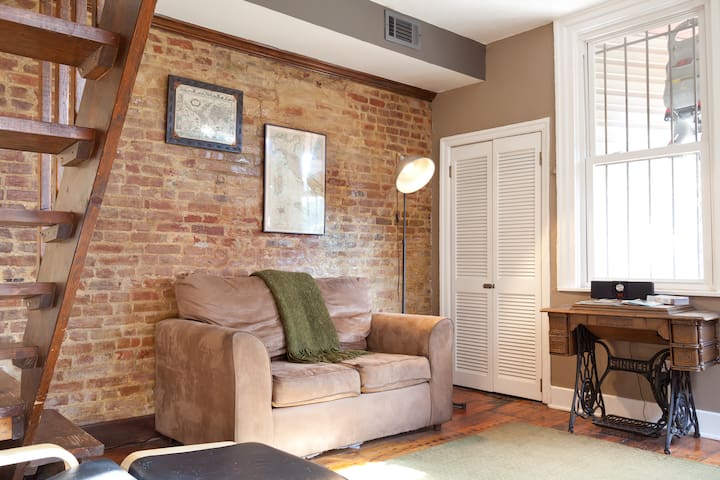 Flex arrival for a bedroom equipped for 2 and a private bathroom. Parking garage nearby. Walk to stadiums, Convention Center, Point Park + Market Sq, Incline, Station Sq + E. Carson St. Enjoy nightlife bike trails + easy access to public transit.
Awesome stay! Zachary was an incredibly gracious and accommodating host. The apartment is central and near beautiful sites. A fantastic value for the money. Thank you so much for a fantastic visit to Pittsburgh.
Sarah
2017-04-02T00:00:00Z
Needed a last minute Airbnb and found Zachary's place. He was extremely accomodating despite the short notice and was easy to communicate with. The place is very clean. Zachary is a friendly guy. Had a great time during our stay. Would definitely recommend!
Ashley
2017-03-30T00:00:00Z
The accommodations were very clean and thoughtfully put together with a very nice shared living room and kitchen which would be fun to hang out in with friends. The host was incredibly polite and professional. The location is a short drive or public transport from Southside, Oakland, the Strip, and nearby Paints Arena. Highly recommend, especially if you are visiting Pittsburgh with a couple of friends.
Benjamin
2017-03-06T00:00:00Z
Zach was a great host and the place was perfect for an overnight in Pittsburgh. Location was perfect and the room was comfortable and a quiet. Zach was really accommodating too since I wasn't able to get to the apartment till almost 11:30 pm. I would definitely stay here again! I was too worn out from the trade show I had been working to make much conversation, but I get the sense that Zach is probably a really interesting, responsible, and ambitious guy and would be great to chat with! I'd recommend his place to anyone looking for a place that is comfortable, easy to get to, and so reasonably priced.
Corey
2017-03-11T00:00:00Z
Tipus d'habitació
Habitació privada
---
Tipus de propietat
Pis
---
Capacitat
2
---
Dormitoris
Pittsburgh, Pennsilvània, Estats Units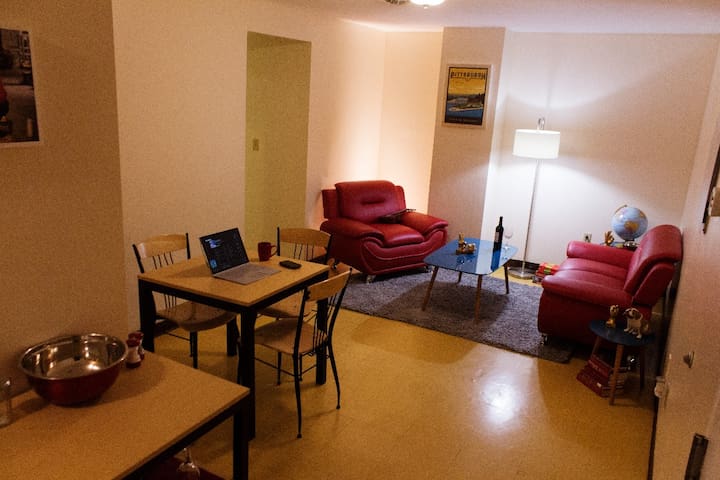 My townhome is located 10 min from downtown Pittsburgh and 10 min from Pittsburgh International Airport. You will instantly love its accessibility, comfort, and quiet neighborhood. Perfect for couples, solo adventurers, and business travelers looking for a home away from home! Easily accessible from 376 West and I-79. 5 min from Settlers Ridge (restaurants, groceries, gym, movies), The Mall at Robinson & IKEA. Quick access to Pittsburgh universities and hospitals.
2BR/1B townhome in Robinson Township, known for its great location between the airport and downtown. My quiet neighborhood has free parking on premises, and the neighborhood pub/grille is within walking distance (Monday Wing Nights are the best). There is one flight of steps with one hand railing in order to access the bedrooms and bathroom.
I live in a townhouse complex, and my neighbors are extremely respectful and quiet. The association also hosts a sports bar/grille that is within walking distance of my front door!
Kayla is great to work with and we loved her townhouse. We stayed for 10 nights and really enjoyed the space and the great neighborhood.
Kathleen
2017-02-09T00:00:00Z
The house is super clean, well decorated, and well equipped!!!
Elva
2016-12-29T00:00:00Z
Kayla's apartment is a model of what an Airbnb experience should be: completely accurate description, excellent communication, comfortable, tastefully decorated, fully equipped with high-quality furnishings, quiet, and convenient location between airport and downtown. Highly recommended.
Clair
2017-03-31T00:00:00Z
The place was even nicer than I was expecting. Kayla was out of the country during our stay, but she made arrangements for us to get in touch with someone if we needed anything. It was easy to find, close to everything, and in a quiet neighborhood. I would definitely stay here again!
Jennifer
2016-12-05T00:00:00Z
I highly recommend staying at Kayla's townhome. We stayed over New Years weekend and it was perfect. Kayla was friendly and responsive, the townhome was very clean, accommodating, 15 minutes from downtown, easy to find, close to grocery stores, etc. There is a pub on the apartment complex which was nice. However I must warn the calzones were meant to feed 4. Overall, two thumbs up!
Richard J.
2017-01-01T00:00:00Z
The home was exactly as described. It was like home away from home. Very clean and well kept.
Leslie
2016-10-16T00:00:00Z
Although we never met her in person, Kayla was available to answer questions via message or email. The place is cozy, and is perfect for 1-4 travelers, especially if you have your own vehicle and are planning on arriving late or early. The check-in process was easy and straight forward, and the place was clean and inviting upon our arrival. Located in a nice, quiet little gated community, kayla's place felt like home away from home, with plenty of extra towels, toiletries, coffee, and other creature comforts. We definitely recommend it and will definitely be back when we are in the 'burgh!
Ben
2016-08-02T00:00:00Z
Kayla's home was absolutely wonderful! It's so close to downtown Pittsburg and Kayla has thought of everything to make your stay comfortable
Eleni
2017-02-20T00:00:00Z
Tipus d'habitació
Casa/pis sencers
---
Tipus de propietat
Casa
---
Capacitat
4
---
Dormitoris
Pittsburgh, Pennsilvània, Estats Units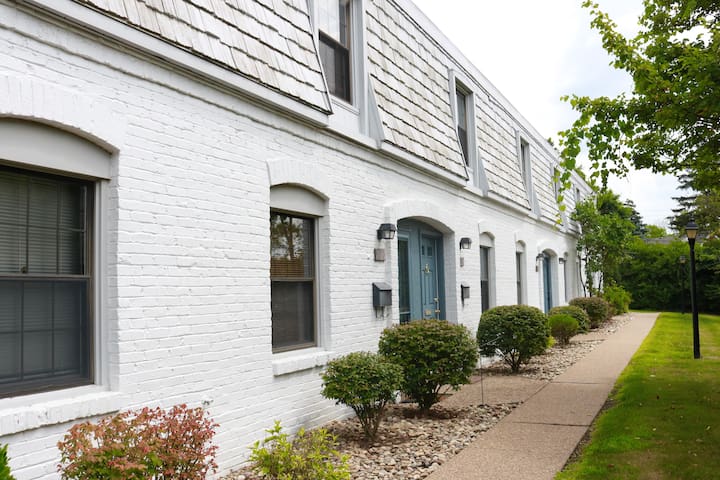 A bedroom with private full bathroom and two queen beds. A refrigerator and microwave oven will serve you when you are hungry. Plenty of parking space even for RV.
House sits on a 1.3 acre land with country view and modern life.
Nice and safe neighborhood.
房东一家热情友好,房间干净整洁,环境优美,设备齐全,为我们匹兹堡之行留下美好回忆。强烈推荐哦!
颖珊
2016-09-24T00:00:00Z
The room was very homey. The host were nice and inviting. My boyfriend had a ball interacting with their toodler soon!
Lanea
2016-11-07T00:00:00Z
Very clean space. Bed was comfortable. There is a rite-aid you with a couple mins of walking distance. There are also Panera bread and other restaurants within a 5-10 min drive. I didnt have time to interact with the family. Minlin was very nice and his young son welcomed me enthusiastically. I intend to stay there again
Arun
2017-02-13T00:00:00Z
The host canceled this reservation 6 days before arrival. This is an automated posting.
Alex
2016-08-27T00:00:00Z
Minlin was very friendly and helpful. The room was spacious with a nice big desk and a couple of chairs. I loved the skylight and the private bathroom. I stayed in early March, and the room was a little chilly, but there was a space heater in the room, which helped. I had a little trouble finding the house at first, so if you're staying here, make sure you have good directions and know what you're looking for.
Vanessa
2017-03-05T00:00:00Z
This was my first time using Airbnb. The room and bathroom were very clean. About the only thing I needed was a toothbrush and paste, everything else was provided. You have to go through the main family quarters to get to the room and expect to see their smiling and friendly children. The home does carry noises easily, but the nice fan/ AC unit in the room easily masks noise to little or no external sounds. The neighborhood was nice and felt safe. The only negative is parking. It is off a semi-busy street and backing out isn't easy. I recommend backing your car into the driveway for an easier time leaving the property. The family was extremely courteous and offered me bottled water frequently. I would definitely stay here again.
Austin
2016-09-28T00:00:00Z
Very nice experience to staying with Minlin and share the ideas with each other. He is very good person and trying very hard to find his way....
登庠
2016-09-13T00:00:00Z
The hosts were very friendly to my mother when she came to visit. The room was very clean. It's not the best for light sleepers, but if that isn't you then you will love to stay here. The simple household noise travels well.
Felicia
2016-10-09T00:00:00Z
Tipus d'habitació
Habitació privada
---
Tipus de propietat
Casa
---
Capacitat
4
---
Dormitoris
Pittsburgh, Pennsilvània, Estats Units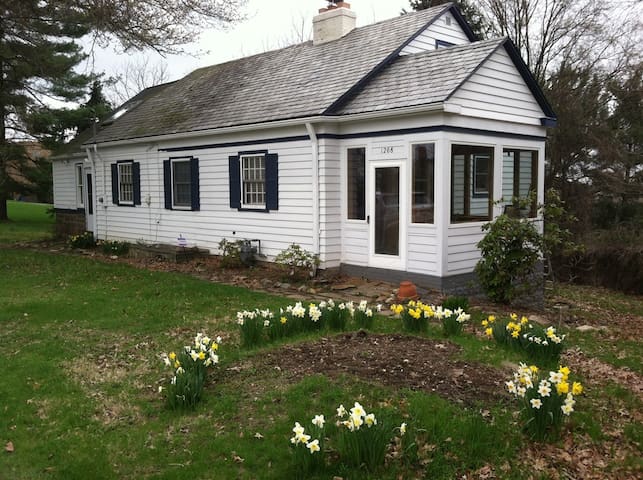 Clean and healthy home in the center of Mount Lebanon, steps away from shops and restaurants, and a short trip to downtown Pittsburgh. If you're traveling anywhere in the region, stay here. You will have the entire downstairs to yourself, with a private entrance to your bedroom, and a separate living room to relax, eat, and watch TV. Every room, including the private bathroom, will be freshly cleaned and prepared for your arrival.
The sofa is a sleeper. More than two guests permissible by request.
Mount Lebanon borders the City of Pittsburgh and is home to a thriving business district and restaurant scene along Washington Road, about a half-mile from this home.
This private room was perfect for our stay in pittsburgh. Connor's place was extremely spacious and clean. He was very accommodating and communicated well. I couldn't have found a better place to stay. The area was in a nice safe neighborhood, and only 15 minutes from the city!
Kristin
2017-02-25T00:00:00Z
Conor was an awesome host. He made us feel right at home and he was very helpful. We felt relaxed and comfortable throughout our stay. Beautiful house amd area!
Kristen
2017-03-11T00:00:00Z
Conor's home is lovely. Exactly as described in the listing. Clean, comfy, and very spacious. Nice, safe neighborhood and only an 8-10 minute walk to the light rail station and a 15 minute drive (by car) into the city. Communication with Conor was quick and helpful. He had many restaurant recommendations for us. I would highly recommend this place. We hope to stay here again in the future.
Beth
2017-02-26T00:00:00Z
Amazing place to stay! Conor was a great host.. his place was quiet, comfortable and close to everything! Would recommend to anyone and would love to stay again!!!!
Kristen
2017-03-12T00:00:00Z
Hi Conor, Thank you so much for your hospitality while my 2 children visited Pittsburgh. They felt like they were right at home throughout their stay. Your place was perfect being close to everything, very clean and well stocked. Thank you also for providing everything for them including breakfast, soaps, etc. The place looks much better in person than in your photos - very welcoming. Looking forward to staying at your place on our next visit to Pittsburgh. Best, Eric, Alicia, Ariana, Reed, Harrison
Eric
2017-03-09T00:00:00Z
Tipus d'habitació
Habitació privada
---
Tipus de propietat
Casa
---
Capacitat
2
---
Dormitoris
Pittsburgh, Pennsilvània, Estats Units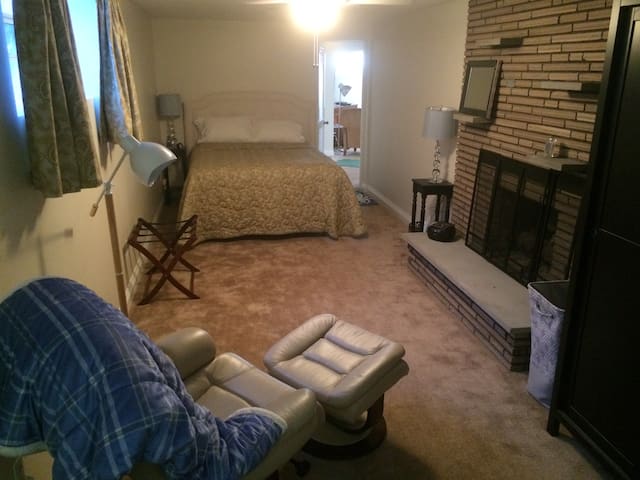 Spacious and newly renovated room with large closet and access to newly renovated bathroom. Home has large modern kitchen available for your use and is walking distance to the incline/public transportation to downtown and popular bar/restaurant areas. Roughly $8 Uber ride (standard rate)/10 minute drive to Heinz Field/PNC Park. High speed wireless internet included. Free on-street parking.
Located up the stairs and to the right, you will have this large Master Bedroom with brand new Queen mattress all to yourself. Bathroom is just across the hallway with linens included. The house is walking distance to the incline and Grandview Ave. and is minutes from downtown and all stadiums as well as Carnegie Mellon University.
Walking distance to Shiloh street which has many fun bars and the popular overlook with breathtaking views of downtown Pittsburgh/Heinz Field as well as access to the famous/historical incline down Mt. Washington and into downtown.
Clean, inviting space. Bed was super comfortable. Our host was friendly and communicative. Short drive to downtown. Would stay here again! Highly recommended.
Ryan
2017-02-25T00:00:00Z
Curtis and his place was perfect! Perfect distance outside the city and walking distance from some great views. We didn't spend too much time in the place since we were in town for the Cubs vs Pirates Series but it was perfect for what we needed. A nice clean place with great beds. Would definitely recommend!
Dan
2016-07-11T00:00:00Z
We never met Curtis, but his communication was clear prior to our arrival we didn't have any issues. The apt is in a great location to explore the mount Washington neighborhood and a short walk from the incline to go downtown.
Rachael
2016-06-19T00:00:00Z
Andrew was quick to respond! The house and room were clean and comfortable! A great date night away!! Would recommend!
Stephanie
2017-02-03T00:00:00Z
Curtis and Virpi were both very welcoming hosts! Their house is gorgeous and very modern. They also have very sweet pets [literally their names are "Brownie" and "Sugar"]. Both Curtis and Virpi made themselves available and offered advice on places to see/things to do in Pittsburgh. They are also two incredibly fun people to hang out with. Should we head to Pittsburgh again we would definitely stay with them again.
Sally
2016-05-29T00:00:00Z
Andrew was very helpful, getting into the house was simple and convenient. The place was recently renovated and kept in perfect condition. It is very close to a restaurant/shop area, and close to a good view on the hills of Mount Washington.
Yiran
2017-01-02T00:00:00Z
Great location; a quick, cheap, uber drive to many destinations
Kaitlyn
2017-03-05T00:00:00Z
The house and room was just as pictured. The bedroom/house was clean. Great location and communication! Would recommend if staying in Pittsburgh overnight
Kaitlyn
2017-02-12T00:00:00Z
Tipus d'habitació
Habitació privada
---
Tipus de propietat
Casa
---
Capacitat
2
---
Dormitoris
Pittsburgh, Pennsilvània, Estats Units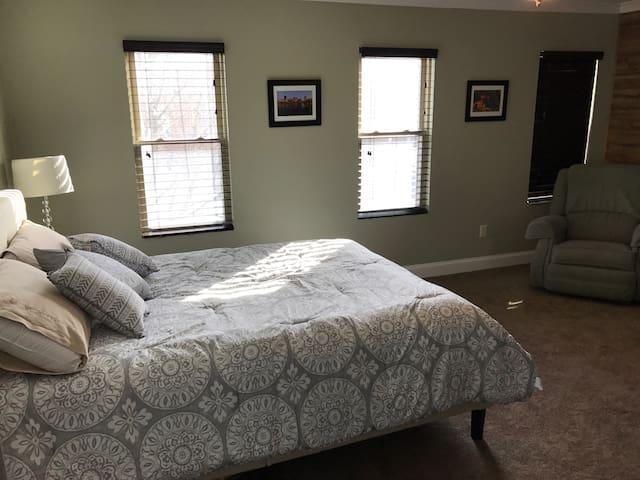 Very cozy and comfortable house CLOSE TO EVERYTHING in lovely neighborhood, which is 5 min from the heart of Pittsburgh/Downtown. Clean, quiet, cozy, spacious bedroom + Free private parking down the steps, coffee/tea. Bus/Subway nearby. Check in 3 pm, check out at 11 am. PLEASE READ CHECK IN INSTRUCTIONS WHICH I SEND PRIOR YOUR TRIP.
Hello and thank you for taking interest in my listing! My name is Oxana, i own a cozy house in lovely neighborhood, which is 5 min by car from the heart of Pittsburgh/Downtown area and famous Mt. Washington views. It is also conveniently located 6 min walk from bus stop/subway station. Where subway is always on time and runs every 10 mins, its 10 mins by subway to get to Downtown and even less to get to Station Square or Mt. Washington lovely must see neighborhoods, with a lot of amazing restaurants and attractions. Cozy, clean, and brand new renovations including, hardwood floors, windows and furniture. Large room with trees on the south window which creates a lovely view and provides shade if you feel like having the curtains up! Private bedroom with coffee maker and bottled water in the room as well as maps and all the brochures with tourist main attractions and things to do. Guests will have access through front main door or the side kitchen door which is right next to the stairs at the top is the room! Quick and convenient. I am very social and hospitable, but I very much respect guests privacy. I am easily available if there would be any requests. The area is the back of Mt. Washington on Crane Ave. It is a lovely neighborhood mostly families and young professionals. Just up the street is Mt. Washington and world famous skyline views. Also only a few minutes from station square and south side for those interested in food and nightlife. The area is the back of Mt. Washington on Crane Ave. It is a lovely neighborhood mostly families and young professionals. Just up the street is Mt. Washington and world famous skyline views. Also only a few minutes from station square and south side for those interested in food and nightlife. Free private parking, always clean bathroom, free laundry room in the basement, kitchen, cozy living room with fireplace. I am very hospitable, laid back, social and friendly person but i also respect privacy of my guests. It is very convenient location, safe and very green. Yes, trolly, bus.
Green, VERY close to everything, safe, quiet.
This is a great place to stay. It was great to park my car and be able to take advantage of public transportation only 4 blocks away. Also, Mt Washington with its views was only a 5 minute drive away. Oxana takes extra steps to be a good hostess, trying to be there when you check in and answering any questions. She was very helpful. There is always cold bottles of water in the fridge I recommend this as a nice place to stay.
Mark
2016-09-27T00:00:00Z
Oxana is a wonderful hostess!! She made us feel like at home the moment we entered her door. She made for us a tasteful breakfast and helped with the laundry. What's more she was very caring and gave me some medicines for the cold I caught earlier. Thanks to her hospitality our visit in Pittsburgh was sooo much better than we expected!!! The room was clean, spacious and comfortable, and the house is beautifully located, close to the subway. I would recommend it to anyone visiting Pittsburgh! Thank you so much Oxana!
Agata
2014-10-20T00:00:00Z
It was a very nice experience to stay 3 days in the home of Oxana. Oxana is excellent host, she is very friendly and every time ready to help. The house is very clean. Oxana makes very tasty breakfasts, and even, when I said that I need to leave the home very early in the morning (at 7:00), she prepared the breakfast for me at 6:30! The location of the home is very nice, quiet and green place. If you have no a car, only ten minutes nice walk to the metro station, and then about 15 min to the downtown. And all this was very cheap! I certainly recommend to stay in the Oxana's house.
Alexander
2014-10-17T00:00:00Z
The host was helpful as she replied to my questions quickly and clearly. I found the flat clean and well tidy as described on the web. I also I found some water, coffee and unexpected milk, eggs and fruit. Because it took me long time to reach the flat on my arrival at night, I felt that I will not stay in a flat far away from downtown like this in the future. However, during my stay for a week, I enjoyed going everyday to downtown and coming back to the flat, since the way by trolley (train) is very nice which takes about 20 minutes and 10 minutes walk. I would love to stay in the flat if I come to Pittsburgh again.
Mehiddin
2015-07-19T00:00:00Z
Christine n'était pas sur place lors de mon séjour, mais a répondu très rapidement à mes messages. La chambre était grande et propre et la maison est bien positionnée pour se rendre au centre-ville.
Simon
2016-06-11T00:00:00Z
Oxana is a wonderful host. Easy to communicate with and she is a concerned host who wants her guests to be as comfortable as they can be. The house is clean and as described in the listing. The room is spacious with all the nice amenities. We had a pleasant night at her place..
krishna
2016-02-08T00:00:00Z
The room was great, a lot of amenities like a coffee maker, electric water kettle, roku, and an electric heater for those chilly nights. The bed was comfy. Overall a great experience.
Yale
2016-01-07T00:00:00Z
Christine (Oxana) was extremely nice and friendly. Posting was fairly accurate and in a good location close to everything!
Ethan
2016-05-08T00:00:00Z
Tipus d'habitació
Habitació privada
---
Tipus de propietat
Casa
---
Capacitat
2
---
Dormitoris
Pittsburgh, Pennsilvània, Estats Units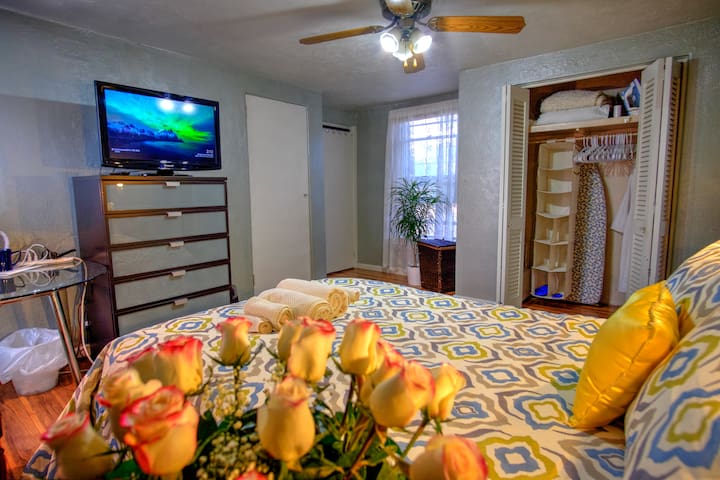 Have it all in Pittsburgh! This renovated, historic home in the Mexican War Streets is convenient to all NorthShore destinations. Stadiums, Science Center, The Warhol,NationalAviary & more! Two-night minimum on weekend can be waived at certain times.
The 3rd floor sloped-ceiling space (please view the photos) is totally private and all yours. Large room with two (real) full-sized beds and a full bath with shower. A memory foam roll-away is available if you need it. Access to the 3rd floor is via two sets of 19th century stairs (they are steep and narrow). If you are a tall person, you will be tilting your head with the sloped ceilings.
If you are looking for a convenient location with charm in an urban setting, then we've got you covered!
Gail was very hospitable and welcomed my 2 friends and I in even though we made great time and showed up 1.5 hours early. Gail lives in an amazing neighbourhood that we were made to feel welcome and safe in. A number of neighbours would say hi and ask how you were while walking down the street. Gail certainly has a beautiful house and the apartment upstairs fit us three perfectly. We are so pleased with our experience that I hope she will have us back next year. Thanks Gail
Nicholas
2014-12-02T00:00:00Z
Gail was wonderful. Very helpful about getting around Pittsburgh and gracious in all things related to the accomidations. I would definitely stay here again. A++
Bill
2015-07-26T00:00:00Z
We stayed with Gail for a total of four nights, and we broke up our stay into two parts to accommodate for two different forms of payment. So this is my second review for Gail, and it goes hand in hand with the first. We had a wonderful experience staying with Gail. She was warm and friendly and communicated well over email and text. I can't say enough positive things about our time at Gail's house. Parking was easy to find, the room was lovely. It seems like Gail thought of everything when she put together her guest room an the house is perfectly arranged to feel very comfortable. Loved it! Thanks for the info about where to go sightseeing in Pittsburgh.
Erica and Jason
2015-06-26T00:00:00Z
We really enjoyed staying at Gail's. Highly recommend this place.
Martin
2016-10-16T00:00:00Z
We had an excellent time staying at Gail's place. She has a lovely house in the north side of Pittsburgh. The room was exactly as described in the listing. The neighborhood also seemed quite safe. There is a rite aid withing 2-3 minutes walking distance which was super convenient. She made sure that our stay was comfortable and I would highly recommend her place to anyone visiting Pittsburgh.
Aimen
2015-05-20T00:00:00Z
Good, comfortable, Katrina was extremely nice and opened her home to us
Dale
2015-10-31T00:00:00Z
Our experience staying with Gail was absolutely lovely. My husband and I stopped in Pittsburgh for a quick 2 night stay, and she was an awesome host. Her home is beautiful, and the third floor apartment was immaculate and beautifully decorated. Gail also gave us a whole host of information about Pittsburgh and we went to many of her recommendations. Her home is in a sleepy, cute neighborhood just outside of downtown and we were able to walk many places. We definitely recommend staying with Gail!
Amy
2014-11-11T00:00:00Z
We had the most delightful stay with Gail. Although we did not meet her until the evening before we left, it was like connecting with an old friend. The house and our room were impeccably clean, and she had thought of every detail even down to bike maps for us to use while touring Pittsburgh. Thank you Gail; and we hope to see you again soon.
Sarah
2016-05-30T00:00:00Z
Tipus d'habitació
Habitació privada
---
Tipus de propietat
Casa
---
Capacitat
3
---
Dormitoris
Pittsburgh, Pennsilvània, Estats Units
Enjoy the views in this newly renovated studio apartment hanging over the city skyline of Pittsburgh. Located on Mt. Washington, its 5/10 minutes to everything. Southside, Downtown, Strip, Oakland, Shadyside, and N.Shore only minutes away by bike or public transpertaion. Clean, comfortable, and cool!
This studio is great for a single, couple, or a set of friends hanging in Pittsburgh for a day or week. One king sized bed and one couch that converts to a full sized bed in this studio apartment.
This property is located in the neighborhood of Mt. Washington overlooking downtown Pittsburgh and the North Shore. Great Central Location!!!! It's 5 Minutes to Downtown, Southside, Northside Stadiums, Strip District, Cultural District, Convention Center, and Oakland.
Had an amazing stay in Pittsburgh! The view from the porch is unbelievable. Everything in the house was clean, organized, and top of the line. Rich suggested great places to eat and explore. The house is a short drive/Uber ride to the city, south side, strip district and the stadiums. I recommend this place to anyone looking to stay in Pittsburgh!
Joshua
2017-02-26T00:00:00Z
Rich's place on Mount Washington was great. Considering the terrific view from the apartment and attached deck, the value was superb. The apartment was very clean and nicely laid out. We had a small amount of trouble finding the apartment at first, but that was mainly due to the layout of the streets. Pittsburgh's streets can be difficult to follow. After a brief detour, we had no trouble locating the apartment. The neighborhood consisted primarily of older homes, many of them undergoing renovations. That's perfectly understandable given the wonderful view of downtown Pittsburgh from the heights of Mt. Washington. The nearby restaurants on Shiloh Street were very good. We particularly enjoyed the Shiloh Grill and Kavsar, an Uzbek restaurant. There's a nearby Italian restaurant we considered, but we went Uzbek instead (after all, when will we find another such establishment?). Although it's a bit of a trek from Rich's apartment to Shiloh Street -- not in distance, but it's mostly uphill -- it's not too hard (and my wife and I are both 60+). In addition to the restaurants, that's the way to the Monongahela Incline, which we used repeatedly to travel downtown. There's also a street nearby that can be used to walk downhill. We left our car in the parking space right in front of the apartment and used public transportation and our feet for the rest of our Pittsburgh visit. Although the streets are difficult to follow, we really did not have much trouble getting around the city of Pittsburgh. Overall, we really enjoyed our stay at Rich's place and would return in a heartbeat.
Michael
2016-09-29T00:00:00Z
A wonderful apartment with a stunning view of the city, especially at night. Clean, modern, comfortable, highly recommended.
Simon
2017-03-03T00:00:00Z
This place is amazing it was exactly how it described in the description but even better than we imagined and hoped for we came for a little weekend getaway and all we wanted to do is stay inside and relax such a great ambiance. Rich was helpful with information of foods and stores around us.He was such a gentleman always trying to improve our stay. It is 10 minutes driving close to a lot of bars and food and even right up the hill there is a mart and a restaurant I love it this won't be my last time we will be regulars ! Thank you !
Julie
2017-02-12T00:00:00Z
I stayed at Rich's place for a second time and fell in love with it again! The place is very clean, nice and comfortable. The view is even better than the pictures! I needed to check in a bit later after getting a late start and Rich made sure we were able to access his place with no problems. Rich was only a text away if we needed anything. I can't wait to stay at Rich's place the next time I'm in Pittsburgh. Thanks again Rich!
Kennedy
2017-02-16T00:00:00Z
Rich provided helpful information about the place via email before our arrival and was quick to respond to questions. He personally greeted us when we arrived and showed us around the place and had some good tips about the area. The deck and view were stunning, and the place was extremely clean and comfortable. We appreciated the provided coffee, dedicated parking spot, and access to wifi. Pittsburgh is a great city, and I highly recommend enjoying it from this spot. We hope to return!
Helen
2016-08-15T00:00:00Z
We recently spent five nights and Rich's place. The rental was very clean and comfortable. The view was fantastic and I would highly recommend this place to anyone staying in the Pittsburgh area.
Marc
2017-04-01T00:00:00Z
The view really is incredible -- only wish it had been warmer weather to enjoy some time outside on the deck. The view alone makes this place a gem. We also really appreciated the high-quality linens (sheets, towels, curtains) and the nice furniture and decor. Rich was very accommodating with a cable box problem that was not his fault, and I recommend this place and him highly. Thank you, Rich!
Scott
2017-01-29T00:00:00Z
Tipus d'habitació
Casa/pis sencers
---
Tipus de propietat
Pis
---
Capacitat
2
---
Dormitoris
Pittsburgh, Pennsilvània, Estats Units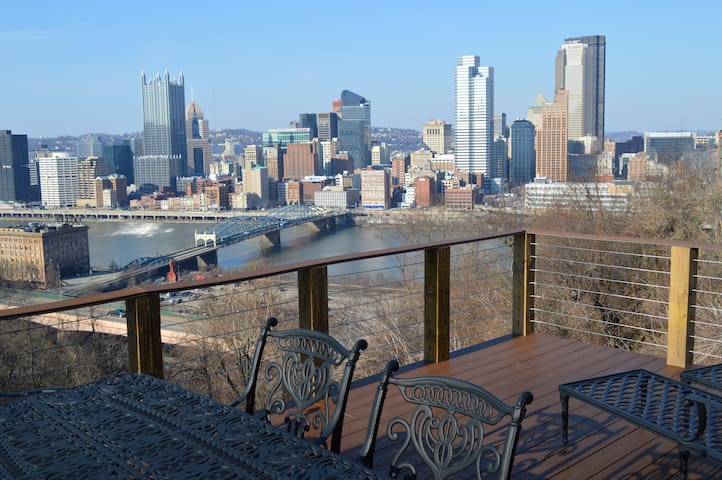 I offer a clean, comfortable home with easy access to the Red Line trolley and downtown in the pleasant and convenient Beechview neighborhood of the city. The house is accessed with a guest code sent the day of arrival. I am in and out so may not be around but explain details of your stay and try to anticipate all questions in the House Manual which appears in the app with confirmed reservations. You can call or text with any questions.
This 2nd-floor bedroom has two twin beds. I have other listings (one with twin beds) so bathroom may be shared by up to four guests. There is another guest bathroom with shower on the first floor if needed. I reside in an attic suite with a separate bathroom.
Broadway Ave. is the heart of Beechview, an up and coming neighborhood with excellent city access. The expanding business district includes an IGA grocery store and several restaurants.
This was a great find - super affordable, very clean, and comfortable. My friend and I parked on the street (which is undergoing construction) and took an Uber for the 10-15 minute ride downtown. Coralie was friendly and hospitable. I would definitely stay here again!
Rachel
2016-08-22T00:00:00Z
Loved the environment. It felt like being in your own place, full independence.
Cesar
2016-08-31T00:00:00Z
Coralie made us feel very welcome and was kind to invite us to watch the second presidential debate with her. Her home was cozy, well decorated and exceptionally clean. Our room and its two twin beds were very comfortable. We enjoyed having muffins and fruit for breakfast, too, which saved us some time. Thank you, Coralie.
Bob
2016-10-10T00:00:00Z
This was our first Air b and b experience, it was great. Coralie was there to greet us. Her home is so cool the artwork is beautiful everything was neat and clean. She had coffee and muffins for us in the morning. We enjoyed her front porch, and back deck. The only thing I could say was there is no air conditioning and it was a little warm in the bedroom at night. She said she is looking into getting AC, that would make her house a 5 star stay. We would defiantly stay there again.
Vanessa
2016-06-06T00:00:00Z
We really enjoyed staying at Coralie's. The living area was very cute and nicely decorated in a Spanish style. Our room and the bathroom were nice and clean and had what we needed. The location is convenient for commuting into downtown and on-street parking was available. I am uncertain how one would get downtown on public transport as trolley line is under construction. There is a cute coffee place down the street toward the city center. We arrived late and left early so we did not have a chance to meet our host but the muffins in the kitchen made her presence known. We would stay there again. Thanks so much!
Lisa
2016-07-20T00:00:00Z
Overall good experience. Great for two guests with two beds and easy to get in and out. Fairly close to the city and not so hard to find.
Amar
2016-07-14T00:00:00Z
Loved staying here. It was clean and roomy. There were even muffins in the kitchen. Highly recommend :)
Erika
2016-07-10T00:00:00Z
Your home was really clean and nice and was even prettier and fresher than the pictures showed, however, because of our schedule and yours, we missed personal conversation and contact with you.
Lis
2016-08-23T00:00:00Z
Tipus d'habitació
Habitació privada
---
Tipus de propietat
Casa
---
Capacitat
2
---
Dormitoris
Pittsburgh, Pennsilvània, Estats Units
Introdueix les dates per veure el preu total. S'aplicaran tarifes addicionals. És possible que també s'apliquin impostos.