Se alquila una habitación de matrimonio para 2 personas con cama de 135 cm y colchon de latex, TV con mando a distancia, WIFI y mosquitera en la ventana. 1 baño en el pasillo compartido con ducha, WC y videt. Jardin con cesped y piscina.
Alquilo una habitación doble con cama 135 cm y TV en casa con jardin y con derecho a piscina. Ducha, videt y lavabo en pasillo, compartido. No almuerzos y posibilidad desayunos. Solo pernoctar y derecho a uso de piscina en jardin. Somos un matrimonio con una perra husky siberiana que no entra en casa, pero esta suelta en el jardin. La casa es grande y se permite utilizar el porche para comer en el exterior. Ubicación perfecta. Cerca de la autovia a 30 Km. de Barcelona y a 6 Km. del circuito de Montmeló (F1 y moto GP). A 25 Km. de la playa (El Maresme). A 5 Km. del àrea de ocio en Granollers. A 15 minutos en coche de La Roca Village Outlet Store. A 20 minutos andando del centro de Canovellas, estación de tren y tiendas. Estación de esquí a 120 Km. Un lugar tranquilo para pasar unos dias, bien comunicado y cerca de cualquier zona de interés. Se puede aparcar en la calle delante de la puerta de la casa. Si vienen en moto, podran aparcar en el garage.
Vecindario tranquilo en zona residencial CAN DURAN
Carme and her husband were fantastic hosts! I arrived late the first and second night, unable to find an open restaurant as it was a holiday, and Carme eased me to relax, poured a glass of wine, and cooked an amazing dinner for me! I felt like part of the family for my entire stay, and will not only stay again, but plan to keep in touch!
Joshua
2017-03-04T00:00:00Z
We stayed three nights in Granollers, and it couldn't have been better. Our bedroom and bathroom was immaculate, as was the rest of the house and garden, and our hosts were the friendliest couple you could hope to meet. The pool was a fantastic way to cool down at the end of the day. Some might be put off by the two dogs, but they were so adorable we could have taken them home with us. Even if you don't like dogs, they stay outside, so not a problem. We're sure we'll be back.
Miguel
2015-08-24T00:00:00Z
Situé à 15 mn du circuit de Catalogne, la maison de Carmen et Jordi est un pied à terre idéal pour les amoureux de la moto. Ajoutez à cela la gentillesse et toutes les petites attentions de nos hôtes ( gâteau carotte chocolat, savon fait maison par exemple ) et vous serez vite comblés. La maison est de tout confort. Nous vous conseillons vivement cet hébergement
Jerome
2015-06-17T00:00:00Z
Carme et Jordi ont été très accueillants, conviviaux et attentionnés en nous guidant pour nos loisirs, ils connaissent parfaitement leur région et savent en faire profiter leurs hôtes. très agréable pour nous, ils parlent parfaitement français. les chiens sont calmes et affectueux. la maison est superbe, très grande et la piscine très agréable. le quartier est très calme. une adresse à recommander si vous voulez passer un bon moment de détente.
philippe
2014-08-20T00:00:00Z
Excellent accueil très chaleureux une belle piscine, une chambre confortable , une super salle de bain rien que pour nous et tout près du circuit pour les motards comme nous, on recommande à tous ! Una pareja muy agradable y simpática que recibe a las personas proponiéndolas lo mejor de su casa, y de ellos.Excelente desayuno. Una casa maravillosa,nueva con una habitación muy maja ,un cuarto de baño expendido y una piscina para poder pasar buenos momentos. personas comunicativas y agradables en discusion. Una estancia muy agradable en todos los términos.Recomendada a las personas que se interesen. Gracias por vuestra acogida. Anabel y Philippe
Philippe
2014-06-19T00:00:00Z
Tipus d'habitació
Habitació privada
---
Tipus de propietat
Casa
---
Capacitat
2
---
Dormitoris
Bellulla, Catalunya 08420, Espanya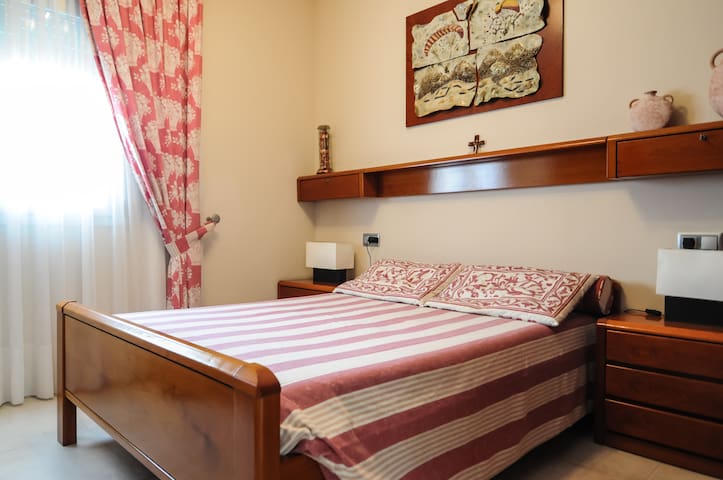 Habitación doble en Masía, con jardín y patio exterior a 30 Km de Barcelona y 8km circuito de Catalunya. Zona de relax en el campo bien situada cerca de la A7 / C17 tren desde aeropuerto de barcelona. (URL HIDDEN)
Estuvimos muy agusto y tranquilos en casa de Flora, ibamos a ver la Formula 1 a Montmelo y estar tan cerquita despues de un duro dia y del viaje que nos esperaba despues se agradecio.
seila
2016-05-18T00:00:00Z
Tipus d'habitació
Habitació privada
---
Tipus de propietat
Casa
---
Capacitat
2
---
Dormitoris
Can Colom - Pla de Llerona, Barcelona 08520, Espanya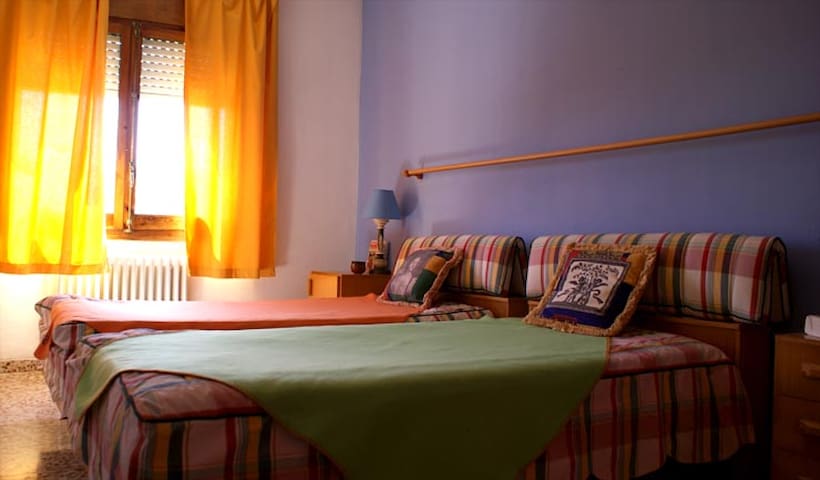 It is a big house, with several rooms and bathrooms, big living room and kitchen. Very good for sharing with family or friends or also possible to rent just one room. There is a garden and a terrace, ideal to have dinner o lunch in warm weather.
It's a big house with many rooms, ideal to come with children or with other families, to share space and be very calm all together.
Hem passat un cap de setmana meravellós a casa la Paula. La casa és molt gran (de sobres pels 8 adults que érem), totalment equipada i increïblement acollidora. És un lloc amb molt de karma :) A destacar la terrassa amb barbacoa, un luxe que s'ha d'aprofitar! Estem també molt agraïts a la Paula per la seva atenció i flexibilitat. Experiència immillorable! -- We spent a wonderful weekend at Paula's house. The place is really big (more than enough for 8 adults), fully equipped and incredibly cozy. Outstanding terrace with barbecue, don't miss it! We are also really grateful to Paula for her attention and flexibility. Superb experience!
Marc
2016-05-30T00:00:00Z
La estada va estar genial. Molt acollidor. Vem dormir 7 persones i tot perfecte, mennador i cuina son mplt grans i tot renovat. La terrassa també molt bé!! It was really nice, the common areas are huge and new, the terrace is also big and we could do a bbq. Paula and family were really nice! We slept 7 and it was perfect.
Marta
2016-05-09T00:00:00Z
Vam passar la Castanyada a casa de la Carme i hi vam estar molt bé. És una casa gran, acollidora i càlida. Amb una sala-menjador enorme, una terrassa amb barbacoa i altres espais on els nens podien jugar perfectament. Just a les portes del Montseny amb l'opció de poder fer sortides i excursions. La recomanem!
Norbert
2016-11-11T00:00:00Z
Très belle maison grande spacieuse et bien équipée La terrasse est très agréable et Paula et sa maman sont très sympathiques. Je recommande
Sebastien
2016-06-07T00:00:00Z
The house is lovely, very comfortable and we enjoyed the living spaces very much. Alba was a big help to us when we ran into language problems trying to arrange a taxi in advance, and we appreciated it very much! If you want to be away from the hustle and bustle and you want space for a group or family to not be on top of each other this is a good option.
Barbara
2016-08-28T00:00:00Z
La casa es preciosa y muy acogedora. Hemos pasado un fin de semana increíble! Hemos sido 7 y todos hemos estado muy cómodos y lo hemos pasado muy bien. La casa está muy bien equipada. Muchas gracias a Alba y su madre por el cariño que nos han tratado y por la atención que nos han dado en todo momento!
Sandra
2016-10-23T00:00:00Z
The host canceled this reservation 14 days before arrival. This is an automated posting.
francois
Alba did everything to welcome us, to give us the information we needed. The communication was really good.
Astrid
2016-08-22T00:00:00Z
Tipus d'habitació
Casa/pis sencers
---
Tipus de propietat
Casa
---
Capacitat
8
---
Dormitoris
Canovelles, Catalunya 08420, Espanya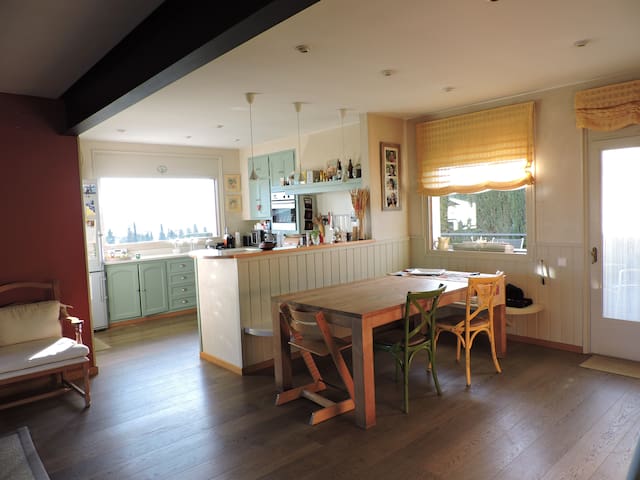 Complete village for guests next to Barcelona, Granollers, Architectural Tourism, Thermal Tourism, F1 & Moto GP Montmeló's Circuit , Costa Brava, Natural Park Montseny. Outlet La Roca Village for luxury shopping at good prive. Perfect location, quietly, great kitchen and dining room, high wood floors, and forest seeing. Our house it's perfect for adventurers, families, and big groups of quiet people.
Zona residencial muy tranquila en entorno natural
Es una zona residencial muy tranquila, rodeado de naturaleza y vistas al bosque
Una casa muy bonita y con todo lo necesario para pasar un fin de semana con la familia muy tranquila. Nos ha encantado y seguro que volveremos!!
Mayte
2016-11-20T00:00:00Z
Son muy amables y atentos
jorge
2016-11-06T00:00:00Z
Nos ha encantado la casa, la estancia y la localización. Lo único que tuvimos problemas con el horno que no funcionaba y que no vimos al anfitrión en ningún momento para entender como funcionan las cosas
Aitor
2017-01-17T00:00:00Z
깨끗히 정리되고 편안한 숙소입니다. 특히 호스트인 Charo는 저희가 편안할수 있도록 최선을 다해주었습니다 가족 또는 여러명이 여행할때 안성맞춤인 숙소입니다 바르셀로나 시내까지 약30분 가량 걸리지만 추천할 수 있는 숙소입니다 (단, 차가 있어야합니다)
DAE WON
2016-11-20T00:00:00Z
Una estancia satisfacoria
Paqui
2016-11-27T00:00:00Z
La casa es bonita. Un acumulador de agua caliente de 100 litros para una casa de 7 personas es muy justo. Tiene camaras de seguridad en el interior de la vivienda que aunque enfocan las puertas de acceso gravan imagen y sonido del interior. Deberian avisarlo en el anuncio, ya que pueden tener acceso a imagenes de la vida privada de los huespedes. Y la propietaria deja mucho que desear como anfitriona ya que no empatiza en absoluto con las necesidades de huespedes.
Vanesa
2017-01-01T00:00:00Z
Description was wrong when we arrived and there was actually one bedroom and bed fewer than listed, which meant one person had to sleep on the sofa using makeshift sheets. We were only given one key for six professionals sharing, which was tricky at times, and it then stopped working and a replacement needed dropping round, leaving us having to climb over a wall to get in for 36 hours. It was a bit unnerving to not meet either Charo or Josep at any stage despite the problems - the bedding was left on a windowsill outside late at night when we were waiting inside and Josep left before sending a message giving its location. Downstairs needed quite a few repair jobs but upstairs was really nice and showed how good the house could be with a bit of touching up. The house is very big, plenty of parking and nice balconies/terraces to enjoy in good weather. Would make a good base to explore the region from if you have a car. Most of all it was very good value, even with the problems faced during the week, and the hosts were responsive in trying to resolve them so I would consider staying here again.
Chris
2017-03-05T00:00:00Z
Beautiful house, everything was good, and the host was very kind and helpful.
Arthur
2017-01-30T00:00:00Z
Tipus d'habitació
Casa/pis sencers
---
Tipus de propietat
Casa
---
Capacitat
10
---
Dormitoris
Lliçà de Vall, Catalunya 08185, Espanya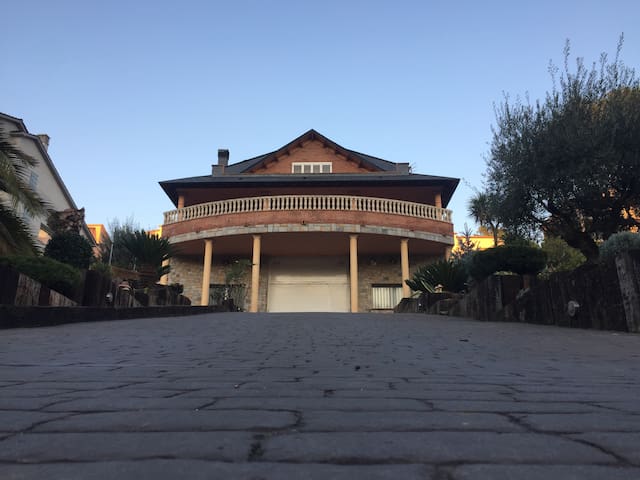 Old house recently renovated, in a rural zone. The good views and the geographic location do our cottage a perfect site to relax and connect with the nature at the same time that you can discover Barcelona, the beaches and the mountains of Catalonia. We have garden, chickens, sheeps ... and a relaxing atmosphere to rest from your trip. --- From the cottage: Barcelona (30 min.) Beach (40 min.) Circuit de Catalunya (F1, MotoGP) (15 min.) Pyrenees (1 h.)
The cottage is an isolated house in the middle of little fields of olive trees.
Tipus d'habitació
Habitació privada
---
Tipus de propietat
Casa
---
Capacitat
2
---
Dormitoris
Santa Eulàlia de Ronçana, Catalunya 08187, Espanya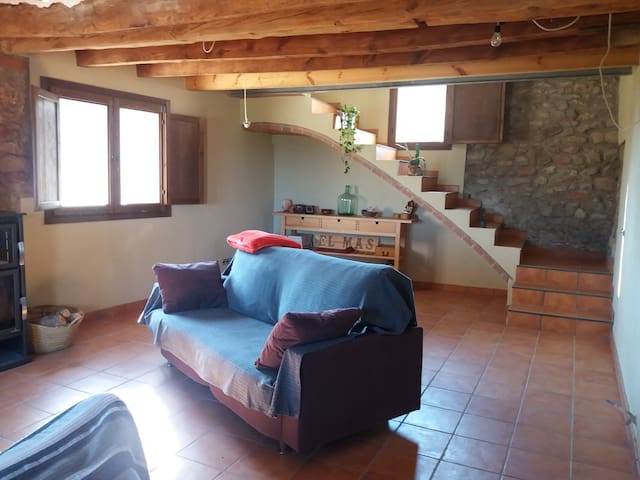 Casa completament equipada i amb piscina. En un tranquil poble del Vallès, amb serveis (supermercat, farmàcia, restaurants). Renovada recentment. Amb taula de ping pong. Possibilitat de llit de viatge per a nens petits. Número de registre d'establiment turístic de la Generalitat de Catalunya: HUTB-014474
Quatre habitacions. Dues dobles (un llit de matrimoni i dos llits individuals) i dues simples. Hi ha la possibilitat d'un llit de viatge per a nadons. Estris de cuina. Cafetera, microones, rentavaixelles, rentadora i assecadora.
La casa està situada al centre del poble, en una zona molt tranquil·la, a prop d'una escola. Amb comerços com supermercat, forn i farmàcia molt a prop.
Tipus d'habitació
Casa/pis sencers
---
Tipus de propietat
Casa
---
Capacitat
6
---
Dormitoris
L'Ametlla del Vallès, Catalunya 08480, Espanya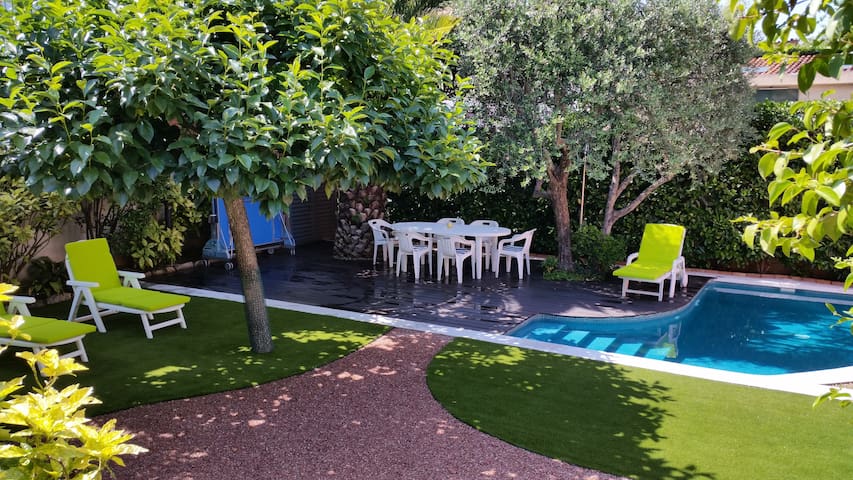 Can Not, casa de pueblo situada en Lliça D'Amunt, perfecta para pasar unos días en familia o amigos, completamente preparada y con todos los elementos necesarios para una estancia cómoda y agradable, extraordinariamente bien comunicada.
Casa del siglo XVIII rehabilitada con capacidad para 9 personas, dispone de 3 habitaciones, 1 de matrimonio, 1 doble y 1 doble con literas, cuarto de baño completo, 1 aseo, cocina equipada, salón con chimenea, comedor con TV y libros, sala de juegos con billar.
Tout était OK sauf les cloches toutes les 15 minutes même la nuit et *2 pour les heures! Nous étions 8, 2 ne s'y sont pas fait du tout pendant 10 jours. Sinon tout le reste était nickel. Nous avons surtout eu a faire aux parents de Vicenç qui sont très gentils et avec qui nous avons bien discutés.
armelle
2016-08-06T00:00:00Z
Vicenc and his family made us feel extremely welcome and were looking out for us when we arrived. The house was lovely and can easily accommodate 8 with no problem. We stayed there to go to the Circuit de Catalunya. It takes around 30 mins to get to Barcelona. Llica d'munt is a beautiful village with several bars and restaurants and the local people are very friendly.
John
2015-05-18T00:00:00Z
Thanks for all. The house is big and functional, the only issue we encountered is about the water debit during the showers, it's impossible to take a shower on the 2nd floor on the same time as on the ground floor (not an issue because we were two).
Jeremy
2016-07-11T00:00:00Z
Its a lovely house, very clean and everything in place. It is a very quiet neighborhood although a church is near and the bells are sometimes not so pleasing. The host is very welcoming and friendly. We really enjoyed our stay.
Celina
2016-08-23T00:00:00Z
un bon accueil, les hôtes sont très sympa. la maison était agréable. je recommande vivement. le seul petit bémol, c'est que la maison se trouve à coté d'une église et on peut entendre le son des cloches chaque 15mins.. en globalité tout est nickel..
Faissal
2016-07-18T00:00:00Z
Trés belle endroit, avec une maison trés grande et bien entretenue. L'hôtel est super gentil et nous rend à l'aise dans sa maison. Le centre ville de Barcelone n'est pas si loin que à 20 min à peine et la mer à quelques kms. Super séjour trés agréable. Merci beaucoup.
Amel
2015-08-17T00:00:00Z
The host canceled this reservation 150 days before arrival. This is an automated posting.
Remi
Tipus d'habitació
Casa/pis sencers
---
Tipus de propietat
Casa
---
Capacitat
9
---
Dormitoris
Lliçà d'Amunt, Catalunya 08186, Espanya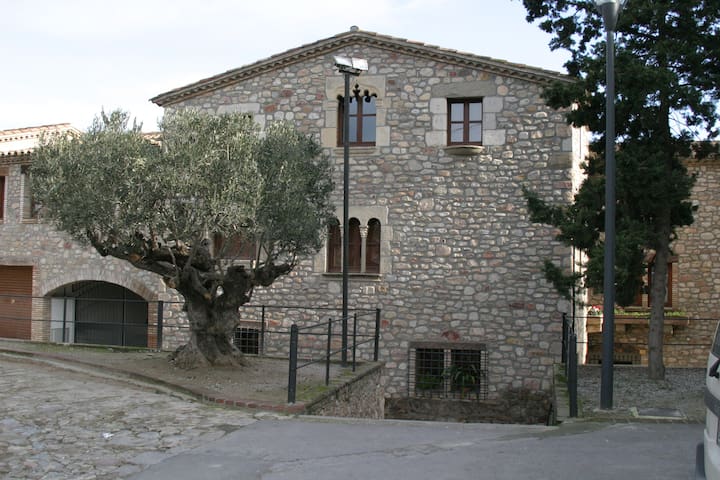 Habitació individual amb bany d'ús privat. Habitatge a la primera planta d'una casa aïllada. Jo visc a la mateixa casa, tot i que treballo fora tot el dia. Lloguer per a dies, setmanes o mesos.
La casa fou constrïda a mitjans dels anys 40 pel meu avi i la vaig reformar completament fa 10 anys, a l'instal·lar-m'hi. Té una àmplia terrassa assoleida.
Ha sigut breu pero positiva, he pogut descansar, i m ha agradat la confiança i la ajuda rebuda
Ana
2016-09-04T00:00:00Z
Ha sigut un plaer poder estar a casa l'Anna. Una persona oberta i amb ganes de conversar de qualsevol tema. La casa estava perfecte i el tracte immillorable.
Romà
2016-04-18T00:00:00Z
L'Anna és una persona encantadora, que em va fer sentir com a casa. L'habitació i el bany son funcionals i molt nets... La meva primera experiencia en aquest típus d'allotjament ha estat molt satisfactoria. Repetiré.
Jaume
2015-09-18T00:00:00Z
This is the second time I have stayed with Anna and it was excellent, I would recommend a stay with Anna if you are visiting Barcelona.
Gill
2016-05-19T00:00:00Z
Todo perfecto. Ana es muy amable y me ha dejado total libertad para que me podia sentir como a casa. He hecho una excelente elecion
Claudio
2015-10-21T00:00:00Z
La casa es tal como se describe, un alojamiento muy confortable y tranquilo. Los dias que pase Anna hizo que me sintiera como en casa, por cierto su pastel de chocolate si hay ocasión no dudan en probarlo, riquisimo. Gracias Anna.
Veronica
2015-08-27T00:00:00Z
Muy buena anfitriona. A pesar de estar sólo una noche, me he sentido muy a gusto. Habitación y baño privado perfectos. Lo recomiendo.
Toni
2016-07-25T00:00:00Z
Anna tiene mucha energía, es muy natural y extrovertida y te acoge en su casa así, con cercanía. Se preocupa porque todo este bien y tengas lo que necesites, todo en buen equilibrio con la independencia y el espacio propio. Es muy fácil sentirse como en casa, Anna da la confianza para hacerlo. Para mí ha sido muy cómodo, tranquilo y con una agradable compañía. La habitación es tal y como se describe y se ve en las fotos, con cama individual un buen espacio y con armario mas que suficiente además del baño propio. La casa en general, es espaciosa, muy bonita y cuidada (con olor a leña siempre!) y, en particular la cocina, que no falta de nada! Ah! y que no se me olvide la terraza, dónde da el sol todo el día. Está en un buen sitio para recorrer la naturaleza de alrededor, con lugares interesantes cerca. Además de estar muy bien comunicado con Barcelona, con autobus cada media hora o una hora durante todo el día. En definitiva, tranquilidad, sencillez, naturalidad y comodidad, podría ser un buen resumen.
Rocío
2016-03-06T00:00:00Z
Tipus d'habitació
Habitació privada
---
Tipus de propietat
Casa
---
Capacitat
1
---
Dormitoris
Bigues i Riells, Catalunya 08415, Espanya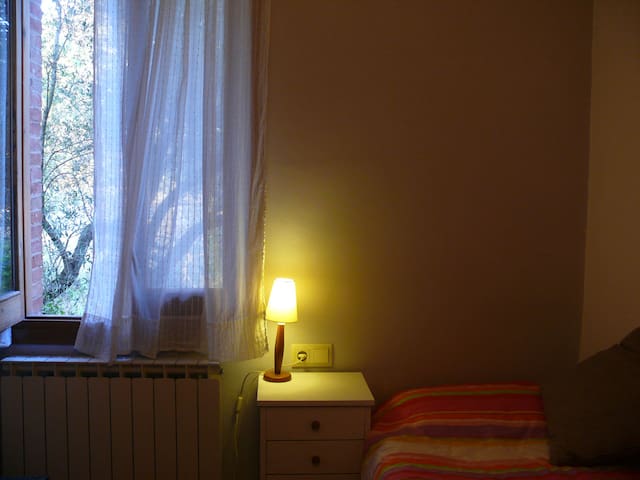 Lugares de interés: Actividades en familia, transporte público, barbacoa, BBQ, cerca de Barcelona. Alquiler Casa / Chalet LliÇa d'amunt, Barcelona. Casa individual 1000 mts de terreno, jardin con barbacoa a 25 min de Barcelona 4 hab, 2 baños,gran cocina office, salon chimenea. A 8 min estación Granollers/ buses a Barcelona Información sobre zona Médicos Cap, Restaurantes, Supermercado, Farmacia spa.. Te va a encantar mi lugar debido a la ubicación y zonas exteriores.
The host canceled this reservation the day before arrival. This is an automated posting.
Suvi
Tipus d'habitació
Casa/pis sencers
---
Tipus de propietat
Casa
---
Capacitat
6
---
Dormitoris
Lliçà d'Amunt, Catalunya 08186, Espanya
Two floors house, 7 bedrooms ( 6dbl & 1 ind ), 3 bathrooms, spacious living room and kitchen. Renewed old style house, 3000 sqm garden with a large 20mts swimmingpool. Ideally for famylies and groups. Nature, activities & calm at 30min from BCN
Formidable renewed old style house with lots of garden and big swimming pool. Private villa to enjoy the calm of the nature on your holidays. At only 30 min from Barcelona, very well connected with the north and interior of Catalunya.
Nous avons passés 6 nuits dans cette merveilleuse maison. La piscine est très bien entretenue. La maison est très bien située à 40 km de Barcelone et à 5 minutes d'un supermarché et d'une pompe à essence. Les petits comme les grands se sont régalés dans cette somptueuse maison à la propreté irréprochable. La vue de la maison est magnifique. Le seul inconvénient a été de se repérer à nôtre arrivée car le gps ne reconnaissait pas la ruelle. Merci pour tout.
Touria
2015-07-26T00:00:00Z
propreté, la beauté, l'accueil et la disponibilité, super équipée, superbe piscine bien entretenue le top en tout. un superbe séjour, on s'est sentis à la maison merci, j'espère y retourner un jour .
Dominique
2016-09-28T00:00:00Z
We had a realy pleasant stay in this fine house in Santa Eulalia de Ronacana. We only visited Barcelona for four days. This house could have easily been our holiday home for a few weeks. The house was very clean. It was a pleasant surprise that all the beds were already ready for use. The house is nicely furnished. A good mixture of old and new. The kitchen is very complete. The things we missed was a water cooker and a coffee machine. We learned that those devices are not common in a Spanish kitchen. We used the swimming pool and enjoyed the large garden. The house is situated in a quiet environment. The house is an excellent place to stay with large families with children. We recommend this holiday house.
Cora
2015-06-25T00:00:00Z
Nous avons passé un week-end de rêve dans cette particulièrement agréable a vivre . La maison situé a deux pas de Barcelone est décorée avec gout , la piscine est parfaite aussi bien pour les adultes que pour les enfants avec son petit bassin ; sans compter la balançoire et autres jeux pour enfants... Coté adulte le barbecue ravira les amateurs de bonne viande grillé !!! Idéal pour les groupes d'amis souhaitant se retrouver ou pour une réunion familiale . La vue depuis la villa est magnifique le soir au coucher du soleil . Et l'efficacité et la flexibilité des hôtes a été plus qu'apprécier. Pour résumé nous recommandons vivement cette maison pour un week-end ou plus c'est le lieu parfait pour se retrouver ... Gracies por tot !!!
alexandra
2015-06-09T00:00:00Z
Super sejour dans cette magnifique demeure à une demi-heure de Barcelone. Tout équipements ! Idéal pour des vacances en groupe, dans un univers calme et reposant.
Lisa
2015-09-18T00:00:00Z
Casa muy acogedora y con muchos detalles. La casa se ve muy nueva y tiene todo lo necesario (tanto a nivel de espacio como de menaje). Pasamos unos días de Navidad fantásticos. Lástima que por las fechas no pudimos aprovechar para darnos un chapuzón en la piscina. Salimos todos muy contentos y con ganas de repetir. 100% recomendable.
Mimi
2015-12-28T00:00:00Z
Les photos sont parfaitement fiables, c'est encore plus beau en vrai ! la maison apporte le calme idéal après les tumultes de Barcelone. En voiture, les commodités sont proches. les propriétaires sont très réactifs, très sympatiques et à l'écoute. L'ordre et la propreté sont maîtres mot. Une de mes plus belle expérience Airbnb !!!
Virginie
2016-08-28T00:00:00Z
Sehr schönes Haus, Lage und Ausstattung sind sehr gut. Besoders zu erwähnen ist die Aussicht und der Pool. Very nice house, Location and facilities are very good. Particularly noteworthy is the view and the pool. U.R.
Der Udo
2016-09-17T00:00:00Z
Tipus d'habitació
Casa/pis sencers
---
Tipus de propietat
Casa
---
Capacitat
13
---
Dormitoris
Santa Eulàlia de Ronçana, Catalunya 08187, Espanya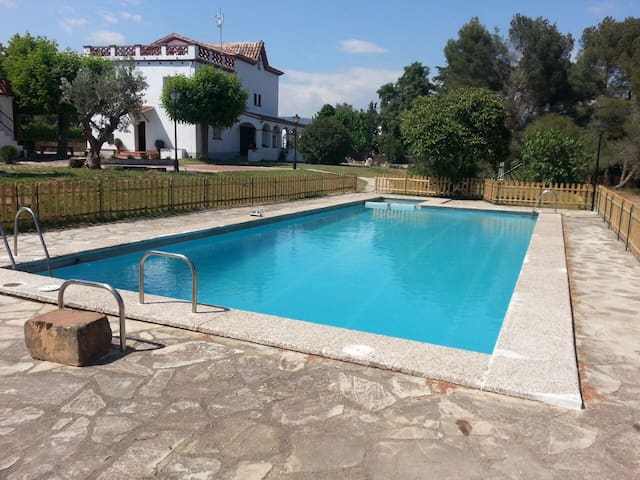 We have 2 beds for 3 people. It is a big house with a kitchen, a living room and two toilets.
Adrian ha sido súper simpático, involucrándose y enseñando todos los alrededores que merecen muchísimo la pena visitarlos. Consejos y disponibilidad desde el minuto uno y mucha cercanía. Gran experiencia.
Rocio
2017-03-11T00:00:00Z
Adrian n'était pas là, il nous a laissé le numéro de portable de son frère Juan Antonio, qui nous a accueillis très gentiment et nous a montré les deux chambres réservées, dans le même couloir que la sienne. Je crois que ses parents (très sympas !) habitent au Rez-de-chaussée. Nous avions trouvé aisément l'adresse dans le GPS. Il nous a même conduits à la station essence pour que nous ne nous perdions pas. Il parle un peu français et anglais, ce qui était bien car mon espagnol n'est pas bon du tout ! Nous sommes sortis à Barcelone (30-40 minutes en voiture) et rentrés tard sans problème car il nous avait donné la clef. Bref, pas de souci. Le matin, il faut juste penser assez tôt à mettre l'interrupteur sur "marche" pour prendre une douche chaude.
Tristan
2016-06-26T00:00:00Z
A very comfortable and clean room with a wonderful, English-speaking host - who also showed me some great and inexpensive places to eat. I was very happy with my stay here and would recommend it to anyone. Quiet at night - I slept brilliantly - and within walking distance of shops and restaurants. Well-connected through the nearby motorway. Easy on-street parking in a pleasant neighbourhood. Everything was exactly what I needed for my business trip. I wouldn't hesitate to book again.
Keith
2017-03-05T00:00:00Z
La casa es grande y está situada en un barrio muy tranquilo. Me he sentido como en casa, muy atentos conmigo.
Jesus Angel
2016-05-17T00:00:00Z
Tipus d'habitació
Habitació privada
---
Tipus de propietat
Casa
---
Capacitat
3
---
Dormitoris
La Roca del Vallès, Catalunya 08430, Espanya
Casa familiar con piscina en zona muy tranquila de Granollers a diez minutos a pie de transporte público, cerca de Barcelona, del Circuito de Cataluña y del Parque Natural del Montseny, con todos los servicios, incluido ascensor y parking
Estem molt contents d'haver escollit aquesta casa per passar el cap de setmana de Sant Joan. És una casa molt acollidora, amb molt espai i una terrassa amb piscina molt maca. El tracte amb Miquel immillorable, molt atent i hospitalari. La recomanem!
Marisa
2016-06-27T00:00:00Z
Miquel nous a parfaitement accueilli très ponctuel et très facile d'échanger avec lui par sms tout était prêt à notre arrivé avec les serviettes prêtes etc la maison est tout simplement splendide avec beaucoup d'espace profiter de la piscine est un grand plaisir surtout par grande chaleur il n'y a aucun bruit les chambres sont grandes et les salles de bains également un grand sous-sol permettait d'accuaillir les 5 motos sans soucis
Baptiste
2016-06-07T00:00:00Z
Très belle et grande maison conforme aux photos et au descriptif. Accueil agréable de Miquel qui nous laisse "sa maison". Nous avons particulièrement apprécié la terrasse avec transats et piscine, les grandes chambres, le coin cuisine très équipé. Barcelone est très facilement accessible en train : trains très fréquents, tard le soir et peu coûteux.
Emmanuelle
2016-08-09T00:00:00Z
Las imagenes de la casa se correspondían con el original. Miquel estuvo pendiente de que todo fuera bien y nos sintiéramos cómodos durante nuestra estancia. Hasta la próxima!.
marisol
2016-07-04T00:00:00Z
Tipus d'habitació
Casa/pis sencers
---
Tipus de propietat
Casa
---
Capacitat
6
---
Dormitoris
Granollers, Catalunya 08402, Espanya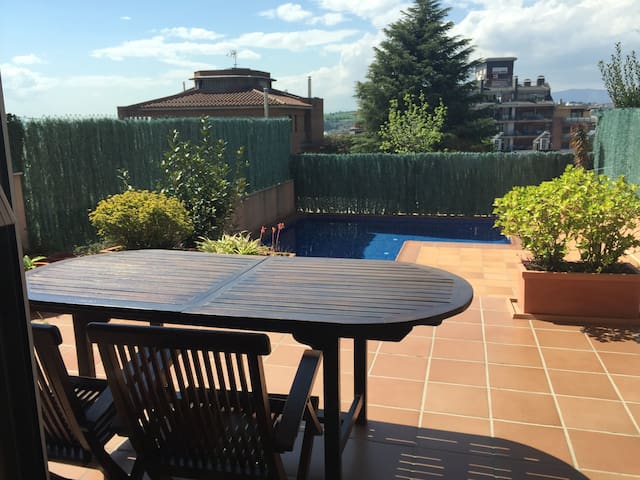 Casa de 500 m2 con 4000 m2 de jardin, piscina barbacoa, buen clima, cerca de barcelona en zona muy tranquila. ideal para familias y amigos.
Preciosa casa, muy espaciosa y cerca de Barcelona. Esta ubicada en una urbanizacion muy tranquila en la zona de les Franqueses. La casa dispone de 6 habitaciones dobles y una de ellas es de 4 camas individuales. Es una casa de mucha categoria, tiene un jardin de 3.500m2 con piscina y barbacoa. Dispone de wiffi, cocina totalmente equipada. En ella podras passar estancias con tus familiares, visitar barcelona y toda su arquitectura.
The house was huge and the garden awesome. We had an amazing time there and we really enjoyed the pool. Emili was really accomodating and based the rent experience on trust, which we really appreciated. A great place with friends.
Maxime
2013-07-16T00:00:00Z
Tipus d'habitació
Casa/pis sencers
---
Tipus de propietat
Casa
---
Capacitat
16
---
Dormitoris
Les Franqueses del Vallès, Catalunya 08520, Espanya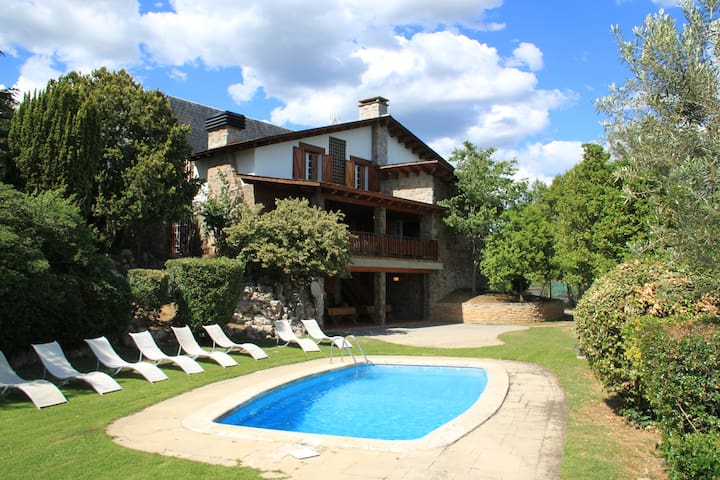 A menys de 20 minuts del Cirduit de Catalunya - Barcelona. Habitació per a dues persones amb bany d'ús exclusiu, en casa habitada.
Habitació amb un llit doble, amb possibilitat d'afegir un supletori. amb finestra a l'exterior i bany d'ús privat.
We had trouble finding the place, but Anna worked very hard to help us find it. She was a great host.
Dale
2016-09-13T00:00:00Z
Anna muchas gracias. Cordial y simpática. Estuvimos muy a gusto.
Pepe
2016-08-23T00:00:00Z
Tipus d'habitació
Habitació privada
---
Tipus de propietat
Casa
---
Capacitat
2
---
Dormitoris
Bigues i Riells, Catalunya 08415, Espanya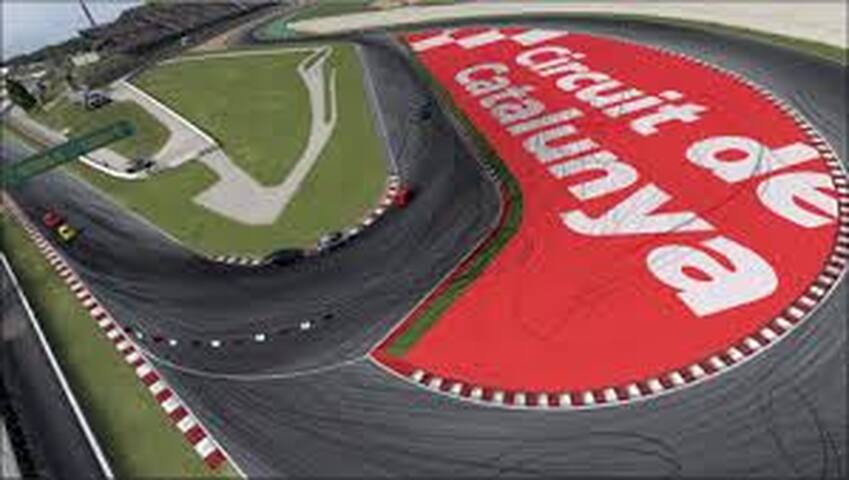 Preciosa casa, muy cómoda y moderna, la casa se encuentra en un lugar tranquilo para disfrutar con familiare La casa cuenta con licencia turística de el registro de turismo de catalunya con el número HUTB-010310
En la urbanización hay supermercado, bares restaurantes , cafetería, panadería. La casa se encuentra a 25 km de Barcelona y 8 km de el circuito de F1 Montmelo
Tipus d'habitació
Casa/pis sencers
---
Tipus de propietat
Casa
---
Capacitat
10
---
Dormitoris
Lliçà d'Amunt, Catalunya 08186, Espanya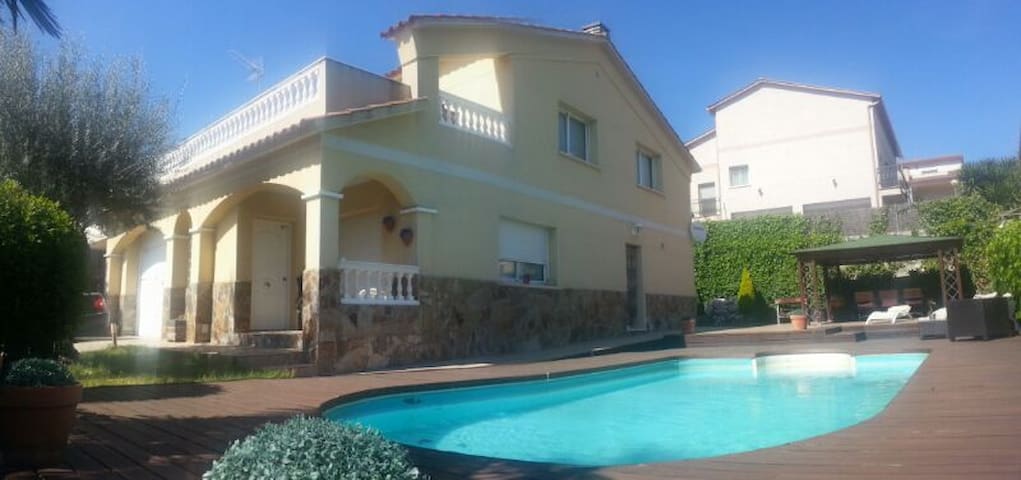 1

-

15

de

15 Lloguers de Cases
Introdueix les dates per veure el preu total. S'aplicaran tarifes addicionals. És possible que també s'apliquin impostos.