Our cozy home is now opened for guests from every corner of the world. Located only 5 mins away from Suvarnbhumi Airport and can welcome as many as 3 guests. Our home also comes with private terrace where you can enjoy the breeze and sunshine. :)
Myla and Mac-the staff, were very accomodating, positive, cheerful and friendly. They appreciate both their customers and employer. I like it that the staff love what they are doing. The hotel staff also called for a taxi that will drive us to the city. We found the doorman standing outside the hotel when we arrived very late in the evening. He was expecting us to arrive at such hour and quickly ushered us in-I sure was glad to see him. The cottage that we stayed at is very cute. I love its wood flooring, walls and ceilings. It is also very clean. It is near a market area wherein you can find local fruits and food that are cheaper-compared to the city. We walked straight from the hotel and then turned right. We bought succulent fruits-guavas and macopas (chumpuu) at the market. I think there is also a supermarket or mall if you turn left, but we opted to take the road leading to the market.
Yvonne
2016-02-25T00:00:00Z
Small cozy wooden villa to hold 2-3 person. Good choice if you want to have a stay near the airport.
千帆
2016-09-07T00:00:00Z
特别漂亮的地方,和照片无差别,就是距离市区比较远,推荐。
璐瑶
2016-11-18T00:00:00Z
I made this booking for my mother who stayed here on her way to visit me in Greece. Here is her review; "The Residence villas are good value for money, providing all the necessities in a garden setting. Water and light refreshments are provided free in the room. The outside verandah is a bonus for you to take advantage of an evening breeze. Reception provided me with a 5am wake up call and arranged transport to the airport. Would recommend this well priced, well appointed accommodation."
Ay
2016-09-02T00:00:00Z
当天到的时候朋友的手机遗落在出租车上。下车才发现。前台工作人员热心的找监控找车牌号联系司机帮我们把手机找回来了。环境很好。干净。安静。就是有点热。不过还是给个满赞。
是在座各位的宝姐
2016-03-18T00:00:00Z
Clean, convenient lodgings near the airport. Perfect if passing through Bangkok for a night or two with early morning or late flights. Highly recommend.
Evan
2016-07-14T00:00:00Z
Absolutely amazing atmosphere!! A quaint little space that has all the amenities. Great room service and very friendly staff. Very clean!! Also provide complimentary noodles upon arrival. Also provide shuttle to the airport. Would definitely stay again and will be recommending to friends. Also has a nice porch to sit on and enjoy the beautiful weather.
Katherine
2015-11-19T00:00:00Z
Very nice, cosy place. Quiet and pieceful, very freindly staff. Had a great time ! The house is always clear. Also it's extremly easy to get to (and from) the airport.
Maksim
2015-03-02T00:00:00Z
Tipus d'habitació
Casa/pis sencers
---
Tipus de propietat
Cabana
---
Capacitat
3
---
Dormitoris
Bangkok, Bangkok, Tailàndia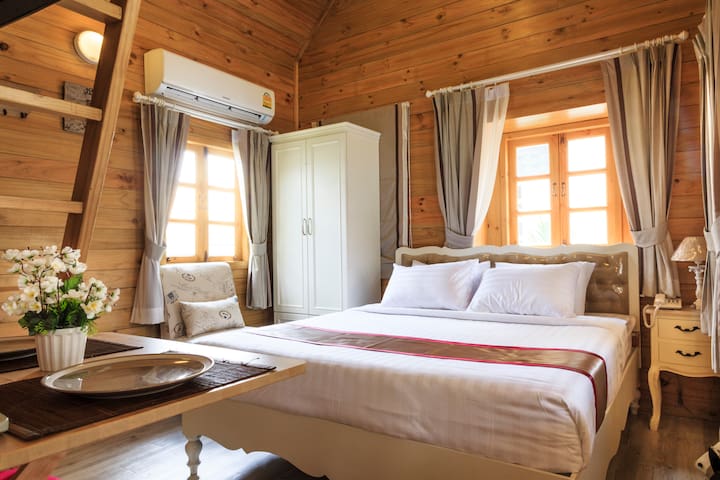 This cozy room is on the 17th floor of new condo "EDITOR It is on Bangkok, Thailand Paholyothin Road, it takes about 1 / 2minutes to BTS Sapankwa Station can go anywhere. Paragon Mall, Central Sukhumvit. Or to easily Airport and the center of communications
Private room near BTS JJ market This cozy room is on the 17th floor of new condo "(URL HIDDEN) is on Bangkok, Bangkok, Thailand Paholyothin Road, it takes about 1 / 2minutes to BTS Sapankwa Station can go anywhere. Paragon Mall, Central Sukhumvit. Or to easily Airport and the center of communications anywhere and you can walk to Saturday -Sunday (JJ) market about 10 minutes. The local mall "Big C" is on the opposite side of. condo.A post office department at Elephant House.
Super appartement le métro est juste en face. appartement super calme .bien sécurisé
Marie Bernard
2015-10-31T00:00:00Z
Very honest and kind person :) we felt very welcome and Yanyong apartment, the only thing I would say is when we checked in the other people havent checked out yet and we had to wait in the lobby for couple of hours but like i said we spend an amazing time, the place was very close to BTS skytrain and we enjoyed amazing street food close by and fresh fruit every morning :)) so highly recommend Yanyong for a host.
mikolaj
2015-12-14T00:00:00Z
Our stay was great. She helped us a lot during our stay. Before we arrived we got lot of info about bkk, transportation and everything. Nothing went wrong with our stay. Skytrain 30seconds walk. Stores around in every corner. Great staff and security. With one word AWESOME!
Maco
2017-01-23T00:00:00Z
I stayed for 7days... I had a great time in this residence...Host is kind and easy to communicate... Swimming pool on rooftop is very wonderful. This residence is very close to BTS (URL HIDDEN) easy to take a BTS... Thank you for your help.... 아이둘과 함께 묵었는데 방이 화면보다 좁아서 좀 불편했어요... 사판콰이역에서 가까워서 이동시 편했지만 제가 다시 간다면 태국의 메인 카오산로드나 시암에 숙소를 정할것 같습니다. 레지던스주변에 먹을만한 레스토랑도 없고 관광지이기보다는 현지인이 사는곳이라 여행자입장에서는 조금 불편했어요..하지만 옥상에 위치한 수영장은 환상이였어요...아이들이 있어서 체크인이 빨랐음에도 이해해주시고 얼리체크인이 가능했고 아이들비용을 따로 받지 않으셨네요...
albatros
2016-02-17T00:00:00Z
Great place to stay in the Bangkok ! Everything greattttt!
lu
2015-10-09T00:00:00Z
房间非常的好~要刷卡进入,也很安全,公寓位置绝佳,下楼就是天铁。房间也很干净超级喜欢~
Angelo
2015-11-15T00:00:00Z
Listing was exactly as expected as the description. Perfect and humble in every way. Pool was great , so was the workout area. Lovely place defiantly going to try to stay here again. This was my first time booking an airbnb
Matthew
2016-05-19T00:00:00Z
Yanyong's apartment is really good, very tidy and safe and also very comfortable. Near the sky train and Big C. Yanyong was such a great host that he answered very question when I use the room. I will choose his apartment next time if I came back to bangkok. Thank you Yanyong.
晓串
2016-01-12T00:00:00Z
Tipus d'habitació
Habitació privada
---
Tipus de propietat
Pis
---
Capacitat
2
---
Dormitoris
Pathuwan, Bangkok, Tailàndia
Family owned antique design B&B , 300 meters from BTS station , 600 meters to Chaopraya river pier, located in the middle of old city and new city .You can touch the Thai life and Thai hospitality here.
嗯!这家店和图片上一样,非常漂亮复古,房牌特别漂亮。我们专门带着类似婚纱的纱裙过来拍照,结果房东不允许拍,说可以自己拍着玩,但是不可以拍婚纱。这点非常郁闷⋯⋯还有房东亲自做的早餐味道很不错。哦!是个帅哥,应该是房东吧?
梦颖
2016-11-16T00:00:00Z
Aside from some filming that we weren't aware of on our first day making sleep difficult, it was a great experience. Breakfast blew me away. I was expecting cereal or fruit, but a fresh, home-cooked meal was presented and it was a lovely way to wake up. Getting to the BTS station is very convenient and made getting around really simple. The decor is AMAZING. So, so, so cool. Made staying there feel so special. The beds were a bit hard, but otherwise, this place is truly a unique find. The hosts do their best to make you feel welcome, too. It's just SUCH a cool place. Can't recommend it enough!!
Sarah
2016-09-24T00:00:00Z
It's really very nice and lucky that I came this place.environment is soooo nice!!!!i really want to come again~
雨
2015-10-02T00:00:00Z
The place is absolutely beautiful. A really unique house that was clean, comfortable and really interesting! The location is great - the skytrain is just around the corner or the river is a short walk away - the street has lots of local street food during the day which gives it a lively feel and is quiet at night. We would recommend to anyone visiting Bangkok!! Thanks again for the stay Pakasit!
Shae
2015-08-22T00:00:00Z
Little gem in Bangkok. Great stay with easy check-in, good air conditioning, and all the essentials. Quirky decor and a good breakfast to top it off. Thanks again!
Alexandre
2015-11-18T00:00:00Z
J.No 14 is one of the most beautiful accomodations we have ever been in. Apart from that we were also warmly welcomed and really enjoyed talking to Viranond family. We wish them all the luck with their new project as well!
Ida
2015-02-21T00:00:00Z
Amazing interior. The perfect way to start my holiday in Thailand. Pakasit was very communicative and helpful. I highly recommend it.
Kristi
2017-03-31T00:00:00Z
Wonderful experience!I show the pics for my friends,All my friends will book here,awesome environment!!
廉sq
2015-02-04T00:00:00Z
Tipus d'habitació
Habitació privada
---
Tipus de propietat
Bed & Breakfast
---
Capacitat
2
---
Dormitoris
Klongsan, Bangkok, Tailàndia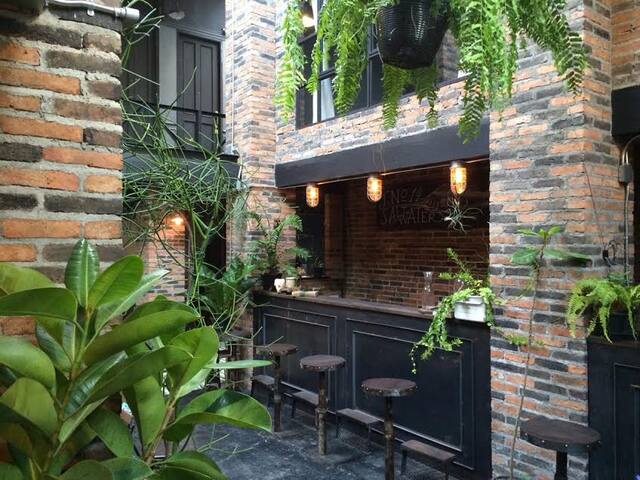 This cozy room is on the 20th floor of new condo "EDITOR It is on Bangkok, Thailand Paholyothin Road, it takes about 1 / 1 minutes to BTS SAPHANKWAI station Exit 3 lefthand cab see my place . Paragon Mall, Central Sukhumvit. Or to easily Airport and the center of communications
This place was incredible! We were wanting a relaxing place in Bangkok and this was exactly what the doctor ordered. The pool on the roof was incredible, the room was clean and comfortable, and the view was amazing. It's a bit far from the heart of Bangkok, but is surrounded by good street food and spas.
Hannah
2016-01-08T00:00:00Z
Great experience! Condo was very clean & nice. Staff at condo is also very helpful! Def. recommend staying here!
Taylor
2016-02-27T00:00:00Z
We stayed in this room for three nights, and the room and location is so perfect. Easy to find from BTS Saphan Kwai station - exit 3. The pool on the top floor is so beautiful and a nice place to relax after sightsing. The pictures don`t lie. We did not meet Yanyong, but had some contact with him by e-mail. Can really reconmand this place if you are visiting Bangkok. We moved around using only BTS (including transport to the airport)
Lill
2016-01-11T00:00:00Z
非常好的位置,楼下就是地铁站。对面是bigC很方便。楼里非常安全,保安很和善。楼顶泳池很漂亮。会再次入住的
Zhang
2017-03-27T00:00:00Z
The place is very beautiful, so comfortable, and have a nice view. Next time I will come here again. Yan Yong was very nice people
Raeka
2016-04-01T00:00:00Z
Her place was nice, convenient and she is easy to contact with! Her room is big and clean and i loved rooftop pool.
Vipada
2016-12-02T00:00:00Z
Location is great, close to BTS Station. View from the room is great too. The room was a bit smaller than expected, but it has everything you'll need. The host was good and responded very fast to our queries.
Stella
2016-04-26T00:00:00Z
房間位置非常方便, 1分鐘左右便到車站。天台的游泳池更擁有着完美的景觀。一定要去看一看!房東Yanyong是一個非常有耐性的人,有問必答。我們要乘早機離開,她更在凌晨三點為我們預約的士, 十分貼心!
Yu
2016-11-17T00:00:00Z
Tipus d'habitació
Habitació privada
---
Tipus de propietat
Pis
---
Capacitat
2
---
Dormitoris
Bangkok, Krung Thep Maha Nakhon, Tailàndia
Cozy and modern one bedroom condo in a luxury building in the heart of Sathorn financial. Just 5 minutes to either BTS Surasak and Chong Nonsi. 2 stations to Siam Paragon the biggest shopping center. Near W hotels and international embassies.
Brandnew luxury condo in the heart of Bangkok. Easy access to all the points of interest. Excellent and modern facilities.24hr building security. Facilities provided: wireless internet ,cable TV in living room and bed room, Unlimited free drinking water (water filter) , Towels, Shampoo and 'Body wash, Washing machine, Iron/iron board, Kitchen and Basic kitchen appliances (Toaster, Water Boiler, Microwave, wine opener), Hair dryer, 5* Bed sheet standard, 2 sets of bedsheet (if long stay), Gym and pool with a 360 degrees view of the city,fully furnished place with all things necessary to cook,if preferred. Excellent location and convenient to go anywhere in Bangkok. Lots of local and international restaurants and bars around the area. Cozy coffee shops a few steps away the building. Perfect for business as well as leisure visit. Nears major embassies/hospitals/shopping center/nightlife. 10 minutes to Silom and Pat Pong Bangkok red light area. 2 stations to Siam BTS station the biggest Siam paragon shopping center. Near Asia tique, open night market and can easily cross the river to see Grand Palace and many tourist sites on the other side. Many street food in Street Sathorn 11 inside
It is in the heart of Bangkok, prime residential area and financial district. Near some of the nicest hotels and businesses, close to the State tower building,restaurants ,Silom Rd and its night market and several of the main embassies.
we had perfect two days in the apartment. everything was super clean and comfortable and Kate is a really friendly and helping host!
Sabrina
2016-02-11T00:00:00Z
Got exactly what I expected, quick response to inquires from host. Great stay, great location
John
2016-11-10T00:00:00Z
Es war wie beschrieben eine moderne, saubere und gut ausgestattete Wohnung in guter Lage. Der Hit: der Pool in der 27. Etage !!!
Therese
2016-11-18T00:00:00Z
The listing and pictures were very accurate -- the building is quite new and in a really great location, close to a lot of street food, a few 7-elevens, two BTS stations and more. Gym and pool are beautiful, as are the rest of the building's facilities since it's still quite new. Kate was very kind and flexible allowing us to check out late!
Lisa
2015-03-12T00:00:00Z
Superbe petit appartement parfaitement décrit par Kate. Magnifique piscine et salle de sport 2 stations de métro à 10' de marche Seul hic le quartier est mort le soir mais possibilité de prendre le métro pour aller ailleurs Petit adresse à droite gauche en sortant à environ 5' à pieds apres le Steven élèves petit Resto le Fenze excellent tenu par 3 hommes prix modeste
corinne
2016-04-01T00:00:00Z
Kate was a wonderful host. She was very informative and timely with her responses. Her condo was very clean and was in a great location. The rooftop pool was stunning! Truly a great place.
Randeep
2016-10-13T00:00:00Z
This was the 3rd time to stay this nice room. When I arrived early morning, Kate prepare their residence to stay for 5 hours. I appreciate their kindness because I was so tired by overnight flight. their pool is on the roof 27th floor,I have never seen such a beautiful sight from pool in Bangkok.
Yukihiro
2016-01-25T00:00:00Z
Kate is a very kind and the room is clean.Best is the view of the rooftop even better than W hotel.
Jean
2016-09-17T00:00:00Z
Tipus d'habitació
Casa/pis sencers
---
Tipus de propietat
Pis
---
Capacitat
2
---
Dormitoris
Bangkok, Bangkok, Tailàndia
Overlooking the city with a lots of light, beautiful views and top luxury facilities as Sky Gym and rooftop pool on 29th floor. Convenient location just by MRT (metro) Phra Ram 9 Station, and Thailand Cultural Center station which easily connects to the BTS. This apartment is beautiful, open, and full of light. A perfect retreat in Bangkok.Whenever a guest stays here, they will have complete access to all the facilities, which include the Sky Gym with breathtaking views, or the roof top pool.
A spacious one 44.5 sqm. room corner condo overlooking the city with a lots of light, beautiful views and top luxury facilities as Sky Gym and rooftop pool on 29th floor. Convenient location just by MRT (metro) Rama 9 Station, which easily connects to the BTS. The room was part of the condo, not a hotel. If you have any problems should only contact me. The counter will not serve you. The whole building is in perfect condition and super good located, in fact a better location is nearly impossible. Everything is clean and nicely designed. The pool, sauna, gym and garden area is located on the 29th floor, usually there are not many people so you can relax any time. As there is always traffic in Bangkok especially in the center we recommend to use the MRT (subway, 2min walk) which makes it easy to go anywhere including the famous Chatuchak weekend market (JJ Market), the MBK shopping mall, Pantip Plaza (biggest electronic mall in Bangkok) and more. Also the Airport sky train is ONLY 1 station MRT train from condo. Whenever a guest stays here, they will have complete access to all the facilities, which include the Sky Gym with breathtaking views, or the roof top pool looking over Bangkok's city skyline. Welcome to this prime location, within a walking distance to all you need to have a great time. Supermarkets, Central Rama 9 mall, Fortune Town mall, Ice skating rink, movie theaters, dozens of restaurants and street food, famous night market and popular nightlife scenes like RCA (Route 66), Ratchada with local clubs and Nana with Levels, Above 11 and other famous places. My house is condo or apartment it not hotel so respect all my rules before book. Myself will be there to let you in and give you a key to the apartment. The location is close to the district with restaurants, clubs, shopping malls, if you like shopping, this place suits you very much. If you want to live in peace and do not like the music, this place is not for you because of the property may be music floating through the air into the room, but not very loud can relax and have fun on this location i recommend. Guests are free to use all amenities in my apartment, including kitchen washer machine and living room, TV, washing machine ect. Cleaning is only done once before check in. If you require daily cleaning and change of towels and linen, it will cost THB 500 per time.
装修好,位置好,房东好
chen
2016-10-17T00:00:00Z
Char's place is wonderful, 2 mins walking to the MRT station and there is a 24h open supermarket nearby.Plus, there are some local food stands where you can enjoy the local life as well. The room is clean, looks exactly as on the picture, and the rooftop pool is really really amazing! Char was also helpful with everything information we needed for this trip. He's super nice and it was the best first experience with airbnb! Thanks!
Chester
2016-11-21T00:00:00Z
Char is very kind. It was my first Thai travel but he gave me many informations about transportation, location so the travel was very comfortable ;) And his house is well tided! Location is good, interier also good ! Pim is also kind~ I really want to stay here later. Thank you
Garam Gabrielle
2017-01-08T00:00:00Z
Bei unserer Ankunft lief alles reibungslos. Wir wurden mit dem minivan abgeholt (taxi ist dev. günstiger) und konnten früher einchecken. Das Appartement ist sauber und der Pool im 29. Stock mit super Aussicht, hatten wir praktisch für uns allein. Durch den permanenten Stau ist es schwierig sich von A nach B zu bewegen, deshalb empfehlen wir Metro oder Roller! Im Ganzen, cooles Appartment, coole Aussicht!
Nastassja-Angelina
2017-03-28T00:00:00Z
Char is really helpful and his house is really convenient!房东人特别好 会帮忙叫车 英文沟通完全没问题 房东的姐姐人也巨好 会考虑你的方便 在这里住就像家一样 喜欢!
天娇
2017-01-18T00:00:00Z
What a lovely stay at Char's clean, elegant, and comfortable apartment. Stunning views, simple appliances, and clean! Char was extremely communicable, providing very clear instructions and checking in to make sure I was totally situated. I met his lovely mother, who gave me some delicious Thai desserts, and gave me some Tylenol after I complained of a headache. I could not have asked for a better solo stay. Visitors: when Char notes that no tissues can be flushed down the toilet, he also means toilet paper. It took a bit of time to get used to the douchette, but you'll get the hang of it. To be clear: NOTHING IN THE TOILET, except...you know... Also the bed is quite firm. I found it comfortable, but I like firm beds. I look forward to staying with Char again should I return to Bangkok.
Aiden
2016-12-17T00:00:00Z
Great apartment, great location and Char was the best! Very friendly and helpful :)
Marin
2016-12-15T00:00:00Z
Char's place is very modern, clean and located in a nice zone 3 minutes walking to the MRT station. By MRT there's a big mall near (Terminal 21), a night market, Soi Cowboy (small red district haha), and for anything else you can use UBER. When you first get to the building you'll see a big sign announcing that Airbnb users are not welcome, and that it may be illegal, but we didn't have any problem, staff was very polite, and Char was very helpful. The pool view is amazing, even the room view is pretty nice. Thanks Char!
Artemio
2017-01-31T00:00:00Z
Tipus d'habitació
Casa/pis sencers
---
Tipus de propietat
Pis
---
Capacitat
4
---
Dormitoris
Bangkok, Krung Thep Maha Nakhon, Tailàndia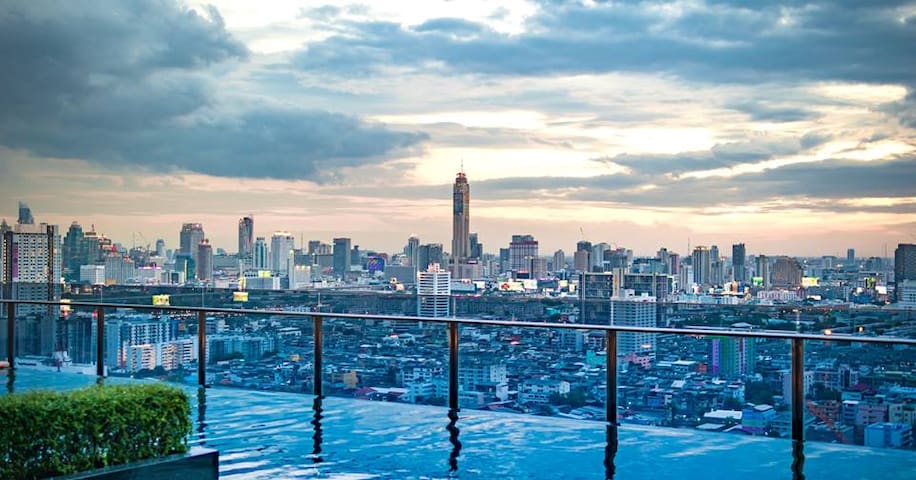 IDEO Q LUXURY CONDO IS RIGHT IN DOWNTOWN BANGKOK -Stylishly fun & chic studio on 28th fl, 1 bdrm sleep 3 persons, 1 bath, 1 living room, 1 fully equipped kitchen, 1 balcony - USE BEST QUALITY LINENS & TOWELS ON SITE STARBUCKS & 24 HRS SUPERMARKET 270m walks to SAMYAN MRT SUBWAY 1 station to CHINA TOWN 1 station to LUMPINI PARK 1 station to SILOM (SALADANG) BTS SKYTRAIN & SATHORN BUSINESS ZONE 7 mins to famous shopping centers MBK, Siam Paragon 5 mins walk to Patpong Night Market
My condominium is literally brand new. It is luxury, fun, chic and charmingly decorated studio with 1 bedroom, 1 living room that can accommodate up to 3 guests. Located on the28th floor of 2017 new! premium and luxury condominium in downtown Bangkok. - My condos are famous for using the 5 star hotel quality bedsheet and towels. No bleach is used to wash these linens. The whole apartment is refreshingly scented to sooth your mind and body after the long shopping walks around the fun and chaotic Bangkok. ****IDEO Q CHULA SAMYAN condominium general information *** - Comfortably fit 3 persons. -MY CONDO IS ECOMICALLY AND REASONABLY PRICED FOR JUST 2 PERSONS. IF YOU WANT TO STAY 3 PERSONS IN MY CONDO, I DO NOT CHARGE EXTRA FOR THE 3RD PERSONS. I EVEN SUPPLY EXTRA PILLOWS AND BLANKETS FOR THE 3RD PERSON FREE OF CHARGE. THANK YOU - 1 bedroom with 1 king sized bed - 1 bathroom with separate shower. - 4 large pillows - Three sets of 5-star hotel quality bath towels (each set = body + hair towels) - Two large swimming pool towels (kept in the beach bag inside the closet) - Liquid soap and shampoo - Hair dryer. - Two free bottles of drinking water. - Drip coffee maker with filter, grounded coffee, cream and sugar. -Fully equipped kitchenette with dish detergent - Wine glasses with bottle opener. - Refrigerator. - stoves with pots and pans. - Rice cooker. - Electric kettle - Microwave - Water heater - Iron and ironing board - Washing machine - LED TV with digital cable channels - Safe deposit box - Safety first aid kit with basic over the counter meds. - Free indoor WiFi with fiber optic speed - Swimming pool sandals. - Cloth line ******Smoking is strictly prohibited inside the suite. *********
1) THE ONLY PRIVATE HIGH END CONDOS ON RAMA 4 ROAD THAT IS JUST OPPOSITE PRESTIGIOUS CHULALONGKORN UNIVERSITY. 2) ACCESS ON SITE TDDC DESIGN CENTER LIBRARY THAT HAS ENORMOUS BOOKS ON DESIGN. 3) JUST CROSS THE RAMA 4 ROAD IS CHAMCHURI SQUARE, THE UNIVERSITY MALL WITH RESTAURANTS, SUPERMARKET, BANKS AND SAMYAN MRT SUBWAY STATION 4) SAMYAN AREA IS KNOWN FOR UNIVERSTY QUARTER IN DOWNTOWN BANGKOK. THE AREA IS FAMOUS FOR STREET FOODS DATED BACK 50 YEARS. MODERNITY HAS TRANSFORMED THIS AREA TO BE THE HEART OF ACADEMIC CENTER OF THAILAND
Tipus d'habitació
Casa/pis sencers
---
Tipus de propietat
Apartament
---
Capacitat
3
---
Dormitoris
Bangrak , Bangkok, Tailàndia
Bona Vista Bona ubicació, MRT, piscina, Wifi
L'apartament és de fàcil accés a Rama IX Rd., Petchaburi, Asoke, Ratchadapisek, Sukhumvit ia 400 m a peu del metro MRT Rama 9 estació i molts complex comercial com a central Branca 9 Dept Store, Fortune Plaza i Grand Mercure Hotel.
Molts complex comercial com a central Branca 9 Dept Store, Fortune Plaza i Grand Mercure Hotel. A part, es pot anar a Siam Paragon, Central World, MBK Center a MRT
Thank you! all is okey! see you
Antony
2017-04-04T00:00:00Z
This is my first stay in airbnb, Everything runs smoothly and tnks ah Nong for all the helps n speedy reply. Walking distance to central plaza n mrt.worth staying here , fuss free and will come back (URL HIDDEN) glad I've found this unit. Worth staying for such location
Stern
2017-04-03T00:00:00Z
Tipus d'habitació
Casa/pis sencers
---
Tipus de propietat
Pis
---
Capacitat
4
---
Dormitoris
กรุงเทพมหานคร, กรุงเทพมหานคร, Tailàndia
You are welcome to our blackberries than 66 msq friendly apartment. We have all you need for family. Our beautiful and cozy apartment in downtown Bangkok. 800 meters from metro (Sky Train) Wong Wein Yai. Enjoy a fully equipped kitchen. I'accesso the park roof terrace. Swimming pool and gym.
Nice place to stay with a great view. The owners are also very helpful.
Jonathan
2016-09-17T00:00:00Z
Hi my name is evelineh last week my family and I spent 4 days in Bangkok on Nicolo (URL HIDDEN) really enjoyed our stayed the place is just like you see in the pictures. Is clean the location is perfect because is close to a big monument . We move around on taxis is chip just asked before if they know the place you want to visit .and ask for the meter some don't want to use the meter. Why I mention the taxi because Bangkok now is very big and some drivers don't want to bring you if it is a complicated address . That way Nicolo place is very convenient. The place has a nice view
Evelineh
2016-06-08T00:00:00Z
Difficile pour le taxi de trouver, et il n'arrivait pas à joindre les propriétaires. L appartement est propre, belle vue de la chambre, facile de se repérer dansle quartier. La piscine au 6ème est aussi propre et plaisante après une balade sous la chaleur de Bangkok. Il manquait juste une petite bouteille d'eau à notre arrivée, que nous aurions apprécié. A chaque sortie, le gardien nous a aidé à nous diriger. Nous reviendrons avec plaisir.
CARINE
2016-07-01T00:00:00Z
We loved this place! It was a perfect size for my family of 4. Plenty of space but still cozy. We found the kitchen perfect for the cooking we needed to do and the A/C in each room kept everyone happy :) The pool was also great for cooling off and playing. We used Uber some but also walked from Grand Palace, etc. past some pretty delicious street food. The apartment location was quiet, but still close to what we wanted to see. Our hosts were fantastic communicators, usually responding to a question within minutes. Our middle-of-the-night checkin couldn't have been smoother and check out very easy. I would highly recommend Nicolo's apartment! Thanks, guys!
Lisa
2016-12-16T00:00:00Z
Die Wohnung war für uns genau das richtige in Bangkok. Die Lage war Ideal. Alle Destinationen bis auf die Flughäfen sind für unter 100 Baht zu erreichen per Taxi und Taxometer. Die Wohnung ist sehr sauber gewesen und dank Klimaanlage immer schön Kühl. Die Aussicht auf die Bangkoker Skyline ist auch nicht schlecht. Wir kommen gerne wieder und haben Wohnung auch schon empfohlen.
Daniel
2016-07-15T00:00:00Z
Appartement tout confort bien situé pour une découverte du vrai Bangkok . Les taxis sont idéaux pour tous les déplacements, pas chers et très présents. Nous n avons pas eu le plaisir de rencontrer Nicolo , pour notre accueil ce qui aurait été un plus.( échange de mail pour réservation très efficace ) Petit bémol pour la piscine qui n était pas en service .(déception des enfants) Malgré tout , à conseiller sans hésiter.
Stef
2016-11-19T00:00:00Z
Amazing apartment and the panoramic view from the master bedroom is breath taking definatley worth the money ps nicolo the host and his wife were very warm welcoming and security very nice and helpfull thanks for a lovely stay
Pramit
2016-11-23T00:00:00Z
Nicolo und seine Frau haben uns herzlich empfangen. Die Wohnung ist sehr modern ausgestattet. Trotzdem Sie ein paar Tage ausserhalb Bangkoks waren, hielten Sie Kontakt und unterstützten uns bei allen Fragen. Wir werden sehr gern wiederkommen und können die Wohnung sowie unsere Gastgeber nur empfehlen!
Frank
2016-04-24T00:00:00Z
Tipus d'habitació
Casa/pis sencers
---
Tipus de propietat
Pis
---
Capacitat
6
---
Dormitoris
Hiranruchi, Bangkok, Tailàndia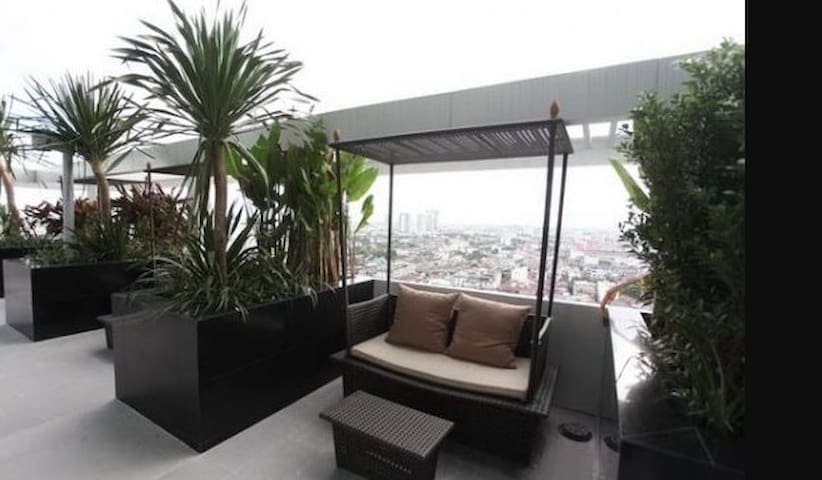 Imagine tenir el seu cafè del matí al pis 36 amb una vista impressionant del famós riu Chao Phraya, al centre de Bangkok. Això és exactament el que vostè aconseguirà en aquest apartament de luxe superior en un nou condomini amb estat de les instal·lacions més modernes, com una piscina infinita i el cel gimnàs increïble. 400 metres de l'estació de BTS, que el portarà a qualsevol lloc a Bangkok i 400 metres per al moll principal de tots els temples. 5 minuts a peu de Sirocco, el Skybar més famós de Bangkok.
Un veritablement un d'un apartament tipus al centre de Bangkok. Lluminós, ampli i modern, amb mobles de luxe. La vista al pis 36 és increïble, sobretot durant la posta de sol. cuina, rentadora, TV i WiFi gratuït totalment equipada. llit còmode i un bany ampli i net.
Per a un turista, aquest és sens dubte un dels millors barris per viure. Només pel famós riu Chao Phraya. 400 metres a la BTS (Skytrain), 400 metres de moll principal Saphan Taksin que prengui totes les embarcacions als temples al llarg del riu. 5 minuts a Lebua, Torre d'Estat amb el Skybar Sirocco, Bangkoks més famós, en què va registrar la pel·lícula Resacón a Las Vegas. A prop de bars, restaurants i botigues.
Had a marvelous stay at this conveniently located apartment. It's within walking distance to the bts and boat pier. There are also many food stalls open during the day in this area. The washing machine was also a life saver. Would recommend having the address in Thai because every time I got a taxi it was always a bit of a challenge explaining where to go so I usually just said to take me the bts saphan taksin stop. Other than that it was everything I wanted during my stay in Bangkok.
Caroline
2017-03-17T00:00:00Z
View was spectacular and the pool was amazing. Place was very clean. Little on the expensive side but arguably worth it.
Adam
2017-03-10T00:00:00Z
I have stayed in many Airbnb apartments in Bangkok but this one really blew me away. Just imagine having your morning coffee on the 36th floor looking out over the beautiful Chao Phraya river or taking a swim in the infinity swimming pool on the 40th (URL HIDDEN) was breathtaking. The apartment is large. Probably 40 square meters plus with very high end luxury interiors beating many of the 5 stars hotels in town, true story. High speed wifi and all other necessities you might need. It takes about 2 minutes to walk to the BTS station and the main pier from which all ferries to all of Bangkoks temples goes from, perfect location in other words if you are a tourist. At 5pm, I went up to Sirocco skybar, Bangkoks most famous, which is just a short walk from the apartment. Jane was very helpful and answered my messages promptly and helped me whenever I needed it. 5 stars all the way and I will definitely be back.
Anucha
2017-01-26T00:00:00Z
Excellent!
Régis
2017-02-21T00:00:00Z
The apartment is decent size for 2, fully functioning configuration and has A spectacular view! The location was also amazing: 5 minutes walk to BTS station, Boat pier, convenience store, night bazar and a department store which has supermarket, casual restaurants, food court and shops. The host, Jane was very much accommodating and helpful. This place is highly recommended!
Soyoon
2017-02-19T00:00:00Z
Great place to stay. Very close to BTS and ferry port. Amazing location with a fantastic infinity pool!
Jennifer
2017-03-02T00:00:00Z
The apt is amazing, so confortable and cute. In a great place ! We loved the place and we hope to come back soon '! Jane and her staff aré the best! So kind!!
Laura
2017-02-10T00:00:00Z
The location of this apartment is great. A few basic amenities such as bath mats and hand towels could be added but overall this is a great little apartment with access to a stunning rooftop pool and lounge area.
Sam
2017-02-12T00:00:00Z
Tipus d'habitació
Casa/pis sencers
---
Tipus de propietat
Apartament
---
Capacitat
2
---
Dormitoris
Bangkok, Krung Thep Maha Nakhon, Tailàndia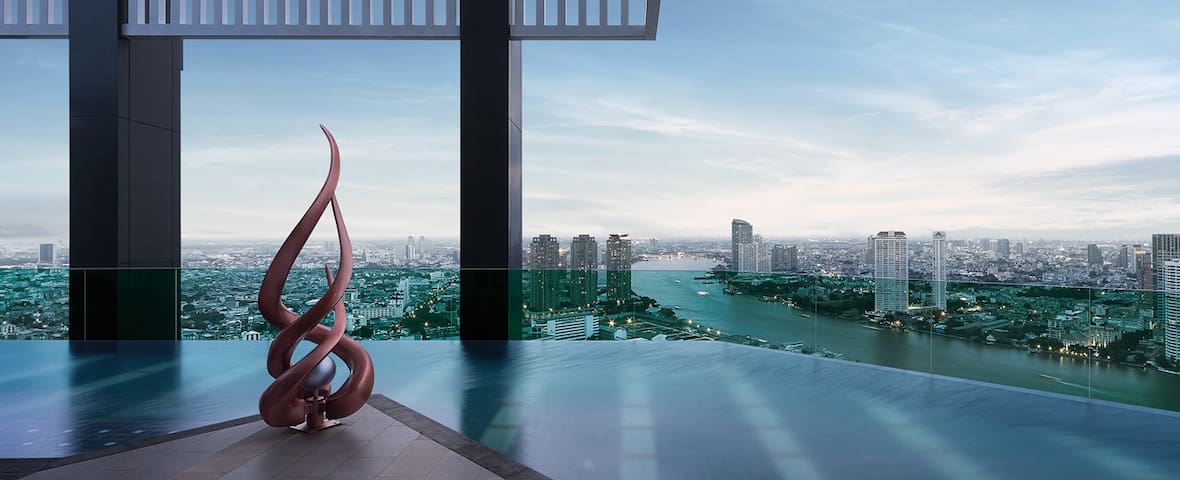 Comfortable 1 bedroom&1 living room with free wifi. The condo provide you with fitness centre,sauna room,library area,outdoor jacuzzi,swimming pool to suit your lifestyle.Near King Power Complex,Victory Monument,SiamParagon •Only 3min walk from BTS Victory monument station •Only 12min walk from Airport Rail link Phayathai
Entire room and private 1-Bedroom and 1-Living room (42 sq.m) on 18th floor of luxurious condominium.+ small kitchen with tools for cooking + Washing machine with stream iron!
The Neighborhood - •2min(150m) walk to Century complex--Cinema,restaurants,fast food,supermarket for grocery shopping •5min(210m) walk to King Power Complex,Rangnam lots of duty free brand. •8min(350m) walk to Suan San-ti-phap (Santiphap Park)-- You can walk or jog around the park and enjoy the view of nature at center of bangkok(Baiyok building reflected in the water). •10min(450m) walk to Victory Monument --The monument was erected in June 1941 to commemorate the Thai victory in the War. •15min drive/Taxi to Siam paragon - lots of great restaurants,fashion brand and multiplex movie theatre.
Good location only walk 2 minutes fro the BTS victory monument. punchanit is very nice lady and she is very helpful and also gave me some good advices. I did enjoy the stay by her place. Recommend!!!
shi
2017-03-10T00:00:00Z
We stayed at Punchanit's place and were very happy with the apartment. It was close to the rail and had a lovely city view. The pool and gym on the 34th floor were great. For sure would stay there again when in Bangkok! Thank you!
Regina
2017-03-31T00:00:00Z
Perfect. No more words needed. Every time again.
Marcel
2017-03-29T00:00:00Z
Wondeful location!!!! And love gym and swimming pool
Seeiah
2017-04-03T00:00:00Z
Punchanit is nice and patient. I have gave her trouble during the trip, but she is supportive and her instant responsive help me to get through the trouble. The place is cozy and central, walking distance to the airport rail station. I enjoy the facilities in the condo, nice city view from the rooftop swimimg pool. Night street and massage shop are just nearby, what a nice retrieval after a long day. :)
ada
2017-03-07T00:00:00Z
Loved my stay at the condo. Description is accurate. Close to everything. Will definitely stay again when I go back to BKK. Will recommend this place to my friends. Value for money.
Marsha
2017-03-06T00:00:00Z
The host canceled this reservation the day before arrival. This is an automated posting.
hong pum
2017-01-31T00:00:00Z
Fantastic place to stay, nice view of the city.
Jetbodin
2017-03-22T00:00:00Z
Tipus d'habitació
Casa/pis sencers
---
Tipus de propietat
Apartament
---
Capacitat
2
---
Dormitoris
Thanon Phaya Thai, Bangkok, Tailàndia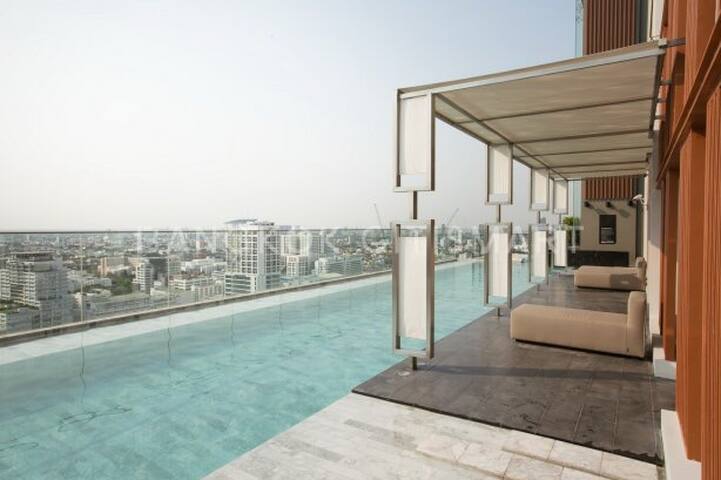 Just davant del centre comercial Platinum. Aquesta nova construcció súper elegant cops de condomini 1 dormitori molt per sobre del seu pes. Situat al centre de Bangkok, aquest condomini ofereix un disseny elegant i modern i eficient adequat per al paisatge urbà d'avui. El BTS Skytrain de davant li donarà un fàcil accés a la resta de la ciutat. Per als addictes a les compres, aquest condomini és poca distància a peu del centre comercial Platinum Fashion, Central World, Siam Paragon i el centre comercial MBK. El fàcil accés als principals llocs turístics. Reservar ara, no es pot anar malament.
Situat al cor de la ciutat, aquesta nova marca d'1 dormitori és una elecció fàcil d'allotjament per a la ubicació, comoditat i disseny. Tot el que necessita és a poca distància. No haurà de trencar a suar per arribar al tren elevat BTS, botigues més famoses, deliciós menjar local i nombroses opcions de massatge i spa. Un disseny intel·ligent i eficient que ofereix un espai de vida concepte obert que converteix separar zones d'estar privades amb una porta corredissa. A més és una cuina funcional, equipat amb estris de cuina, estufa, nevera nova i microones per satisfer totes les seves necessitats de cocció. El ple accés a gimnàs i piscina. Gaudir del cel zona de saló de l'edifici per a algunes de les millors vistes aèries i horitzó de Bangkok. A menys de 2 minuts a peu del Skytrain BTS, aquest condomini situat al centre fa que per a la plataforma de llançament ideal per explorar la resta de la ciutat. Situat al districte comercial de Bangkok de Pratunam. Es pot accedir fàcilment a tots els llocs de compres i dels principals d'Bangok: * 5 minuts a peu de Platinum Fashion Mall, Pantip Plaza i Electrònica MBK centre comercial * 10 minuts a peu de Siam Paragon i Central World (o 2 minuts en BTS - Estació de Siam i Chit Lom estació) * 5 minuts a peu d'aeroport enllaç ferroviari (25 minuts a l'aeroport de Suvarnabhumi) * 2 minuts peu de l'estació BTS Ratchatewi * 15 BTS min munten al mercat de cap de setmana Chatuchak (6 parades de l'estació de Chita Mo) * 6 min BTS trajecte fins al centre Ambaixada centre (estació Ploen Chit) * 8 minuts BTS munten al districte de Sukhumvit i de la terminal 21 (estació Nana i l'estació de Asok) * 12 minuts BTS munten en Emporium i el nou centre comercial Emquartier (Phrom Phong estació) * 15 minuts en arribar a BTS districte de Thong Lor grans discoteques i restaurants (estació Mín Thong) * 10 minuts a arribar a BTS Silom i Patpong mercat nocturn (Sala Daeng estació) * 15-20 min viatge en taxi (segons el trànsit) a Grand Palace, Buda d'Esmeralda, Wat Pho (famós Buda reclinat) i Khao San Road. Tips de Viatge: * Per al servei de taxi fàcil, descarregar l'aplicació GRAB TAXI. Igual que en Uber però millor i més barat :) * Si s'allotja dies mulitiple, obtenir una targeta CONILL per al sistema de metro de BTS per precarregar les seves tarifes. Se li estalviarà d'espera a la cua per les entrades individuals de tarifes, especialment durant les hores punta :) * Vostè pot comprar una targeta SIM del seu telèfon a l'aeroport. Les targetes SIM es poden utilitzar al llarg dels seus viatges a Tailàndia. Són barats i còmode d'usar, ja que vénen amb un munt de dades. - A l'aeroport de Suvarnabumi: tan aviat com surti de la zona d'equipatge, hi haurà cabines per a tres principals companyies de telefonia mòbil de Tailàndia (DTAC, AIS & True). Obert les 24 hores i el personal és amable i servicial. - A l'aeroport de Don Mueang: quiosc TRUE només. Obert fins a mitjanit. Les targetes SIM també disponibles a l'aeroport mini mercats també.
Situat al districte de Pratunam. El barri és considerat el districte comercial de primera classe a Bangkok amb Platinum Fashion Mall, Central World, Siam Paragon i MBK a poca distància.
Квартира полностью соответствует описанию. Удобное расположение. Отзывчивые хохяева
Artem
2016-11-06T00:00:00Z
Nice condo in a central area, a bit dusty but all in all clean and comfortable.
Christian
2016-10-30T00:00:00Z
Solid place, good location and awful customer service sums up our 3 night stay here. Here's what happened: We arrived around 1pm at the location. Our host Eddie (who oddly doesn't have a real picture of himself but instead has a young boy sipping tea?) provided us a phone number and office address. I called the number but accidentally put in the wrong digits and was not able to reach Eddie. That was an error on my part So we headed to the office address provided. We found a mailbox and locked gate barring entrance into a residential area. Our checkin was 2pm and we told Eddie we'd be there an hour before. There was no sign that this was the spot so we used the buzzer next to the mailbox...for 15 minutes rang the buzzer in the very humid afternoon heat. No one picked up. Sweaty and confused we walk to the condo building to cool off. Then we went back to the office location and neighbors got annoyed at us for standing outside trying to reach the reception. No one responded yet again. Is it asking too much for a receptionist to be available an hour before our room is setup? A woman named Julie walking down the street found us and finally got us to our room. The apartment is in a modern, stylish building. Once we got to our spot we relaxed, but then saw the bed had nasty stains all over the inside of the covers. I took a few pics and immediately told Eddie. Maids arrived to replace the sheets...but the freshly laundered ones also had a couple of stains. Finally the third pair of covers were actually clean! We messaged Eddie about what happened and how the office was not available when he said it would be. He referred us to a previous message and didn't really acknowledge how the office was not open. Later we found out the Tv couldn't play movies and we got the same attitude that we should have referred to his introductory message. Not very hospitable. At the spot there's air conditioning and most of the comforts of home...except No drawers anywhere. Don't plan on unpacking shirts, shorts or socks because there are only a few hangars to use in the apartment. The apartment is nicely located with big malls a few blocks away. It's a comfy place but our experience getting setup was rough and unpleasant
Elizabeth
2016-10-12T00:00:00Z
Event though we enjoyed our stay as the apartment and building facilities were beyond our expectations, there were a few things that made our stay just an ok experience. I need to mention that Oh's customer service was really poor and lack of clear and precise communication made the beginning of our stay really uncomfortable. We had check in issues we were provided with the wrong room number and we spend nearly 40 minutes trying to work out how to get in the room as we were traveling with our 8 month old baby it made our experience more annoying as she was cranky and tired. The next day we went out and upon coming back to our room all our stuff was packed back into our suitcases with a note "you have checked in into the incorrect room" upon discussion with Ed we realised they had sent the incorrect room details on the email, so we had to move, no wonder why we couldn't get into that room In our new room the Internet wasn't working and it took them a whole day to make it work. we never got an apology note, everytime they blamed it upon ourselves. Being our first airbnb experience it wasnt the best one
Carlos
2016-11-24T00:00:00Z
Strategically located, Beautiful exterior and interiors, however host unreachable most of the time, there are small cockroaches in the kitchen cabinets and shower area.
Peiyi
2016-12-05T00:00:00Z
其他都还好,就是床上用品不太卫生,感觉好久没洗了,沙发也很脏,没有热水壶,喝不了热水,门口洗手池有点难闻的味道,位置还行,有免费泳池,可以健身,可以鸟瞰整个曼谷
晓琦
2016-09-30T00:00:00Z
Nice experience! Great location and great condo! The only flaw was that the owner was a bit difficult to reach..We left a message on Airbnb the day before arrival asking for a pickup service from the airport, but no reply. So we had to find our way to the condo at 11 pm. But overall it was a good place to stay.
翀
2016-10-06T00:00:00Z
床品和毛巾很不干净!地理位置不错,购物搭轻轨都很方便,大楼不远还有免费公交。顶楼的泳池免费使用,wifi可以连接但无法使用。
Liu
2016-11-10T00:00:00Z
Tipus d'habitació
Casa/pis sencers
---
Tipus de propietat
Apartament
---
Capacitat
3
---
Dormitoris
Bangkok, Krung Thep Maha Nakhon, Tailàndia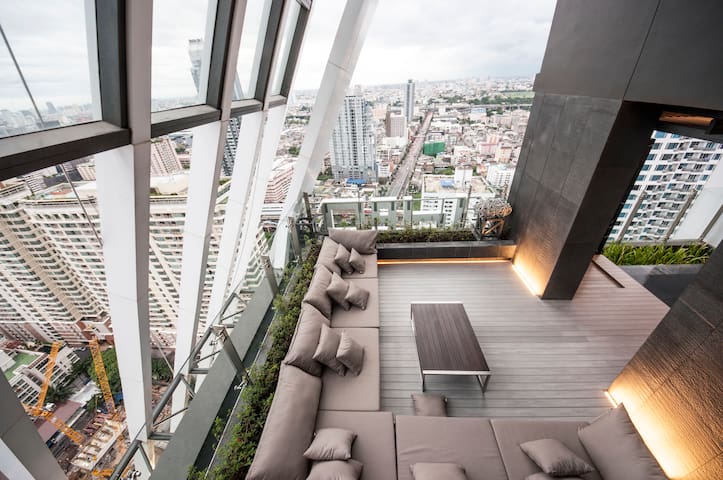 Una habitació privada amb TV per cable privat i bany privat a l'apartament de nova construcció en el primer Sathorn Àrea Sathorn Soi 11. 300 metres de l'estació de BTS de Surasak, moltes botigues d'aliments. Cuina, rentadora i assecadora estan disponibles. Si us plau nota que l'apartament no és apte per a menors de 7 anys d'edat.
L'apartament té una bella vista de la ciutat. Hi ha una piscina i un gimnàs amb la vista l'infinit de la ciutat. Sathorn és una zona residencial de luxe, així com un centre financer. Hi ha moltes ambaixades internacionals, restaurants de la zona. Els principals centres comercials només unes poques estacions de distància. També es pot viatjar fàcilment al Gran Palau i el Wat Pho des del nostre lloc. Si us plau nota que l'apartament no és apte per a menors de 7 anys d'edat.
Molts restaurants locals i internacionals properes. ambaixades importants, hospitals i escoles. Situat al centre i molt fàcil viatjar a Gran Palau, el Wat Pho, Wat Arun i Kao Sarn a l'altra banda de la ciutat.
Nous avons passé un très bon séjour chez Kate! L'appartement est bien situé, il est fonctionnel et propre, la vue de la chambre est magnifique, sdb individuelle! Mais le vrai point positif c'est la piscine qui est à couper le souffle! Je recommande vivement!
Charlotte
2017-02-09T00:00:00Z
Kate's place was perfect for us - street food and cheap restaurants are just few steps away as well as 7eleven store. Place itself was very quite, with pool on the roof (which is great to start and finish your day in hot and noisy Bangkok). Also, Kate was always on the line and was ready to answer all our questions:) thank you for that :)
Ieva
2016-12-01T00:00:00Z
Awesome place with cool decoration and view of the currently tallest building (as far as I (SENSITIVE CONTENTS HIDDEN)d well). Financial district so you can find both cheep and fancy places around. Close to the center and has great pool and view from the top as well :). They were also very helpful (we lost our backpack in the airport, they helped us get it back). We definitely loved and reccomend this place to everyone.
Fanni
2017-02-03T00:00:00Z
Sehr schöne aussicht auf Bangkok's imponanten Hochhäuses! Die Wohnung ist sehr gepflegt und sauber. Im oberen Stockwerk des gebäudes steht ein wunserschönes Pool und Fitnessraum gratis zur Verfügung. Die öffentlichen Verkehrsmittel sind in unmittelbarer Nähe und führen einen direkt zu den Sehenswürdigkeiten der Stadt. Kate ist eine sehr freundliche & hilfsbereite Gastgeberin.
Jennifer
2017-03-05T00:00:00Z
It was a very nice place and the perfect ending of our thailand trip
Saskia
2017-01-04T00:00:00Z
We had an amazing stay at Kate's home. The appartment ist beautifull with a fantastic view over the city of Bangkok. Everything was very safe and clean. Jorge and his friends were very helpfull and friendly. It was an awesome experience to stay there and we would definitely come back :)
Dominik
2017-01-29T00:00:00Z
emplacement de rêve, piscine gratte ciel incroyable.
olivier
2016-12-12T00:00:00Z
We have stayed for only 1 night but the house was very comfortable, cozy nice little house. The bed was very comfortable. Everything was very well organized no need to worry about to find the key and the flat in the apartment. She gives very good direction to find. Location was perfect for us since Myanmar embassy just 5 min walking distance. Hosts were very welcoming and we felt as at our home. Thanks
Hulya
2015-12-29T00:00:00Z
Tipus d'habitació
Habitació privada
---
Tipus de propietat
Pis
---
Capacitat
2
---
Dormitoris
Bangkok, Thailand, Tailàndia
MASSIVE house with a private swimming pool and a maid. Want to be near the heart of bangkok but with the space and privacy to do whatever you please then this is the place for you. with 4 bedrooms plus a study there are plenty of places to sleep. With your pool table, movie room and swimming pool you will never want to leave the house! Two minutes to the highway and you can get to the heart of the city in 20 minutes or 10 minutes to the airport. We are surrounded by golf courses also.
The house has 5 bedrooms with a pool table, a private swimming pool, and a movie room with projector.
We are two minutes to the highway and then only 30minutes to get into the heart of the city including traffic. We can organize a van with a driver all day for just 2000baht (approx 55usd)
Myself and my group of 10 absolutely loved our stay at this house. Conveniently located between the airport and the city, the host organized a van for our stay and it's located close to the expressway so the center of Bangkok and the tourist attractions on the outskirts of the city were easily accessible. After a long day of sightseeing my group loved relaxing in the pool, watching a movie on the enormous projector or a game on the pool table. The house is like a Beverley hills mansion and such great value, all of us slept comfortably we 100% recommend this house to others if they are on an vacation looking for space and value or even a group needing a house for an airport stopover.
Dominika
2017-04-04T00:00:00Z
Tipus d'habitació
Casa/pis sencers
---
Tipus de propietat
Casa
---
Capacitat
12
---
Dormitoris
Tambon Bang Chalong, Chang Wat Samut Prakan, Tailàndia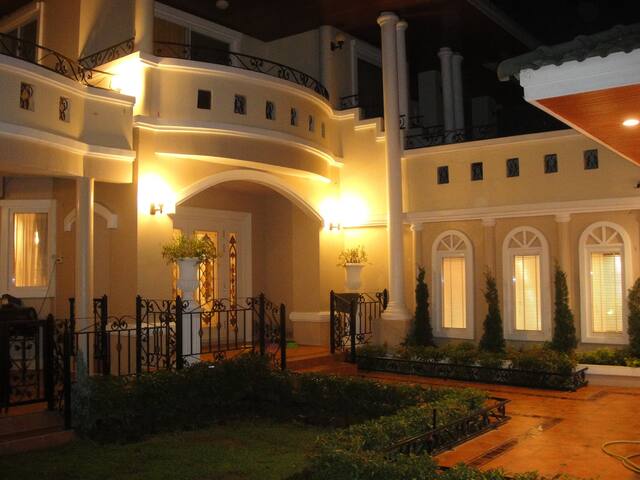 Milli's home is located next to the BTS Sapan Taksin(1min walk) or Charoen Krung Road which is the oldest road in Bangkok. There are many exciting things to see in this area. It is filled with charm and nostalgia. Old style architecture, old roads, a shopping mall and lots of traditional delicious street food awaits you. It is a good place for travellers to explore and experience the old style local feel of Bangkok. It is convenient to travel anywhere in Bangkok from here.
Milli's home is on the Milli homemade ice cream shop. Facilities: Free WiFi Air condition Non-smoking Room One open room – 3 x bunk, 1 x queen & 1 x loft Small Storage Free simple breakfast Sharing Bathroom Coffee Area Relax space Places of interest nearby: BTS Sapan Taksin 50m.(walk) less than 1 min. Taksin Pier 100m. (walk) 2 mins. Asiatique 2.1km. (By free shuttle boat) 10 mins. China town 2.2km. (By bus No.1) 10 mins. PatPong night market 1.7km. (By BTS) 8mins. Siam Paragon (By BTS) 15mins. Yannawa Temple 0.2m.(walk) 1 min. 7/11 – a hop, skip and jump. From Suvarnabhumi International Airport: Airport Rail Link (Express) to Phayathai BTS Phayathai to BTS Saphan Taksin(1 min away from here) From Don Muang International Airport: Take the Taxi would be easiest way.(40min)
1 min away from BTS Sapan Taksin 7-11 nearby
Nalumon是个非常友善真挚的房东,人也超级可爱,她空闲的时候自己开车带我们去了很多有意思的地方。房屋楼下是个冰淇淋店,也是房东自己开的,平时我们也偶尔坐在下面一起聊天,30米内就有一家7-11,100米处就有一个商场,购物交通都很方便。房屋内部就不多说了,整洁,干净。很愉快的一次居住体验
Daiwei
2017-03-31T00:00:00Z
Tipus d'habitació
Casa/pis sencers
---
Tipus de propietat
Casa
---
Capacitat
8
---
Dormitoris
Bangkok, Krung Thep Maha Nakhon, Tailàndia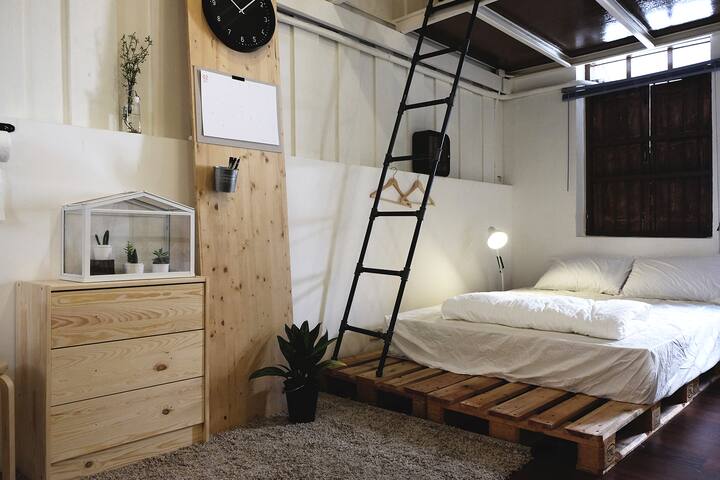 -For RENT ELEMENT condo Srinankarin room 37sqm 1bed fully furnished With 2 air-con, refrigerator, TV 40", microwave, washing machine ,electric pan, Toaster Facility; swimming pool, fitness, garden, parking lot, security & CCTV 24hrs Condominium near Seacon Square, Paradise Park, Villa Market, Bangna
Relax and comfortable in 38 sqm.
Beautiful place, The place looks just like the pictures. Really clean and nice, and Anucha (the host) was really helpful with providing directions to the taxi drivers as well, and making sure we were taken care of. Great listing. Only caveat (and this is purely our fault for not doing research), would be that it is rather far from Don Muang airport (if that's the one you're arriving/departing from), and also rather far from the center of Bangkok and Khao San Road as well, if you'd like to explore these areas more.
Wendy
2016-08-22T00:00:00Z
A great place to stay by the international airport.
Alex
2016-06-20T00:00:00Z
Anoucha is very good with communication and the listing promises so much but it is let down by the fact the condo is dirty, unhygienic and in a very tired state. The furniture is damaged and old, the walls need painting and the whole place needs bleaching. There was hair everywhere, food in and over the microwave. I wouldn't touch the toaster or kettle as they are so dirty. There is a layer of greasy dust on top of the fridge. There are used toothbrushes in the cutlery drawer!!! The shower is covered in soap scum marks. I just didnt want to stay but had no choice as i was getting an early flight the next day. Awful nights sleep on the hard bed and got woken with fire alarms at 1.30am. I'm sure Anoucha will take care of these problems but i would take a lot of convincing before i came back.
Richard
2017-02-01T00:00:00Z
A beautiful condo with all things you required. Easy communication and check in & out although I didn't meet with Anuncha. We kept touch by phone and mail. He always responded in few minutes. It is a quite good experience of staying here . I would recommend to all who are really like to experience the life of local people. I ever took the bus no. 133 (Inbond direction) for a very nice city tour, it can take you to the BTS stop ( E8) , Phra Kanong.
Sunny
2016-02-12T00:00:00Z
Bon sejour à Bangkok hotel propre
Doriane
2016-01-02T00:00:00Z
It was a great stay. Me & my frined enjoyed the stay. The view and environment were so relaxing & beautiful!
Kent
2015-12-28T00:00:00Z
Great host! Immaculate apartment, Thank you!
Jonny
2015-11-04T00:00:00Z
To start (URL HIDDEN) was a very nice stay ...pleasant and comfortable ..not far from seacon (URL HIDDEN) was a perfect place ...honestly speaking ..anucha was a good host and he was very quick at all my queries...the pool was good and a very good gym tooo ..definitely visit again
Hanif.
2016-07-19T00:00:00Z
Tipus d'habitació
Casa/pis sencers
---
Tipus de propietat
Pis
---
Capacitat
5
---
Dormitoris
Pravet, Bangkok, Tailàndia
Apartment name: 'CENTRIC ARI STATION' 340m from BTS Skytrain - Ari station (N5) 1st floor at the private corner - South, garden view. In tower B (Low-rise building) - Private and peaceful. No extra charges for all facilities - Gym, Pool, etc. ** We provide for long-term rental only (at least 21 nights - as monthly) ** The price is only for room rental fee that EXCLUDE: - Electricity - Water * As the promotion the high-speed 'Internet/ Wifi' is provided in rooms for FREE ! *
* Ready to Rest : Basic stuff are provided (Bed sheets, Blankets, Pillows, Towels, Hair Dryer, Soap & Shampoo, etc) * ** Extra service for FREE, to renew bed sheets & towels every month (optional) ** ** 'WiFi+Internet' are personally provided in our rooms ** ** 'Towels+Soap+Shampoo' are provided ** * JJ Market (Weekend market) - 2 stations [Mor Chit station] * Siam Paragon / MBK / Central World - 5 stations [Siam station] * La Villa Ari / Villa Market (Mall&Supermarket) - 340m [Ari station] * 7-11 (Convenience store) - 200m [Soi Ari 1] * Easy to connect to Sukhumvit line & Silom line & Airport Rail Link & MRT 'In rooms' * Cozy Functional Space [29 sqm.] * * 29 sqm. = whole unit = privately own living * * Recommended not more than 2 guests is the best condition* *1 Bedroom: - Queen Bed - Pillows & Blankets - Closet with hangers - Hair Dryer *1 Living room: - Samsung Curved Smart TV - 3-seats Sofa - Multi-functional table with chairs (for dinning or working) *1 Kitchen: - Refrigerator - Microwave - Toaster - Kitchen Utensils - Washing Machine *1 Bathroom: - Full Functions of Bathroom (with separated showering zone) - Towels - Soap & Shampoo For the reference, you can see the details and reviews in the link below that I used to be host for short-term purpose: https://www.airbnb.com/rooms/12818823
What's Interesting About Ari? Ari is located to the north of Victory Monument and is easy to access via the Sukhumvit Line of the BTS Skytrain. Although you'll first notice La Villa and Phahayolthin road as you arrive in Ari, the real attractions here are along Soi Ari itself and down the neighbourhood's many quiet tree-lined side streets. Excellent cafés and restaurants are plentiful in Ari, as are boutique shops. La Villa, an outdoor shopping mall located beside BTS Ari, is home to an international shopping mall and a typical assortment of Thai chain restaurants and cafes. The world famous Chatuchak market is only 2 stops away from Ari on the BTS, making this neighbourhood a great place to stop going to or from the market if you're in need of somewhere to eat. For more information, using search engine with wording 'Travel Happy Ari Guide' ... is the recommended guidebook.
Tipus d'habitació
Casa/pis sencers
---
Tipus de propietat
Pis
---
Capacitat
2
---
Dormitoris
Bangkok, Krung Thep Maha Nakhon, Tailàndia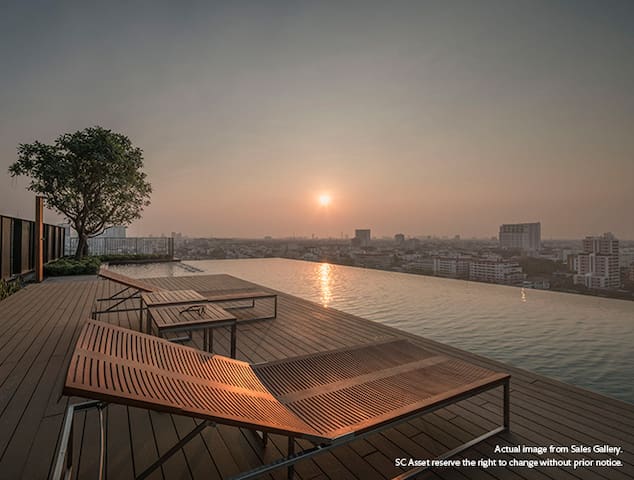 Live Comfy at lovely space of entire 1 bedroom close to the CBD. At a modern lifestyle condominium located just 5 minutes from Bangwa BTS Station with full facilities and security.
Live Comfy at lovely space of entire 1 bedroom close to the CBD. At a modern lifestyle condominium located just 5 minutes drive from Bangwa BTS Station with full facilities and security. Room at Dcondo (Ratchapruk-Charan13), the new modern condominium with full facilities... - 1 Clean Bedroom + 1 Living room - 1 Queen Size Bed + 1 Sofa-Bed - Towels - Soap&Shampoo, toiletries. - TV - Refrigerator - Air- Con - Fully Furniture - Water Heater - Washing Machine - Microwave - Kettle - Hair Dryer - Free WiFi (In Room and Lobby) [Airport Transfer Service] Airport Pick-Up/Drop-Off Service: 800 Baht/Trip
My comfy lovely room is located 5 minutes drive by Taxi (2 km.) from BTS Bang Wa Station (S12-Silom Line) Exit1&2 Easy to access to Central Business Center like Sathorn, Siam, Silom, Asiatigue river front or the old town area.
We had a very pleasant stay at Be's place. Be was also very accommodating, warm and helpful. He provided us with everything we needed and even fetched us and drove us to the apartment. The apartment is very clean with pleasant amenities. We spent the whole morning prior to our flight back home enjoying the pool. It was very relaxing. Will definitely recommend staying here.
Jane
2015-12-01T00:00:00Z
Be and his apt were good. the pictures look exactly like the real. a little far from centre. have to take taxi to the last stop on the train. wifi only works in lobby. very clean and top security
Mia
2015-01-17T00:00:00Z
It was a great stay at Be's place. The description and the pictures are very accurate. The place was clean and the staff in the condo are all very friendly. The Gym is small but still ok and if you go there at the right time (3-5 pm) you have it mostly for yourself. Yes there is no Internet in the room itself (which Be has pointed out in the description) and you have to spend some time to get into the city but still a great stay in Bangkok. Be did a good Job of preparing enough information in front so that I didn't need anything else from him during my time there. The response time to my E-Mails before my arrival were good. Long story short: I've you want to stay at a clean, cheap and nice place this is a good choice! Thanks Be
Patrick
2015-02-07T00:00:00Z
Everything was in great condition. Just like in the photos. There were quite a number of mosquitoes though, presumably because it's on the ground floor. We had to keep the windows closed. However, the place is great for 2 pax.
Thomas
2016-10-05T00:00:00Z
Last stay was amazing!! The place was nice and clean. Khun Be the room owner is really nice guy. It was my fist time using Airbnb and the result was the best choice. At first I want to rent the apartment or condo in Thailand but you still have to pay for electric bill and water but Airbnb is not. It is all included. Is that cool!! Right and this place is not far from the sky train and next to 7-11 and famous restaurants nearby. I would love to book it again next time. Highly recommend!!!
Winnie
2016-10-26T00:00:00Z
Nice place, comfortable, clean and The condo is really nice. The host was very helpfull. Really nice place
José Luis
2016-04-05T00:00:00Z
社區環境很好,住的很舒適,晚上足夠安靜,提供的飲用水和洗浴用品很足夠。如果對網絡沒有很強烈需求的話,住三五天都是不錯的。會推薦給來曼谷的朋友。
Lu
2014-12-30T00:00:00Z
Quiet,very clean place. I enjoy the stay very much Be is very considerate person. He provide me useful information. Thanks!
man chau
2016-02-25T00:00:00Z
Tipus d'habitació
Habitació privada
---
Tipus de propietat
Pis
---
Capacitat
3
---
Dormitoris
Bangkok, Bangkok, Tailàndia