Studio apartment in hillside Eagle Rock home. So close to all that Southern California has to offer, yet we feel like we're a million miles away... Minutes to Old Town Pasadena, Glendale, Hollywood, and downtown Los Angeles, with all the sites these areas have to offer. Fantastic views of the mountains and foothills; we even have a view of the "Rock" (Eagle Rock)! We're surrounded by huge pine trees and lush growth everywhere you look. This is an extremely quiet place... we're into meditation, and we jokingly call our home "The monastery". But those that want to live it up a little are absolutely welcome as well! We have a 3 story Mid-Century modern home, with the first level serving as our guest unit. Your entry is very private and separate from the house. You'll have your own private deck, a living room with flat screen TV, a studio style sleeping/kitchen area, and a private bathroom with a walk-in shower. Lots of street parking right in front of our home... no permits required! Easy access to freeways and public transportation make getting around a breeze. The kitchen has a refrigerator, microwave (no stove), toaster-oven, coffee maker, water-cooker and counter with a sink. We also have guest-suite with a private bedroom and bath - "Beautiful Eagle Rock Views" listed here in Airbnb.
It was my second time staying at Jerry's place and you feel right at home. This time, I rented the studio with a friend of mine (last year I rented the room) and it was so convenient and nice! I will definitely come back next time I'm in LA!
Alexandra
2016-08-12T00:00:00Z
Excellent studio, excellent hosts! Both Jerry and Chiu were at home to greet us when we arrived. They showed us around, and gave us a great recommendation for a nearby pizza place. Everything was really modern and clean. The design of the studio space was arty yet simple, which I loved! There were thoughtful little extras every where. They had water and juice in the fridge for us, dishes of little snacks all over, and a fresh loaf of bread. There was plenty of little seating areas around for when I wanted some extra space from my husband and kiddo, and vise versa:) There were plenty of extra blankets and towels. The bed was super comfortable. Our five year old slept perfectly on the couch that was in the studio. They even had it all set up with sheets and blankets for her. Our plan for visiting LA was to have the studio space be a central location to all of the things that we had planned out to do. After the first few days we realized that the studio was a bit far from all the places we traveled to. BUT we also quickly realized that everything in LA takes a long time to get to. So even though it was a bit kind of far from the places we went, it was totally worth all the driving to come back to a nice peaceful cozy and quiet place.
Sarah
2014-01-09T00:00:00Z
The place was great! Jerry and Chiu were really welcoming. Check-in was quick and easy. They had good in the fridge and snacks for us--really nice touch! The studio's decor was tasteful.
Richard
2014-07-07T00:00:00Z
The stay at Jerrys studio was really great. The studio is perfect for a short stay. You have everything you need and there are a lot of little details that make your stay more comfortable. The pool is great and you have a quiet stay on the top of a hill. Thanks, Sandra & Fabian
Fabian
2015-06-13T00:00:00Z
Our stay at Jerry Hannan's was incredible! The house was immaculate and we felt right at home. Jerry left us a nice welcome letter along with some refreshments that were welcomed after our long trip. The area was nice and the view amazing. Even though we were were staying in a part of his home he was very respectful of our privacy. The area is very convenient to highways and I would recommend staying there to anyone looking for a great spot in LA!
robert
2015-03-14T00:00:00Z
Great host, had everything we needed for our whole stay! We arrived late at night and Jerry welcomed us in and took time to show us the ropes! Also Jerry had got coffee, milk, bread for us to have something for the morning! The place is clean and really really nice! Everything you could want, and the view is amazing such a great place and when we are back in the US we will stay here :) thank you so much Jerry
Kyle
2014-11-22T00:00:00Z
This was our second stay with Jerry. It felt a bit like coming home. Would stay there anytime we are back in the area. Thanks Jerry.
Beni
2016-05-03T00:00:00Z
Jerry and Chiu's place is amazing! Quiet beautiful spot overlooking the pool at a premium location, very well communicated with the must see spots in LA! They are both very professional and caring, I have nothing but good words for this apartment (clean, pretty, functional and stocked with all the basics). I highly recommend it for a short stay in LA.
Ikuska
2014-04-24T00:00:00Z
Tipus d'habitació
Casa/pis sencers
---
Tipus de propietat
Pis
---
Capacitat
2
---
Dormitoris
Los Angeles, Califòrnia, Estats Units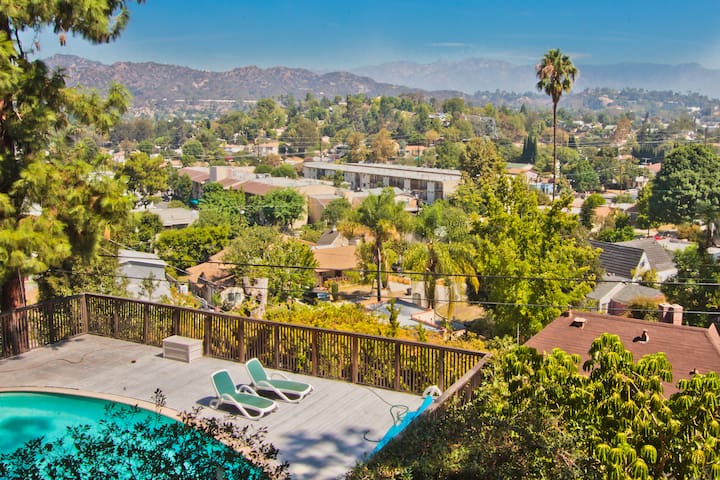 Private room with a queen-size bed, as well as a private bath with a walk-in steam room shower! Views galore from the bedroom, the balcony and pool deck... and in the warmer months, the pool! Watch both the sunrise and the sunset! Share the media room/library and kitchen with the owners. This is a very quiet and peaceful hillside home in the conveniently located area of Eagle Rock... minutes to Pasadena, Glendale, Silverlake and downtown LA. We also have a separate guest-studio... "Beautiful views in Los Angeles" on the bottom level of our home... listed here in Airbnb.
Terrific experience! Cool house. Cool room. Col neighborhood. But the coolest of all were Jerry and Chue. If travel brings me back to LA, I hope they have an opening for me!
Michael
2017-04-02T00:00:00Z
We enjoyed our time at Jerry and Chiu's place. View is magnificent, easy parking, super comfortable bed and fantastic steam shower. Would recommend this place for peace and quiet!
Suzanne
2017-01-24T00:00:00Z
The room was wonderful- great decor and private enough. A marvel of a steam shower! Loved chatting and connecting with Jerry and Chiu. They were very welcoming. The view is really great as well- lots of light. And thanks for the use of the super blender with all the fixings! Not every day I get to try out a Vita-Mix. I will come back to the Eagles nest in Eagle Rock!
Holly
2013-04-22T00:00:00Z
It was such a great time to stay in Jerry's house. We stayed there for three days in the end of our Route 66 travel from Chicago to L.A. Jerry's house is full of Joy and peace. He shared his music, books, kitchen with us, a big plus is he shared his story with us which gave us big insight for our new year resolution for 2014. I would definitely stay with Jerry in the future if I could go to L.A.
Yan
2013-12-30T00:00:00Z
Nice place!The view is great. Jerry and Chui are very helpful. When we check in they are not in home,but Jerry gave us very clear self check in directions. And the other day we met them Jerry gave us some advises to explore LA. Chui nicely gave us a reminder about our car parking in order not to get a fine. It was nice to stay with them,thanks for your flexibility. Wish next time we can stay at your home again.
Susie
2016-02-16T00:00:00Z
Exactly as expected. Great hosts, they had everything we needed, and were accessible and welcoming. A beautiful home, peaceful location, and if we are in town again would definitely love to return. Thanks!
Irene
2014-05-29T00:00:00Z
Jerry is so nice. When I arrived at his home very late, he still told me everything carefully. The swimming pool, the view of veranda and the room is so so so beautiful. I love all the paintings in his house.
Yu
2016-09-06T00:00:00Z
Everything is great, I strongly recommend you to feel it. Trust me, you will not be regret. The house is very clean and comfortable, and locate on a small hill, so it is quiet in the night, and you will have a great view in the morning. Jerry and Chill are very nice too, the information they gave is very useful and specific. Hope to see you again.
Andy
2016-10-04T00:00:00Z
Tipus d'habitació
Habitació privada
---
Tipus de propietat
Casa
---
Capacitat
2
---
Dormitoris
Los Angeles, Califòrnia, Estats Units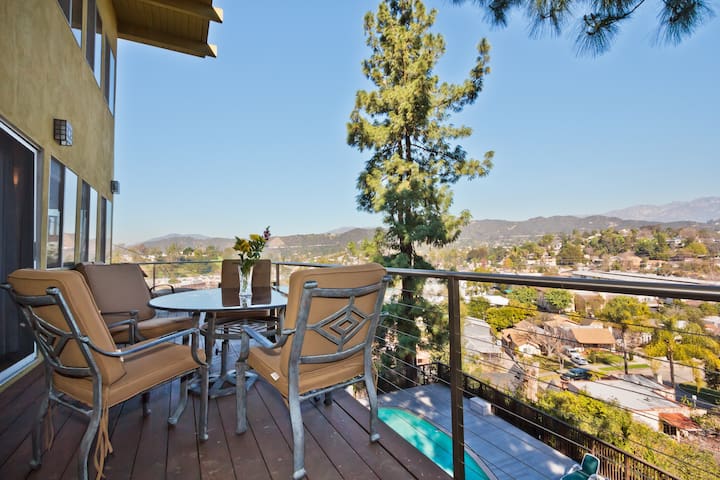 Cozy private guest house/studio in LA. Secret hideaway. Accessible location between Pasadena & Glendale. Safe neighborhood.Walking distance to restaurants, cafes etc. a perfect place to cuddle up in bed w/ a book, warm milk (Snacks, Fruits & Drinks)
Cozy, fully furnished/ w/ A/C & portable heater/ very private/ own entrance, bath & kitchenette, 2 twin beds, standing room shower, no sink inside the bathroom, but there's a mini kitchen sink outside, minimal living/ square footage wise, a getaway, lots of plants and dining Al Fresco...
It is safe, quiet neighborhood/ clean/ One of Los Angeles Times rated as Best Place to Live.... Not too far and and not to close to Downtown LA / (DTLA) Close to Occidental College, park, post office, groceries, cafes and unique boutiques & stores./walking distance to Trader Joe's, post office, park, bus stop/small town feel but cool neighborhood (Eagle Rock)/ easy access to everything/ in between downtown Los Angeles/DTLA, Hollywood, Old Town Pasadena, South Pasadena, Burbank, Glendale, (Highland Park(HP- hip/bohemian/artists neighborhood up & coming Melrose of the east) Note:" Highland Park is hip as to Eaglerock is cool" /Chinatown, Little Tokyo, Rosebowl, Huntington Library, Oxy College and the only town that has 3-4 restaurants included in "99 Food to Eat Before you Die in L.A." i.e. Casa Bianca, Little Flower Candy Cafe/Bakery & Cafe, Huarache, Capri Pizza Place(Featured in Hell's Kitchen),Auntie Em's, (Larkin's), Cacao Mexicatessen, Blue Hen, Oinkster, Huarache, Little Beast, Four Cafe, Le Petit Boujouleaus, Spitz, Camilo's, Colombo's, Taco Spot, Milk Farm, etc,... in addition Swork Coffee, Coffee Table Bistro, Found Cafe, Organix, Mia Sushi, Snow Station, Yogurthaven, Dave's Chillin & Grilli'n, The Kitchen, Meea's Hotdog, Eaglerock Italian Bakery, Brownstone Pizza, Yogurt Haven, Classic Thai, Thai Spirit, Panang, Max BBQ, Lemon Grass, Siam, etc, etc,... Approx 20 minute walk to the Eagle Rock Park, Norton Museum & Rose bowl is one or two exit from the freeway(10 min) 3 mile walk around the bowl, Hometown feel but close to everything. More or less 10 miles to downtown LA/Chinatown/Little Tokyo approx 15 min more or less. Americana in Glendale is 5 min.away...several farmer's market in the surrounding area... There is no street cleaning schedule so NO tickets to worry about when parking on the street.
I cannot express how lovely an experience it was to stay at Edwin's (URL HIDDEN) only regret is that I was so busy working that I had little time to enjoy the positive space he so thoughtfully created and was only able to visit a handful of his recommendations.
sara
2016-02-19T00:00:00Z
Edwin was lovely, as were the property grounds. This is a good place to crash if you are in town and have a lot to do- it's small but has everything you'll need. Trader Joe's is right down the way, and it's not too far from the highway. FYI if you either have mobility issues, or a ginormous suitcase, guest house 3 isn't as easily accessible as the others. The house is located at the bottom of about a half mile incline, and the whole neighborhood is hilly. If you're a runner you will love it!
Desiree and Liam
2016-06-30T00:00:00Z
Wow, Edwin's place is nothing short of spectacular. It is everything as the photos in the listing. Edwin has ben a very generous and kind host and even invited us to his moms 90th birthday. The guest house was well equipped and cozy.....
Quentin
2015-01-16T00:00:00Z
One of the best airbnbs I've been to thus far! Would definitely be recommending to my friends to stay there. Edwin was a really good host and added his personal touch by decorating the room with rosemary, providing folded towels, tea and snacks. He even provided breakfast at our door and gave us timely recommendations on what to do the next day, which was a very pleasant surprise.
Jing Ting
2016-05-23T00:00:00Z
Edwin is awesome! he made me feel like home and welcomed. The place is clean, cozy and have everything you need! Edwin is very friendly and warm. I will def recommend this place to everyone. Its way better than staying at a hotel. I love it! thank you so much Edwin!
Wawa
2015-07-27T00:00:00Z
This is our 2nd time staying in Edwin's cottage. We had a comfortable stay there. The place is very quiet with a nice garden. Edwin's caring nature made our stay very comfortable, as always we enjoyed our stay.
sudakshina
2016-10-23T00:00:00Z
Edwin is an absolutely wonderful host. He brought tea and fresh mint water to my room to welcome me!! The housing is incredibly peaceful. I would highly recommend this studio stay!
Nicole
2014-08-26T00:00:00Z
Great experience!
Stephanie
2014-08-28T00:00:00Z
Tipus d'habitació
Casa/pis sencers
---
Tipus de propietat
Altres
---
Capacitat
2
---
Dormitoris
Los Angeles, Califòrnia, Estats Units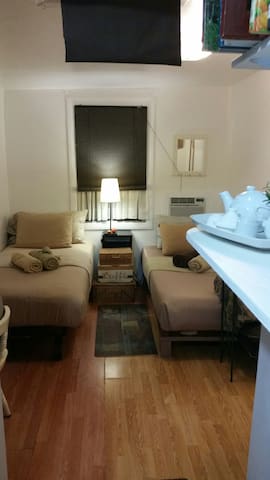 Private apartment sleeps 5 or 6 if you double up. Good for visit with the family. Tool stocked kitchen & bathroom. Bedroom real queen bed + sofa/double futon. "Living room" sleeps more with 1 queen futon, I small twin futon. These spaces are not shared. Parking for 1 car off street included. Rustic butterflies, birds & bee garden, shared patio table, bbq & bikes. Walk to grocery, cafes, Gold Line Metro Lake Station 6 blocks, OldTown & Rt 66. East/west bus at corner. North/south bus 1 block.
Private studio apartment space on the south side of a 1909 California bungalow that we Pasadenan's call a "poor man's Green & Green". It has it's own back door and garden space. The bedroom has a queen size bed and a double size futon and a large closet. The apartment's "living room" can be used as the second bedroom and has a queen size futon and a small sofa that folds down for sleeping. Parking off-street on the property for one car is necessary and included in the rental price, due to Pasadena's overnight no-parking 2-6 AM laws. The the cookware and tool stocked kitchen has a gas range stove and oven, refrigerator, microwave, and drop leaf round table for 4. There is a stretchy "security gate" that one can temporarily install in the door between the bedroom and kitchen to help keep curious children from hazards in the kitchen while you cook. Bathroom is small 5x6.5, but the bathtub with shower is 5' long. The 12x12 "living room" accommodates an additional two to three persons with a queen size futon and a small sofa that folds down. Apartment total is 450 sq ft. The garden is a rustic "throw-seed-and-support-the-bees" garden, not a "mow-and blow" manicured yard. We have lettuces, endive, chard and mint instead of a lawn. Blood orange, ponderosa lemon, Richardson orange, lime, fig, apricot, peach, pomegranate and feijoa (guava) trees. Poppaver poppies and sweet peas March-June. Maracuja passion fruit arbors. Iris, nasturtium, sage, strawberries, grapes, tomatillos, basil, Kahili ginger.
This is one of the oldest residential neighborhood in Pasadena. The Bowen Court is across the street. This was where one would rent a hunting cabin in the 1860's. Various species of parrots make their home year-round in the camphor and palm tree tops. The street is ethnically very diverse, and folks walk up and down the street because grocery and sundry stores are one block in either direction. Thai, Mexican, and Chinese restaurants, a laundry and a liquor store are a block away. Villa Parke and a dry cleaner are 2 blocks. Pasadena's Main Library is 5 blks. 1/2 mile to Pasadena's beautiful and iconic City Hall and the Paseo Colorado (indoor/outdoor mall). Did you catch that we have bikes you may use?
Our host was great. She was waiting when we arrived and showed us the property along with some nearby activities. Super private location with parking for one vehicle. It is very close to Old Town Pasadena, CalTech, and JPL which was great to check out. I would gladly stay here again.
Chad
2016-06-05T00:00:00Z
Ginger has created a magical retreat a short walk from the heart of Old Town Padadena, the kind of place you love to wake up in. Ginger was welcoming and generous but never intrusive, and her sense of harmony (she's an accomplished singer) was evident in everything from the interior decorations to the fruit garden where we had breakfast (with several well-behaved cats for company). I would happily stay here again (and plan to!).
Iain
2015-11-13T00:00:00Z
Ginger was a great host. I got in around 10 pm and she greeted me. The back yard garden is so cool and it is a very nice place.
Jason
2016-09-23T00:00:00Z
Ginger was gracious enough to meet us in person to hand over the keys and give us a small tour of the property. The listing was accurate and then some, convenient to small businesses along Colorado.
Brian
2015-11-20T00:00:00Z
The apartment was very nice and cozy. Beds were extremely comfortable and bathroom had lots of good supplies. I really enjoyed the privacy of the apt and would highly recommend Ginger and co to other airbnb travelers.
Mochi
2016-05-21T00:00:00Z
We (2 adults and 2 children, both 10) enjoyed our stay very much. The unit is well-located, close to downtown Pasadena and to freeways, and it's a quick walk to local shops for provisions. We were in Pasadena for five nights to attend a family wedding, and we wanted a more homey environment than would be possible in a hotel. It worked out very well for us. The girls especially enjoyed exploring the garden, and I enjoyed the scent of fresh mint in the air. It was great for the girls to have their own beds, and we really appreciated having a kitchen. There is a table for two in the kitchen and another table for two in the bedroom; if we had wanted to sit together for a meal, it would have been a tight squeeze, but this was not an issue for us. The bathroom was small, but adequate for our needs, and the wifi worked fine. We did not have the pleasure of meeting Ginger in person, as she was away, but this was not a problem for us, as there were clear instructions posted on the wall, and the next-door neighbor checked in to make sure we had what we needed.
Joan
2016-06-29T00:00:00Z
My family did enjoy our stay in LA very comfortably. The house is so good and ginger is unbelievably nice.When we arrived the house it's much later than we thought. But ginger was waiting for us until night. We had a wonderful try in airbnb.
pear
2015-09-28T00:00:00Z
I loved Ginger's bungalow and hope to return soon. Easy to find from the freeway, off-street parking, gracious and helpful host, and beautiful yard. The studio itself is charming and had everything you could possibly need. Pasadena's iconic civic buildings as well as restaurants are within a 15-minute walk.
Joan
2014-11-07T00:00:00Z
Tipus d'habitació
Casa/pis sencers
---
Tipus de propietat
Pis
---
Capacitat
5
---
Dormitoris
Pasadena, Califòrnia, Estats Units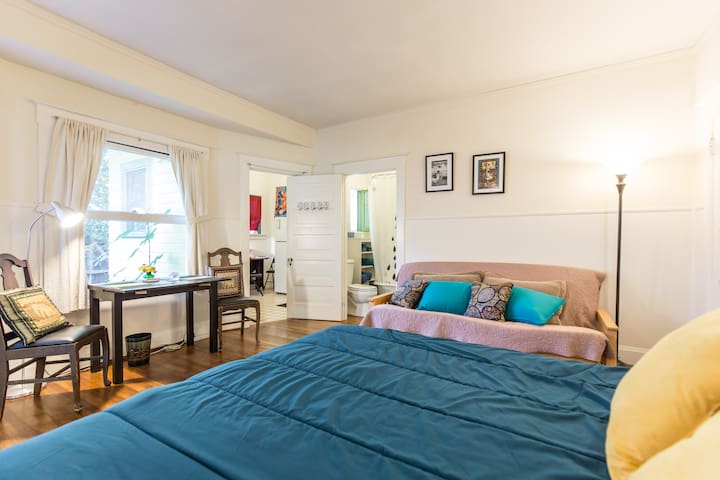 Make yourself at home in my charming two bedroom Craftsman house! It's located right by the 210 Fwy, a major metro stop, and is less than ten minutes away from Old Town Pasadena, Rose Parade, Cal Tech and more. Enjoy a gourmet kitchen and cozy patio!
Thanks for checking out my listing! Please make an inquiry via "Contact Host" before requesting to book. My home, which I call Olive, is a cute and cozy Craftsman home that was built in the 1920's. It was recently renovated and is newly furnished. Olive has two bedrooms, one bathroom, living room, kitchen and a lovely patio. It can sleep up to five guests and is conveniently located in Pasadena (there's an In-N-Out two minutes away by car, TWO MINUTES!!!) Please expand this description for MUCH more detail! ______________________________________ SLEEPING Question: How many guests can we comfortably fit in your home? Answer: You can comfortably sleep up to five guests, but keep in mind that there is only one bathroom. Details: Olive, my handsome Craftsman home is your home when you stay here. It has two bedrooms, one with a twin bed (sleeps one) and one with a full bed (sleeps two). It also has a full size sofa bed in the living room that can sleep up to another two people, so you can comfortably sleep up to five guests at Olive! This is an awesome deal for five guests; however, I will remind you that there is only one bathroom in the house, something to keep in mind just in case you or your friends may have bathroom sharing issues... Jokes aside, this cozy home comfortably accommodates groups of 1-5 guests and is a perfect retreat for families, friends, couples, solo travelers, and more. ______________________________________ ENTERTAINMENT Question: What type of entertainment do you offer? Is there free internet? Answer: There is a 46 inch TV that connects to the internet and receives local channels, plenty of DVD movies, HDMI cable, and free WiFi. I do not have Cable TV. Details: An entertainment system is set up in the living room for your enjoyment; it includes a TV that connects to the internet (you can access Hulu and Netflix if you have an account), local TV channels, and an eclectic collection of DVDs for impromptu movie nights! I also provide a HDMI cable so you can relax and watch anything you want to. Unfortunately I do not have Cable TV, but I have a digital antenna set up so you can still watch local TV channels such as CBS, NBC, KTLA/CW, KCAL9, FOX, etc. For internet, I provide free WiFi. Feel free to connect your laptop, phones, iPad, etc. Please use the internet in a legal manner (no pirating, hacking...)! ______________________________________ KITCHEN Question: Can we use the kitchen? Answer: Yes! Olive has a well stocked kitchen that you can fully utilize. Details: Olive has a spacious kitchen that you can fully utilize as you'd like. It is equipped with a four-stove gas burner, microwave, refrigerator/freezer, toaster, basic coffee maker, and an excellent Breville Smart Convection Toaster Oven. Unfortunately, I do not have a full sized oven, but the Breville is large and powerful enough to roast chickens, steaks, pizzas, and more. I try to provide all the basics such as cooking oil, salt and pepper, pots and pans, utensils, plates and bowls, etc. for basic cooking, but there are plenty of quality grocery stores and farmers' markets around if you want to do some serious master cheffing at home. ______________________________________ LAUNDRY Question: Can I do laundry during my stay? Answer: Yep! Olive has a washer and dryer for you to use. I will also provide basic detergent, softener, bleach, etc. Details: I have a washing machine and a drying machine for you to use during your stay. Basic detergents will be provided. I currently do not have any hanging racks for air-drying clothes, but if you need it, just ask, I can try to make something work for you. ______________________________________
Pasadena is a great and quaint city that has an unusual amount of tradition. Think the Rose Parade, Rose Bowl, Jet Propulsion Laboratory (JPL/NASA), California Institute of Technology (Cal Tech), and more. The Huntington Gardens and Santa Anita Racetrack are also very close by. ROSE PARADE ROUTE... AND IN-N-OUT We are located two large blocks north of the Rose Parade route on Colorado Blvd (about a 15 minute walk), which can give you a better idea of where we are. Did I mention that there is an In-N-Out only about 0.5 miles away as well? :) DINING OUT, GROCERIES, AND FARMERS' MARKETS There are many local places to enjoy during your stay in Pasadena, including a plethora of restaurants, grocery stores (Vons, Whole Foods, Trader Joe's, Sprouts, Ralph's, and more), bars, cafes, ice cream shops, etc. Additionally, we are lucky to have 3-4 different farmers' markets in Pasadena that operate on different days. Each market has its own charm, but all offer a good amount of fresh produce at reasonable prices. SHOPPING Old Town Pasadena offers good shopping, with name brands such as H&M, Zara, Apple, Urban Outfitters, Banana Republic, and more. Also, there are department stores such as Macy's, Nordstrom's, and JCPenney nearby. NIGHT LIFE The night life in Old Town is pretty good too, with busy pubs, bars and a few clubs in the area. Most of these places mentioned above are located within a convenient 5-10 minute drive! SAN GABRIEL VALLEY, ASIAN FOOD GALORE! In addition to Pasadena, the rest of the San Gabriel Valley is very accessible from Olive. Arcadia, San Marino, Alhambra, San Gabriel, Temple City, and Monterey Park are readily accessible by car and if you happen to like Asian cuisine, these areas are great for exploring (feel free to ask me for suggestions!). TIME IT TAKES TO GET TO COMMON DESTINATIONS For other destinations, here is an approximate time table of how long it takes to drive to other destinations in light traffic. Be warned that times CAN greatly increase when the notorious LA traffic strikes! From Pasadena to: Silver Lake, Glendale, Burbank, 15-20 minutes Downtown LA, 25 minutes Koreatown, Studio City, 30 minutes Hollywood, Beverly Hills, West LA, 35-40 minutes LAX, Santa Monica, 40-50 minutes RECOMMENDATIONS, TRIP PLANNING If you choose to stay at Olive, I will have a guidebook prepared for you at the house, introducing you to a number of selections for dining out, activities, shopping, and more. If you want to plan anything out before you arrive, just let me know and I will do my best to ensure that you have a great trip!
我们非常开心住在Maggie 精致可爱的家里,她的家非常干净,用品准备的特别齐全,而且交通很方便,社区安静安全。如果我们下次来这里,一定还会租住在这里,maggie的家非常值得推荐。再次表示我和我的家人非常喜欢这个温馨的房子。
Weill
2016-02-07T00:00:00Z
Maggie was professional and prompt in responding to emails and texts and meeting us for check-in. She was flexible with the check-in time. She respected our privacy during our stay. Olive was exactly as represented in the photos. The location is very convenient, with easy access to a major freeway (CA-210) and Pasadena. The property was clean and well appointed. Parking was very convenient. Access to the laundry and kitchen was very helpful during our stay. Maggie left thoughtful notes around the property and provided a welcome basket for us. Lots of natural light and windows. Good closet space. Thank you for a lovely stay!
Nicole
2015-01-11T00:00:00Z
Maggie was the perfect host! Super friendly with great communication. The house did not disappoint. It was a warm, lovely home and the perfect house for a fun reunion weekend with old friends. Definitely would recommend! Thanks, Maggie!
Eva
2016-10-30T00:00:00Z
Super lovely place, beautiful and thoughtful. We stayed here during a wedding and it was the perfect retreat to go back to. Maggie was super friendly and responsive to all our questions. Definitely recommend it!
Jerry
2015-06-22T00:00:00Z
Everything was great. Nice little house in a residential neighborhood. It was equipped with everything we needed, from linens to kitchenware, with everything in excellent condition, spotlessly clean. It was quiet except for some white noise from the freeway if the windows were open in back, but none if they were closed. We never met the host, but checking in and out was easy. The patio in front was particularly pleasant.
Theresa
2015-10-22T00:00:00Z
Great location, quiet and nice. The furnitures look very new. We enjoyed using the kitchen because it had everything we needed. Maggie was very easy to reach. Overall we loved our stay at Olive!
Joyce
2016-06-02T00:00:00Z
While I didn't meet Maggie I felt like I knew her from her place: well-organized and charming. Delightful deck. I didn't read the description carefully enough so was surprised by double (not queen) bed. Overall a good value.
Karen
2016-03-20T00:00:00Z
Easy, flexible, enjoyable. Very clean & well stocked house.
Sheridan
2015-04-03T00:00:00Z
Tipus d'habitació
Casa/pis sencers
---
Tipus de propietat
Casa
---
Capacitat
5
---
Dormitoris
Pasadena, Califòrnia, Estats Units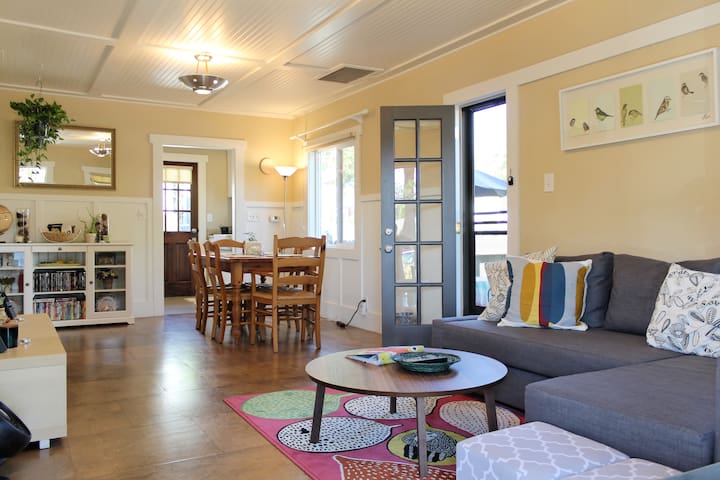 With a quiet atmosphere and great view of the San Gabriel mountains this cozy cottage is a great escape without leaving the city. Enjoy a rural setting, great hiking and recreation only a 25 minute drive from downtown LA.
This quaint mountain cottage is newly renovated, very private and has a fully stocked kitchen with a 2-burner gas stovetop, fridge, microwave, toaster oven, pots and pans, cutlery and dishes. There is a queen bed with a sturdy mattress, as well as a pull-out sofa bed that sleeps two more people. It has a private bathroom with shower, TV with cable and internet. It has its own patio, perfect for outdoor dining or just lounging, and you are also welcome to use our outdoor brick oven and the gas BBQ grill.
Out here, one feels like they are living in the country, with the calm quiet and the sound of horses, roosters and peacocks nearby. We are within walking distance of tennis courts, an equestrian centre, the Altadena community garden and farmer's market, and a free community pool. It is a wonderfully diverse and friendly community and still close to downtown LA, which is just a 25 minute drive away. 1 mile from JPL and the Rose Bowl. 10 minutes from Old Town Pasadena. We are within a 5 minute walk to the LA Metro bus stop running to Old Town Pasadena and the Gold Line.
This cottage was cozy and comfortable! It's a good sign when you find yourself not ready to leave at the end of the stay. Nicholas and family were very welcoming and went beyond our expectations as hosts. The unit is new -- clean and relaxing. The area offers some great day trips into Angeles National Forest or just down the street at the public pool at Loma Alta Park, if your child is traveling with you. Shop for/pack a good supply of fresh food because the kitchenette is well outfitted and the nearest restaurant is probably not within hiking distance (that we could tell). Loved the table for eating al fresco - wish we could pack up the charming patio and take it with us!
Carrie
2015-07-05T00:00:00Z
First of all, Nick was a very welcoming host. He went as far as to pull out the BBQ for us, and was communicative, friendly, and respectful. The place itself was fine and fairly comfortable. For the price, it offered some conveniences and privacy above a hotel at that price range. The location itself was pleasant, and right down the street from a network of hiking trails, close to downtown LA, and offered a nice view from the hills. I'll echo the other comments about the noisy dog, which yipped well into the night. The place itself was sort of a rough around the edges IKEA remodel job, and wasn't as clean as the pictures portrayed, nor as private. All in all, the hosts were generous and the place was decent, but probably wouldn't stay again.
Leala
2016-07-20T00:00:00Z
We really enjoyed our stay at the Mountain Cottage. It was so close to everything including only 30 minutes to the Dodgers Staudium and Universal Studios. The cottage was quaint but included everything we needed and was clean and the air conditioning worked great.
Nicole
2016-06-20T00:00:00Z
Nicholas and his wife were extremely accommodating. We arrived late at night and they were nice enough to leave the key in the door for us. Street parking was plentiful and the place was easy to access on GPS. It was perfect for us since the event we attended was only 15 minutes away.
Randall
2016-09-12T00:00:00Z
Check-in and check-out were a breeze and Nicholas responded very quickly to all questions.
dinelle
2016-01-10T00:00:00Z
Very private and cute cottage. Owner was extremely nice and accommodating.
Matthew
2016-08-16T00:00:00Z
It was amazing! The family was nice and we had a great night under the stars. We ate dinner outside of the place and it was lovely! Would definitely recommend staying here.
Courtney
2015-07-21T00:00:00Z
I loved everything about this little mountain cottage! I wanted to stay in LA without it feeling impersonal and touristy, while being close to everything. This was a great alternative to a typical hotel/motel experience. The cottage was cozy and functional and is in a beautiful neighborhood. Photos are accurate and hosts were also wonderful. I would definitely recommend.
Sarah
2016-08-02T00:00:00Z
Tipus d'habitació
Casa/pis sencers
---
Tipus de propietat
Bungalou
---
Capacitat
4
---
Dormitoris
Altadena, Califòrnia, Estats Units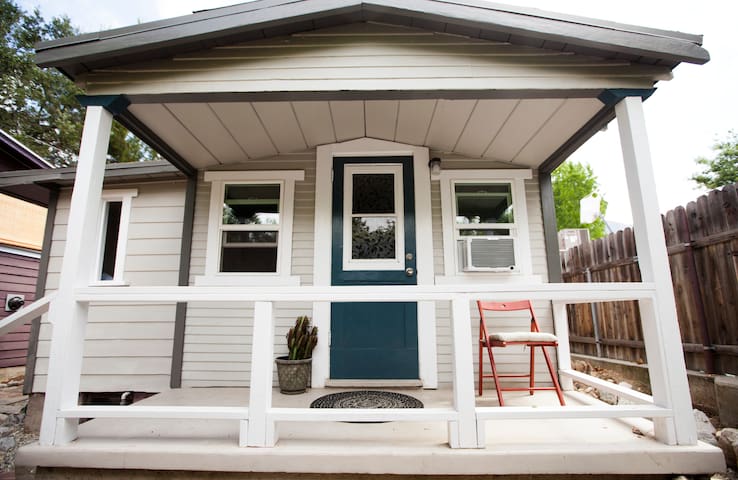 Rare opportunity in the foothills of Altadena. Quite and beautiful community of the Meadows. Angeles National Forest Trails start 2 minutes walking distance away from your door step. Want some action - Old Town Pasadena & Rose Bowl just minutes away; Updated 2 bedroom/ 1Bath unit in a duplex, new windows, laminate floor, updated kitchen, granite countertops, reverse osmosis water filter, stove, microwave, refrigerator. Washer & dryer; Patio & deck area, grill. 2 parking spaces on the driveway
Tipus d'habitació
Casa/pis sencers
---
Tipus de propietat
Casa
---
Capacitat
6
---
Dormitoris
Altadena, Califòrnia, Estats Units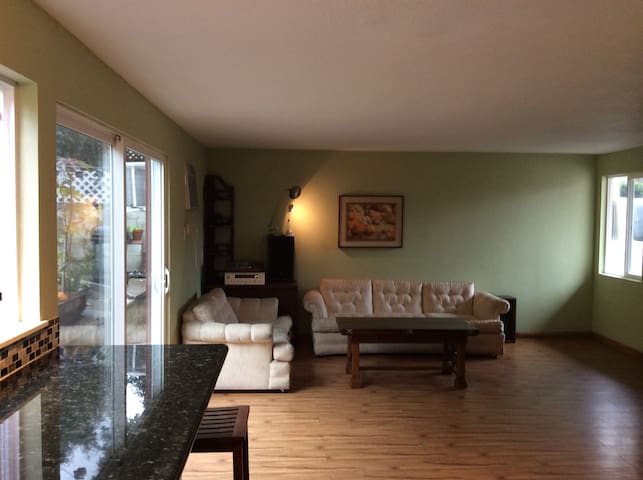 Warm, comfortable, 3 bed/2 bath home walking distance to the BCS Rose Bowl and Rose Parade. 3 full bedrooms with new queen sized beds. Sleeps up to 6 people but can accommodate more with notice. Enjoy the holidays, bowl games, and rose parade without worrying about parking. Large deck for BBQ and outdoor dining.
I love the neighborhood and the Altadena atmosphere. Also if you stay here you must visit Lincoln restaurant on Lincoln Ave. Stephan recommended this place and it was awesome. Overall place was a great experience 20mins from downtown LA in car. Also Stephan provided a lot of the amenities for my stay.
ARIS
2016-08-04T00:00:00Z
Stephan checked up on me during my stay, recommended a great place to eat, graciously accommodated my extension request and even allowed my fur babies to stay at his beautiful home. Amazing host and one of the best.
Dee
2016-08-18T00:00:00Z
Stephan is one of the best host that I've dealt with. He checked up on me during my stay, suggested a great place to eat and even accommodated an extension on a last minute notice. My furbabies were welcomed to his beautiful, clean and peaceful home. He is so understanding he even gave me enough time for my move transition. Thank you Stephan you're amazing!
Dee
2016-08-17T00:00:00Z
I love the neighborhood and the Altadena atmosphere. Also if you stay here you must visit Lincoln restaurant on Lincoln Ave. Stephan recommended this place and it was awesome. Overall place was a great experience 20mins from downtown LA in car. Also Stephan provided a lot of the amenities for my stay.
ARIS
2016-08-07T00:00:00Z
Stephan was a great host and while we noticed a few things when we arrived, he was attentive and did his best to make sure we had a good stay.
Binh-Young
2016-04-25T00:00:00Z
Very good host with a nice home in a quaint neighborhood. Check in was easy, house was easy to use and family enjoyed the stay.
Jason
2017-03-26T00:00:00Z
Stephan was great to us! His house was clean and very cosy. We definitely are saving this listing for future projects. Great communication and understanding. Loved this place!
Helmer
2015-05-17T00:00:00Z
Stephan's house is a nice place and his is warmhearted too. We are happy to have a chance to stay.
mei
2016-01-22T00:00:00Z
Tipus d'habitació
Casa/pis sencers
---
Tipus de propietat
Casa
---
Capacitat
6
---
Dormitoris
Altadena, Califòrnia, Estats Units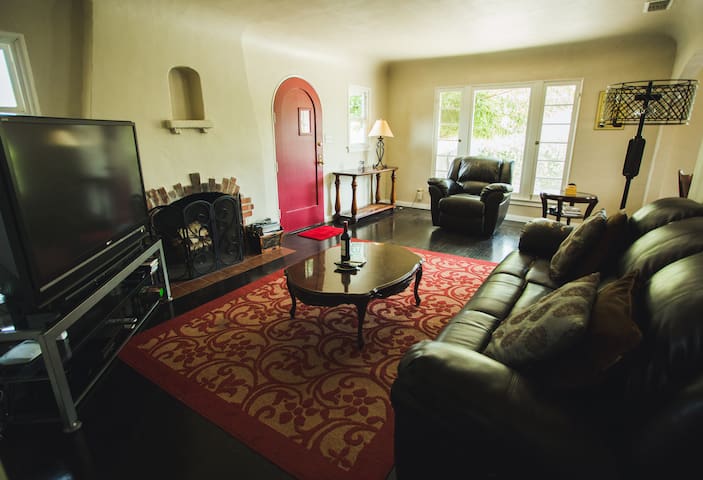 My place is close to Old Town Pasadena. You'll love my place because of the high ceilings, the location, the people, and the ambiance. My place is good for couples, solo adventurers, business travelers, and families (with kids). Enjoy yourself blocks away from Bristol Farms and less than a mile to old town Pasadena. Quiet and safe neighborhood. Master bedroom is huge with high vaulted ceilings. Living room has huge tv to enjoy and wind down. Full kitchen. All new furniture and appliances.
It's a corner unit. Very quiet. Family oriented. Close to everything you need and close to major freeways.
Safe and quiet. Family oriented.
Tipus d'habitació
Casa/pis sencers
---
Tipus de propietat
Pis
---
Capacitat
2
---
Dormitoris
South Pasadena, Califòrnia, Estats Units
Convenient to Rose Bowl, approx. 4 miles/10 min drive. Check out Hollywood, local shops, Griffith Park/observatory, downtown LA. Short walk to nearby coffee shops, like The Coffee Gallery and Sidewalk Cafe. Hike the trails of the Altadena mountains.
This 1920's Spanish-style home was recently renovated. It brings a touch of modern Boho Chic style, with it's granite counter tops, stainless steel appliances and newly tiled kitchen and bathroom floors, to the old world charm of it's richly stained, original hardwood floors in the rest of the house and an arched living room ceiling, over a beautiful, working gas fireplace. 4th person is accommodated on pull-out sofa bed in the Living Room.
Best of both worlds - Close to city life and the excitement of Hollywood, but situated in a quiet, restful neighborhood with more breathing room than being directly in the city. Semi "small-town" feel, with friendly neighbors and coffee shops nearby. Check out (URL HIDDEN) for more activities and things to do. Here is info on bike trails should you decide to explore: (URL HIDDEN) More hiking/biking trail info: (URL HIDDEN)
What a wonderful property! Newly remodeled, extremely clean and organized. Felt right at home. Christina is a wonderful host. Very hospitable and helpful. We would definitely stay here again.
Kelli
2016-01-02T00:00:00Z
Tipus d'habitació
Casa/pis sencers
---
Tipus de propietat
Casa
---
Capacitat
4
---
Dormitoris
Altadena, Califòrnia, Estats Units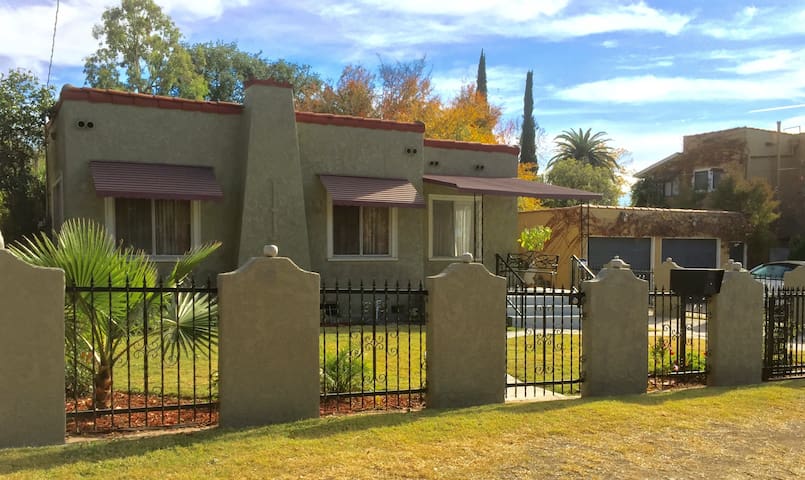 This luxurious 2 bedroom 2 bath single story hideaway is found nestled in the hills and is beautifully furnished and recently updated.
This is a two bedroom, two bath bungalow home. Located in a quiet residential neighborhood, steps away from nature with hiking paths, neighborhood walks, deer sightings and tree lined streets. Has front load washer/ dryer, central air and heat, accommodates six in two queen beds, and sized plush inflatable mattress. There is patio seating and dining in the private backyard patio. Full kitchen with dishwasher, stove top, oven and microwave. Cleaning Fee $125 Note: Until confirmed, rates are subject to change without notice.
Tipus d'habitació
Casa/pis sencers
---
Tipus de propietat
Casa
---
Capacitat
6
---
Dormitoris
Altadena, Califòrnia, Estats Units
Beautiful Studio perched on the San Gabriel Mountain Foothills in a peaceful Altadena neighborhood. Within 5 miles of most places in Pasadena and several freeways, but seemingly Worlds Away from the City Bustle. Private Entrance, Private Bathroom, Queen-size bed, Kitchenette, Parking, Self-check-in with keyless digital keypad entrance.
NOTE: If the Studio is unvailable on your dates, perhaps you will enjoy our Garden Guest Quarters, a private bedroom-bathroom suite with private entrance: https://www.airbnb.com/rooms/8068957?s=HnlwVOEH PEACEFUL STUDIO W VIEW: This beautiful studio has everything you need for short or long term stays: Your own private Studio, Comfortable Queen-size Bed, private bathroom, lap top friendly work space, free Internet & Wi-Fi, and a kitchenette. The kitchenette has just about anything you need to prepare light meals including a morning smoothie. Kitchenette has: mini refrigerator, mircrowave, convection toaster oven, blender, electric burner, pots & pans, plates, cups, silverware, toaster, coffee maker, electric kettle, coffee and tea, kitchen sink. The bathroom is newly remodeled with a beautifully tiled spacious shower, and frameless glass shower doors. Semi-Private Patio with a View: The Studio opens up to the front patio that overlooks the pine trees lining the neighborhood street below. At night you can see the twinkling lights of Pasadena and L.A. The Studio is attached to the main house exteriorly only. There is no access to the main house inside the Studio. Come and go any time of the day or evening with no worries of disturbing anyone. The fresh mountain air and sounds of the many birds will relax you immediately. Enjoy a cup of tea or coffee on the patio and be cooled by the gentle mountain breezes. Step away from the bustle of the city at the end of your day, relax, rejuvenate and reconnect to that inner peace. The property is well lit with motion sensor lights that will light your path and guide you to your private retreat. 24-HOUR SIMPLE SELF CHECK-IN - KEYLESS ENTRY Late self-check-in? No worries - it will not disturb host. Upon booking your personal keypad entry code will be emailed to you. Easy-peasy-no-stress self check-in NOTE RE: DOUBLE OCCUPANY: The studio is small. The Queen Size Bed sleeps two however it is up against the wall and hence it is not as convenient to get into bed for the person who sleeps next to the wall. NOTE MANY STEPS TO HOUSE: The house is upslope from the street, thus there are many steps to get up to the house (16 steps). The steps' surfaces and heights are not uniform. Thus anyone with problems with balance or weakness may find the steps too difficult. There is a handrail and it is well lit during the evening. Please see pictures. After you book the guest quarters, you will automatically be given access to a secured area of this listing called the "House Manual", print it out and bring it with you. The House Manual has information about directions, how to access the room and the wifi code and door entry code. Door entry code will be e-mailed to you if you book for a date in advance.
This cozy studio is attached to a home located in the charming Altadena neighborhood known as Poppyfields. The neighborhood is perched on the San Gabriel Mountains' foothills. It is just 5 miles from world-renown, Pasadena, famous for hosting the Tournament of Roses Parade since and the annual Rose Bowl football game. Altadena is 15 Miles north of Downtown L.A. There are a plethora of things to do and see in Pasadena - L.A. - Hollywood - Beach Communities and surrounding areas. Altadena attracts many tourists who enjoy hiking or biking the many mountain trails. The Poppyfields neighborhood is quiet and friendly. Across Lake Avenue is lovely Farnsworth Park which offers lighted tennis courts, basketball courts and many picnic tables and beautiful large trees. There are beautiful views of the Pasadena/Los Angeles skyline as well as views of the peaceful San Gabriel Mountains. There are also hiking trails which are walking distance and located at the top of Lake Avenue: "Some of the most easily accessible hikes in the San Gabriel Mountains begin in Altadena, at the northern end of Lake Avenue." Public transit experiments. wordpress There are many birds, squirrels, crickets, fresh air and sun. Come enjoy it all. ""In Altadena, I have found those qualities that make life worth living." Zane Gray, famous American Author.
Muy organizada, cómoda y acogedora, zona muy tranquila cerca de las montañas. :)
Cesar E
2017-03-24T00:00:00Z
Mary's place is adorable!
Ann
2017-01-20T00:00:00Z
Mary's studio was great. It was near several wonderful locations, and wasn't a far drive from other places in Los Angeles. My girlfriend and I drove to Disneyland and we still found the location to be extremely pleasant. The studio itself was very nice as well, the bathroom especially being surprisingly spacious. 5/5, and we will definitely return!
Oren
2017-04-04T00:00:00Z
Mary is extremely professional and reliable. Everything was as described in the listing. The place is small and cozy and Mary was ready to help out if we needed anything. We wanted something calm and quiet and this was perfect. Great stay and highly recommended!
Aline
2017-02-03T00:00:00Z
Mary's place is the best, she goes out of the way to make you feel at home leaving snacks and even coffee for her guests. The place itself is cozy and very comfortable and just a quick hop away from LA! Would highly recommend her studio.
Deepa
2017-01-16T00:00:00Z
Great stay.
Patrick
2017-03-22T00:00:00Z
The studio is as described - very clean and comfortable. Mary provided teas, coffee and snacks and the kitchen is outfitted for the light cooking I did while there, making for a really easy transition to settling in. Mary provides great, detailed notes about use of the amenities. I enjoyed a relaxing, very quiet stay. Thank you!
Wendee
2017-01-19T00:00:00Z
Mary's place was great! Comfortable and very well located for our week long working vacation. We were ten minutes or so from Pasadena. We would stay here again!
Jenna
2017-04-01T00:00:00Z
Tipus d'habitació
Casa/pis sencers
---
Tipus de propietat
Casa
---
Capacitat
2
---
Dormitoris
Altadena, Califòrnia, Estats Units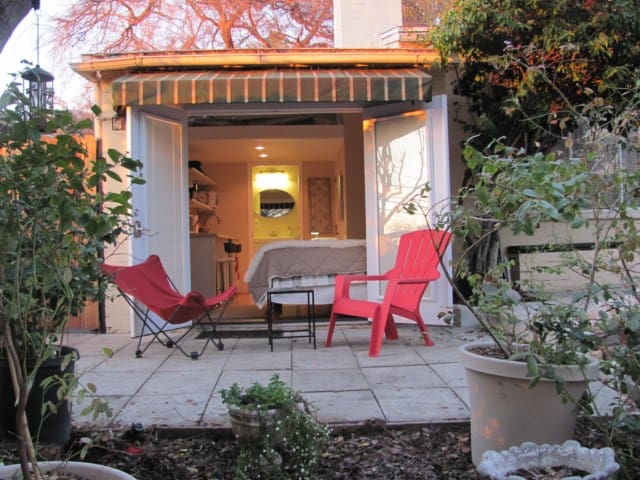 Newly-remodeled, designer, two-story barn located on a lush, private lot behind a 1920s Janes Cottage in historic Altadena. Three miles to the Rose Bowl Stadium, a 12-minute drive to shops and restaurants in Old Town Pasadena, and minutes to hiking and adventure in the Angeles National Forest. 20 minutes to major Hollywood studios. 25 minutes to downtown. 35 minutes to the Westside. 45 minutes to the beach. The perfect retreat for artists, jet-setters and business travelers alike.
Never met Jonathan but it was very easy to get into and out of the place. Very easy to find and parking was great. The place was excellent. Small but cozy.
Sal
2016-11-01T00:00:00Z
Even before day one of our stay, Jonathan was very communicative and helpful. Both check-in and check-out were a breeze. Being a local to Altadena it was the perfect staycation for me and the perfect welcome to the city for my friend visiting from Italy. We can't wait to come back. Thanks Jonathan for everything!
Brandy
2016-09-30T00:00:00Z
My girlfriend and I stayed here for her birthday and it couldn't have been more perfect. Jonathan is a great host. He gave us recommendations for dinner and sites to see. I'd definitely recommend staying here for anyone especially couples looking for a romantic getaway.
Spencer
2016-09-13T00:00:00Z
This place just gets better and better! Continues to be one of our all time favorite places to stay.
Mark
2017-03-17T00:00:00Z
Jonathan has a beautiful barn, with knockout features including an all-in-one washer dryer, concrete countertops, and huge skylights! He was very welcoming when he greeted us. We had a delightful stay.
Sarah
2016-09-26T00:00:00Z
completely impressed by Jonathan's place. It is sweet and worth the price! It is newly renovated with modern home style and it is private. They also have two super friendly dogs, which i love a lot. Their yard is full of flower blossom. The whole experience is fantastic. I will definitely stay again.
Yuqi
2016-10-07T00:00:00Z
So sorry for Comment late. First, I have to say, The House is more than AMAZING!!!!! So beautiful, and special! There are have everything u need. And Jonathan, is a great great great person!! Is an amazing guy, he will text u before u arrived, to make sure u everything ok. And have all answer for ur questions. The stay just Great, Great, More than Great. I definitely gonna back. Love there.❤️
Chonna
2016-08-24T00:00:00Z
Very accurate listing. Host was very cooperative and friendly.
Rodolfo
2016-08-02T00:00:00Z
Tipus d'habitació
Casa/pis sencers
---
Tipus de propietat
Pis
---
Capacitat
4
---
Dormitoris
Altadena, Califòrnia, Estats Units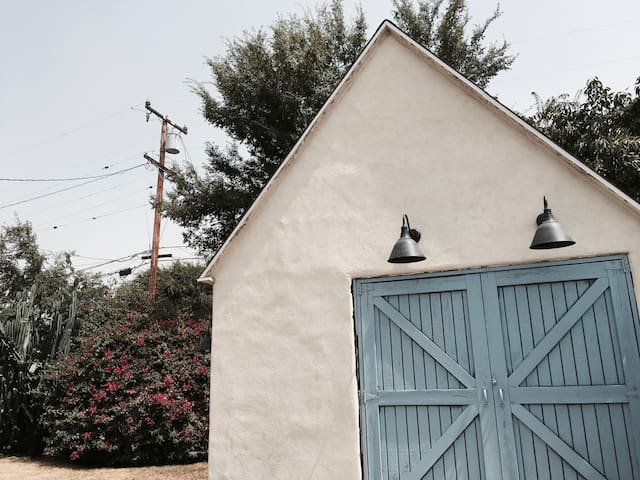 Sweet bedroom with half bathroom and shared shower in a nice house located central San Gabriel but quite street. Its convenient location near No.10 freeway which easy to take you to attractions of downtown LA. My place is close to restaurants and dining, parks, shopping center, attractions. You'll love my place because of the location, the ambiance, and the neighborhood. My place is good for couples, solo adventurers, business travelers, families (with kids), and big groups.
Clean bedroom with set of furniture. Single sized bed, one chest, one table with mirror, one nightstands, one chair. PRIVATE HALF BATHROOM: Toilet SHARED SHOWER: Shampoo, Conditioner, Soap or Body Wash upon request. Clean Towels. Room also including free WIFI, Central A/C, Free Laundry, Free Coffee in the morning, Free one Car Parking.
House located in central San Gabriel with quiet street. Safe location close to police department and fire department. Walking distance to super markets, bank, library, post office, parks, etc. Hundreds of restaurants including American, Italian, Chinese, Korean, Japanese and many more.
Great bargain- clean, wonderful hosts, but not sufficient internet connection- that was the only flaw
Anna
2017-03-30T00:00:00Z
The host canceled this reservation the day before arrival. This is an automated posting.
Trevaughn
2017-02-12T00:00:00Z
Just as advertised. The home is private, there's private parking, and it's central to all sorts of Asian foods while being close enough to a lot of other stuff in LA. The half bathroom in the room is also a great convenience!
Solomon
2017-02-07T00:00:00Z
Nice cozy house with a unique feel. Had a great time there. Would stay again.
Andrew
2017-03-21T00:00:00Z
Great room. As advertised. The family is sweet and very accommodating. They offered me coffee every morning and even invited me to stay for dinner on Chinese new year! Thanks alot for your hospitality. Room is comfy and cozy.
Yawny
2017-01-27T00:00:00Z
My stay at Fanci's was beyond my expectation. The hosts were very kind and the house is located in a nice and safe neighborhood. The room was clean and cozy. Thank you for the great experience.
Aidin
2016-11-26T00:00:00Z
Well I was only there for a very short time but I did feel incredibly welcomed and well taken care of. Though it was a little further out then I'd like the family was very kind and I very much appreciated it.
Luvilicious19
2016-11-18T00:00:00Z
Tipus d'habitació
Habitació privada
---
Tipus de propietat
Casa
---
Capacitat
1
---
Dormitoris
San Gabriel, Califòrnia, Estats Units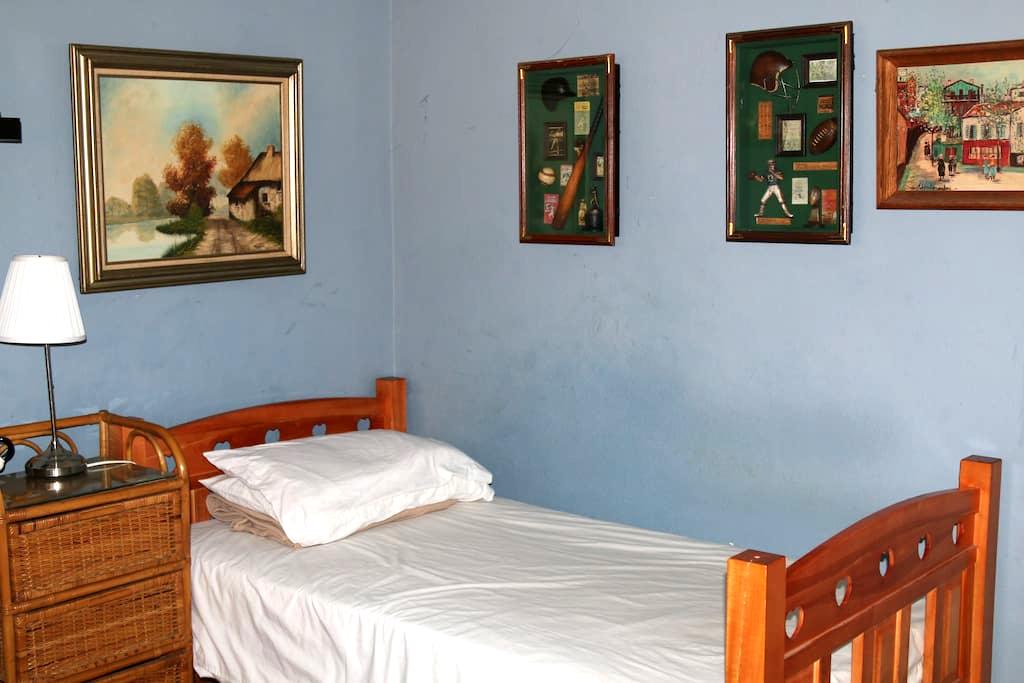 Our home gives you the secluded feeling of living in the mountains while being less than five minutes from the Rose Bowl and 210 freeway. Room, Pool and deck over look NASA/JPL canyon. Surrounded by multiple trailheads walking distance in a safe neighborhood centrally located to Pasadena and LAX
*** check other listing for reviews *** [go to my profile page ( click on profile picture) scroll down. to the left you'll see listings] Cozy rustic succulent theme room. This room is in the front of the house facing the street, right next to two newly remodeled bathrooms. There is plenty of space in the closet for luggage.
Located in the Meadows in Altadena, A beautiful neighborhood hidden in the hills with one access road, eliminating through traffic. Safe for children to play in the street. This quiet North Altadena neighborhood is part of Arroyo Seco and is abundant with wildlife. Very likely you will see deer. At night you can hear frogs and owls. it's really peaceful. Gives you the feeling of being secluded in a national Forest while being right next to the city and local places to eat 5 minutes to Rose Bowl 10 minutes to Old Pasadena 40 minutes from LAX
Highly Recommend . Bed was super comfortable , and had a very relaxing stay . The jacuzzi and view in the back yard were spectacular . Will defiantly stay here again .
David
2017-01-09T00:00:00Z
Nicest people ever! Made me feel very welcome. Even bought me wine glasses when they found out I drank wine.
Leslie
2016-12-08T00:00:00Z
Super chill, super relaxed and fun. Andrew is a great host. If you want to hang out near nature and in a pool in the sun for a few days - it's perfect. The whole family are sweet and they have two lovely dogs! Definitely a place to stay if you feel social and like meeting some cool people. We loved it!
Lottie
2017-03-18T00:00:00Z
Initially I felt safe since the room was cozy and clean and Andrew's mom was very sweet and helpful. Past reviews said there was no lock on the door but they must have installed one since then. I do not recommend this place to single female travelers since at 3:30am, I had a strange feeling and aprubtly woke to my locked door unlocked and a man( I'm assuming Andrew) standing in the doorway then walking away without saying anything. I did not feel safe by myself where the host was unlocking my door in the middle of the night but it would be safe if you had another person with you I'm assuming. I would have given the place 5/5 if that situation did not occur since it was clean and cozy
Johnna
2016-11-23T00:00:00Z
Room was nice and very cozy. Bathroom facilities were neat and clean. Outdoor patio was nice as well.
David
2016-10-15T00:00:00Z
The room is really pretty, cozy and like new!The family here is very nice and easy to get along with. The back yard pool deck area is spacious and beautiful and there is a great trail for hiking right nearby! The newly remodeled bathroom is cool. Over all it is a great place to come and relax. Thank you guys!
Suzy
2016-08-30T00:00:00Z
Andrew and his family were very welcoming. It was maybe a 10 minute uber ride to Pasadena; very convenient location. Room and bathroom were neat and clean and he was adaptive to a short notice second guest.
William
2017-01-03T00:00:00Z
Great place very peaceful thinking of renting a room for longer period wish I got u spend more time there
Brian
2016-11-28T00:00:00Z
Tipus d'habitació
Habitació privada
---
Tipus de propietat
Casa
---
Capacitat
2
---
Dormitoris
Altadena, Califòrnia, Estats Units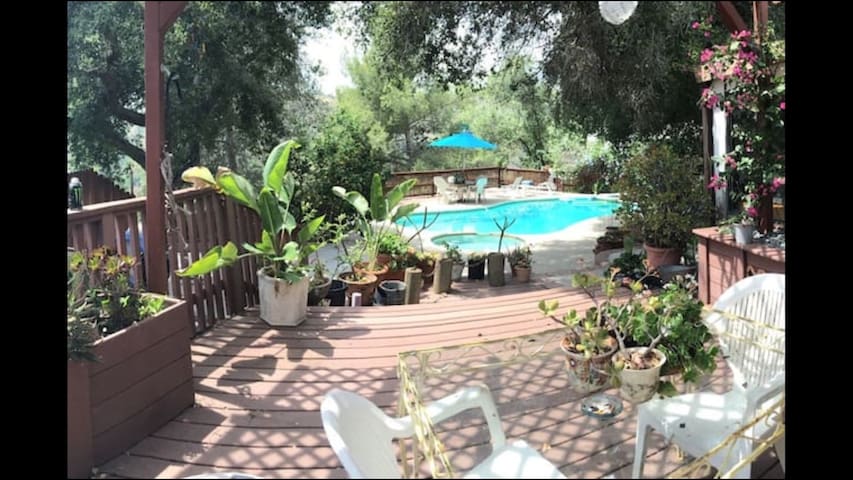 Villa Ganesha is conveniently located in the gorgeous foothills of Altadena close to shopping, restaurants and hiking trails. Our charming, well-appointed vintage Villa sleeps three, featuring serene, spa-like patios in an exclusive neighborhood.
Just completely renovated. Lovely Villa Ganesha sits back from quiet Ganesha Avenue on a private drive. Beautiful hardwood floors, well-appointed kitchen, new high-end mattress and sleeper sofa, high quality linens, place settings for four. Kuerig coffee maker with K-cups, high-end cookware and appliances, vintage O'Keefe and Merritt stove, microwave, cooking spices including olive oil and vinegar, bottled water. Bathroom features luxurious towels, shampoo, conditioner, Oatmeal Bar soap, body wash, make-up remover, Q-tips, hair dryer. (Tooth brushes and tooth paste available upon request). Washer and dryer, HD TV w/Cable, High -speed Internet, Blue Ray DVD player, Pandora and Netflix. Fresh fruit basket and wine upon arrival.
Enjoy the best of both worlds. Relax in the gorgeous foothills of the San Gabriel Mountains in an exclusive neighborhood conveniently located at the edge of historic Pasadena. Beautiful walking neighborhood; walking distance to Altadena's Public Golf Course, many hiking trails and convenient shopping nearby.
Stacey's sincere hospitality made it easy to feel at home in this well-appointed property. She's thought of everything for the conveniences of home, and an easy guide to her favorite locations. From check-in to follow up email, Stacey was always available, but we literally needed nothing beyond the accommodations she provided. The property is depicted accurately on airbnb. Although it's not a large space, the layout/flow is about as convenient as it gets, and the quality of fixtures and accessories is top notch, as is the neighborhood. Lastly, the welcoming basket was more thoughtful than most. It was a complete late night snack, perfect for "catching up" with my family members.
Jo Ann
2015-12-01T00:00:00Z
This is our 2nd long stay with Stacey. The house is still as new when we entered a year ago. Stacey, as usual, was very nice to our family. She welcomes us with many goodies in the house. She was also very accommodating when we try to borrow portable scale. She is also very responsive in taking care of the fallen rod and broken bulbs. We are not wrong to consider this as our home during our stay. Such a lovely house hosted by a super nice host. Thank You Stacey for welcoming our family.
Michael
2016-01-14T00:00:00Z
We rented this Airbnb for my 70 year old mother-in-law (her first try at Airbnb! ) so she could come visit our 18 month old daughter. Here's what she had to say: Had a wonderful stay at Villa Ganesha. The cottage is immaculate and so tastefully furnished. The jasmine is blooming on the private patio and I enjoyed relaxing and enjoying my book until time to visit my granddaughter. The neighborhood is lovely and I took several long walks. Stacey is a gracious host, and I will definitely book another stay soon.
Kristy
2016-04-27T00:00:00Z
If your travels take you to Pasadena Stacey's villa is fantastic. Really well equipped, lovely outdoor space and super quiet. A winning combo!
Melissa
2016-03-23T00:00:00Z
We had an incredible stay at Stacey's place, and wow what a host! From the easy communication on arrival to the fresh fruit and wine she was awesome. Then there was the actual place. We were visiting my brother and nephew who live a few blocks away and we were working remotely while there. Great wi fi to work all day outside in a beautiful area and then an easy walk to hang with our nephew after work. If you want to stay in or near Pasadena or Altadena it's a great place! Easy one mile jog or so to awesome trail runs in the mountains as well! Next time we come visit them we will stay with Stacey again for sure!
Mike
2016-03-18T00:00:00Z
Thx for everything
Jessica
2015-07-06T00:00:00Z
Lovely Villa was everything what the pictures described, my family and I really enjoyed staying there. We loved the quietness of this neighborhood and, yet, very safe. Stacey was such a great host, very attentive and made you feel welcome from the beginning til the end!!! It was my first time using airbnb and Stacey has made the experience truly remarkable. Will definitely want to return to the Villa and be hosted by Stacey, again!!! :)
Wendy
2014-10-27T00:00:00Z
Very comfortable, well-appointed house.
Art
2017-03-02T00:00:00Z
Tipus d'habitació
Casa/pis sencers
---
Tipus de propietat
Casa de camp
---
Capacitat
3
---
Dormitoris
Pasadena, Califòrnia, Estats Units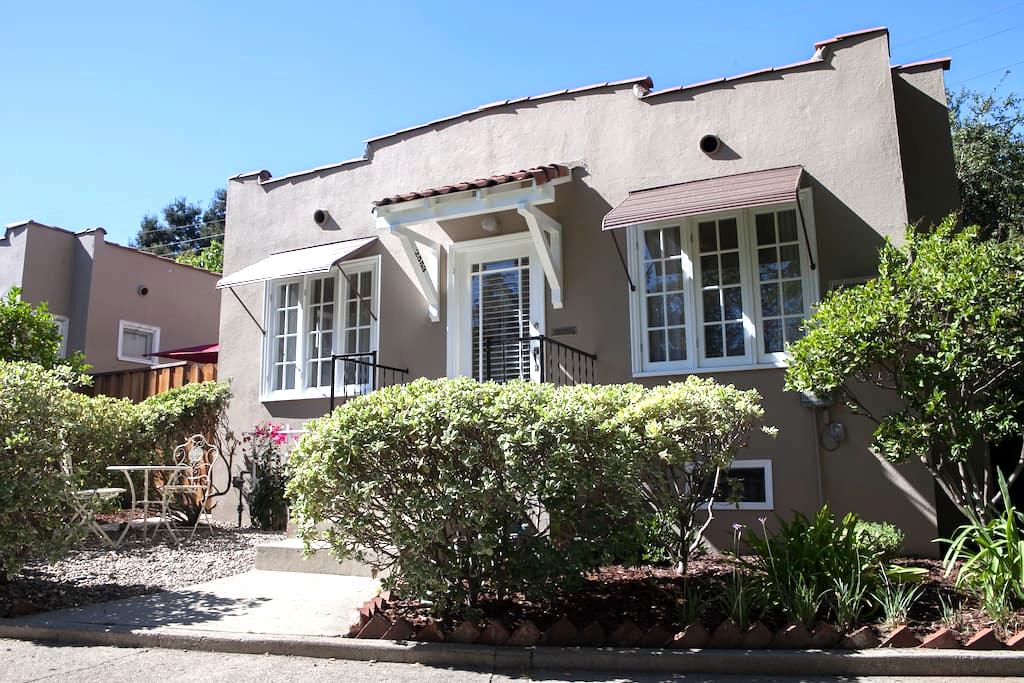 This backyard room features a private entrance and view of the yard. The room and house share a covered patio. The large backyard has a beautiful oak tree, hammock and patio furniture. Full access to the house as well as food is included. Note: There is a dog that lives in the house, a 10-year-old black Labrador named Nikki. She is the most friendly dog in the world (IMHO) and may try to lick you, but doesn't bite or jump.
The room is detached in the back, and has a firm comfortable queen size bed. The room is 12 ft by 12 ft, with a low ceiling, about 7'3" high. The room does not include a private bathroom, but the back door of the house is only 10 feet away. It has a desk, shelves, and windows with a view of the large backyard. There is also an air conditioner, space heater, and radio/speakers.
It's a quiet neighborhood with friendly neighbors, and is very close to hiking trails in the San Gabriel mountains.
Eric was great. Made dinner the first night and invited but i had already eaten. Great stay, just had a very busy schedule so I did not see except on the very first night. I would stay again.
Jonathan
2016-09-25T00:00:00Z
We really enjoyed staying here. The room and yard were very comfortable, and Nikki the dog was sweet and friendly! Eric gave us many ideas of thing to do in the area, and we had fun spending the evening with Eric and his friends at Shakespeare in the Park. I would definitely stay here again.
Joanna
2016-08-27T00:00:00Z
Eric is really nice and is even proposing some fruits. Comfy bed, Nikki is a really gentle dog. Would defenitely stay again !
Nicolas
2016-10-19T00:00:00Z
They are super friendly great people. Everything was as promised and they even made dinner for me. You will not find nicer people. They make you feel like you are family.
Michael
2016-08-18T00:00:00Z
Hospitality was great, space was dope. Very accommodating. Looking for a chill spot, this is it.
Drew
2016-07-25T00:00:00Z
This was my 2nd. stay and just as good as the first. Eric is extremely friendly and helpful. It is very peaceful.
Michael
2016-08-25T00:00:00Z
Perfect little private spot. Super clean, super friendly dog.
Mackenzie
2016-10-11T00:00:00Z
If you are looking for a place to stay that is super private, look no further. This is a nice room that's detached from the main house, so perfect for people who don't want to be disturbed. His dog is quiet, friendly and you hardly notice she's there. The only down side, is that the bathroom is in the main house, but that's listed in the posting, and wasn't too bad of an inconvenience. Overall, i liked it and would stay again.
Elliott
2016-10-08T00:00:00Z
Tipus d'habitació
Habitació privada
---
Tipus de propietat
Casa
---
Capacitat
2
---
Dormitoris
Altadena, Califòrnia, Estats Units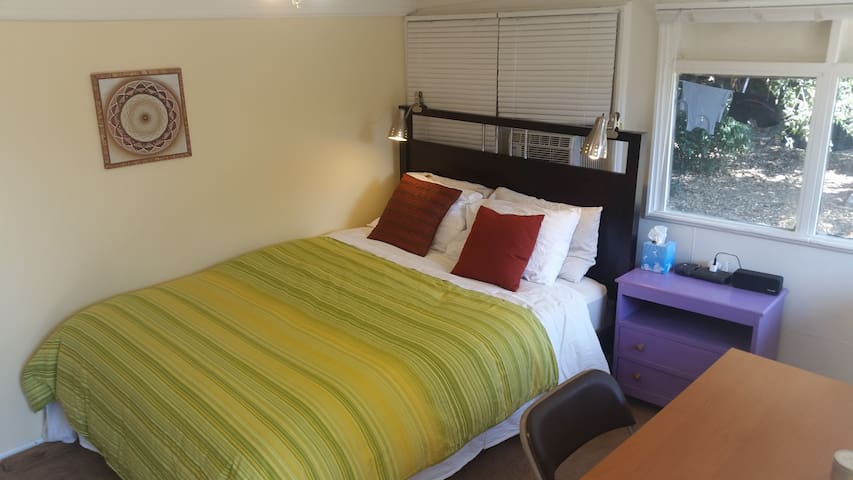 I love the fact that this is a home away from home. The home is equipped with Wifi and Cable via Roku/Spectrum App. This cozy cottage has lots of character and is located in a quiet & safe neighborhood, pet friendly, lots of yard space & plenty of street parking. Its walking distance to public transportation, local coffee shops, Old Town Pasadena, Rose Bowl & downtown Los Angeles, Hollywood are only minutes away.
It's private and perfect for the guest who has a small pet and likes a home away from home. Home also includes a full size sofa bed that could accommodate two additional guests. Also included is Wifi, Cable, a full bath and Kitchen and plenty of street parking.
It's quiet and safe and you can even leave the door unlocked.
A home away from home. It couldn´t have been said more accurate. From the moment you step through the door till the day arrives and you don´t want to leave - you feel the cozyness that surrounds this cottage. In a nice and quite neighborgh hood close to all amenities and even with a nice cool pool. Definately a place i would recommend and go back to. Thank you a beautiful stay.
elena
2016-07-15T00:00:00Z
The cottage was as described. Very clean and comfortable. Located behind the main house, so it was a little difficult to find at first but we really enjoyed our stay. Thanks!
Curtis
2015-11-28T00:00:00Z
My family and I were in town for a few days and had a fantastic time in our stay at the Classic Craftsman and Cozy Cottage. On our search, we wanted a place that had character, in a quiet neighborhood and central to everything we wanted to visit while in Los Angeles (not as easy as it sounds). This home had all the boxes checked and we were able enjoy Six Flags Magic Mountain, museums, Griffith Observatory, the Hollywood sign, and all the fantastic shops and restaurants in Old Pasadena, which was a 10 minute drive away. Check-in was simple and the property was beautiful, spotless and well kept. We really didn't have a lot questions/requests (which is always a good sign) but when we did, the hosts responded professionally and addressed our inquiries in a timely manner. Overall, A+ experience and would 100% recommend to other travelers.
Markus
2017-04-01T00:00:00Z
Herbie was an awesome host he waited for me to arrive and showed me around the place. The home was peaceful exactly what I was looking for on my short vacation. The home was clean and very comfortable. The location was great a lot of local shops and restaurants in walking distance.
Jamila
2016-06-21T00:00:00Z
Herbie was an excellent host. He met me promptly when I arrived at the cottage and ensured that I could use the amenities. The cottage was clean, comfortable, and cozy. It exceeded all my expectations. I will definitely stay at the cottage again and recommend it to my friends and colleagues.
Dominic
2015-12-16T00:00:00Z
Gilma and Herbie kept in continuous contact with me about different needs and changes for which I was asking. I added my son to the reservation at the last minute and that was easily accommodated. I also needed any early check in because my flight was so early in the morning. But my plans to be there early kept getting postponed by things I hadn't planned on. Gilma and Herbie were great about being so flexible!! One thing I really appreciated was that I felt like the place was ours. No one hovering or coming by to check how things were going. I knew I could reach Gilma and Herbie at anytime and they responded promptly! The cottage was wonderful! We had everything we could need! My husband who was not sold on the Airbnb thing was quickly converted, saying he never wants to stay in a hotel again. I really enjoyed sitting out by the pool in the morning with my cup of coffee. It was a wonderful experience and I look forward to staying there the next time I am in Pasadena!
Beth
2016-06-14T00:00:00Z
Herbie was a fantastic host and I can't say enough wonderful things about the cottage. There is plentiful free parking (which is hard to come by in Southern California) and the neighborhood is incredibly quiet. It is a short drive from Pasadena and I would definitely suggest staying here rather in Pasadena-proper. Would definitely stay here again!
Daniel
2016-02-25T00:00:00Z
Gilma and Herbie were lovely hosts! The cottage was cozy and beautiful, and the hosts were very welcoming. Would recommend!
Dionna
2016-05-14T00:00:00Z
Tipus d'habitació
Casa/pis sencers
---
Tipus de propietat
Casa
---
Capacitat
4
---
Dormitoris
Altadena, Califòrnia, Estats Units
1

-

18

de

Més de 300 lloguers
Introdueix les dates per veure el preu total. S'aplicaran tarifes addicionals. És possible que també s'apliquin impostos.