Introdueix la data d'arribada amb el format dd/mm/aaaa
Introdueix la data de sortida amb el format dd/mm/aaaa
Allotjaments que pots llogar sense esperar que l'amfitrió confirmi la reserva.
Introdueix les dates per veure el preu total. S'aplicaran tarifes addicionals. És possible que també s'apliquin impostos.
Aquest juliol i agost, pots provar una d'aquestes 100 llars amb millors avaluacions, de tota la gamma de preus, i veure el que et pot oferir Sonoma. Gaudiràs del servei d'arribada flexible (24 hores), reserva immediata, vi de la zona i coses per picar perquè puguis relaxar-te i gaudir del teu viatge.
Clean, spacious home with large open living room, private bedroom and private bath. No TV but wireless internet is available. Light breakfast/coffee/tea available with advance notice. Safe neighborhood with friendly neighbors. .
Clean, spacious home with large open living room, private bedroom and private bath. No TV but wireless internet is available. Safe neighborhood with friendly neighbors. Nights are dark and quiet out here. Private room with private bath (shower). Safe neighborhood in a country subdivision with friendly neighbors. 15 minutes from either Centralia or Salem, IL. 30 minutes from Mt. Vernon, IL. Middle aged professional couple who work full-time day job Access to private bedroom, living area and kitchen. Host's would be available some in the evenings. Would be willing to share supper meal if needed. No public transportation is available but we have a circle drive in the front of the house so parking is not an issue. This home does have 1 cat. This home does have 1 cat. Access to private bedroom, living area and kitchen. No access to private quarters. Guests are free to use either patio's outdoors, just don't let the cats out. Host's would be available some in the evenings, however there are times when guests will be alone in the home. Would be willing to share supper meal if we are eating at home. Lite breakfast/coffee/tea available with advance notice.
Quiet, safe neighborhood Parking is no issue-we have a large circle drive. It takes about 15 minutes to get to either Salem, IL or Centralia, IL. Both towns have plenty of places to eat and both have a super Wal-Mart. Multiple outdoor sitting areas with comfortable furniture.
Monicas home was our starting and end point from our vacation in the USA. When we came home the second, we felt even more like home if it´s still possible. Thanks for your unbelievably hospitality. You´re a great host.
Janina
July 2016
The accommodations were ideal for me. Monica and Gary were great hosts and communicated well. I had everything I needed for my overnight stay and enjoyed interacting with the cats. The bed was comfortable. The neighborhood felt very safe. Kuerig coffee selection and snacks in my room were nice bonuses. I will stay here again!
Roxie
October 2016
Gary welcomed me and showed me my room, kitchen, etc. I was introduced to Bob, the cat. I think Bob thinks he is the master of the home! There are two other cats, Mamacita and Trixie. I met Mamacita, but never did see Trixie. The photos of Gary and Monica's home and the description of the home and neighborhood was what is on Airbnb. I had a very relaxing time during my stay.
John
June 2016
Very nice house with two nice outdoor sitting areas. Nice quiet room with very comfortable bed and pillows. We were treated not as house guest but as friends. We were allowed to just make ourselves at home. Bob the cat was playful and Mamacita was very loving.
Brandy
October 2016
Cozy place! Bed was super comfortable, cats are very friendly but not allowed in the bedroom. The whole house was very clean, and Monica was very friendly! Would definitely stay here again.
Emily
December 2016
Wow, if you ever wanted to feel like instant family in Illinois, come here! A comfortable, quiet room inside, the buzz of the cicadas and the chirps of the birds outside, and coffee in the morning - what's not to like? Arrival was easy and communication was clear and timely. Plus, it was great to get to know Monica and her husband. For me, this was just a stop on the way from Indianapolis to Memphis, but waaay better and worth the few minutes off the freeway than a hotel on the Interstate. This is what th spirit of Airbnb is all about!
Julie
August 2016
A very kindly couple with a cute cat couple.They invited me sharing dinner:) And I have a comfortable bed night!Thank you so much!
Nina
March 2016
This was the 3th time at Monicas and Garys house. We don't leave the house as guests rather as a family member. All of the describing was correct. They are so nice. When we come back, we will be your guest.
Janina
July 2016
Tipus d'habitació
Habitació privada
---
Tipus de propietat
---
Capacitat
2
---
Dormitoris
1
Centralia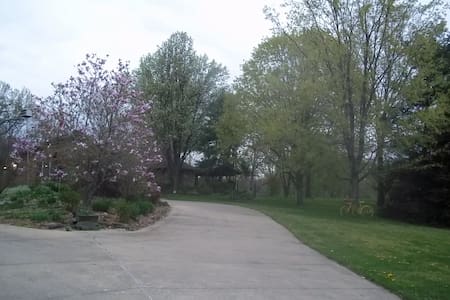 This property, located on Lake Centralia, offers a relaxing lake front experience that's perfect for a couple's get away to hosting large families. If you are looking for a relaxing stay nestled in the woods or are into fun on the water, this property has everything you're looking for.
Escape to quiet Turtle Cove on Lake Centralia where you will be able to relax, recharge, while having fun with your friends and family. This expanded modular home offers a full kitchen, dining room, three bedrooms, 2.5 baths, with a large addition that could be just for the kids which has two futon sleepers, satellite TV, with the half bath. The living room and large addition both offer expansive views of quiet and inviting waters of Turtle Cove. While the inside is comfortable and cozy you'll definitely want to spend most of your time outdoors. Starting with the covered lanai/covered deck which offers a bar area with seating for up to 10, which is a great place to enjoy your morning coffee while you're planning your events of the day. The adjacent concrete patio is an ideal place for serving your outdoor meals while doubling as a great central location for your groups activities. The provided patio set offers comfortable seating for six but offers rail seating on the perimeter for up to 20. There is also a electrical outlet if you need to power any outdoor speakers or appliances. Just next to the patio is a very inviting fire pit which offers a large expanded metal grill in addition to a swiveling stainless steel surface that's perfect for searing. We will provide the roasting sticks and enough firewood to last your entire stay. This property has many amenities to include: Washer and dryer Extra full refrigerator with freezer chest in an external shed and a mini fridge in the bonus room. A large covered dock which offers two boat slips. A fire pit for cooking or a well used gas grill is available. A detachable floating dock which can be towed around the lake by boat and anchored to become your own private sunbathing/swim platform. A sand filled beach area for the kids including use of beach toys and rafts. Fishing, some poles will be available, but a fishing license is required by state law. Free use of the canoe, coolers and lawn chairs. Water sports on this quiet 400 acre lake if want to bring your own boat. A boatlift is not provided if you're wondering. However a public boat launch area is available. Our covered boat dock has two covered slips. A regulation washer pit with washers. If you've never played the game Washers, let us know and we will give you the lowdown. It will provide hours of friendly fun amongst your friends and family. An outdoor swing and picnic table. An aluminum canoe with paddles for the adventurous. A private driveway. The owners of the property live 40 minutes away but are available to be present during check-in to answer any questions.
Cell Phone coverage is weak near the lake with the best carriers being Verizon followed by AT&T. Expect Slow data signal. If you have a boat, there are places on the lake where a strong signal is available. Use this link to locate strong signal areas. (website hidden) All boats on Lake Centralia require a local permit that maybe purchased from the local lake patrol person at a cost of $10. If you don't already have a permit for 2015 you will need to carry $10 in cash in the event you are approached by the Lake Patrol. The water depth at the end of the dock maybe as shallow as 4ft deep depending on the time of the year. Swim with caution
Host communication before during and after was great. Description of property was spot on beautiful lake view. Neighborhood what could see no issues on a lake Would stay there again when time permits
Karen
September 2016
Mary's place was awesome. There was plenty of room in her house for my group. The house is on a nice lot where it is nice a private. My kids played on the sand beach. My kid caught her first fish. We took out the canoe on the lake. Definitely going back next year. Thanks Mary for letting us stay at your lake house.
Jason
June 2016
This rental was great. Very seldom do you rent anything that turns out to be better then discribed. This is one of those situations. Very clean, everything you need is there. Just bring your food and beverages and your set. Mary is a very pleasant host and will answer any questions you have. I will be going back for sure. Thank you, Jerry
Gerald
November 2016
Mary was a wonderful host , she took the extra care to supply the room heaters when the furnace was broken . This is a beautiful lake house with a spectacular view and family friendly (URL HIDDEN) friends and kids loved the stay especially the canoeing , fishing and grilling. Yes,we would definitely come back to this house for our next vacation.
lathish
October 2016
The house was exactly as described. Very spacious, inside and out. Mary provided all of the essentials needed including extra bed linens, towels, and cooking supplies. The lake itself was gorgeous and calm. Although the property is very private, it's only a short drive into the towns of Centralia and Salem where you will find plenty of restaurants, grocery stores, and small town sights.
Mary
July 2016
Mary and Larry were both amazing hosts! They were flexible and helpful! The house is large and very comfortable with everything you could need! Outside is just as good with amazing views in a relatively private cove and tons of things to do! From the raft to the hammock we never got bored! We loved our stay and plan to be back!
Abigail
July 2016
The Turtle Cove Lakehouse is wonderful - quiet, clean, and comfortable. Views are beautiful.
Ruben
June 2016
Great place to stay !! Highly recommend this place
Steven
November 2016
Tipus d'habitació
Casa/pis sencers
---
Tipus de propietat
---
Capacitat
15
---
Dormitoris
3
Centralia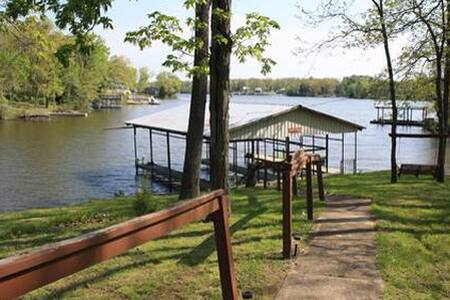 Cozy, individual rooms with access to the clubhouse with TV, fireplace, kitchen, WiFi, exercise room plus bird hunting, hiking and shooting range available. Shared bathroom with shower.
loved the people at the hunting lodge. We were treated like part of the family. We would come back anytime.
Molly
January 2016
Bill and his family are fabulous hosts; they make you feel right at home and are friendly and very generous people. The Lodge is definitely rustic, but comfortable and simple and I thought a very interesting and cozy retreat.
Frances
March 2016
Tipus d'habitació
Habitació privada
---
Tipus de propietat
---
Capacitat
2
---
Dormitoris
1
Vandalia
The Gowler Lodge is a mid century brick ranch home set on the 90 acre nature preserve section of Farraway Farm in picturesque Southern Illinois. The lodge has 3 bedrooms, 1 bathroom and 1 half bath and is perfect for families, writers, hunters, etc.
The Gowler Lodge has been part of Farraway Farm's property for over 60 years. My grandfather had always rented the house. We now welcome Airbnb travelers to take in and enjoy it's recent upgrades. The Gowler is fresh for all to enjoy. Be sure to note the SolaTubes that bring natural sunlight into the living room. library, board games in the closet, kitchen supplies As needed.
According to the 2003 census, there were 785 people, 283 households, and 223 families residing in the village of Bluford, IL. The Gowler House is situated just before the iconic blue Bluford water tower. Up the road and on the left is Farraway Farm, our family's historic cow farm which currently is home to Black Angus cattle and 2 horses. Further up the road is a convenient store run by an outsider named Vick. He carries all the tobacco and alcohol products one should ever need. Car is a must. Truck is even better!
Really great!
Caleb
June 2016
We loved our stay at The Gowler Lodge. The house was very clean and Elizabeth contacted us the day when we arrived to make sure we settled down OK. The house is pet friendly so we brought our dog and he really enjoyed running and playing in the front yard. The house is close enough to drive (within 1 hour and half driving distance) to many great hiking places in southern illinois. We went to Garden of the Gods, Giant City State Park, and Burden Falls. The Shawnee Wine Trail is close by so we were able to visit a couple of the local winery which was also great. All in all, we had a great experience and would definitely recommend this place to anyone who likes the outdoors and wants a getaway from busy city life.
Ellen
September 2015
The house was beautiful and the surroundings were peaceful. My husband and I wanted a quiet get away spot for our anniversary and this was exactly what we hoped for! There are sights to see and a lot of good places to eat some delicious food. There is a TV that we used only a couple times and we loved the tube lights in the living room. My husband and I were able to bring our English setter with us and she enjoyed herself with walks to the pond and all the little critters that visited the yard on a regular basis. There a was a turkey family that walked through every morning and many squirrels who liked to play and move around the yard. The kitchen is functional but very light on pots and pans so if you plan to cook just bring along some things from home. There is a working dishwasher which made the clean up easier. Overall we loved this house and may come back again someday. It was a vacation we will never forget!
Leona
August 2015
We loved our stay at the Gowler Lodge! It was the perfect location to relax for a long weekend. It was within driving distance to different wineries as well a small town. The place was very clean and comfortable and can easily sleep a large group. Elizabeth was a good communicator and check in was a breeze. If we ever need a weekend away, we will be sure to visit again!
Adelina
July 2016
Had an enjoyable stay while our home was being painted.
John
December 2016
Our time in your lovely home was a delightful experience. The house has very welcoming energy. We enjoyed morning coffee and star watching on the front porch at night. There's a variety of wildlife to be seen if you keep your eyes open. Our first morning, there were two large coyotes in the back yard. A beautiful red tailed hawk came to rest on a branch not ten feet away from us. We look forward to visiting your home again. Our motto is to leave a home clean and fresh, as it was when we arrived, for the next visitors. ~Denise and John
John
September 2016
Wonderful place!
Joel
August 2016
Thank you for the beautiful home! It was perfect for our large family. We had pretty much everything we needed and it was a hone away from home. We look forward to seeing you again soon. Elizabeth was great at returning calls in a timely manner. Thanks again, Pastor Dallas and Angela Wood
Angela
August 2015
Tipus d'habitació
Casa/pis sencers
---
Tipus de propietat
---
Capacitat
10
---
Dormitoris
3
Bluford
Little house in the woods, cozy, clean, private. Full kitchen, shower, close to fishing, sailing, hunting. Nice place to stay for sailing regattas, local events, or travelling through on I-64. 15 mi from Nasville IL. Clean, newer, and charming.
Little house in the woods, cozy, clean, private. Full kitchen, shower, close to fishing, sailing, hunting. Nice place to stay for sailing regattas, attending Sparta shooting complex, or just travelling through. It is clean, newer, and charming. There is a small shower, full kitchen, one bedroom, and living area. The deck looks over the woods and Kaskaskia river. When the temp is below 70 at night it is wonderful to turn the AC off, open the window and listen to nature. This unique site is located in Southern Illinois near the City of Carlyle, less than 50 miles from several airports and St. Louis, MO. Guests will have access to a variety of amenities from quaint local restaurants and shops to the bustling activities of the St. Louis area to the interesting country life of church picnics, county fairs, tractor pulls, etc. (No phone, no tv, sorry no pets) Try to meet you depending on schedule.
Neighborhood quiet. Houses separated by woods. Holiday weekends neighbors may use recreational vehicles, so not as peaceful, usually summer holiday timeframe. The river view is best during fall, winter, spring when lush foliage goes to sleep. It is pleasant to walk near the little lakes. (Sorry no fishing without me at neighborhood)
The host canceled this reservation 33 days before arrival. This is an automated posting.
Molly
The cabin in the woods is amazing! The canopy of trees off the back deck is a gorgeous place to have a morning cup of coffee. Beautiful art and rugs, too. Just a lovely place to stay the night. The local lake is beautiful and just a short walk down from the home. Thank you so much!! Beautiful, calm and peaceful home;)
Kathleen
September 2015
Linda was amazing! She worked with us so well even when rearranging our reservations last minute she was extremely helpful and accommodating. The house was LOVELY hidden in the middle of a little pleasantville Forrest. Will definitely recommend to others and we will be returning again in the future. 5 stars!
Sarah
November 2015
During a cross-country road trip, Linda offered a last minute option that proved to be the highlight of my trip. This quaint retreat set within an unmarred mountain wilderness was simply breathtaking. I arrived later in the evening, Linda was kind enough to have waited on me and she was there ready to greet me when I pulled into the drive. She gave me a quick tour and then left me to enjoy the solitude of the crisp autumn air and the distant hues of the setting sun. I truly cannot say enough for the warm hospitality of this place. Everything possible was provided to create a memorable experience, whether it be cooking a five-course meal, playing card games with the kids, sitting around the fire making smores, or just recovering from the world for a little while. The area overlooks the river and while initially i questioned how safe the location might be, I immediately felt at ease and actually ended up falling asleep on the porch beneath the clear night sky with the rustling leaves of fall settling around me.
Laura
November 2016
If you're looking for a place off the beaten path. Don't mind a technology disconnect to just relax and enjoy nature this is it.
jerry
October 2015
Pros: Linda was an excellent host. Her cottage was immaculately clean, well maintained, and very comfortable (aside from a lack of air conditioning). We definitely enjoyed the outdoor fire pit :) Cons: Aforementioned lack of air conditioning and very noisy neighbors. The noisy neighbors may have been due to the fact that it was Memorial Day weekend.
paul
June 2015
Little house is perfect and cozy for one or two. Linda was a wonderful host with great communication. I thoroughly enjoyed disconnecting from technology on my stay.
Amanda
October 2016
Would recommend for anybody! Beautiful setting with everything we needed for our stay!
Kim
October 2016
Tipus d'habitació
Casa/pis sencers
---
Tipus de propietat
---
Capacitat
2
---
Dormitoris
1
Bartelso
My place is good for solo adventurers and business travelers.
Upstairs loft in small private home. Upstairs room and kitchen. We enjoy meeting new people and hope to be available to meet guests.
We're in a town of about 15,000 and we have close to 60 restaurants to choose from. Street parking. Small park within walking distance.
Jackie's place was perfect. I highly recommend her place.
Abby
December 2016
Room was specious and clean. Bed was very comfortable. I was planning to leave early morning but slept till 9:30 am :). I stayed here for break while driving from Chicago to Memphis therefore I did not get change to explore the city. Parking was easy. Host was very communicative and answered all my questions promptly.
Yogen
December 2016
Jackie contacted us right away and explained all we needed to know to have a great stay in her lovely home. We highly recommend this AirBnB location. Her home is located just a short way off the Interstate, so we had a quick arrival and get away. We slept very comfortably in a large room at the top of the stairs. There was no door at the top of the stairs, but we felt very private because the stairs turned a corner on the way up, so we could not see the downstairs from the upstairs room. We had our own bathroom with shower and plenty of room to do our morning stretching and Yoga. We prepared a quick breakfast in her well-equipped kitchen. She had coffee, oatmeal packets, and coffee cake set out for us to enjoy. We stored a few items in her fridge. Jackie had left us instructions for using the wifi and tv. Also, there was a dvd player and tv in our bedroom. We did not have the pleasure of meeting Jackie and her husband, but we hope to do so when we stay in Effingham on other trips. Thank you, Jackie, for your welcoming home.
Carrie
November 2016
The BNB was in a great location for my travels. Jackie was super nice and hospitable!
Mary
December 2016
Great house in a nice little neighborhood in Effingham! Jackie and Mike were very hospitable hosts who put great thought into making our stay as comfortable as possible, even going so far as to provide ear plugs for sleeping, as well as coffee and granola bars in the morning. Would highly recommend!
Brad
November 2016
Jackie and Mike were wonderful hosts. They made sure that we arrived on time, had everything we needed, and felt at home. They made great recommendations for around the area and Mike and I even watched a football game together (thanks, Mike!). Would definitely stay again!
Scott
December 2016
What an excellent second stay at Jackie's home! We arrived after dark and were greeted by her lovely Christmas lights. What a welcome sight after a long drive in the rain! We slept very well in Jackie's comfortable upstairs bedroom with private bathroom and enjoyed lovely, warm showers. Communication with Jackie is quick and easy. We highly recommend her place for those traveling on I-57 in Ilinois. Her home is just a few minutes east of the Interstate and there is a place to park off the street in the front of her house. Thanks, Jackie, for another great stay! We look forward to staying with you again!
Carrie
December 2016
Tipus d'habitació
Habitació privada
---
Tipus de propietat
---
Capacitat
2
---
Dormitoris
1
Effingham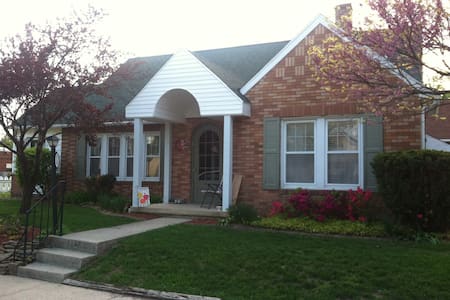 This lovely 4 bd/2bth home on Lake Sara is the place you want to be! Whether you are looking to relax or play in the water, we have it covered. Our home offers everything you will need during your stay! Email for contact: mizzou141@hotmail.com
We thoroughly enjoyed our stay at this little house this past weekend. The lake was beautiful and we had a blast canoeing and kayaking. One thing we misunderstood from the listing was that it only had two rooms with double beds....but we made out fine because there was a nice little cot to put in the room with a twin bed. The house and kitchen were clean and Todd and Amber very good to work with. We would enjoy coming back if all works out well.
Rachel
May 2016
Coworkers and I stayed here for almost 3 weeks on a business trip. The lake house was wonderful and the changing leaves were a treat. Todd & Amber got us internet which was amazing and then gave us a gift since it was installed later than expected which was even more amazing! We didn't have time to enjoy the lake besides the wonderful view. The neighborhood was quiet and the house is only minutes from shopping areas. I would definitely recommend this house and plan to stay here again for future business trips.
Isaac
November 2016
Love Lake Sara!
Angie
September 2016
Tipus d'habitació
Casa/pis sencers
---
Tipus de propietat
---
Capacitat
12
---
Dormitoris
4
Effingham
IMPORTANT: Refer to Location / Directions & helpful tips section for EXACT directions. Historic centennial home owned by same family since 1856. 230 acres of hiking trails, 2 fishing ponds. Winery, water skiing, boating, fishing & golf very close at Rend lake. You'll love the solitude & outdoors space. Great for couples, solo adventurers, families, & pets. Fully equipped kitchen, BBQ grill, Fire pit croquet/horseshoes. Central air/satellite TV. 2 bottles of wine upon arrival.
Enjoy the 2 fishing ponds (fish food and worms provided). Enjoy the barn and play in hay loft or horse stalls. Hiking trails throughout the 200+ acres of fields and creeks. Guests are welcome to utilize any and all of the 200+ acres and house. 2 bottles of wine are provided upon your arrival.
The farm provides solitude while still offering necessary amenities in the house. There are two near by towns (Dahlgren & McLeansboro), both approx. 5 miles away. McLeansboro offers multiple grocery stores and several eating establishments. There are two near by towns (Dahlgren & McLeansboro), both approx. 5 miles away. McLeansboro offers multiple grocery stores and several eating establishments.
Bill was a very welcoming host! Looking forward to seeing what upgrades are in store for this farm!!
Noreen
September 2016
The description of the home was accurate and the surrounding land provided a beautiful, picturesque setting. It is an old home, so be prepared for older amenities, including a single restroom. Nonetheless, it was perfect for what our family was seeking out of the weekend, which was dedicated family time. I would definitely recommend this location for the right event. In addition, the seller was top notch in customer service striking the right balance of staying in contact with me and providing support. Bill gets an A+!
Heather
July 2016
Flannel sheets and farmhouse charm ...... we met our daughter who lives in Chicago for Christmas at the farm. My husband went bird hunting and we shopped and cooked! The house is a four generation farm with exposed brick walls and a swing on the front porch. Bill, our host had provided a couple of bottles of wine and plentry of wood for the fireplace. We brought our dogs and the farm house provided the perfect enclosed porch for them to hang out plus plenty of room for morning walks on the 200 acre property. Bill had a Christmas tree and other decorations to make our holiday perfect! We hope to return in late February ...
Donna
December 2016
We had a wonderful time staying at this beautiful century home. The house is even prettier than the pictures --especially the kitchen area. Bill stayed in touch with me and answered all of our questions. He was extremely nice and welcoming.
Laura
September 2016
Bill was a great communicator. He kept in touch prior to our arrival and asked us daily how things were going and if we needed anything. The location is WAY off the beaten path - so perfect if you really need to get away (my Verizon phone got service, but our friends service did not), this is the spot for you. Make sure you have everything you think you might need - the closest stores are approximately a 25 minute drive away. The ponds were fun to go to & feed the fish, wear bug spray though, it's farm & woods all around.
Joanie
August 2016
Lovely old home designed for groups.
Erin
July 2016
Peace and quiet! Loved the home and the surrounding grounds. It is a place to get away from it all. The guys loved the fish pond, and I loved the huge deck to sit and relax.
Lisa
September 2016
Tipus d'habitació
Casa/pis sencers
---
Tipus de propietat
---
Capacitat
13
---
Dormitoris
4
Belle Rive
Owned by our family since 1885, the farmhouse has historic charm combined with modern comforts including newly added bathrooms, central HVAC and new windows. It is situated on a peaceful farm setting near golf, hunting, antiquing and other attractions.
Historic Log Cabin built circa 1850 with Victorian-era section built in 1905. Recent renovations (2012) include a room addition, two updated bedrooms, two new bathrooms added and the third bathroom updated, central heating and air-conditioning. The property offers great indoor and outdoor space. Historic charm and modern essentials. 500 square foot back deck added 2016. Guests will have full access to the farmhouse and the Milk House (one of the small buildings outside) as well as the front porch, back deck and large yard. Barns, sheds, cow pasture, fields, gardens and lake are strictly off limits. Host will most likely stop in for check in and can stop by any time to answer any questions that come up.
This is a very peaceful area. The skies, lanes, trees and crops add great views throughout the day. You will need to have a car. You might go for walk/ down the country roads or for a bike ride (if you bring a bicycle).
The farmhouse was a perfect place for our group. It was clean, spacious, private, and peaceful. Everything we needed was available and the scenery was beautiful. The owner was very responsive and helpful, as I had never stayed in an airbnb home. It was an easy drive into St. Louis every day, and shopping and other conveniences were all on the way. I would definitely recommend this home to any family, or group gathering. It was just what we needed.
Laura
May 2016
Cora's farmhouse takes you back in time by sharing her families house. All the conveniences of a modern home are present but the original part of the home was kept intact. You must stay in her home for no other reason than to experience of sleeping in a working museum.
Nathan
May 2016
From well before we arrived at the farmhouse, Cora made us feel welcome. Since we were arriving late at night, we were concerned about finding the house and her directions were perfect. She responded immediately to all our inquiries. We walked into a beautiful home, well cared for with generations of family history. While the farmhouse itself is quite old, with even part of the original log home exposed in the dining room, all the rooms are beautifully decorated. The bathrooms and kitchen are modern in every way. Everything was immaculate. It was wonderful being on a farm, enjoying the expanse of the surrounding cornfields. We enjoyed every minute of our stay and would love to return some day. To top it off, the coffee she provided was excellent.
diana
October 2015
The farmhouse was a great place to stay, exactly as described. It was equipped with all the amenities needed. The cleanliness was superb. We enjoyed our stay so much and would recommend it. The host was super nice and helpful.
Rosa
September 2016
Peaceful, beautiful, private, antique charm yet all the modern conveniences of home: This Farm House Airbnb was one of the best places we have ever stayed at! Six adult family members were traveling to Nashville and wanted to spend the night somewhere we could enjoy dinner and a relaxing evening together. Cora's Working Farm House was the perfect place. We especially enjoyed after dinner drinks on the front porch watching a full moon rise and the sky explode with stars. You don't get to see that in the cities! Jean (ages of our group 58-61)
Jean
Knowing we would arrive before the listed arrival time, I contacted the host who accommodated our early arrival. Upon arrival we found the house comfortably cool and very welcoming. The first day the host contacted me to make sure everything was o.k. and to arrange a time we could meet the next morning. The house is a short drive from the interstate, so very easy to reach after traveling on a high speed highway. Yet the house is not so close that you can see the interstate or be bothered by the traffic. We found that there were cooling breezes each morning and evening making it quite comfortable to sit outside even on very hot days.
David
July 2016
We very much enjoyed our stay in this charming home less than an hour from Saint Louis. It is rich in history and character while providing all of the modern conveniences. The four bedrooms and three baths supplied ample privacy and personal space. The large dining room and other common areas were great for socializing. We also loved sipping coffee on the front porch as the sun came up in the morning. Cora was attentive and responsive without being intrusive. We had a very positive experience and would be happy to stay here again.
Sandra
June 2016
Our stay at the farmhouse was absolutely fantastic. Family members from three states stayed there during my nephew's wedding weekend. There were numerous oohs and aahs as each group arrived and toured the home, as each room was uniquely decorated and offered pleasant surprises. Whether it was cooking in the kitchen, enjoying breakfast in the dining room, visiting in the parlor or on the porch, walking around the property, biking down rural roads, or enjoying the unique bedrooms, everything was outstanding. Three bathrooms were great for allowing everyone sufficient time to prepare for various wedding events. Everyone wished they had an extra day or two, just to experience the farmhouse a little longer. Definitely recommend the farmhouse to others.
Paul
June 2016
Tipus d'habitació
Casa/pis sencers
---
Tipus de propietat
---
Capacitat
8
---
Dormitoris
4
Okawville
Enjoy your stay in your very own farmhouse. Nestled in rolling hills, with views of the flowing creek and fields. Just 6 miles East of Hillsboro, IL and 45 minutes from Springfield, IL Enjoy hiking, fishing, golf, boating and relaxing on the porch. The farmhouse has one bedroom with a double bed and comfortable sofa sleeper (double) in the living room. There is also a double bed/futon in the summer kitchen to use if desired. The second farmhouse shown in photos is NOT available as of July'16
We are a unique farmhouse, situated on 236 acres of complete privacy You have the use of your own farmhouse. Situated in the country within 6 miles of Hillsboro IL Plenty of restaurants, shops, and museums close by. You will have access to hiking trails, fishing, Springfield IL Lincoln museums and sites. Small town museums, unique dining restaurants, movie theaters and wineries. We will be happy to show you the trails, winery, or give you any suggestions on where to dine. We are available to join you or leave you to your selves. Breakfast items are provided for you to enjoy in your farmhouse. If you would like a country breakfast with us, we can arrange to fix it for an additional fee.
We love the quiet, peaceful nature sounds. Our neighbors are too far to see, but close enough to help out if needed. The stars are so bright in the country, and deer, turkey and pheasants are always seen. You are responsible for your own transportation. There is a large parking area. The closest airports are St. Louis, MO and Springfield, IL On occasion we do allow pets, if they are kenneled . The farmhouses are on a septic system and we do not have a garbage disposal, or dishwasher.
Home is so nice. It is real farm house with great history and warm soul! Good run route nearby with very nice nature and animals. I so deer, rabbits, birds, squirrels. John was very kind and organized a tour on his farm.
Albina
June 2015
It is definitely off the beaten path, but is a great cottage. We were passing through on our road trip home, but hope to come back sometime and really enjoy what the farm has to offer.
Crystal
January 2017
We decided we needed a nice quiet weekend away, and booked this only a couple days in advance. We have a very enjoyable, restful weekend in the country on John and Vicki's farm / wildlife reserve. The house was spotless and very much as described. This is rural central Illinois at its best. John took the time to show us around the property, made excellent winery and restaurant recommendations, and went to great lengths to assure our comfort. He even left bacon, eggs, OJ, milk, and stuff for us to make breakfast. Bottom line, we were very happy we stayed, and hope to do so again sometime.
Michael & Jeri
August 2016
John and Vicki were so welcoming, even during a pretty heavy down pour! The farmhouse was exactly what we were looking for in an escape--a quiet and semi-remote place with a lot to do outside. The pictures are accurate, as are the descriptions provided. Games, puzzles, and dvd/vcr are available for use--if you have young kids bring dvds for them, the selection available is great (Dirty Dancing!) but not targeted for littles. All in all, it was a lovely stay, even if we had to cut it short due to weather (constant rain) induced cabin fever. We're definitely taking John up on the IOU to come back and tour the wineries in the future! Thanks for letting me take home all the delicious cookies...they were fantastic!
Felisa
July 2016
John and Vicki were very welcoming. All the little touches throughout the home were spot on. The home was comfortable and all conviences we needed were provided. Beautiful setting, with trails, berries and wild life. Without doubt the most relaxing vacation my family and I have been on. If you want to experiences country living with all the necessities this place is for you. John and Vicki are very accommodating host and make every effort to make your stay comfortable!!
Paula
July 2016
The place is cute and mostly comfortable. The hosts were quick to accommodate an early check in which saved us having to find the place in the middle of the night. The air conditioning was great. I liked sitting on the porch for a short while and my husband enjoyed reading in the bay window. We were interested in two bedrooms. The second room, however, to our surprise, was an outbuilding off to the side that had a lot of spiders and spiderwebs, too many to house our daughter. Thankfully, the couch in the main house pulled out to a bed and we were spared there. We were more than surprised and disappointed after we arrived to learn we had to place paper products for the toilet in a trash can. Between the second bedroom and lack of plumbing, we would have stayed elsewhere. There is a stream, but no access to it. Cute place if you want to sit on the porch and read.
Denise
July 2016
John was a most welcoming and considerate host. His communication before and during our stay was excellent. The farmhouse and homey and charming. It was surrounded by farmland and woods and created a peaceful setting for a great rest. The summer kitchen (converted to a bedroom) was really cute. We appreciated the cookies baked by Vicki and other morning breakfast items left for your use. We highly recommend. Thanks!
Trudy
May 2015
Tipus d'habitació
Casa/pis sencers
---
Tipus de propietat
---
Capacitat
4
---
Dormitoris
1
Fillmore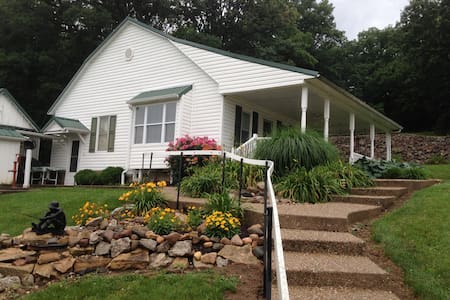 Beautiful 1 acre property with lake view. 6 bedrooms, 3.5 bathrooms. Close to Greenville College. Also close to the St. Louis area for families wanting to visit St. Louis while staying away from all the congestion.
The house and all of its contents are yours to use. The only off limits are the boat and jet ski's. I will be available for any questions or last minute needs.
Beautiful house by the lake. House is huge and has everything. Our host Jeff was really good with communication. We would go again definitely.
Hardik
March 2016
This was my first experience with Airbnb and it couldn't have gone better. Jeff was a wonderful host and his home was everything described and neat as a pin. He provided a detailed instruction and items location list that allowed us the freedom to use his home as if it were our own. Our experience was a welcome relief for a busy wedding week. Thanks Jeff and Airbnb.
ann
September 2016
Jeff's house was absolutely amazing. It was priced super fairly for how amazing the place is. The pictures do not do it justice and we would love to stay here again in the future. Thank you Jeff!
Garrett and Ewa
May 2016
Beautiful home on Bond lake. Plenty of space and bedrooms, kitchen had everything we needed. Great back-yard & deck.
Dan
November 2016
Tipus d'habitació
Casa/pis sencers
---
Tipus de propietat
---
Capacitat
12
---
Dormitoris
6
Greenville