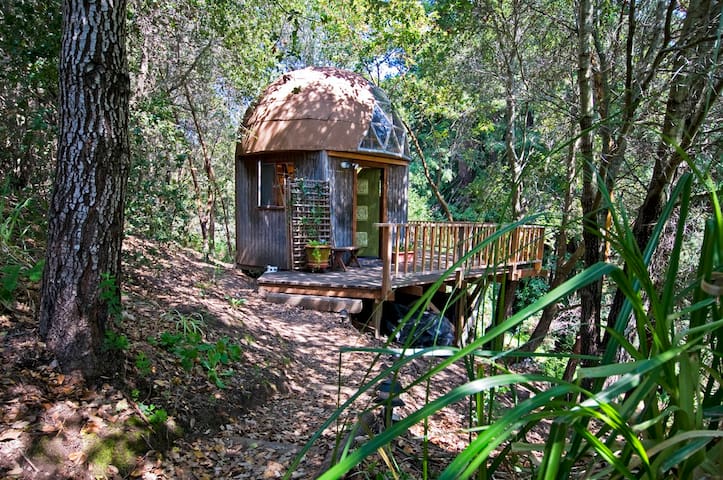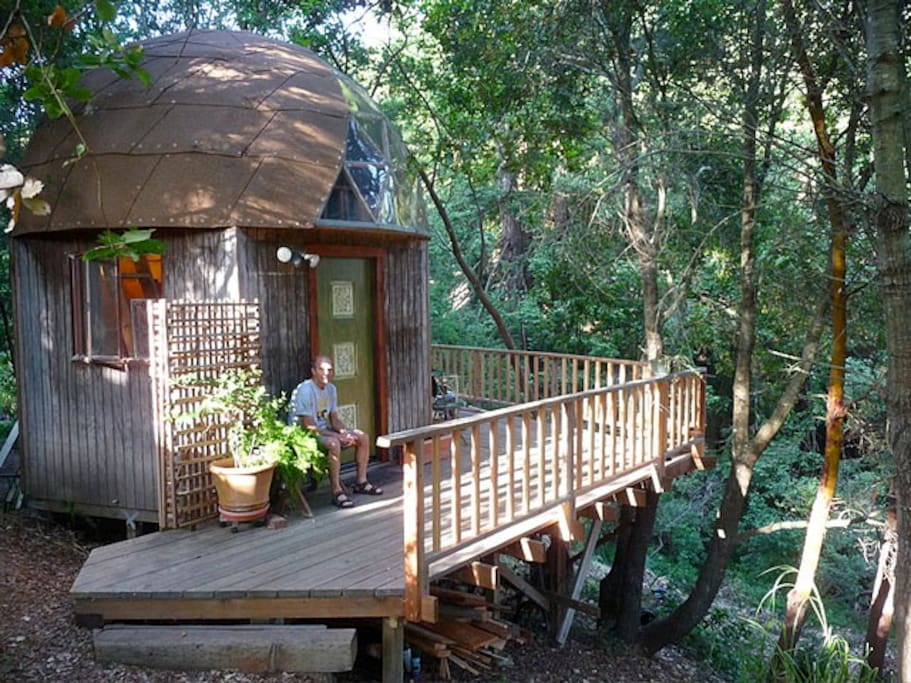 Amb un altell de cúpula geodèsica i una gran coberta als arbres, sentiràs que estàs en una casa d'arbres al bosc. Ens trobem en un lloc tranquil però convenient. A l'ombra dels arbres de Roure i Madrone i al costat d'un bosc de Toro Roig, podeu gaudir de l'aire lliure des de la coberta. A l'estiu, és genial i, a l'hivern, podeu escoltar el rierol que hi ha a sota.
With a geodesic dome loft & a large deck in the trees, you'll feel like you're in a tree house in the woods.
We are in a quiet yet convenient location. Shaded by Oak and Madrone trees and next to a Redwood grove, you can enjoy the outdoors from the deck. In the summer, it is cool and in the winter you might get to hear the creek running below.
L'allotjament
Tenim 10 hectàrees al costat de la terra sense tanques perquè gaudiu de la natura: només cal que passeu una mica al pont, feu una caminada pel bosc, mireu els colibrís, masceteu els cabres, aneu a la platja o mireu les estrelles. sempre que la lluna no estigui plena. ; ) Durant l'estiu, si no hi ha boira nocturna, podem veure la Via Làctia aquí. Per consultar la nostra disponibilitat, feu clic a l'enllaç "Sol·licitud per reservar". I sí, si no està disponible, ja està reservat! Si voleu allotjar-vos aquí durant un cap de setmana durant l'estiu, haureu de fer la vostra sol·licitud de reserva amb un mínim de 9 mesos d'antelació. Tanmateix, en ocasions obtenim una cancel·lació, de manera que si voleu una data que ja hagueu reservat, podeu avisar-nos i us avisarem d'una cancel·lació. (Llegiu tota aquesta descripció abans de fer una sol·licitud de reserva). La cabina semi-rústica acollidora i neta té un loft sota una cúpula geodèsica (el "tap de bolets"). En el loft es un súper Casper matalàs de mida Queen que permet dormir molt còmode i simplement sortir, proporcionem llençols i fundes de coixí netes. S'ofereixen també mantes abundants. L'altre "llit" és un sofà que podem convertir en un llit. Si hi ha 2 vostres, però voleu llits separats, feu la reserva per 3 o feu-ho saber abans d'hora: hi ha un valor de $ 10. cobra per usar-lo com a llit. Al loft, tenim una pantalla plana HD de 32 "i un reproductor de DVD (sense televisió) per a pel·lícules. (Tenim més de 80 pel·lícules que també podeu veure). A la planta principal (un Pentàgon) hi ha el sofà i una taula extreta. Proporcionem una petita nevera, una licuadora, Popper Popcorn Hot Air, French Coffee Press, un spinner d'amanides i plats. Sí, tenim un obridor de vi. Disposem de 2 taules on podeu gaudir d'àpats, jocs, etc.: 1 a l'interior i 1 a l'exterior a la gran baralla que té a les sequenyes. També tenim una graella de barbacoa a la coberta amb un cremador de gas addicional al costat. Oferim cafè orgànic, tes, farina de civada, crispetes de blat de moro, mantega, mel, sucre, llevat nutricional (per a les crispetes de blat de moro!) Espècies, oli i vinagre i diversos aperitius. La nostra aigua de pou és tractada per un ozonitzador, una llum UV i un filtre d'aigua suau. Si teniu un nadó i no necessiteu el segon llit, feu la vostra reserva per a 2 i feu-nos-ho saber si necessiteu un petit coixí per al loft. De nou, si hi ha 2 de vostès, però voleu utilitzar el segon llit, feu la vostra reserva per a 3 persones. El bonic bany té una dutxa travertina, un lavabo de rajoles personalitzat i un WC de compostatge autònom de Natures Head. Alguns convidats han tingut un problema amb el nostre bany, així que vull deixar clar que tenim una cortina per a la porta del bany i necessitem que posi el paper higiènic utilitzat a la paperera. (no farà olor) Si segueix les instruccions per utilitzar el vàter, no tindrà cap olor. Si la idea d'utilitzar un vàter de compostatge és important, no feu una reserva aquí. ; ) Oferim tovalloles, sabó, xampú, condicionador, assecador de cabells, etc. (una paraula de precaució: el bany té un sostre baix. Si tens més de 6 anys, hauràs de fer una mica de picada aquí i (URL HIDDEN) que els dissabtes estan molt demandats (i ens agrada estar lliure els dissabtes), es requereix una estada mínima de 2 dies els caps de setmana. Tingueu en compte que les nits de divendres i dissabte són de 145 dòlars. cadascun. Per tant, quedar-vos aquí un cap de setmana costarà $ 290. més els $ 35. quota de neteja, quota d'Airbnb de $ 40 i l'impost transitori del 11% del Santa Cruz de prop de $ 35. Així, per al cap de setmana, tindrà un total de prop de $ 444. Per mantenir-se durant 1 dia a la meitat de la setmana costa un gran total d'uns 200 dòlars. Les vacances de 3 dies requereixen una reserva de 3 dies. (Això inclou el Dia dels presidents, el Dia de la Memòria, el dia de MLKing i el Dia del Treball.) Però per quedar-vos aquí un cap de setmana, normalment heu de reservar la cabina entre 6 i 8 mesos d'antelació, tret que tingueu sort de trobar una cancel·lació. El registre d'entrada és entre les 4 i les 22 hores. Si desitgeu venir tard o d'hora, això de vegades es pot organitzar. La hora de sortida és a (URL HIDDEN) que hem experimentat algun dany per part dels clients, ara exigim $ 100. dipòsit de seguretat. Encara que se sent molt aïllat aquí, estem a menys de 10 minuts d'Aptos Village on trobareu botigues, restaurants, una botiga de productes alimentaris, Safeway, etc. Estem ubicats a la badia de Monterey, a 10 minuts de la platja (Riu Del Mar i Seacliff State Beach), així com el Parc Estatal de Nisene Marks de 10.000 acres per milles de senderisme o ciclisme de terra a les zones vermelles i al llarg d'Aptos Creek. Estem a 20 minuts del centre de Santa Cruz, a 25 minuts. al Beach Boardwalk, a 45 minuts de Monterey i al famós Aquari de Monterey Bay, a 50 minuts. a Carmel i 1 1/2 hores a Big Sur cap al sud i San Francisco al nord. Sí, estem ubicats en una de les zones més boniques de Califòrnia. (aquests temps no són en hores punta);) Si t'agraden els colibrís, portis la teva càmera. El nostre jardí és la llar durant tot l'any per a molts colibrís d'Anna. (En general tenim al voltant de 250-500 durant tot l'any) Durant l'estiu, també se'ns crida a casa per molts Rufus i Allen Hummers. Així que haureu de veure el nostre "Aeroport de l'Hummingbird" on els alimentem uns 120 oz. de xarop en un dia d'estiu! No es permet fumar a la cabina ni a la propietat. Solíem deixar que els fumadors quedessin aquí, però fessin estrenyen la cabina i es tractava d'un perill d'incendis a l'exterior. Alguns telèfons mòbils no funcionen aquí, però com que tenim Wi-Fi gratuït a la cabina, si el telèfon funciona amb una xarxa Wi-Fi, és bo trucar. De vegades podeu obtenir el servei de Verizon al seient basculant per la carretera. Per conèixer les coses a fer a la zona, feu una cerca a Internet per a Santa Cruz, CA. Els gossos poden quedar-se aquí, però amb uns quants requisits: ja que tenim tants animals, necessitem que els teus gossos es queden atrapats quan estiguin fora (les cabres es posen molt nervioses amb els gossos solts grans). A més, no permetem que els gossos en el loft o al sofà baix, així que porteu un llit de gosset. (el vostre gos pot passar al sofà si us porta una tapa) Si això és difícil, feu-nos-ho saber i us proporcionarem un coixí de gosset. Tenim una porta que podem configurar perquè el vostre gos pugui sortir de la corretja a la baralla. Si vostè està portant un nen petit, podem posar un futó plegable (2/3 ª del futó o un coixí d'escuma al costat del llit) Només avise'ns abans. Tanmateix, tingueu en compte que un nen no s'hauria de deixar al llit per si mateix ja que el llit és bastant alt contra el ferrocarril. A mesura que estem a uns 3 quilòmetres fins a la parada d'autobús més propera, és bastant difícil quedar-se aquí sense cotxe. Et conviden, si creus que seràs harmònic aquí. Petiteu les cabres, consulteu els nostres pollastres, gats, gossos en miniatura i gaudiu de l'aire molt fresc. Fins i tot et podria ensenyar com es llet una cabra. Si vens aquí quan no hi ha llum de lluna i el cel està clar, veureu moltes estrelles. Cansat de la calor a l'estiu? Com que estem a la vora del "cinturó de boira", pot ser assolellat i fresc aquí. Si voleu un lloc sorollós, no us agradarà aquí: la major part del so que aquí prové dels ocells o grills, els arracades, les granotes i la brisa que travessa els arbres. Tanmateix, la gent viu a la terra aquí, així que no espereu que estigui totalment desproveït de sons humans i de la cadena ocasional. :) (Alimentem les branques de roure de cabres)
We have 10 acres next to land without fences so you will get to enjoy nature: just hang out on the deck, take a hike in the woods, watch the hummingbirds, pet the goats, go to the beach or gaze at the stars - as long as the moon isn't full. ; ) During the summer, if there isn't any nightly fog, we can see the Milky Way here.
To check our availability, click on the "Request to Book" link. And yes, if it isn't available, it is already booked! If you want to stay here on a weekend during the summer, you will need to make your reservation request about 9 months in advance. We do, however, occasionally get a cancellation, so if you want a date that's already booked, you can let us know and we will notify you of a cancellation.
(Please read all of this description before making a reservation request.)
The cozy and clean semi-rustic cabin has a loft under a geodesic dome (the "mushroom cap"). In the loft is a Queen-sized super popular Casper Mattress which allows for very comfortable sleeping and just hanging out, We provide clean sheets and pillow cases. Plenty of blankets are also provided.
The other "bed" is a couch that we can make up into a bed. If there are going to be 2 of you, but you want separate beds, please make the reservation for 3 or let me know ahead of time - there is a $10. charge for using it as a bed.
In the loft, we have a 32" HD Flat Screen and a DVD player (no TV) for movies. (We have over 80 movies you can view as well.)
On the main floor (a Pentagon) is the couch and a pull-out table. We provide a small refrigerator, a blender, Hot Air Popcorn Popper, French Coffee Press, a salad spinner and dishes. Yes, we have a wine opener. We have 2 tables where you can enjoy meals, games, etc.: 1 inside and 1 outside on the large deck that faces the redwoods. We also have a barbecue grill on the deck with an extra gas burner on the side. We provide Organic Coffee, teas, Oatmeal, popcorn, butter, honey, sugar, nutritional yeast (for the popcorn!) spices, oil and vinegar and various snacks. Our well water is treated by an ozonator, a UV light and a soft water filter.
If you have a baby and you won't be needing the second bed, make your reservation for 2 and let us know if you will need a small pad for the loft. Again, if there are 2 of you but you want to use the second bed, please make your reservation for 3.
The cute bathroom has a Travertine shower, custom tiled sink and a Natures Head self-contained composting toilet. Some guests have had a problem with our bathroom, so I want to make it clear that we have a curtain for the door to the bathroom and we require that you put your used toilet paper in the trash. (it won't smell) If you follow the instructions for how to use the toilet, it won't have any odor. If the thought of using a composting toilet grosses you out, then don't make a reservation here. ; )
We provide towels, soap, shampoo, conditioner, a hair blow-dryer, etc. (a word of caution: the bathroom has a low ceiling. If you are over 6' you may have to do a little ducking here and there.)
As Saturdays are very much in demand, (and we like to be free on Saturdays), we require a minimum 2 day stay on the weekends. Keep in mind that Friday and Saturday nights are $145. each. Therefore, to stay here on a weekend will cost $290. plus the $35. cleaning fee, the $40 airbnb fee and the 11% Santa Cruz County Transient Tax of about $35. So for the weekend, it will be a total of about $444.
To stay for 1 day mid-week costs a grand total of about $200.
On 3 day holidays, we require a 3 day reservation. (This includes Presidents Day, Memorial Day, M.L.King day, and Labor Day.) But to stay here on a weekend, you will usually have to book the cabin 6 - 8 months in advance - unless you are lucky to find a cancellation!
Check-in time is between 4 and 10pm. If you want to come sooner or later, this can sometimes be arranged. Check-out time is noon.
As we have experienced some damage from guests, we are now requiring a $100. security deposit.
Although it feels very isolated here, we are less than 10 minutes to Aptos Village where you will find stores, restaurants, a health food store, Safeway, etc.
We are centrally located on the Monterey Bay: 10 minutes from the beach (Rio Del Mar and Seacliff State Beach) as well as the 10,000 acre Nisene Marks State Park for miles of hiking or dirt biking in the Redwoods and along Aptos creek. We are 20 minutes to downtown Santa Cruz, 25 min. to the Beach Boardwalk, 45 minutes to Monterey and the world-famous Monterey Bay Aquarium, 50 min. to Carmel and 1 1/2 hours to Big Sur going south and San Francisco to the North. Yup, we are located in one of the most beautiful areas of California. (these times are not during rush hour(s) ; )
If you love hummingbirds, bring your camera. Our garden is the year-round home to many Anna Hummingbirds. (We usually have about 250-500 year-round) During the summer, we are also called home by many Rufus and Allen Hummers as well. So you have got to see our "Hummingbird Airport" where we feed them about 120 oz. of syrup on a summer day!
Please, no smoking in the cabin or on the property. We used to let smokers stay here, but they stink up the cabin and it is a fire hazard outside.
Some cell phones don't work here, but since we have free wifi in the cabin, if your phone works with a wifi network, you are good to call. You can sometimes get Verizon service on the swinging seat by the driveway.
To learn about things to do in the area, do an internet search for Santa Cruz, CA.
Dogs are welcome to stay here but with a few requirements: since we have so many animals, we require that your dogs be kept on a leash when outside (the goats get very nervous with large loose dogs). Also, we don't allow dogs in the loft or on the couch downstairs so please bring a doggie bed. (your doggie can go on the couch if you bring a cover for it) If that is difficult, let us know and we will provide a doggie pillow. We have a gate that we can set up so your dog can be off the leash on the deck.
If you are bringing a small child, we can put a folding futon (2/3rds of the futon or a foam pad next to the bed ) Just let us know ahead of time. Keep in mind, though, that a child should not be left in the loft by themselves as the bed is fairly high up against the rail.
As we are about 3 miles to the nearest bus stop, it is pretty difficult to stay here without a car.
You are invited, if you feel you would be harmonious here. Pet the goats, check out our chickens, cats, miniature dog and enjoy the very fresh air. I might even teach you how to milk a goat. If you come here when there is no moonlight and the sky is clear, you will see lots of stars.
Tired of the heat in the summer? Since we are on the edge of the "fog belt", it can be both sunny and cool here. If you want a noisy place, you won't like it here: most of the sound here comes from the birds or crickets chirping, the tree frogs croaking and the breeze blowing through the trees. People do live on the land here though, so don't expect it to be totally devoid of human sounds and the occasional chain saw. : ) (We feed the goats oak branches)
Serveis i zones comuns
Hi ha Wi-Fi gratuït a la cabina, una bona aigua de pous i algunes bones rutes de senderisme just a la sortida de la coberta, així com una safata de safareig en el llit de la riera seca sota el bosc de ribera. (A l'hivern, pot haver-hi aigua corrent) Els clients també poden passejar, visitar els nostres animals en la nostra petita "farmette" (3 cabres, 9 pollastres, un gos petit i 2 gats) i fer preguntes.
There is free wifi in the cabin, great well water and some good hiking trails right off the deck as well as a nature sandbox in the dry creek bed under the redwood grove. (In the winter, it can have running water) Guests are also welcome to wander around, visit our animals on our little "farmette" (3 goats, 9 chickens, a small dog and 2 cats) and ask questions.
Interacció amb els hostes
Gairebé sempre interactua amb els nostres convidats. M'encanta fer-los sentir benvinguts i a casa, mostrar-los els colibrís i compartir el meu coneixement dels llocs fantàstics per anar a la nostra bonica zona. Feu-me saber si no voleu interactuar amb mi i us deixaré en pau ràpidament. ; )
I almost always interact with our guests. I love to make them feel welcome and at home, show them the hummingbirds and share my knowledge of the great places to go in our beautiful area. Let me know if you don't want to interact with me and I'll leave you alone quickly. ; )
Altres aspectes destacables
Tenim un camí bastant estret, i en pocs llocs, empinats. Hi ha desviacions per passar els cotxes que s'apropen. Preneu-lo lentament. De tant en tant, tenim un tall de potència durant l'hivern. Si això passa, proporcionarem llums operades per bateria. Si la carretera principal està bloquejada per un arbre avall, us faré saber com entrar o sortir de la nostra àrea.
We have a rather narrow - and in a few places, steep - driveway. There are turnouts to pass oncoming cars. Please take it slowly.
Occasionally, we have a power outage during the winter. If that happens, we will provide battery operated lights. If the main road is blocked by a downed tree, I'll let you know how to get in or out of our area.
Apte per a famílies i nens
Aparcament gratuït inclòs
Persones addicionals €9 / nit més de 2 hostes
Preu per al cap de setmana €127 / nit
Compromís amb un salari digne
Les persones que netegen l'espai d'aquest amfitrió cobren un salari digne.
Més informació
Fes servir sempre la plataforma d'Airbnb per a la comunicació
Per tal de garantir el teu pagament, no realitzis mai cap transferència bancària i fes servir sempre el lloc web o l'aplicació d'Airbnb per comunicar-te amb l'amfitrió.
Habitació 1
1 llit de matrimoni gran
No es permet organitzar festes o esdeveniments
L'hora d'arribada és en qualsevol moment a partir de les 16:00
Hora de sortida: abans de les 12:00
• Please, no smoking either in the cabin or on the property
• Please don't sleep here with tooth or skin whitening material: they bleach the pillow cases and sheets.
• If you want to bring a dog, please send a request. (We have goats and cats) As so many people are allergic to cats, please don't bring yours.
• Dogs must stay on a leash when outside.
• Dogs are not allowed in the loft.
• No wild parties, please.
• Please don't drink wine in the loft.
• If you use the barbecue, you are required to clean it. But don't close the side lid if the burner is still hot!
• Please wash and put away your dishes, pots, etc. before leaving.
• Please don't bring a lot of food or water in plastic. (those #1 clamshells can't be recycled)
We provide all the dishes you will probably need, so please don't bring disposables either.
• If you want to use real candles, please talk to us first. We provide a rose quartz mood light.
• Please take short showers.
És important saber
S'ha de pujar escales - There is a short but steep steps down to the cabin and the loft is accessed via a ladder.
Possibilitat de soroll - Once in awhile, we need to cut some oak for the goats with a chain saw. We try to do it when guests aren't present, but that is not always possible.
Viuen animals de companyia a la propietat - We have 3 goats, chickens, 2 cats and a tiny dog.
El nombre mínim de nits per estada per aquest allotjament varia segons la reserva .
Aptes, Califòrnia, Estats Units
Membre des de juliol 2009
We live on 10 beautiful acres of sun, oak forest, redwood groves and gardens and 3 goats, a parrot, 2 cats, a small dog, 9 chickens and over 400 hummingbirds.

I have been hosting on airbnb since July, 2009 and really love what this company has made possible. I have met so many wonderful people from around the world that I would never have met if I hadn't had this opportunity with airbnb! Some of our guests (especially the ones from Europe) have never seen a hummingbird before and here they get to see them up close - just a few feet from them as the birds "hum" around the feeders.

We welcome you to come experience the peace and tranquility that our wonderful land has to offer.
Índex de resposta:
98%
Temps de resposta:
en unes hores
Descobreix altres opcions a Aptes i els seus voltants
Més llocs on allotjar-te a Aptes: