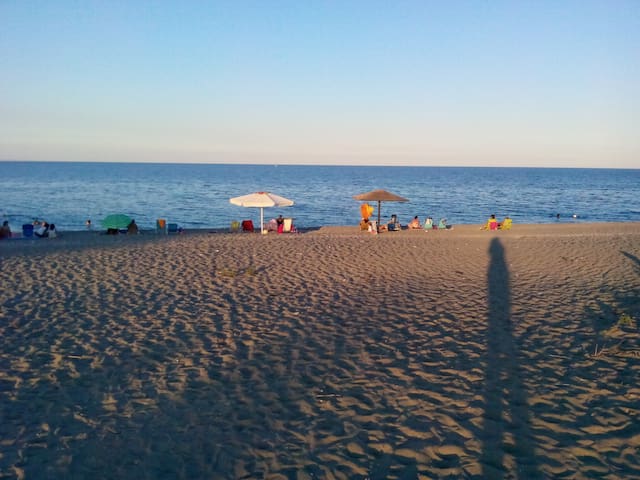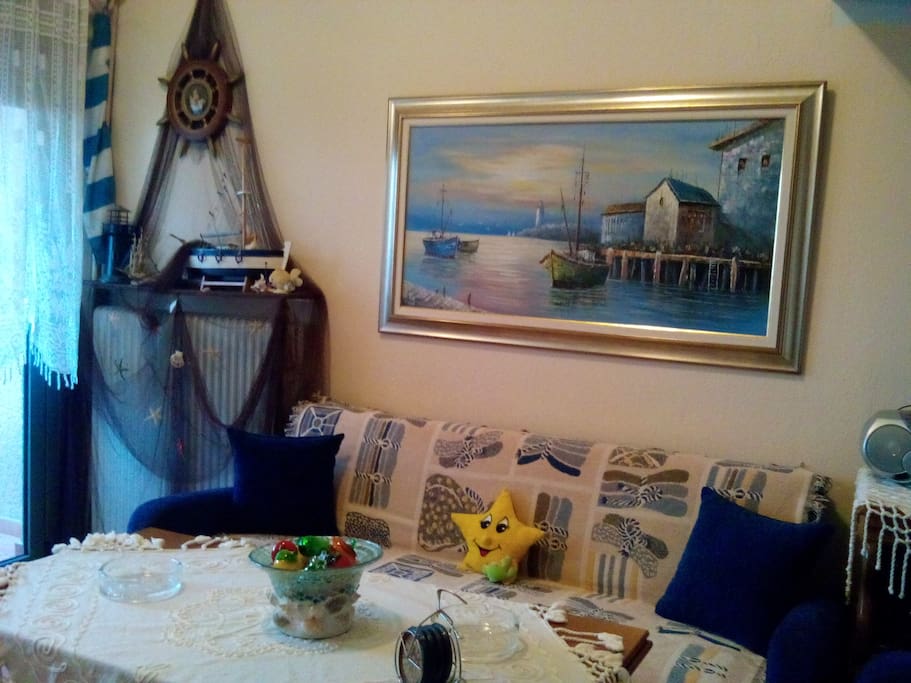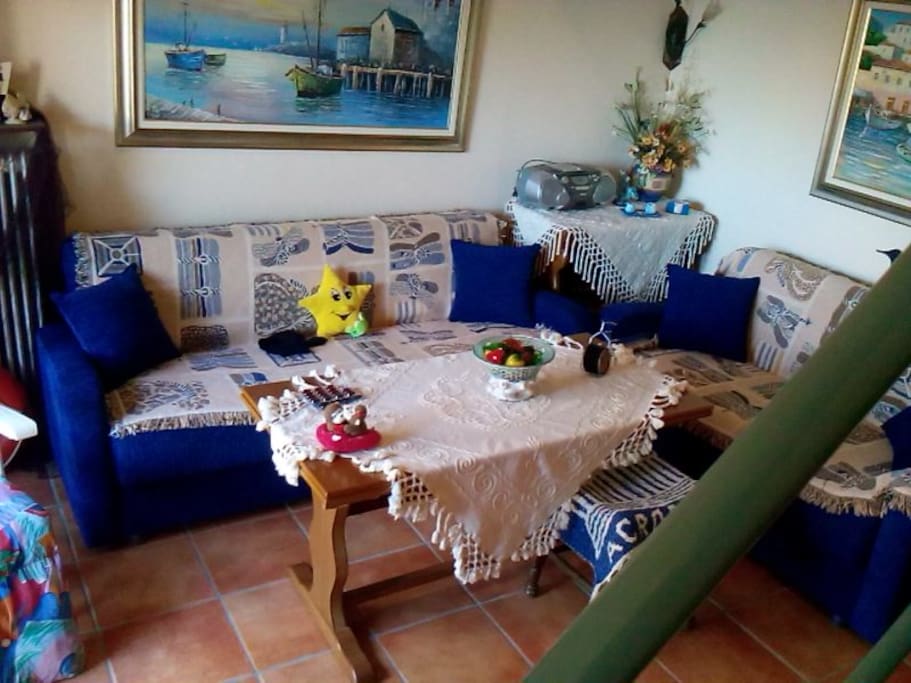 Great seaside house, "Nereides residence block"
Amazing 1st floor house in front of the beach, with a big balcony over-watching the dawn behind the sea. It is located in the middle of a huge sea side street, with many beach-bars, restaurants and plazas, making the stay incredible during both the day and the night!.
It is a 14 km long and wide crystal clear beach during all year, since it's an open bay having been awarded many times with Blue Flags, certifying its excellent waters and the clean and safe environment.
L'allotjament
In Greek mythology, the Nereides are sea nymphs (female spirits of sea waters), the 50 daughters of Nereus and Doris, sister to Nerites. They often accompany Poseidon, the god of the sea, and can be friendly and helpful to sailors, like the Argonauts in their search for the Golden Fleece.
For a unique experience with terrace to the Aegean sea and only 5 minutes walking distance from the beach, just crossing the road in front of our residence block.
Fully equipped apartment where you will find everything you need. It spans in two levels and it can comfortably accommodate up to 6 persons.
The inside atmosphere is exceptional; the view is beautiful to the sea from the balcony. A wonderful place to relax.
The family environment will give you a taste of the real Greek style living.

The beach in front of the apartment is not crowded, thus it is a good choice for the visitors looking for a quiet, non-crowded vacation. It is great for families and couples who want to escape from overcrowded beaches.
Moreover, there are two beach bars and four local restaurants nearby which offer you very tasty fresh food and in a few distance. Otherwise in Velika or Agiokampos, you could find plenty of them for day and nightlife entertainment and various activities.
The lower lever of the apartment consists of a built with a fully equipped kitchen and a marvelous decorated living room with sofa beds, featuring a traditional fireplace as well as a double bed bedroom with private balcony overlooking the Kissavos mountains and a bathroom with shower.
The living room has access to a large balcony with beautiful view to the sea.
Glorious setting view from every window.
The upper level (Loft), consists of a bedroom, with four single beds.
Moreover, the apartment provides a weather protected parking.
Serveis i zones comuns
The house is fully accessible for the guests.
Equipment:
Living room: 8 persons dining table, 2 sofa beds, fireplace, TV, CD/Radio, board games, fire extinguisher.
Kitchen: electric kitchen stove, refrigerator with freezer, electric grill, dishes & utensils, kettle, cutlery, cups, mixer, sandwich toaster, toaster, coffee machine, espresso machine, boiler, pop-corn making machine, washing machine for easy laundry, electric iron and ironing board.
Wardrobe: bed linen, blankets, bath towels, hand towels, kitchen towels, pillows, sea towels, toilet paper, napkins, paper of cooker for your convenience
Bathroom: shower with hot water, mirror/make-up mirror, hair dryer, shampoo, conditioner, shower gel
Bedroom: double bed, 2 sofas, library/wardrobe, books, mirror/make-up mirror, balcony door, private terrace.
Upper level bedroom: four single beds, sofas, wardrobe, bed linen, blankets, dining table (4), four chairs, TV, CD/Radio, board games.
Balcony: large dining table with armchairs for 8 persons.
Internet (wi-fi) will also be available till next summer.
Usage and premises:
All visitors are entitled to use all of our facilities and premises.
Rules: Attention will be appreciated for the below points:
* Alterations to the Property
* Ensure safe operation of all electrical equipment.
* Pets allowed on request approval is mandatory
* Discreet respect of the quite hours established.(After 23:50pm)
Interacció amb els hostes
During the Guest's stay, I won't be close to the area, but I will be within 2 hours distance from them.
Altres aspectes destacables
Nearby Destinations
Agia, Melivoia, Metaksochori, Megalovryso, Skiti, Sklithro, Elafos, Polydendri, Kamari, Paliouria, Koutsoupia, Kokkino Nero, Stomio
Beaches
Rakopotamos, Stomio (Mouth), Platia Ammos, Kokkino Nero (Red Water), Kokkini Ammos (Redbud), Paliouria, Buka, Velika, Sotiritsa, Agiokampos, Akti Papakosta
(URL HIDDEN)
The characteristic feature of Sotiritsa beach is its long expanse – about 7 km (one of the longest in Greece). The combination of fine sand and pebbles with a truly clean sea because of its location.
Food, Pizza, Patisseries
On the seaside there are plenty organized beautiful beach-bars where you can enjoy your swim while drinking coffee. Along the Velika-Sotiritsa-Agiocampos beach you can find taverns-ouzeri where you can taste plentiful fish of the area and seafood in the shade of plane trees, restaurants, fast foods, pizza, patisseries, thus covering all the needs of tourists. To try the traditional recipes you can also visit the villages of Kissavos and Mavrovouni, especially the old village of Sotiritsa, Skiti and Sklithro, Kokkino Nero and the village of Karitsa.
Drink and Entertainment
There are many beach-bars along the beach from Velika to Agiokampos offering facilities for swimming and rest, with frosted drinks, coffee and small deserts. Many of them provide facilities for beach volley and rackets.
Night entertainment is organized in many places by bars and night-clubs along the beach, especially at Velika and Agiokampos. The most popular places are the Buca's Balcony, Café Spitaki, Aqua, The Old School, Marbella, Parangka and Hokus Pokus.
Health Services
There is a Health Center and two Pharmacies in Kato Sotiritsa to provide the tourists any health service or medical treatment is needed.
The Health Center is placed nearly 2 kilometers from our residence. The Sotiritsa's Pharmacy Shop is placed nearly 1,5 kilometers from our residence and the Agiokampos' Pharmacy Shop is placed nearly 500 meters from our residence.
The next closest Health Center is in the village Agia (13 kilometers away) and three Hospitals in Larissa (50 kilometers away from the beach) for special medical occasions.
Useful telephone numbers:
Health Center Kato Sotiritsa:
Tel.: (PHONE NUMBER HIDDEN).
Working Hours: 09:00 – 14:00 every day during July and August and every Tuesday and Thursday the rest period of the year.
Health Center Agia:
Tel.: +(PHONE NUMBER HIDDEN).
Working Hours: 24 hours operation and medical treatment for special occasions and 09:00 – 14:00 from Monday to Friday for medical treatment and administration of drugs to patience.
Pharmacy Shop Kato Sotiritsa:
Tel.: +(PHONE NUMBER HIDDEN) Cell. +(PHONE NUMBER HIDDEN)
e-mail: (EMAIL HIDDEN)
Working Hours: 08:30 – 21:00 from Monday to Satyrday (or every day/approximately)
Placed: 1,5 kilometers from our residence towards Velika.
PharmacyShop Agiokampos:
Tel.: +(PHONE NUMBER HIDDEN) Cell: +(PHONE NUMBER HIDDEN)
Working Hours: 09:00 – 14:30 and 17:30 – 21:00 from Monday to Friday (or every day/approximately) Satyrday: 09:00 – 14:00.
Placed: 500 meters from our residence towards Agiokampos.
Other public services:
Fire Bureau Agia: tel.: +(PHONE NUMBER HIDDEN)
Police: tel.: +(PHONE NUMBER HIDDEN)
The postal code of Kato Sotiritsa is 40003 and its telephone access code is +(PHONE NUMBER HIDDEN).
Food-supplements, kitchen and beach equipment, ect.
There are about ten mini markets along the beach, a lot of bakeries, two butser shops and two fish shops where the tourists are able to get food-supplements, kitchen and beach equipment, household equipment and necessities.
There are three Gas Stations along the beach and places for rendering of services.

Entertainment and Activities
Places Culture and Events
Theatre Sea - Velika Platania
Musical evenings, summer cinema Views, theatrical performances, traditional dances, book fairs and children's workshops are organized at Platania-Velika every summer.
Events "FILOKTITEIA"
Every two years organized the coast of the municipality of Agia in cooperation with state and local cultural institutions the "FILOKTITEIA".
The Filoktiteia take place in late July - early August, lasting 3-5 days and include a number of events such as:
Theatrical performances, children's workshops, Musical evenings, summer cinema Views, local festivals and traditional dances, book fairs, sports tournaments, etc
Events 'overlooking the sea'
Every year in the coast of the Municipality of Agia, Larissa the Regional Unit in cooperation with the Municipality organizes events "Overlooking the sea", which occur in many of the coastal villages of the municipality and include:
• Theatrical performances and musical evenings with famous artists
• Concerts
• Creative workshops
• Sporting events and tournaments
• Events for children
"Theatre of Tempe" to Omolio.
The theater, in the shadow of Mount Olympus and Kissavos, overlooking the Aegean and the Pinios River, located at the exit of Tempe, just before Omolio.
It has a capacity of 600 seats with a view to acquire future and second tier (which will double its seats)
The old building of the quarry turned into a large three-story building (Exhibition and Conference room) and dressing actors and therefore there is the potential use of the site during the winter.
The theater of Tempe has a large stage and designed in such a way that it can also cover other cultural activities, such as concerts, exhibitions, lectures and other artistic events of the county.
It has very easy access for visitors from all over Greece, and further constructed road leading exactly Theatre, and convenient parking for guests' needs
Beautiful is the landscaping, with stone walls, paved walkways, green areas and trees for hosting and outdoor exhibitions.
Fishing
If you are a fan of fishing, you can come to the Port of Agiocampos on your boat and catch abundant fish for which the area is well known.
Nature and activities
The natural wealth of the region is high. The dense forests of Kissavos, dozens of springs, lakes, streams, waterfalls, rare plant species and a rich animal kingdom confirms the picture that the area is unspoiled. Compelling the testimony of 35 000 hectares of public forest now Polydendri (former royal estate) which has been developed by the Ministry of Agriculture.
The wetland Delta Penaeus formed at the mouth of the Pinios River, part of the aesthetic grove valley of Tempe and aesthetic forest Kissavos (Ossa) also belong to the Municipality of Agia.
The history and religious tradition of the municipality, which is located in Kissavos known as "term of the cells", with three active monasteries and plethora of Byzantine and post-Byzantine monuments are also rich.
The combination of unspoiled natural beauty with rich historical and religious tradition, offer multiple attractions and unique experiences for visitors.
In the area there are businesses offering alternative tourism. With their help, you can participate in activities such as windsurf, scuba diving, rafting, canyoning, river trekking, mountain biking, bird watching, archery, water sports, trekking on Kissavos and hang-gliding. Hiking...
Walking Routes (URL HIDDEN)
Strolling Kissavos Top
Route East - Metaxochori
Route Megalovryso - Agia
Trail cloister
forest Polydendri
Path Sklithro - Isiomata - Glymeni Mill
Path Melivia - Velika
Nature - Environment
(URL HIDDEN)
(URL HIDDEN)
Kissavos
"Calypso" Gorge
Delta Penaeus
Mavrovouni
forest Polydendri
Lake cloister
Alternative tourism
(URL HIDDEN)
Rafting in Vernezi
Vernezi: A demanding descent in the Strait of Pinios (Vernezi area) in one of the best rivers Rafting in Greece
River trekking & archery
Mount KISSAVOS (Ossa)
Discover the mountain village Melivia on South-East side of Kissavos, having symbol Philoctetes, mythical king and hero of the Trojan war.
Trekking & mountain bike & Bird watching
In the center of Myths, Surrender of history, to the former Royal dasoktima Polydendri, extent of thirty thousand acres, causing guests to participate in an idyllic "journey" to the verdant Mavrovouni.
Canoe - Kayak
Crossing waterways sections or natural and artificial lakes with two-seater fiberglass canoe-kayak. The canoe-kayak bear special seat for children, property makes the ideal activity for families.
Jeep Safari
Crossing the massif of An. Thessaly and Jeep convoy support vehicle and experienced attendant. River crossings, driving on forest roads, a variety of paths through dense vegetation and majestic landscapes with a background sea. Starting from Velika village (45 km. From Larissa and 30 km. From bridge Rapsani in Tempe) will wander in Kissavos (or.Ossa) Mavrovouni or Kato Olympus.
Athletics Adventure
Tributary:
Indulge in a series of successive "tests" in Athletics Adventure of mammal in properly designed space with natural materials in Parapotamos Makrychori. Climb the wooden tower and the giant "spider net" and then get off with the Rapel climbing ramp. Cross the "Tibetan" wire bridge 70 m. That unites the banks of Pinios (the largest ever created in Greece) for return air with pulley mechanism (Flying Fox) in a wooden gazebo
Canyoning
Canyoning on the eastern slopes of Olympus, Kissavos and Montenegro. A surprising combination rappelling, alpine vertical rock sections and waterfalls using climbing equipment (rapel) and swimming in crystal clear natural lakes for groups of up to 8 people.
Indicatively, some of the most beautiful routes:
Gorge "Kalypso" - Enjoy with friends or family the views of the largest waterfall (70metra) Kissavos in exceptionally beautiful gorge "Calypso" over the Red Water and villages Karitsa. Experienced Our guides will lead you walking through wooded trail to the base of the waterfall for an indulgent dip in the crystal waters of the lake. The way back involves rappelling and descending on rappel waterfalls reaching 30 meters.
•Duration: 3-4 hours
•Implementation time: May to October.
*** For the insiders at the canyoning dare cross the whole gorge with rappel in waterfalls 70 meters in height.
•Duration: 5-7 hours.
Rema Kakoskala: A simple and beautiful descent ideal for beginners. Its waters are crystal clear and perhaps the richest mountain compared to other Kissavos.
•Time: 3-4 hours.
•Implementation time: April to August.
Canyon Rakopotamos: A beautiful route that starts from Mavrovouni and ending in the Aegean through dense vegetation, natural lakes and 6 rappel waterfalls height 8-37 meters.
•Duration: 5-7 hours.
•Implementation time: April to August.
Trekking Top Kissavos
Kissavos is a mountain with two faces: The South and East side overgrown forests and barren and rocky northwest side where is the classic ascent to the peak (elevation 1978 m.). We recommend a section of classic ascent starting from the oreivateiko refuge in Location "channel". Follow the signs of O2 leading the incumbent OTE station and continue over the eastern ridge Kissavos pezoporontas a short slope to the top. The entire path moves in a well designed path. Return by the same path.
Games Ascension Kissavos
In Kissavos region conducted annually car racing 4x4 and cycling races, namely the "Ascent East". The region Kissavos ideal for climbing and hiking on the slopes of the mountain, organized by the local mountaineering associations.
Rafting Valley Tempe
Snowboarding two-seater (Hot-Dog) and cars inflatable (monoraft) in an exceptionally beautiful route through the Vale of Tempe, Pinios River. A route with 1st and 2nd degree of difficulty passes for those who wish to discover the secrets of an earthly paradise.
•During descent: 2 hours
•program implementation Duration: 4 hours
•Minimum age: 16 years
•Period: all year
Aeropterismos - Paragliding
(Paraglider - Paragliding)
Fascinating flying in the mountainous area of Olympus and Kissavos with two-seater paragliding piloting from professional instructor. The view from "high" and the feeling of absolute freedom that you feel will give you an unforgettable experience. For adventure enthusiasts the opportunity to participate in the School Paragliding is possible.
•Implementation time: All year
Organized Coast Shed - Water Activities
Enjoy the sea and the sun combined with maritime activities on Kissavos Beach and Velika adorned by magnificent views of Kisavos and endless crystal clear Aegean Sea.
Activities: sea-kayak, sea bicycle, only catamaran, sailing (Laser Optimist), zodiac, beach volley, Wind Serf, Kite Serf, floating sea platform, multy-activity adventure club for children (9-15 years), are only some of sports that take place in Velika beach for a series of events of varying interest.
Sailing School (Aiolos) - Sailing school with OPTIMIST - LASER craft for small children will host on-site Organised Shed Coast.
Diving
Experienced instructors will guide you in the world of colorful depths of the eastern coast of the prefecture. Combine your ideal holiday with diving courses for the acquisition of the first star. If you're a beginner, try a test dive if you are experienced give a different touch to your holidays and enjoy your favorite sport on coast Kissavos.
•Implementation time: All year round.
coast Shed
To FUN CLUB SPITAKI welcomes another year with lively and dynamic mood, the new summer season, keeping intact the style that characterizes the 25-year history, which now operates 12 months a year.
As in previous years and this year is going to organize events that are "institution" in the summer events in our country, on the coast of the prefecture of Larissa and more specifically on the eastern side of Kisavos.
Trekking East - Metaxochori
The route is easy, rich in vegetable wealth and well signposted. We begin our journey from the mountainous east, a village rich in history and natural beauty. Residents in the Occupation developed great resistance activities. Here acted and Captain-KISSAVOS. Today the population is reduced to just 397 inhabitants in winter and 850 in summer, with main income from agriculture and animal husbandry.
Trekking Megalovryso - Agia
A walk (about 45 minutes) starting from Megalovryso and prorismo the village Agia. Old trail-path that crosses beautiful forest beside a stream which linked the past with the Hagia Megalovryso. There is marked with the environmental characteristics of the route and map issued. On or near the trail there are important post-Byzantine monuments -Agios Nicholas Cherry, Twelve Apostles, Holy Trinity Monastery of Panagia etc.
(URL HIDDEN)

Sightseeing
Byzantine monuments and monasteries
Monasteries (in Operation)
Monastery St. Demetrios (Stomio)
Monastery John the Baptist (or Timiou Prodromou – Anatoli Agia)
Monastery John Theologian (Zarko, municipality of Trikala)
Monastery St. Panteleimon (3 km. outside of the Agia on the road to Melivia)
Byzantine churches
Holy Temple Christ The Savior, Ano Sotiritsa (Post-Byzantine building with embedded architectural parts which come from an older Byzantine temple on the same spot from which Sotiritsa got its name)
Holy Temple Agios Georgios, Agia
Monastery Mary, Megalovrysou
Holy Temple Mary, Vathyrema
Holy Temple Mary, Aetolofos
Mount of Kelly
The Agia area is rich in monuments and archaeological sites. This season are enhancement works in Velika Castle and the archaeological site in Palioskala Elafos to become organized archaeological sites.
Recently restored the church of the monastery Saint Dimitrios at Stomio, while Panteleimon monastery Agia maintained, under the NSRF.
Visitors can also wander in ancient and Byzantine castles, the famous monasteries of the Mount of Kelly and modern monuments.
Most antiquities band are Museums of Larissa and Volos but there are Agia archaeological collections that are not yet visited the newly founded Archaeological Collection Melivia and small museums ecclesiastical relics and modern culture.

Further information about the region:
Sotiritsa (Greek: Σωτηρίτσα) is a village, situated on the eastern coast of Mainland Greece, falling in the municipal section Agia of Regional Unity Larissa, located 50 km away from Larissa and is wedged between the coastal villages of Agiocampos and Velika. The municipality of Sotiritsa includes the new settlement of coastal Sotiritsa and Old Sotiritsa.
The village is built on the slopes of Kissavos. The old name of the village was Kapista. A small mid-byzantine temple dedicated to Christ the Savior ("Sotiras") to the north on a plateau of Ossa, and this is where the village is claimed to get its name Sotiritsa. However, various findings in the area show that in the same location there must have existed a byzantine monastery. Paved roads, chapels, old Christian findings and the traditional atmosphere preserved in the village compose the image of a place that wants to maintain its color, the fact that can be proved by the many restored houses.
Kato Sotiritsa (Greek: Κάτω Σωτηρίτσα), where approximately live 346 local people, is the seaside part of the area, which always attracts many people in summer time. The 7-kilometer-long beach (one of the longest in Greece) is well-known for its clear waters because it is a part of the Aegean Sea, but also for the fine sand and small pebbles and relatively deep. Kato Sotiritsa beach is the middle of the 14-kilometer-long beach of Velika-Sotiritsa-Agiokampos.
Kato Sotiritsa Beach has been awarded many times with Blue Flags, certifying its excellent waters and the clean and safe environment.
The amazing combination of mountain Kissavos (green) and Aegean sea (blue) makes Sotiritsa a favorite summer destination and so every summer is a resort for many visitors.
---
Habitació 1
1 llit de matrimoni
Habitació 2
4 llits individuals
---
---
---
Persones addicionals Sense càrrec extra
Dipòsit de seguretat €100
Fes servir sempre la plataforma d'Airbnb per a la comunicació
Per tal de garantir el teu pagament, no realitzis mai cap transferència bancària i fes servir sempre el lloc web o l'aplicació d'Airbnb per comunicar-te amb l'amfitrió.
Més informació
---
No es permet organitzar festes o esdeveniments
---
---
---
---
Sense avaluacions (actualment)
Aquest espai no té cap avaluació. Si t'hi allotges, l'avaluació que escriguis apareixerà aquí.
Idiomes:
English, Ελληνικά
Descobreix altres opcions a Kato Sotiritsa i els seus voltants
Més llocs on allotjar-te a Kato Sotiritsa: