SUPERANFITRIÓN
Apartament sencer · 2 hostes · 1 llit · 1 bany
The apartment is built with stone. 48 square m.
An autonomous apartment in Galatas, Chania. It is 6 km. away from the center of the city and 2 km. away from the beach Agiοi Apostolοi. Moreover, the well-known resorts Platanias, Stalos, Agia Marina are 4 km. away from the apartment. The national road for Kissamos, Rethymnon and Heraklion is 500 m. away. The closest bus stop is 100 m. away. There is a private balcony, free parking-WiFi, a TV, an oven, a seperated bathroom, a fridge, a roof blower, warm water and it is environmentally friendly.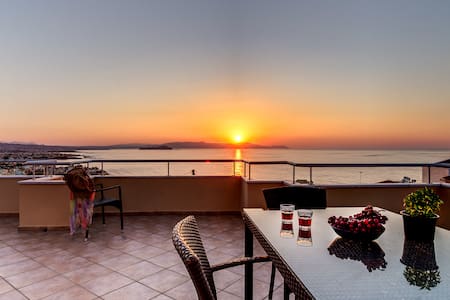 SUPERANFITRIÓN
Apartament sencer · 2 hostes · 1 llit · 1 bany
Penthouse with breathtaking views of city and sea!
Decoració senzilla, espais confortables, gran balcó, vistes impressionants, a la zona tranquil·la de l'Alepo històric a la carretera que uneix l'aeroport i la ciutat de Khania. A només 3 km del nucli antic de Khania, a 9 km de l'aeroport. Parada d'autobús fora de l'entrada de l'edifici. Gran supermercat a 50 metres.
L'opinió dels hostes:
"Dimos és una persona extremadament simpàtica i molt disponible, no podem somiar millor com a amfitrió. L'apartament està molt net i disposa de tot l'equipament necessari. No li va faltar res. Supermercat i parada d'autobús 100m, 5 € de taxi dia i nit per anar al centre .. I què passa amb la terrassa, segurament una de les més boniques de Chania! Moltes gràcies per aquesta estada i per aquest airbnb que segueix sent el més agradable que hem fet mai!"